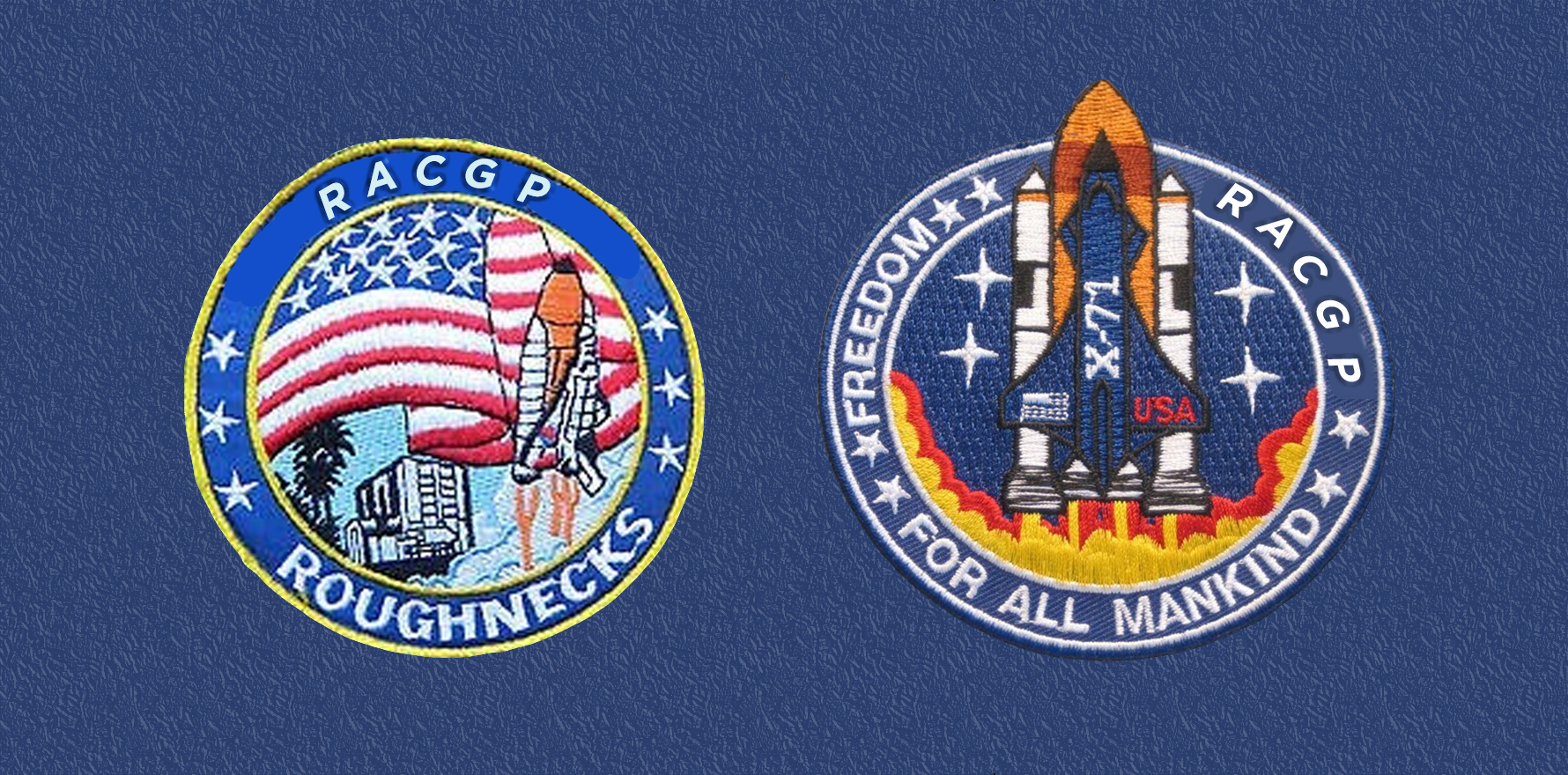 It's probably not a good idea to leave the RACGP or ACRRM for a new CPD adventure wonderland just yet.
---
This week's HealthEd/PULSE survey reveals the extent of misinformation and confusion that is accompanying impending changes to CPD registration that technically will be triggered on 16 June.
That's the date on which federal legislation comes into effect under which all GPs will need to be registered as a specialist with AHPRA to be eligible for higher MBS rebates.
Some of the confusion arises from the fact that the legislation change and the CPD changes for GPs are related but are being implemented by different parts of government, for different reasons. Specialist registration to AHPRA is required first for optimal Medicare billing by GPs, and is Commonwealth-enacted legislation specifically for GPs effective 16 June.
But this change in the legislation means that, theoretically, after that date GPs should be able to manage and report their CPD outside of the two GP colleges, via "accredited CPD homes".
This forecast change in CPD is made feasible by the new legislation because GPs, as specialists registered directly with AHPRA, will have a different relationship with government.
In essence, a GP who proves to AHPRA they've completed their fellowship is a specialist, and going forward, in order to maintain that status, they need to maintain the appropriate standard of CPD. This "appropriate standard" eventually will not require a GP to be a member of either college. That's the theory so far at least (if you're confused, don't fret – mostly everyone else is too).
The issue it seems is that the 16 June date, when GPs are due to be registered in a different way with the government as specialists, has been conflated with the implied changes that this change will create in the management of a GP's CPD.
This has caused the date to become a sort of CPDageddon in the minds of many GPs, the colleges, and a lot of third parties who think or hope that they will be able to offer alternative CPD management and reporting ("CPD home" services) to GPs in competition with the colleges.
But the new CPD regime part of the conflation, managed by the Medical Board of Australia under its Professional Performance Framework, hasn't been finalised yet, and even if it is announced on 16 June (which seems unlikely), it's almost certainly not going to be a Big Bang change.
Ideally the two changes should be aligned: when the legislation changes and GPs have a new registration home that will ultimately tick off their CPD, ideally everyone should be clear about the roadmap and framework by which CPD will be managed outside of the colleges.
It isn't so far and The Medical Republic understands it's not likely to be by CPDageddon.
There has been much build-up in the medical media (guilty) and, vicariously, through external organisations to the colleges interested in becoming new CPD homes, about CPDaggedon and its effect on GPs, especially those GPs who are disaffected with the RACGP and its value proposition around CPD management.
An excellent article appeared recently in Australian Doctor about one GP's tortured journey to discover whether they could leave the RACGP or not to pursue their CPD status elsewhere, climaxing with an emotional admission that while she strongly suspected that you could technically leave the college before its next round of membership renewals on June 9 and do your CPD elsewhere, she wasn't prepared to take the risk.
She was pretty upset with the college, which she thought wasn't explaining things deliberately in order to create an atmosphere of uncertainty, with the aim of holding on to her money. That article is a recommended read on this matter (maybe after you finish reading this one, though).
If the RACGP has read this article and feels this disaffected member might have been an outlier, it will be disappointed with the results of this week's HealthEd/PULSE survey in which:
67% of member respondents said they weren't even aware of the implied changes to CPD after 16 June, including the possibility that you may not need the colleges to manage your CPD any more
85% of member respondents said that their college had failed to keep them adequately updated regarding the developments
94% felt the colleges were obligated to keep them informed adequately on such developments, and lucky last
Up to 75% of members, having been notified in the survey of the potential changes, either had an intention to leave their college when they could, seek a suitable alternative should one be offered, or had yet to make their mind up on leaving but would be monitoring the situation with a view to making up their mind on whether they might leave
To put some gloss on it for the RACGP, 48% of that 75% were those who hadn't made their mind up yet. But only having 25% of your members say they are definitely sticking with you no matter what CPD changes happen in the near term might explain why the college has been panicking a lot in the past 12 months about CPDaggedon.
(Note: As ever, the sample size of the HealthEd survey is statistically significant: 442 overall respondents, with 95% confidence level and a margin of error of 5%.)
In the comments section of the Australian Doctor article, there are a few claims and counter-claims about what will and won't happen after 16 June.
[Comments removed at request of Australian Doctor]
Given the status of the MBA changes so far to CPD registration, it's hard to see how anyone has enough information to be confident about making such a decision.
The RACGP's next major round of membership renewal is 9 June.
CPDaggedon, in which the MBA has implied it will have at least started to explain the detail on how the whole new system will actually operate, is exactly a week later.
Leaving your college and your CPD program before the MBA makes it precisely clear how the new CPD regime will actually operate feels pretty risky, if not irresponsible.
For one thing, in the minimal detail we are privy to on the MBA's grand plans so far, a key component is that anyone not using either of the colleges as their "CPD home" would have to be using another "accredited CPD home".
The word "accredited" isn't explained in detail yet, but surely it implies that a GP would need to find another group that had been accredited to track, monitor and report CPD (and maybe even set CPD standards, as is required of the colleges), by the MBA, just as the colleges are.
There is only a very loose framework so far (see table below) for what an organisation would need to do to achieve accreditation as a CPD home, but you'd have to imagine the MBA is going to establish a detailed framework and set of standards for accreditation and it's not likely that any old education provider will be able to put a CPD shingle up outside their shop and start trading as a CPD home in competition with the colleges on 17 June.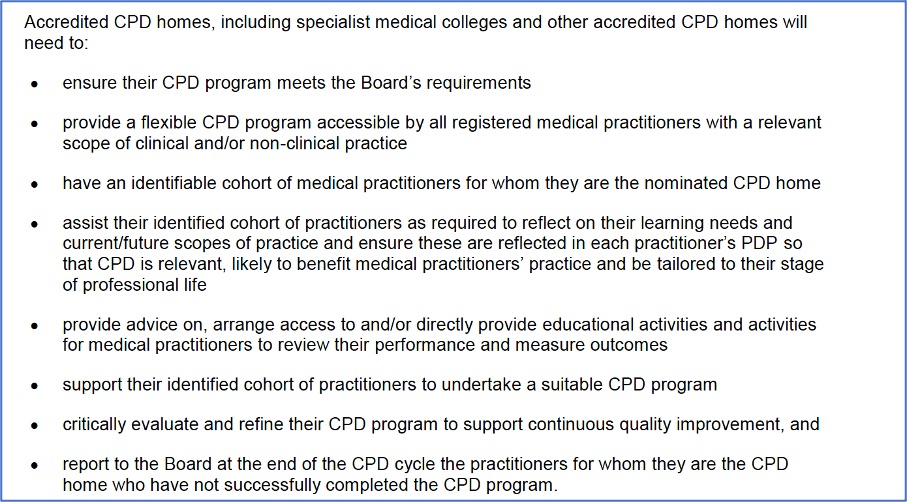 In any case, TMR understands that before any new CPD registration standard proposed by the MBA can take effect, it must be approved by the Australian Health Workforce Ministerial Council, and this hasn't happened, and that if approved, there will be a lengthy consultation period that will include the establishment and approval of CPD homes.
Another way of reading this might be that CPDaggedon is still a thing, but 16 June isn't the day a giant meteor hits. Instead, it's the likely day we all acknowledge that climate change (CPD) is happening and we start actively mothballing coal-powered stations (overpriced college membership?) where feasible and replacing them with a new and more relevant infrastructure (low-cost high-impact CPD services that are "accredited", "credible" and well backed so they won't go broke).
TMR also understands that until the revised CPD registration standard is approved and implemented, the current CPD registration standard of the MBA requires GPs to meet the requirements of their college.
Surely this puts a full stop on anything happening at all before the next round of college membership fees are due?
This means that the RACGP, which we know has been panicking fairly seriously in the past 12 months about losing large chunks of its membership (and operating revenue) in the near term as a result of these changes, has at the very least one more year's grace in terms of getting its act together on convincing its members of its value proposition.
It also means that GPs shouldn't pull out of their college for at least the next year if they're thinking of doing it because of CPD.
Although some upstarts will likely be disappointed at this lifeline to the colleges, it's probably all a good thing.
If and when the MBA's new CPD registration standard is approved, and we all get a look at it, presumably all parties will have a lot of time – that long transition we believe the MBA is planning for – to assess the new framework and design their organisations around it.
What might happen is the RACGP realises that it can't compete on its current offering and it designs a new value proposition for members so it can compete in some way, going forward, with other potential new CPD homes.
This all presumes that the RACGP isn't offering a reasonable value proposition currently.
There's been much speculation and press on this topic based on the real cost of offering GPs a decent platform on which they can manage their CPD.
The college, leading with its chin as ever, offers the service to non-members for $945 a year.
A member might easily surmise from this that of the $1445 they pay for a full membership, $945, which is the majority of their membership fee, is made up of the CPD service.
This is going to make it hard for the RACGP to retain members if some good-value alternative CPD homes do manage to establish themselves over the next few years.
The big problem for the RACGP is that $945 is clearly not the cost of developing and maintaining their CPD management platform. If it was, then the cost of maintaining and running a CPD management platform would be in the realms of at least $30 million per annum.
Conservatively the cost of developing and managing a CPD management platform equivalent and better than the one the college offers today might be between $150,000 and $400,000. If we go nuts and add $600,000 to this annualised cost (remember, we are just talking about the platform software here, but we are saying it's highly automated, while the college one isn't), then what is the college doing with the other $29 million?
The answer is pretty simple: it's revenue that they are using to do a whole lot of other stuff that may or may not provide members with value.
So the RACGP, which does a lot of good work, and may even need lots of extra millions from its CPD management services to do that good work, has created for itself a fairly big perception problem here.
One thing that some commentators have said is that if the RACGP revenue collapses as a result of members abandoning it – if CPDaggedon does take hold – then the money it is creaming off from so-called CPD services will disappear and so will the integrity of the whole college.
In other words: "OK, we admit we're ripping you off on the CPD component of your membership here and have misled you about it for years but if we don't maintain this money somehow, we can't exist to do all those other good things you love us for."
The RACGP does perform integral services for the GP sector in recruitment, training and continuing education of GPs.
But whether or not a drop in revenue brought on by these CPD changes would ultimately harm the integrity of these core services has yet to be tested.
It has a lot of property, a lot of stored-up cash, and still a ton of annualised revenue to sort that problem out over time if it starts actually occurring.
In the meantime, punters, you've all got at least one more year of membership fees to stump up before you can leave.