26 October 2020
What do phone vs video telehealth stats say about GPs?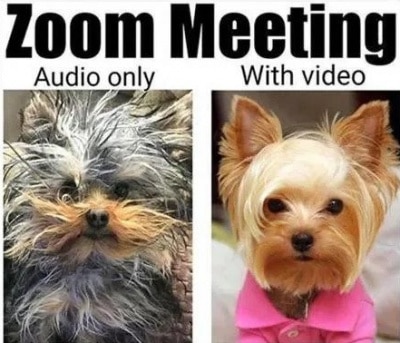 Everything is pointing to the use of video in telehealth by GPs going significantly up from its miserly current 3% of all telehealth calls. Should you be a bit better prepared?
Engage in this issue personally: For a free live webinar on this article this Thursday at 7pm AEST, where you can ask your own questions of our experts, please register HERE.
In a good percentage of telehealth consult situations, a video consult is significantly superior in terms of patient engagement and likely treatment outcome, than a phone (audio only) consult, and nowadays, accessing and using a video based telehealth platforms is pretty easy. You can use Zoom, which is free. There are even GP specific apps which are now free.
So why do GPs only use video 3% of the time they do telehealth, when their specialist cousins are marching over the 20% mark, and some allied health professionals, particularly psychologists, are well above that mark as well?
The answer in its crudest form isn't surprising. In the circumstances, phone represents the best return on investment for the foreseeable future. Circumstances that include:
Just months ago telehealth wasn't a means to get paid, and never looked like it would ever be, so GPs naturally gave it little or no consideration to it in terms of training, education, or set-up within their infrastructure.
Getting trained and set up is likely not just going to incur cost, it is going to incur time, which is opportunity cost. They can't afford that, especially given the pressure COVID-19 has already put on them this year in terms of cash flow.
Such a fundamental change to how you do stuff in any case, is just hard. Everything they've set up is for patients coming into the surgery. Space, waiting rooms, car parking, reception staff, enough doctors on site scheduled to meet that need. For many, the sooner they can start re-populating their waiting room, and the business model they've established over many years,  the sooner things can get back to normal
The problem for lots of practices however, is that normal is probably never coming back.
Take as a 'most likely example' a CBD based practice in any of our major cities. Optimistic forecasts by commercial real estate analysts suggest that occupation of the major CBDs for the next few years is likely to drop between 20% and 40% to pre-COVID levels. Currently commercial rents in CBDs are already offering 20% more bonus to punters who still want to occupy a CBD. They think that is going to get to 40% in the not too distant future. This is likely to convert to city practices having up to 40% less foot traffic. What do they do?
BTW if you think this is too pessimistic you should have a look at what is happening in London already: agents are renting office floors to millenials in major CBD spaces to live in, and whole corporations, who were building whole new buildings are abandoning their plans for a work at home future.
It's of course, not just CBD practices that are going to see long term changes to patient's ability or willingness to attend their practice in person.
COVID-19 is ushering significant longer term demographic and behavioural change which will likely have impact. They include that as office workers continue to work in large numbers from home, many will shift where they live, as they now aren't anchored by the need to attend work five days a week in a certain location. Attractive regional areas are going to change their patient demographic quickly.
Behaviourally patients who are office workers are altering their attitude significantly to video engagement.
The very real situation  for office workers is that Zoom meetings are more often than not a lot more efficient than face to face meetings. And we aren't just talking about travel time to meetings and back.  In a Zoom meeting you can be live on the web to access anything you like to make your points better, you can show pictures and live video to add to a conversation at a moment's notice, and have access to all the utility of your PC or Mac to add to your discussion. You can also Zoom in other participants at a moments notice to make a point. The difference is huge and the implications for efficiency is starting to impact on senior management.
The potential here for attitudinal change from patients should not be underestimated. A practice may not want to change it's set up of the last couple of decades – understandably – but this time the patient is going to have the upper hand.
There is the issue of chronic care patients, who tend to be older, and anecdotally at least, aren't as familiar with video technology as younger "office workers". This is the only real anchor acting to slow the change. But you might be surprised how many people over 50 are good on their mobile and PC. And how quickly they learn.
The better the connection between a patient and their GP, the longer they'll stay, but eventually, if GPs don't offer more in the way of proficient video technology, as nearly all office workers are now practising daily with Zoom, Teams and other common programs, then practices will lose patients.
If this doesn't worry you, consider those smart, probably younger owner based practices, which see the opportunity in the convenience they can provide to their patients, and … yours.
The business dynamic of practices across the country is in flux.
Estimating the extent and speed of change is important for all practice owners.
The government is understandably not happy with how much video telehealth is being done. They are looking closely at changing remuneration for telehealth so it incentivises the use of video over phone. Incentivise though may not be the right term to use here. Word is that they will keep video at the current phone rates, and drop the timed rate of phone substantively compared to use video. If that happens, most practices will move very quickly to try to change their ways.
That's probably most of the bad news.
The good news?
The technology for video which also synchronises to most GP practices already exists, is reasonably cheap, and easy to install – free even: see the Welio.com beta launch last week.
The training isn't expensive either.
The main issue is quite simply the nastiness of 'change'. It's an awful thing to have to change your ways, for any professional. Especially when things have been so clear and set in stone for so long. And GPs like people interaction.
Most GPs are using the telephone as triage, and if things get a bit too complicated, they are asking their patients to come in. This is a very natural short term fall back.
But everything points to the use of video by GPs going up:
It's a better form of consult so most GPs actually want that in the long run.
Your patients – especially the ones who have been office workers – want it, and soon your competitors are going to pick that up and give it to them and take your patients and business.
The government wants it and is likely to introduce differential pricing which favours the use of video as a form of consultation. You will want to be ready for that.
How do you get ready? How do you pick the right system and vendor, or indeed, can you just use Zoom, and eventually WhatsApp and do text based consults along with all your video?
There are a lot of options and vendors to sort through.
One starting point might be our free webinar this Thursday at 7pm AEST which will look at the basics of the issue for a typical practice. Register HERE. It will feature:
Associate Professor Charlotte Hespe, GP, Head of GP (and Primary care research) UNDA (Sydney) and Chair NSW/ACT RACGP.
• Dr Amandeep Hansra, GP, Founder of Evermed Consulting, Founder of Creative Careers in Medicine and Digital Health Expert.
• Dr Andrew Baird, GP, Digital Health Advocate and Tutor for Medical Students in Professional Practice at the University of Melbourne.
• Leanne Wells, CEO of the Consumers Health Forum of Australia.
• Dr Silvia Pfeiffer, CEO and Co-founder Coviu, Author and Telehealth Expert.
Declaration of Interests:
Webinar is sponsored by Coviu, a major telehealth provider
The author of this article has a very small number of shares in Welio.com