17 December 2021
The plague diaries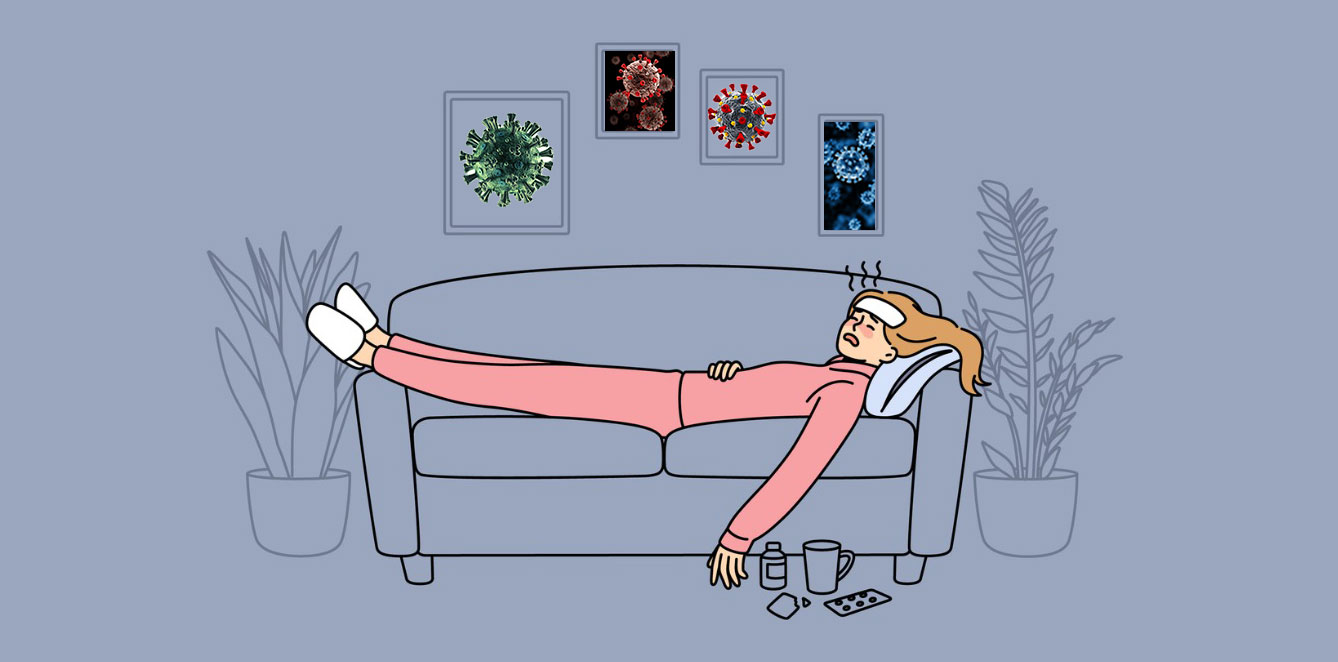 When a spiky wrecking-ball hit the TMR team, we saw firsthand the confusion and inconsistency that still reigns two years in.
---
I was back in Sydney for nine days: five office workdays, four days with friends, three dumpling dinners, two Christmas parties, one barbecue … and whatever else I could squeeze in besides.
So, in hindsight, maybe it was no surprise I caught covid.
As a medical journalist, covid has been all-consuming over the past two years. And here I was, seeing the virus from the other side of the keyboard – and doing what you're not supposed to do, becoming the story.
You'd think I'd know what to do to protect myself, and at the very least, know how to navigate the health system I'd find myself in.
But what followed was an endless procession of phone calls from health units around the state, with conflicting and confusing messages, delayed alerts and constant logistics demands.
One of the most surprising complications of covid may just be the administrivia. That and the pink eye.
The amount of texting required to coordinate and communicate with friends and loved ones saw my average phone screen time jump from three hours per day to seven hours (I spent the rest of those waking hours watching TV.)
The burden of this logistical effort becomes eye-watering when you consider how many others there are like me. When I flew into Sydney, there were just 100 cases per day. But by the time my partner got his positive result, the number had jumped to 400. At the time of writing, it's 2200.
Even when I got covid, the tracing system felt like it was already horribly behind. My covid-positive friends and I had alerted friends and workmates days before anyone from NSW Health got in touch, leaving contact tracers delivering a whole bunch of messages to people who had already sought, and received a negative PCR test.
It's hard to imagine what will happen as restrictions are relaxed, but if you want a glimpse behind the scenes of a recent covid case, come on through.
Sunday evening
I'm in Ashfield shovelling noodles into my mouth when a message on Slack comes through.
"So, some bad news," I say slowly. "Jack has covid, and Simon and I definitely need to get tested."
The conversation falters and people pause, dumplings suspended, beginning to realise what that means. We've been staying with friends, been to a work Christmas party, had 10 people over for a BBQ – teachers, nurses, doctors and babies. I can picture the tidal wave smashing through the social networks.
We hurry to the Auburn drive-through clinic, where cars queue out the gate.
We also decide to take rapid antigen tests while we wait for the PCR results, and all come back negative after 15 minutes. But around 30 minutes after taking the test – well beyond the 15-20 minute window you're supposed to check the result in – a faint, yet ominous, second line has emerged.
Simon has been coughing a little today, but he also has asthma and we were sitting next to a fire all day before. I have the odd sneeze and a headache. But that could be from massive sleep debt and too much Christmas merriment.
The work Slack is busier than I've ever seen it as people try to piece together whether we're close contacts for being at the bowls club at the same time as Jack, even though we were mostly outdoors. Some are out socialising that evening, and wonder whether to leave. My editor leaves the venue and runs to the chemist to get a rapid antigen test, which, thankfully, is negative. People are messaging the group to share information on testing clinics that might be open.
Back at the house, we distance ourselves from our friends, don masks and use separate toilets.
By 5am, my friends and Simon have received a text telling them they're negative. I'll be waiting another 12 hours.
Monday
By the morning, some people have red alerts on their Service NSW app signalling the bowls club had a covid case. Around half the workplace seems to get a text or alert and the other half don't. I'm called for the first time around 10am by a contact tracer, Tony, who lets me know that, because I was in a car with Jack from the airport for more than 15 minutes – windows up and with no mask – I'm a close contact and will have to isolate for seven days. There goes my plans for face time with my colleagues. At least I'll be able to fly home as planned on Sunday.
The rest of the team who saw Jack at the bowls club will probably only be casual contacts and will be able to carry on as normal.
As the day wears on, several more friends turn positive and have flu-like symptoms. They've all been at the Imperial pub in Erskineville for a comedy gig, and the responses are annoyed to furious at the lax covid measures in the venue.
One workmate gets tested and the nurse tells him she'd consider all of us at the staff party to be close contacts, but says that NSW Health may say something different.
We're going to have to leave our friends' house, so I'm frantically calling, messaging and trying to organise what we do, in between work tasks.
Accommodation found, we bundle into the Land Cruiser with a bunch of bedding, camping equipment and an old TV. Thankfully our friend's parents have a studio apartment in Croydon that is in between rentals, and we can stay in it! Suddenly I realise how fucked it is testing positive while away from home. But we'll be fine with camping equipment and a place to crash. We can last the four more days.
At 4pm, my test comes back. It's positive.
The headache that has been plaguing me since Sunday appears strikingly like a menacing covid symptom and not a benign hangover.
The sniffles take on a dark overtone, as does covid-negative Simon's persistent dry cough.
As the day goes on, pressure grows in my head and behind my eyes. It's cold all the time and I did not bring any of the right clothes. So I shuffle around the apartment with the doona wrapped around me and one of only three pairs of socks I brought, wondering how I'm going to wash clothes in the shower with our one little bar of soap. The already-small space has started to fill up with crumpled tissues, damp from my endlessly leaking eyes and nose.
It's hard to muster the energy to move, and I feel a bit woozy. Better to just sit still and huddle into the blanket. Simon's left to move the room around to try to get the feng shui into something more appropriate, and to set up the blow up mattress. Not that it does much good. I barely sleep, tossing and turning on the hard plastic and sweating into my hair and clothes.
Tuesday
Despite the lack of sleep I get up feeling a little better than last night. Heat now radiates from my forehead and the headache arrives shortly into waking.
The social ripple effects start to make themselves known. The friends we were staying with have to isolate, but surely not anyone from the Christmas party, considering I was only exposed a couple of hours before seeing them?
While they've all tested negative so far, confusion reigns. People aren't sure if they're a close contact for talking to myself or Jack at the Christmas party, and only some have been alerted that any of the venues we went to had a case. Four days after the party, nobody but me has been contacted by any health workers to inform them of their contact.
Luckily for us, we can discuss what it all means with people who have been paying close attention for work for the past two years and reporting on it daily. It's hard to imagine what it's like for people who have minimal contact with health services, or for whom English is a second language.
Most of my day is spent messaging people and keeping people up to date with conversations I've had with official health workers or the other covid positive people. But it also means combing back over events to find out who could possibly be at risk, like a very public and urgent new version of STI tracing.
There's no consistency even on the seemingly simple things. Some pathology labs send people their negative result in a text message with links to the NSW Health website with more information on what to do if they are a close contact. Some people are told that they'll have to isolate for 14 days, some people are told seven days and others get their results back with zero additional information.
At 11am, I get a call from a private number. It's Helen from NSW Health, informing me that I'm a close contact of someone with covid. I tell her I've already tested positive.
By this stage I still haven't been called to give my own whereabouts and contacts.
Half an hour later I'm called again to let me know that I'm a close contact of Jack's and need to get tested. Amy is from the Port Macquarie region, and decides to convert the call into a contact tracing interview while I'm on the line.
I'm so tired and foggy that I depend on Service NSW check-ins to recall my movements. It's hard to believe that QR codes are going to be largely dropped as part of NSW's public health response.
When she exclaims "You're making the most of this trip!", about an hour into this process, I'm glad the government has stopped publishing individuals' movements. Remember barbecue guy?
"I'm jealous!" she says of the busy schedule. "It reminds me of when I was younger."
We have so many follow-up calls that by the end of the day she's calling me Rubes.
By midday, a caller from NSW Health confirms that three people are close contacts of Jack, and we all have to isolate for seven days and get retested at the end to show we're clear. Everyone else can get tested "if they want".
But soon messages start rolling in, telling some staff they are casual contacts and must test and isolate until they get a negative result, others that they're close contacts who need to self-isolate. Many of these texts are cut off mid-message, leaving recipients with mysterious instructions, such as "If you are not fully vaccinated, self-isolat" [sic] and "find out more information about self-isolation, testing clinics and how to keep the".
"How to keep the … faith? spark alive? home fires burning?" the colleague wonders. "I guess we'll never know."
Simon gets tested again. We're told that we should isolate separately, otherwise if he develops covid later, I may have to isolate until his 14 days are complete. Amy tells me she's seen families stuck in isolation for weeks that way.
I'm so bored already. I can't imagine what that's going to be like. If he leaves, it'll just be me in this tiny cell for the rest of the two weeks. Its chipped tiles and beige brick walls bring to mind an insane asylum.
Getting up to the kitchenette feels like a marathon, and all I'm capable of is watching telly. But my muscles are aching and I can't get in a comfortable position. The couch is too small and too hard. The luxe camping chair, on the other hand, reclines so violently that the occupant is flung back with her head below waist level. The blow-up mattress is no good either, for all the space it takes up, making getting around the room almost impossible.
Our friend's cousin was there for 12 months after divorcing from his wife. We wouldn't last two days.
We watch every episode of the new Wheel of Time series back to back, with me on the couch shivering under the blankets in the Sydney summer. Because Simon still hasn't technically had a positive result, we try to spread as far away as we can in the 3m x 3m room. In a particularly tense scene, as one of the characters picks up a heavily foreshadowed cursed object, I turn away from the screen and see Simon's chest rising and falling more quickly than normal.
Wednesday morning
It's been five days since exposure. I actually got a little bit of sleep last night, but Simon looks like shit. He's pale and sleeps in until 1pm.
Symptoms today include: sneezing so violently I spill coffee all over my crotch. I still feel super flu-ey, although the symptoms seems to ease during the day a bit. Last night I was extremely fatigued and a bit light-headed, and the headache intensified into the evening. All of my face is runny, and my forehead feels hot. I wish someone would call us and talk to us about what we do for medical care.
Notifications start rolling in for venues we attended on Saturday. It's a sea of red on the Service NSW app.
At 8.52am, someone new from Ballina calls me to let me know I'm positive for covid, and seems surprised when I tell her I'm in Sydney. She says she'll kick my case over to the Sydney LHD to follow up, and that they would do a wellness check. She says they can also discuss options for accommodation, as we may have to leave the place we're currently staying in and, weirdly, none of our friends want covid patients in their homes.
This morning is utter confusion.
I've now had two local health districts call about being close contact, and two people call about my positive result. But no one has asked about my symptoms or wellbeing. I've received no links to a medical centre or GP, three days after my result and five days after exposure.
I get more calls from the Northern NSW LHD, still seemingly unaware that I'm in Sydney. One person says there is no point sending a pulse oximeter or heart rate monitor from their region, but that I can expect a call from someone in the Sydney LHD. I continue waiting.
And mixed messages abound. Some government health information says we'll be spending 14 days in isolation. But someone from another health unit says 12 days providing we return a negative test. Now the Ballina public health unit tells me it'll be 10 days.
She also tells me that because I'm on day five, I might be coming into the rough part now. I still haven't had a virtual hospital/medical check yet or been given any information.
Still, every single person I've spoken to from NSW Health is incredibly sweet.
At 2pm, Simon gets his completely unsurprising positive result back. Shortly afterwards, he receives a call from NSW Health to tell him he's a close contact.
Then a colleague Fiona gets a positive test result while also away from home, in Melbourne, can't fly home and needs to move out of the friend's place she and her partner were staying in.
Victoria's DHHS tells her they need two days' notice to get her into a medi-hotel. You can't get a normal hotel room or an Airbnb when you have covid, so it's looking like homelessness is her only option. One of her helpful callers suggests a caravan park. Fortunately Stayz comes to the – very expensive – rescue.
Back in Sydney, we're told we can stay in a medi-hotel, otherwise known as a SHA.
We get on the phone to organise it and get bounced to four different people, all confused about why they have been contacted.
At this point in the pandemic you'd think the messaging would be uniform.
All of this logistics work is made harder by the lethargy and fog gripping my brain. I have enough energy to take a phone call, but when it's over the details start rapidly sieving through my memory's grip. I have to write things down, but then I don't remember who even called me, because callers sometimes introduce themselves as from NSW Health but call from different numbers and from different branches that clearly aren't talking to each other.
Luckily the workmates and friends are well-connected, meaning everyone got tested ASAP and stayed home. Everyone that I was aware of had a PCR test and a negative result before they were contacted by NSW Health.
Despite the fact that I was certainly exposed Friday morning, now half the staff have been informed that they're close contacts due to a lunch at 12pm.
Not only that: my father who took us to the airport at 7am on Friday – hours before I was exposed and who lives at the other end of the state – is now a close contact and can't go to work for a week.
We're getting all this info from NSW Health days after we hear it from each other. One colleague receives three calls and texts saying the same thing, others hear nothing.
Simon receives a text and an email from NSW Health asking him to fill out a form with his personal details and movements, which I never got.
Jack – our original positive case – gets a message from NSW Health informing him he's a close contact and he needs to isolate until yesterday.
Jack, it turns out, is one of the at least 45 people who caught covid at the Oxford Tavern's Tuesday trivia night that sparked this whole event. Given my former local is famous for its jelly-wrestling nights, I'd be surprised if this was the first outbreak linked to it.
We hear from a medical centre in Newtown that Delta is responsible for the inner west outbreak, not Omicron, but no one tells us which version we have.
The evening
Simon's Oura ring tells him he has a temperature of 1.6c higher than typical, resting HR 81 during sleep.
At 9pm he gets a call from contact tracers, and they're fortunately able to copy a lot of my movement information. After telling them he has asthma, he gets another call an hour later receiving a referral to the SHA, where nurses will check his vitals twice per day and connect him to RPA Hospital virtual care to review his health.
We rush to pack up the tiny studio, strewn with two days' rubbish and camping gear. Lucky for me this is happening tonight when I have more energy. By 5pm the previous nights I was exhausted, lightheaded, fatigued to my bones.
We flee in a van under cover of darkness with the rain slicking the concrete.
Driving through the inner west, my eyes smart at the white, green and red lights reflecting off the foggy windscreen. Three days has felt like an eternity. Even Parramatta Road looks sweet after isolation.
The car ride is silent except for Nova FM gently playing in the background and our occasional hacking coughs. At 11.39pm, we arrive at the covid gulag, and stay up until 2am watching Ted Lasso because we're so geed up from the excitement.
Other than the cough, symptoms include a red and sore left eye, sore throat, stuffy nose and fatigue.
The apartment is a godsend.
Thursday
Last night I woke several times, back drenched in sweat. Simon is coughing a lot, all through the day. For me, the fever seems to have lifted and I have a lot more energy back. Stuffy nose is lasting less long. The worst seems to have passed.
The cornflakes, banana, fruitcup and soft drink all taste of nothing – so we've finally lost all sense of taste and smell.
If this is the mild illness … My heart goes out to the world that had to (or still has to) deal with this infection without inoculation.
NSW Health have finally contacted friends we saw at the Saturday BBQ to let them know they're close contacts.
Friday
Woke up this morning on my stomach, drool covering my face and pillow, like a golden retriever.
One unexpected downside to losing your sense of taste and smell: not realising milk has gone rancid until too late.
We're in better spirits, but much more bored. Simon does a full day of work. I'm in a bad mood after getting another run-around on the phone. So insanely lost and confused – can't keep track who has told me what, and what I've told other people.
Cough still sounds throaty, like a foghorn. Ripping my throat on the way up.
Do you have chest pain? They ask. Only after I cough. Then it's like a sharp scratch inside my lungs.
My colleague Trish is contacted by NSW Health who tell her she's a close contact, on day seven after her exposure. Which is the day she'd be free to go back into the community.
Now
As I file this, it's day 11 – two full weeks after my exposure – and I'm still trying to find out when I'll be allowed to leave.
The delay of Simon's positive result means that we almost certainly won't leave at the same time, maybe days apart, even though it's also his 10th day today.
The system seems overrun, and if we're lucky enough to get through to someone at the RPA virtual, they carefully manage our expectations that it might take 24-48 hours or more for the paperwork to come through after a doctor has checked our case and approved us for discharge. So while we may be eligible to leave, it seems that we're stuck here because no one has time to do our paperwork. 
That aside, I'm incredibly thankful for the nurses and healthcare workers who helped me through this. While the system itself seems to be bursting at the seams, almost every single person I interacted with was caring and lovely.
Nevertheless, after two years of flirting with covid, I regret taking the next step.
Names have been changed for privacy