3 August 2018
Why telehealth still has a long way to go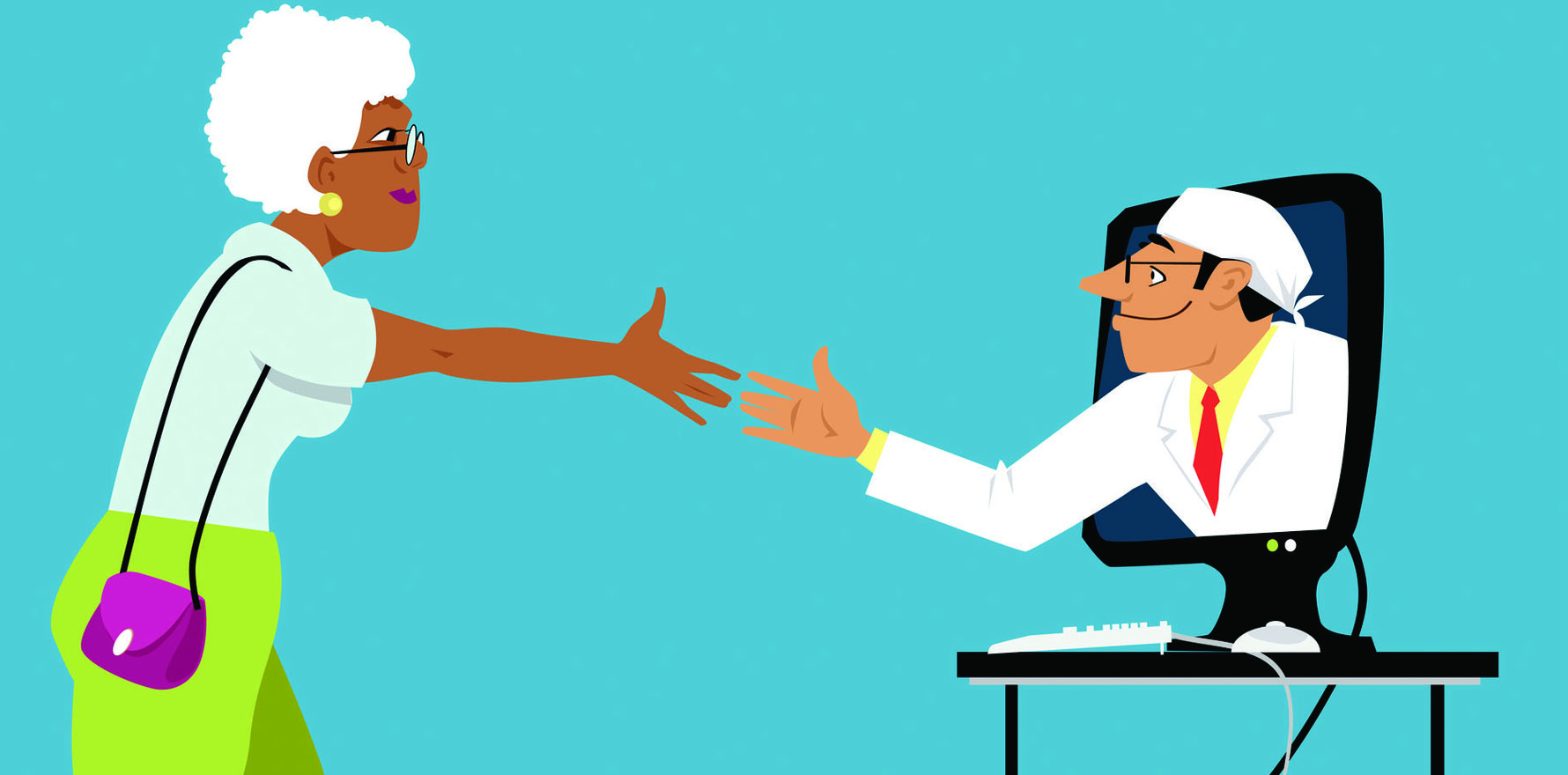 A lack of hard evidence and professional resistance has hampered the potential of telehealth to deliver better patient care
---
Seven years after specialists were granted rebates for remote telehealth consultations, rural GPs hope their time has finally arrived to break the access barrier for patients in the bush.
Dr Ramu Nachiappan, a GP in Broken Hill in New South Wales for 27 years, is indignant that general practice has been locked out of technology-aided solutions to the problems of time and distance that impede rural healthcare.
"Medicare's requirement for physical attendance by GPs is very restrictive of our ability to provide service for rural patients, especially isolated patients and patients who are unable to come at a certain time or have transport problems," he said.
"In my humble view, when they rolled out video consulting for specialists they should have done the same for GPs. There is no Medicare rebate for a GP to take part in a video consultation except as a chaperone sitting with their patient.
"It is an abysmal state of affairs." 
For the past year, Dr Nachiappan has been part of a trial conducting video consults for patients in aged-care facilities, of which Broken Hill, in the state's far west, has three.
"Within the first three months, we halved the number of presentations to hospital by patients from the those aged-care institutions. There is no doubt about the huge impact of telehealth for a GP with aged-care patients," he said.
"In terms of service provision it's phenomenal, because the facility can schedule an appointment within normal hours, as long as there is a slot in the doctor's diary." 
This means the patient does not have to wait until a GP has a chance to visit at the end of the day or later, when the nurses may be gone and the pharmacy is closed. 
"There is a registered nurse or family member of the patient at the other end. They are happy to have quick contact with the GP and then a follow-up when the GP can attend," Dr Nachiappan said.
"I have dealt with just about every condition. Having done this for 12 months now, I've come to the conclusion that for palliative care it is absolutely invaluable. 
"In palliation, with someone in pain, you can do a video consult, the registered nurse gives you a set of obs, you can see the expression on the patient's face. You can say, give them a PRN dose of morphine and bump up the next syringe pump to a higher level."
No-one is suggesting telehealth is the magical solution for all primary care shortfalls in rural Australia. 
"A critical aspect we like to promote is the importance of knowing the local situation and local community networks and ensuring patient continuity," Richard Colbran, CEO of the NSW Rural Doctors Network, a federally funded workforce agency, said.
The network stepped in to support the Telehealth in Residential Aged Care Facilities Program (TRAC), operating in Broken Hill and Dubbo, in a joint venture with the Western NSW PHN after initial funding from the local health authority dried up. 
"This particular initiative is an example of an innovation that has not only succeeded, but we are trying to use it as an exemplar of how the whole of the service needs to work," Mr Colbran said.
"That's one of the really important messages when you are talking about technology-based services. It's not just the connection but the whole of the service, ranging from the local support, the clinical quality, all the way through to who is providing care, and how and when."
The success is the result of a lot of hard work and adjustment by doctors, nurses and aged-care staff, but crucially it can be scaled and replicated.
"One of the critical needs in our rural communities, and particularly remote communities, is high-quality aged care facilities and access to medical and clinical professionals in those facilities, so the workload is stretched," Mr Colbran said. "What I like about (TRAC) is that it has worked well and continues to improve. It's real, it's working and it has benefits. It is something to celebrate."
The network is also exploring how technology can help support retention of rural GPs through a collaborative triage network for after-hours calls.  
"Our job is to support the primary health workforce and access to healthcare, so we are very interested in the welfare of GPs and their financial sustainability," Mr Colbran said.
"What I hear is, the majority of rural doctors are in this business because they care. They care for people and their communities, and they want the very best for them. We also need to help them have a life and solve some problems like, can they have a night off." 
This would involve bringing together doctors in a cluster of four or five towns to cover for each other via a phone or video hook-up.  As with the TRAC project, providers can create a critical scale to overcome a common issue, Mr Colbran notes. 
A recently revealed proposal from the Australian College of Rural and Remote Medicine and the Rural Doctors Association of Australia shows what a new telehealth regime for rural GPs might look like.
It puts careful emphasis on the need for telehealth to promote a patient's relationship with their regular GP, calling for a "cycle of care" approach, starting with a face-to-face GP consultation and allowing for follow-ups by video or phone during a specified period such as 28 or 90 days. 
A committee of the MBS Review Taskforce is expected to draft recommendations by the end of this year on the ACRRM-RDAA plan – which, importantly, has been endorsed by the RACGP. 
Among its modest demands, the submission says Medicare rebates for GP telehealth should be limited to doctors and patients located in areas classified as 4-7 on the Modified Monash Model remoteness scale.
MMM-4 locations are defined as towns with a population of 5000 to 15,000 and their surroundings within a radius of 10km by road.  This takes in regional hubs such as Lithgow in NSW, Sale in Victoria, Charters Towers in Queensland, and WA's Margaret River.  But the larger centre of Broken Hill would be excluded, being classed as MMM-3. 
The submission stresses that the "tyranny of distance" acts as a major barrier to health, deterring rural people from travelling hours to their GP unless they are really sick.  
"This aligns with data where emergency hospital admissions involving surgery are highest for people living in very remote areas (22 per 1000), compared to major cities where it is 12 per 1000."
It says that telehealth has "significant potential" to help patients with chronic disease taking part in Health Care Home models, noting that additional support would be needed for infrastructure and data costs. 
To further support this model,  current MBS item numbers for a health professional to be with a patient for telehealth consultations with a specialist should be expanded include consultations by a general practitioner, it says.
The submission adopts the International Organisation for Standardisation's definition of telehealth as the "use of telecommunication techniques for the purpose of providing telemedicine, medical education and health education over a distance".
Dr Ewen McPhee, a former RDAA president who chairs Queensland Health's telehealth governance committee, says development of telehealth in Australia has suffered from a lack of hard evidence.
"As they say, we've had more pilots than Qantas, but research into telehealth is still not as robust as it should be. People have a good idea, but they don't think about adequate evaluation before they start the program. There's no evidence they have made a difference. 
"Intuitively, telehealth makes sense, but if you don't have the evidence it becomes difficult to get funding," Dr McPhee said.
He is emphatic that investment in telehealth should be directed at expanding healthcare provision and adding value, not incentivising programs that substitute for existing services. 
"There's no point in spending a lot of money on telehealth if it is not actually improving access, not improving equity for patients and not expanding the scope of practice of clinicians at the patient's end," Dr McPhee said.
Evaluation of an innovative 12-month GP telehealth pilot project, in the very remote (MMM-7) Barcaldine area in Queensland's central west, is currently being finalised.  
In specialist care, there are plenty of examples of digital technology transforming healthcare access for rural Australians in ways unimagined only a generation ago.
At a cardiac clinic operating from Dr McPhee's practice in the central Queensland town of Emerald, an MMM-4 location, a city-based cardiologist can listen to a patient's chest with a digital stethoscope. 
An added benefit is that the practice nurses, who do work-ups for patients with support from nurse practitioners in Rockhampton, are enhancing their capacity to care for patients with chronic disease, the GP says. 
However, for every breakthrough, there are stories of frustration at the unwillingness of health systems and clinicians to embrace change.
An extensive UK review into why technological advances such as telehealth often fail, or fail to meet objectives, found the intended adopters were the problem.
Professor Trish Greenhalgh,  a professor of primary health care sciences at Oxford University, told the Australian Technology Conference earlier this year that the study revealed new technology could be a threat to professional identity, real or perceived.
 "Clinicians speak of not wanting to be a data entry clerk, for example," she said. 
"These can be quite important barriers to the adoption of a technology.  If it feels like the technology is making them less of a professional, they simply won't adopt it because professional identity is very strong."
People felt threatened when technology asked them to change their scope of practice, so that even the apparently simple adoption of using Skype for outpatient consultations was an issue because it demanded clinicians contact the patient and do the administrative processing of the encounter.  
"It was these implications to teams –more than the technical features of the Skype technology – that delayed the introduction of this service model," Professor Greenhalgh said.
In the Hunter New England PHN region, which sprawls from the NSW Central Coast to the Queensland border and west to Moree, telehealth has been a development priority for 10 years. 
But despite many notable successes, the results have been "pathetic", with telehealth figuring in just 0.8% of patient encounters where it could have been used, Ashley Young, the PHN's coordinator of information and telehealth systems, told the conference.
Telehealth was suffering an "insane time lag", he said. "I believe that this lag is due to a lack of leadership. It's the policy challenges we have, the resistance from metropolitan providers, it's a fear of the unknown, and a failure to investigate the patient's story."
He cited the case of a 68-year-old woman recovering from traumatic hand surgery who was forced to catch a train at 11pm to arrive at Newcastle for morning follow-up appointments with her surgeon. The round trip took nearly 24 hours.
"This is what our patients tolerate.  It's what our system allows," Mr Young said.
"Our hand team has changed this. (The patient) started receiving all her follow-up care by telehealth at a local clinic with a local physiotherapist. Her view, shared by her physio and her GP, is that her care through telehealth and local enhancement has been better."
But from small beginnings and a slow start, telehealth in Australia is now sending out shoots in some interesting ways. 
For example, paediatric audiologists are using videoconferencing to hold key follow-up consultations for indigenous children in remote communities who have been fitted with hearing aids.  
With ear disease and hearing loss affecting an estimated 30% of the cohort, it was vital children were monitored and supported from an early age to avoid speech and learning difficulties, Samantha Harkus of Australian Hearing said.  
The intent of the program, midway through a six-month trial, is to give positive reinforcement to the children, their families and their "hearing helpers" who are often education employees. 
Associate Professor Alexandra Martiniuk, a senior research fellow at the George Institute, who is researching telehealth, observes that schools are an ideal environment for telehealth delivery.
"For kids to have their care delivered right in the place where they spend a big part of their lives, at school, it spreads the knowledge into their circle of teachers, teaching assistants, Aboriginal education officers," she said.
"It removes health from the top-tier tertiary hospital (and) one appointment a year."
The Canadian-trained epidemiologist, who has explored health access in disadvantaged countries around the world, said telehealth could expand thinking about health access and health providers. 
"What I think is super interesting is that telehealth moves into spaces where there has been no service – either an area that does not have health access or a perhaps a role that has not been filled, such as supporting police when they show up at a suicide attempt.
"When we talk about chronic disease, which is the big burden in Australia, telehealth is going to make so much sense because chronic disease is not a one-time appointment and it's multidisciplinary."
"It's touching base with multiple providers and its also about self-care," Professor Martiniuk said.