4 April 2020
Telehealth on path to rip govt's COVID plans (and general practice) asunder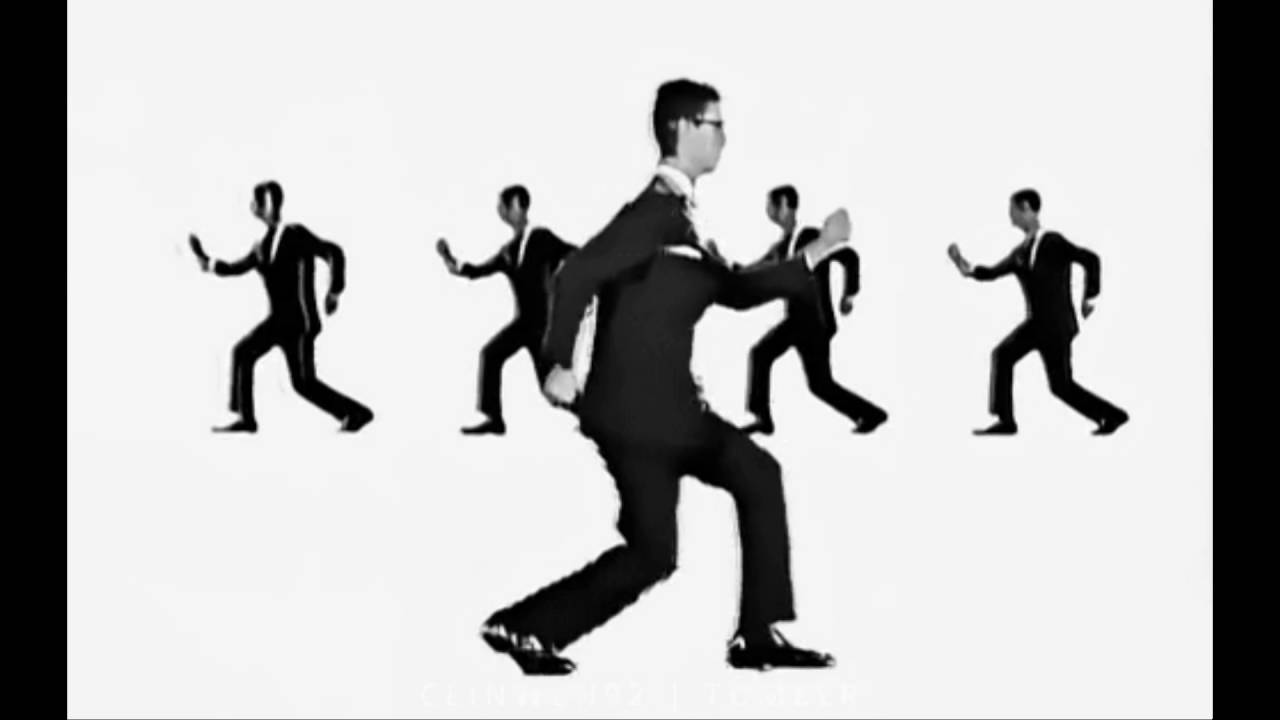 The sudden introduction of telehealth may have been well intentioned, but it's damaging a key strategy for containing the pandemic, and threatening to rip general practice apart
---
Soundtrack to  today's 'this-week-in-COVID' post: Talking Heads – 'Once in a Lifetime'.
And you may ask yourself, well 
How did I get here? 
And you may ask yourself
Am I right? Am I wrong?
And you may say to yourself
"My God! What have I done?"
Same as it ever was
Same as it ever was
Same as it ever was…
How did general practice get here?
Where both the federal government and the general public aren't aware that the profession that is their front line defence against the most serious crisis since both world wars, is rapidly drowning in front of their eyes. (See our survey story on how 50% of GP practices are reporting losing more than 30% of income).
What have we done?
How did we come to guarantee the future of the banks, private hospitals, the childcare centre industry, a good chunk of small business and a swathe of other groups , and not the people who are at the frontline of the health crisis fight of our lives and who are risking their lives each day just by turning up to work?
Is it going to be the "same as it ever was"?
Are we doomed to keep regarding general practice as a disparate group  that will loyally keep coming back for more because of their patients and their love of the job?
Not this time.
If the government doesn't step in quickly and fix this current and rapidly unfolding mess, the profession is going to be ripped apart by rapid structural change, financial ruin and technology.
And we will never be able to put it back together again.
The federal government's well-intentioned rapid introduction of telehealth to all MBS items for GPs is starting to rip apart  general practice. And no one is noticing.
Opening up telehealth had to be done. Patients were going home to isolate as was required. Doctors are too, in some cases. It was the only solution to a myriad of problems presented by the nature of the crisis.
But the simplicity of the government's telehealth solution is looking increasingly like a recipe for a much bigger disaster than cruise ships, PPE shortages and not shutting down earlier.
Telehealth is far more complex than the government has calculated. According to experts, this is probably because the government didn't really listen that carefully to telehealth lobbyists in the past about how they should and could introduce it to our healthcare system.
The government didn't pay attention because the government has been, with some justification, obsessed with the idea that telehealth was too easy to abuse. It is. But telehealth experts are now pointing out that this lack of understanding is catalysing a new front in the COVID-19 crisis: the rapid degeneration, and potential collapse, of general practice.
A GP leader in the e-health space, who chose to remain anonymous, told The Medical Republic that any introduction of telehealth would always have needed significant training and education of GPs, along with appropriate funding for infrastructure, and careful planning of the MBS items to be made available.
"What the government doesn't yet realise is that this isn't a whole lot of extra money trickling down to primary care and it's not supporting people on the frontline," she said.
"Opening up a new Medicare number doesn't give you skills, doesn't given us the technology, or PPE. It doesn't protect us. There is so much more that needs to be done to support a GP embarking on using telehealth on this scale."
Some practices were now seriously assessing their options, the GP said.
"If you aren't a corporate with other revenue sources, if you can't get PPE, if your revenue is disappearing, then you are going to close your doors at some point.
"The more that happens, the more emergency departments in hospitals are going to get into more trouble."
This is what GPs are now facing in a crisis that is running as rapidly out of control for them, as it did for the government a few weeks ago:
Many have never used telehealth before, so they don't know how to do it, or use any of the technology. A telehealth phone consult might seem a doddle to some people, but it isn't. There are all sorts of communication protocol complexities, regulatory gates and information issues surrounding what you can and can't do. GPs are confused. They haven't been trained for it, because no one thought it was coming.
GP revenue is dropping like a brick as patients stay at home. Many surgeries are losing all their mixed-billing revenue they've had to build up because of years of a MBS freeze. The number of telehealth consults isn't equalling the number they used to do face-to-face, so they are faced with the bizarre situation of a health minister promising an additional $600 million to back the profession in the crisis, but the government may end up saving money.
GPs, in general, don't have any technology to manage the telehealth process, most importantly payments, so nothing is automatic like it used to be. GPs are having to put on additional resources to manually manage their income, which is less income anyway. So more cost, less income, escalating each day.
GPs are having to spend time training themselves in after-hours webinars on how to do telehealth, and what technology they should be using.
Practices have to pay for new technology and wait while it gets installed.
Patients aren't used to using telehealth either. Some older patients, a significant proportion of our chronic disease cohort, will never get used to it. And some will never use it.
Already, some technology groups are gearing up to swoop on all the low hanging revenue by using automated systems. Such technology will be appealing to consumers, and terrible for patient continuity and safety. But worst of all, it will take another 20 to 30% of available income out of the system and pass it to a few, not the many.
If COVID-19 is the biggest crisis facing our community and our economy in all our lifetimes, the current implementation and approach from government towards general practice, and telehealth, is potentially nothing short of an extinction event for general practice as we know it.
What is the use of AHPRA opening up the register for recently retired doctors when the ones you have on the frontline are going broke, shutting up shop, and dying of worry for their patients, their own safety, and the future of their families?
Already many solo GPs, and some mixed-billing practices, are closing up shop and walking away.
How did we get here?
Would the general public even believe we've got ourselves into this situation? A situation where their trusted local GP is possibly going to go bust! Most think GPs are busier than they have ever been in the lives and must be raking in the money.
It's all upside down at present and the government needs to get on top of this fast and fix it before it makes the Ruby Princess look like a stroll in the park (with only one other person and with a 1.5m gap, of course).
GPs aren't waving any more, they're drowning.
Aren't GPs our most important chess piece in the strategy to win the war on COVID-19? Aren't they the frontline taking the first hits and easing the strain on hospitals?
Why do we think, "oh, they'll be OK, they've got all the MBS items on telehealth now everyone has gone home, we'll throw in a few more ePIP incentives, and perhaps they can apply for job keeper payments too"?
What is the logic of adding more cost and non patient time to their lives by asking them to fill in more forms for ePIP, apply for the job seeker allowance, buy telehealth equipment and learn how to use it, and sort out how to get paid for telehealth, when so clearly they should only have one job at the moment, their patients?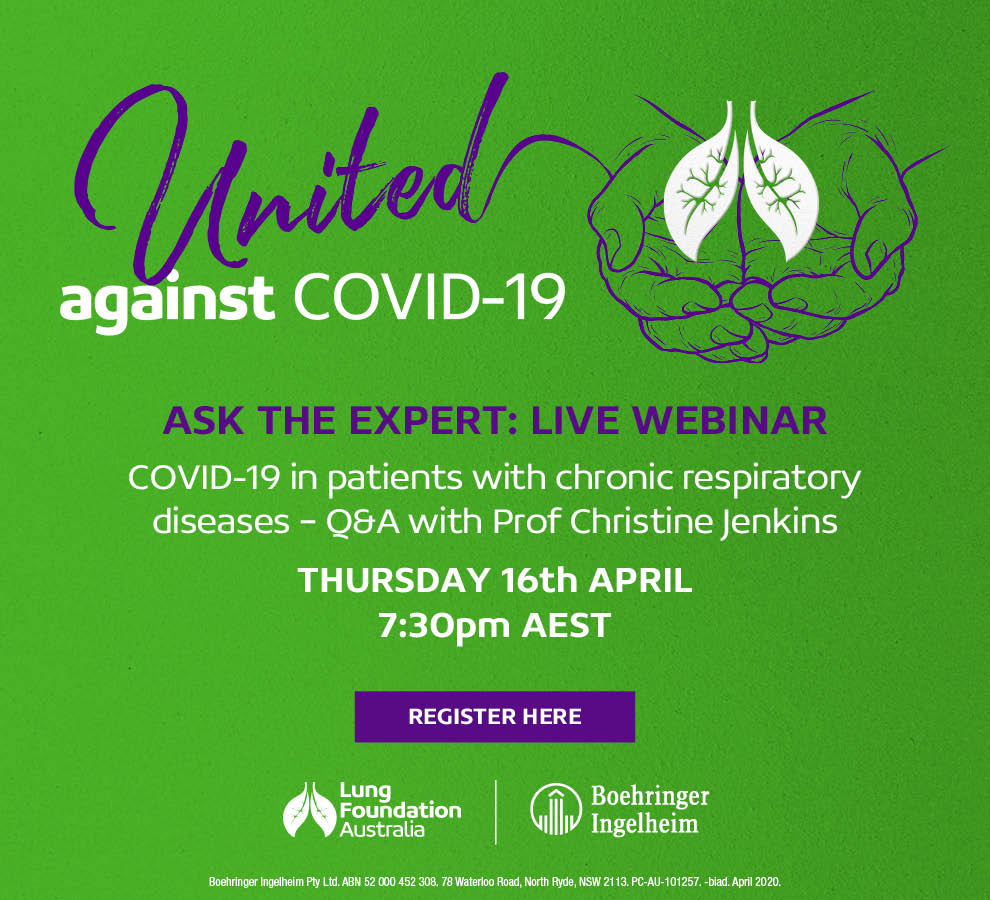 Why don't we just guarantee their income for the next three months and then review it, like we have for other crucial infrastructure in this crisis, and others in the past?
If our GP networks start collapsing, as they seem to be starting to do, we are going to need a lot more than an additional 30,000 beds in private hospitals we just paid $1.3 billion for to handle this crisis.
And worse. By not looking out for this crucial frontline force, we are likely to lose more lives unecessarily.
Why would suddenly introducing telehealth create so many problems so quickly?
We sent the results of our  GP telehealth survey to digital health campaigner, GP, and past chair of the RACGP e-Health Committee, Dr Nathan Pinskier, and asked him to comment on the results, which included that over 50% of practices reported revenue drops of more than 30%. This is what he thought.
Fascinating yet highly predictable.
You can't implement a new way of providing frontline primary medical care without a comprehensive understanding of the change and adoption process and the unintended consequences. You also need all the supporting tools and resources to be in place so that the transition is as seamless as possible.
The move to telehealth was proposed over a decade ago however Australia stalled in its implementation.
There was a need to develop appropriate policy and associated digital tools to support the transition to telehealth.
A medical  consultation can result in the production of a multitude of paperwork, documents and forms.
Many of these known forms such a sick certificate or a capacity certificate or a prescription or a test request or a referral require a doctors wet signature to be either legal or acceptable. So as an example, how does a doctor at working from home, logged in remotely to the practices clinical software physically sign a document or a prescription? It's a dilemma.
We rely heavily on faxes in healthcare because interoperable secure messaging has not been adopted. The NBN does not support fax so where does that leave healthcare?
Yet the world has moved on. We accept documentation with digital signatures in all other forms of life.
We use ordinary email extensively to attach and transmit documents. It works, it's seamless and it's easy to use and it accepted by the public. The privacy concerns seems to be low. Lawyers and accountants amongst many other providers use ordinary email to transmit sensitive documents. Yet in healthcare we have set a secure messaging bar which seems almost impossible to achieve.
We have wasted a decade trying to build and adopt big box national solutions when we should have firstly been focusing on digitising the things and workflow that happens on a day to day basis. We have not solved the secure messaging adoption problem. We have been unable to establish a governance framework for national secure messaging. That is highly frustrating. In a time of crisis My Health Record should have been a go to resource yet it is barely mentioned. Why?
If we had all these digital systems working well now, we would have been much more prepared for a rapid implementation telehealth.
Yet we are where we are.
We will learn much from this crisis and we shouldn't let it go to waste
As and when we move to the COVID-19 recovery phase we need to review and reconsider the national digital priorities and how these can be best delivered.
Perhaps it's time for a digital change?
It couldn't come soon enough.
What 174 GPs say about having to master telehealth in a few days
We asked GPs to tell us what was challenging about now doing so much telehealth and here's what they said. You only need to read 10 or so replys to get the idea.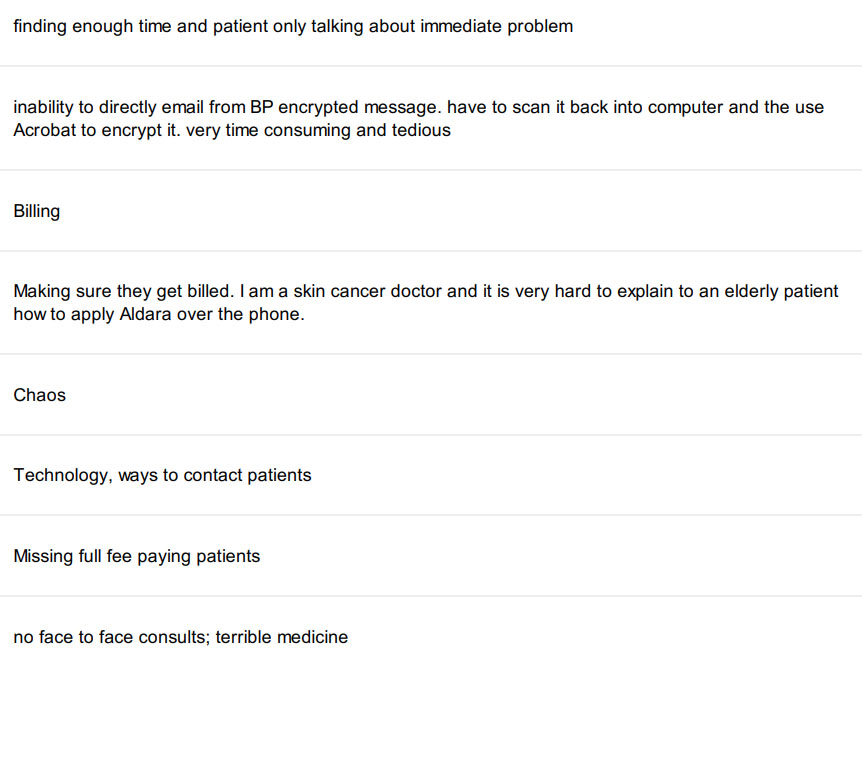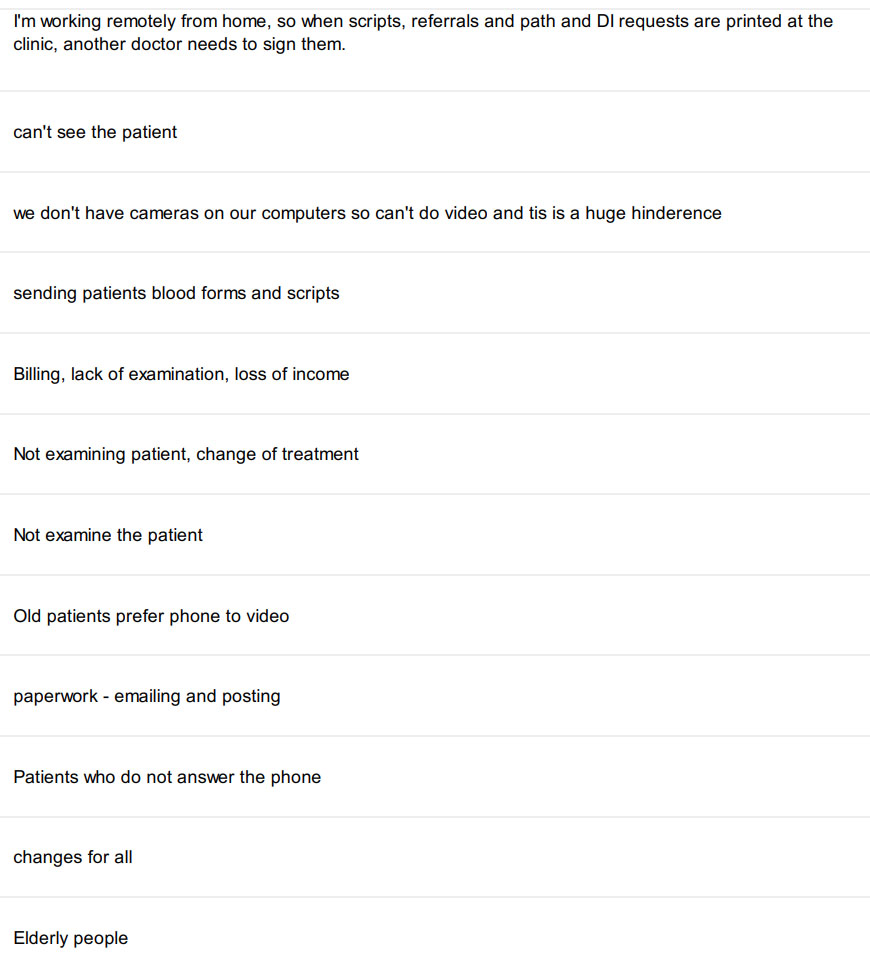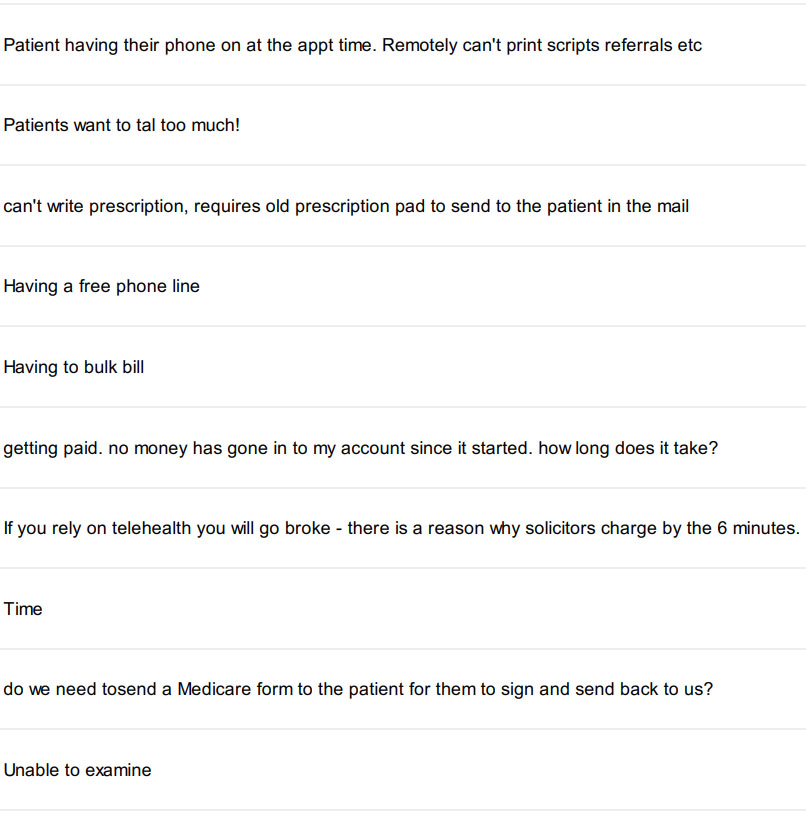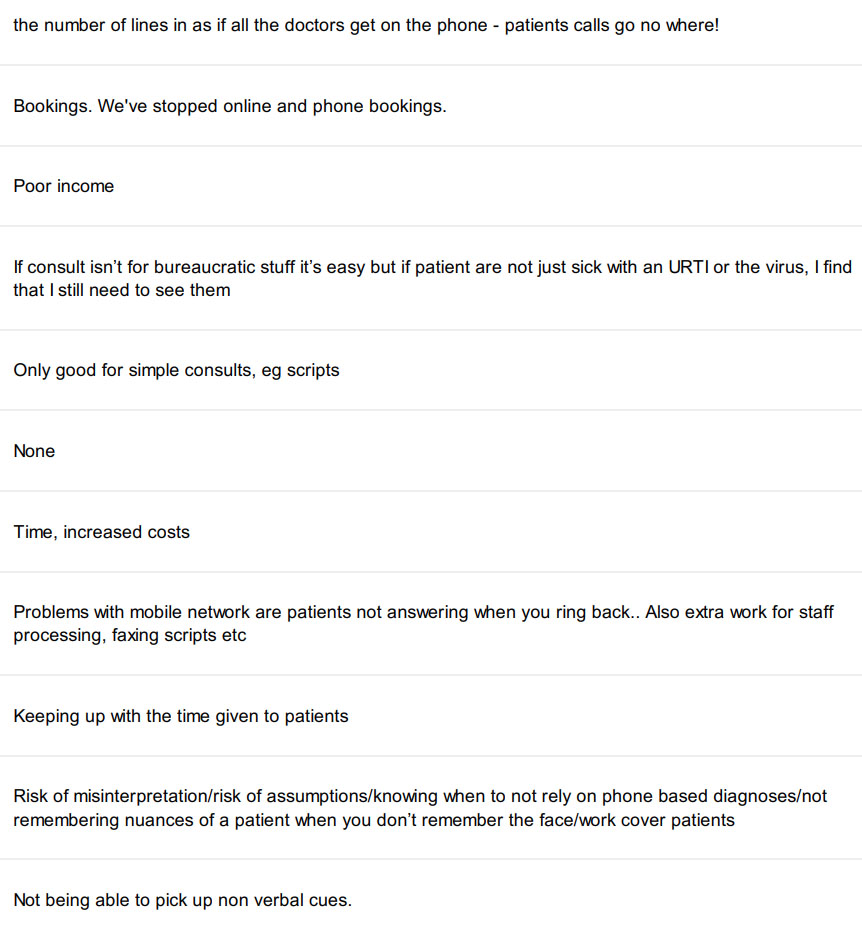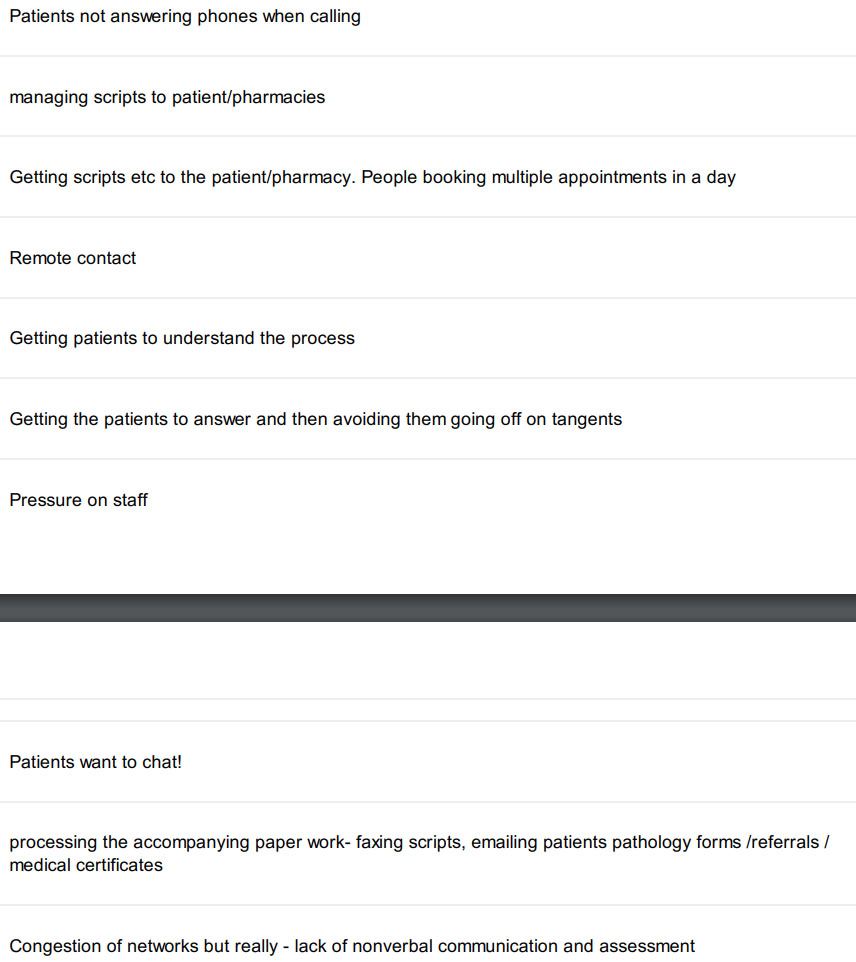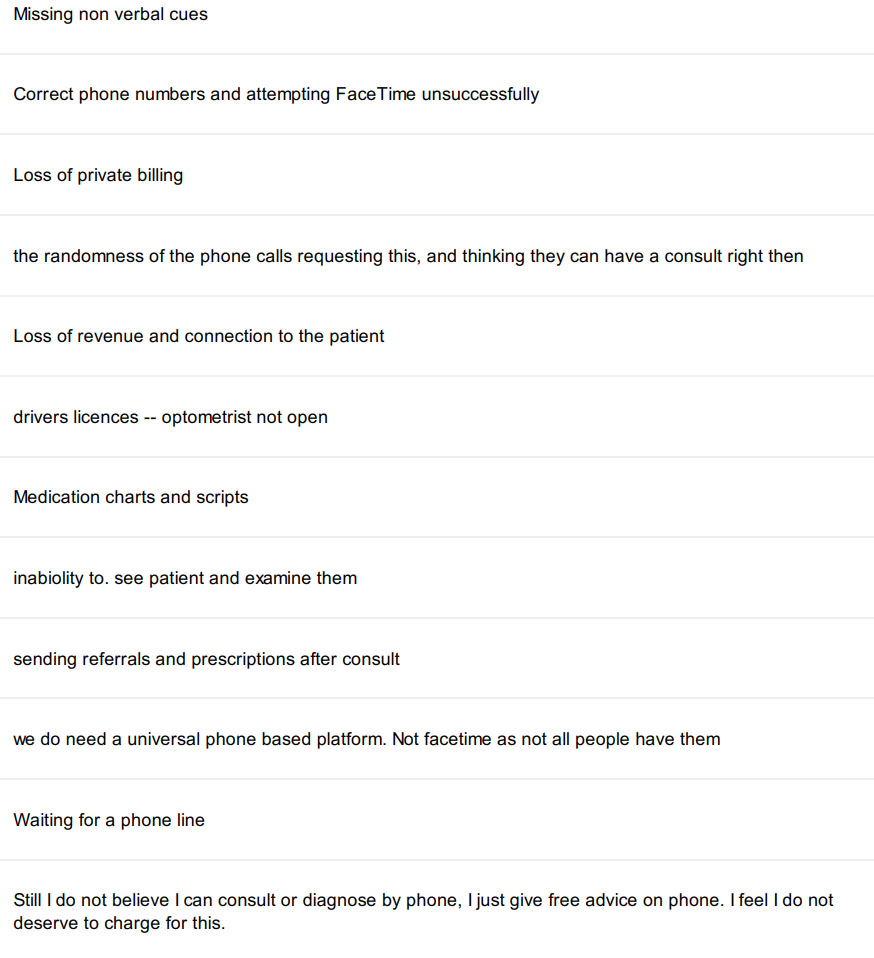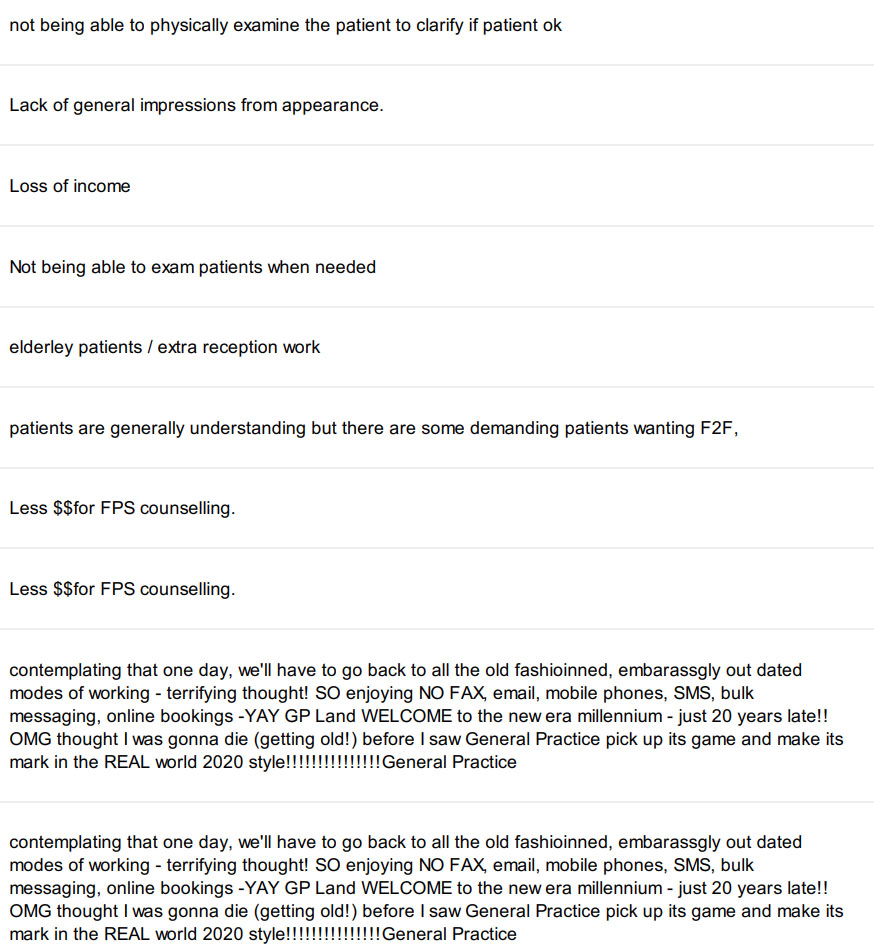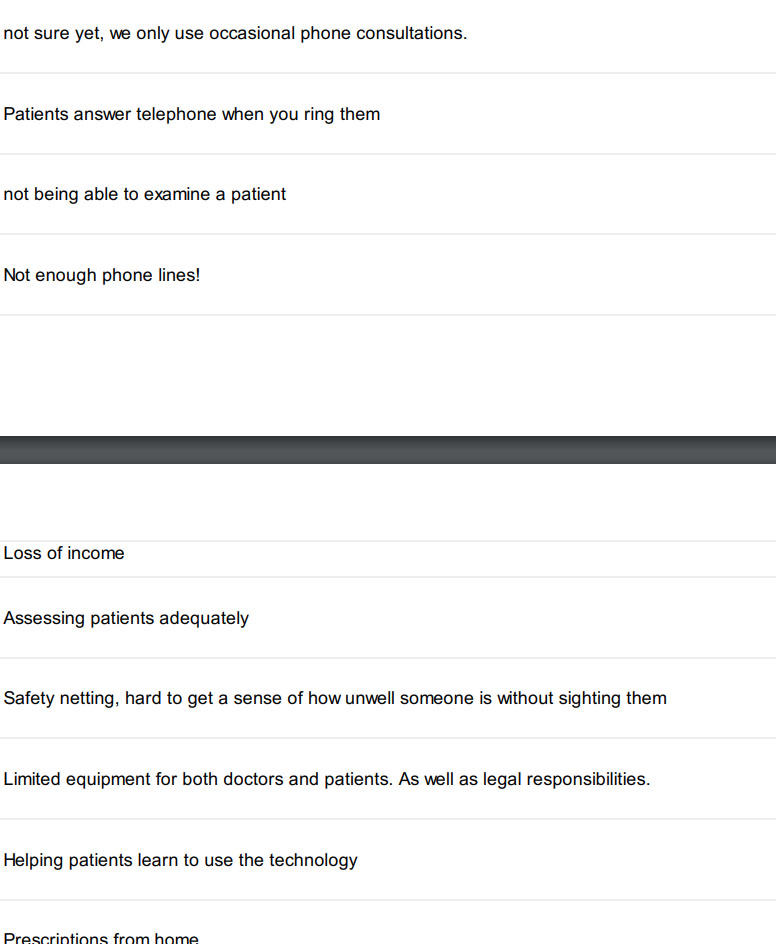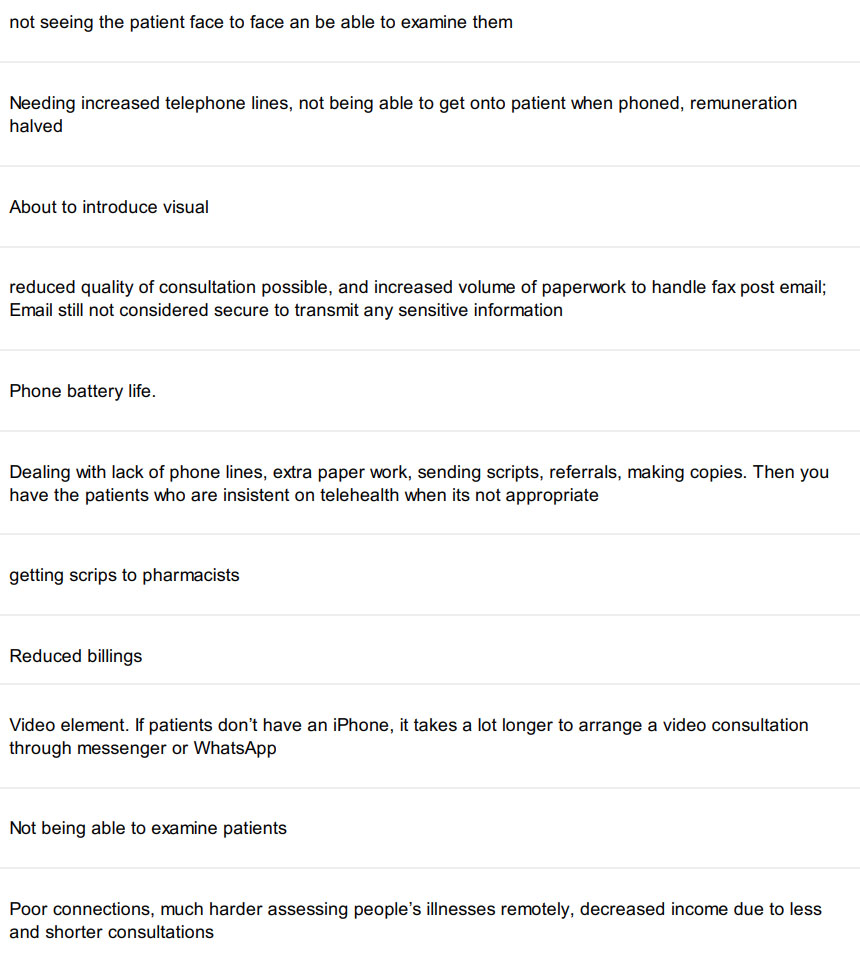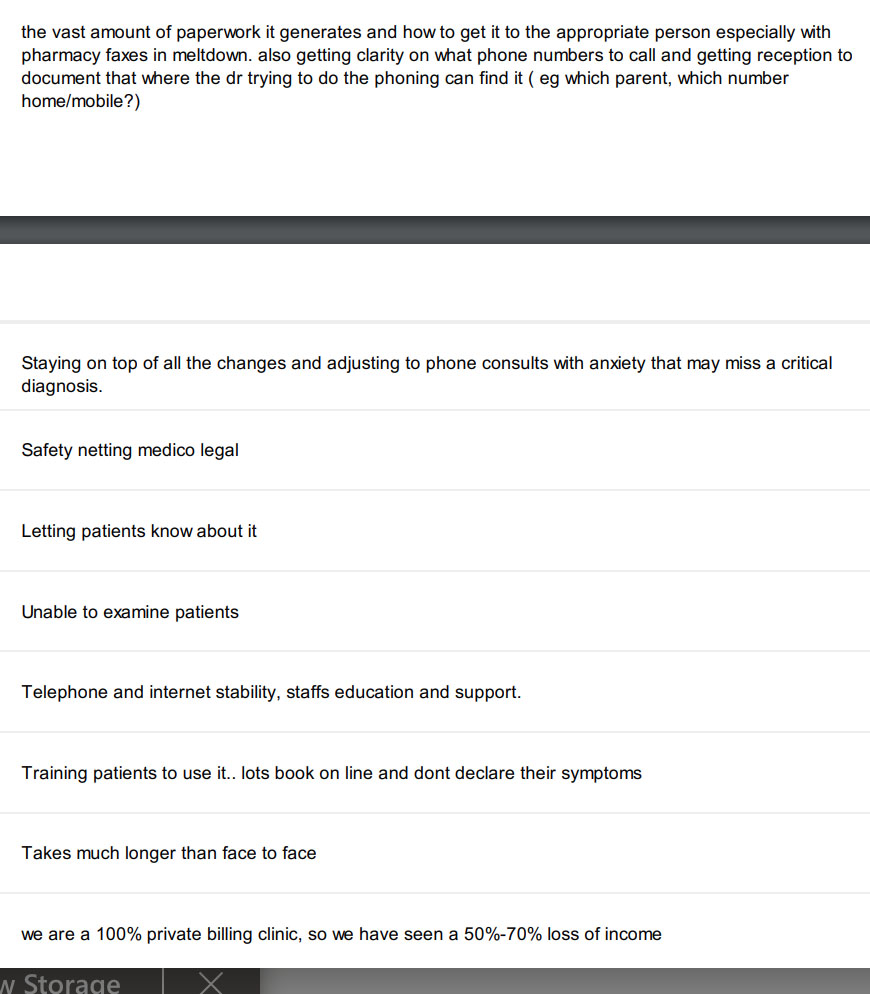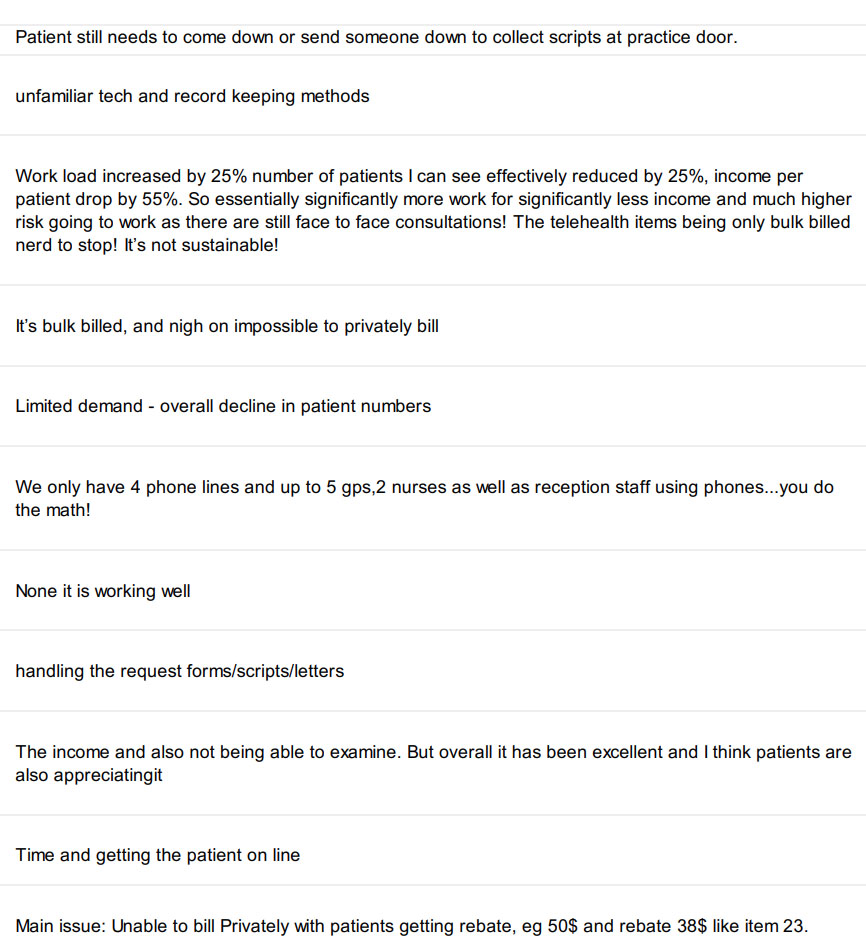 See you next week