9 June 2021
Taking medical care to the streets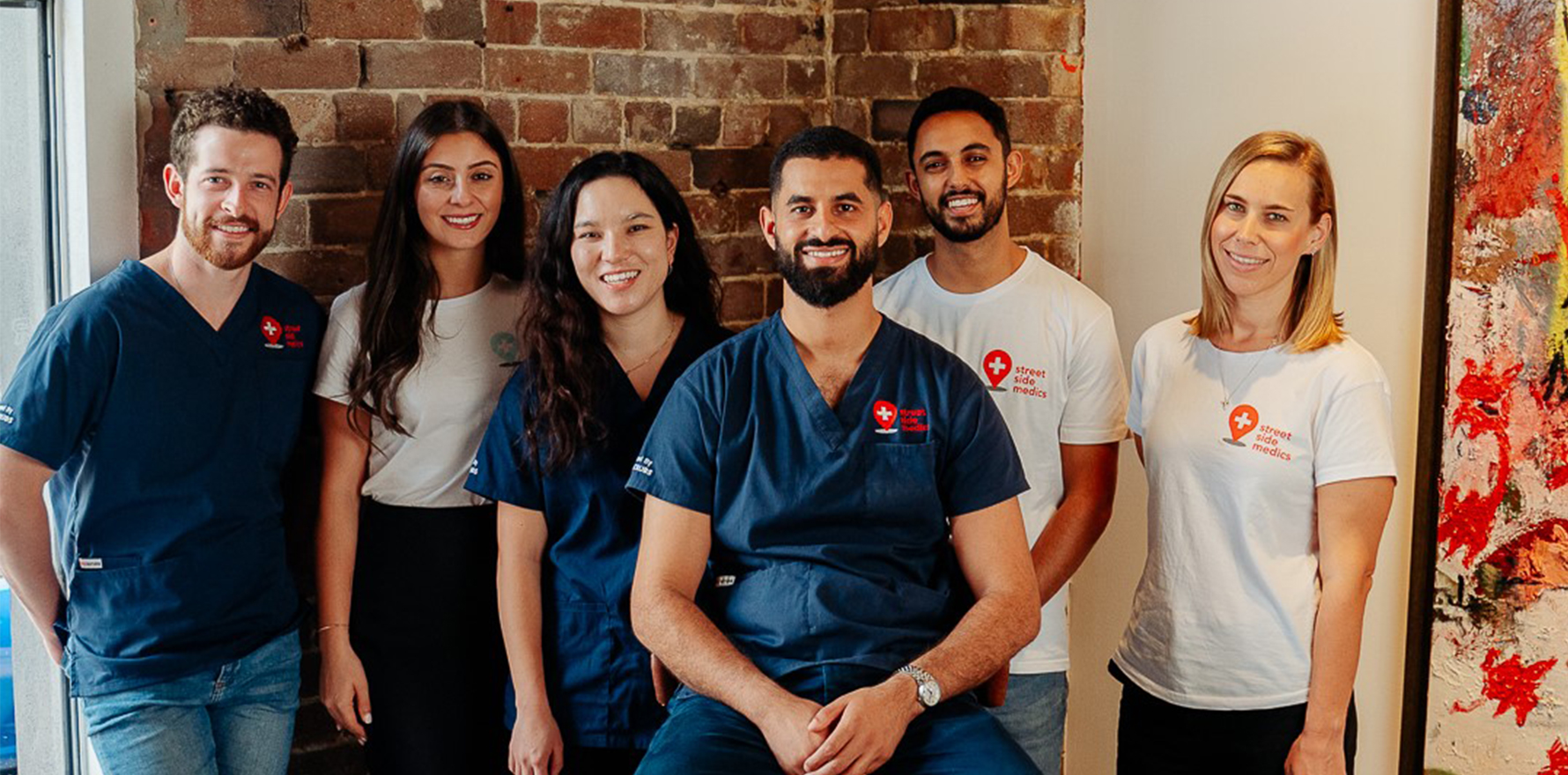 Street Side Medics are a team of volunteer doctors whose aim is to provide care for the homeless and those who have been disenfranchised from the rest of society.
---
If you've walked down the Woolloomooloo end of Sydney's Bourke Street on a Tuesday night recently, you might have noticed a red-and-white van joining the regular COCOS homeless food service.
Inside the van, a team of GPs, trainee doctors and allied health professionals work to treat Sydneysiders experiencing homelessness, some of whom may not have seen a doctor for a decade or longer.
The team are volunteers with Street Side Medics, a not-for-profit started in August last year by Dr Daniel Nour, a resident working full-time at Royal North Shore Hospital.
Although the project is still in its early days, Street Side Medics run four clinics a week in various locations across Sydney, and with a second customised van to be operational soon, it seems inevitable that their operations will expand further.
The vans themselves are fitted out as a mobile clinic, with spaces for triaging and consults, as well as equipment to perform electrocardiograms, ultrasounds, vaccinations and point of care pathology tests.
Dr Nour originally had the idea for the clinic in June 2019, when he was studying a medical elective at London's Imperial College.
"After a shift, I walked out of Waterloo train station, which is near where I lived, and there was a gentleman on the side of the street who was having a seizure, and he was experiencing homelessness himself," he tells The Medical Republic.
While Dr Nour was taking the man's vital signs and waiting for paramedics, a woman who was also experiencing homelessness informed him that the man didn't take drugs or drink alcohol, but often had seizures.
Dr Nour asked her why the man had not sought medical treatment.
"Her response was 'Mate, the healthcare system barely cares about you, let alone me, let alone us'," he says.
"That was just confronting, because I was a few weeks away from becoming a doctor and to hear someone say, in their own words, that they thought the healthcare system cared less for them than for an average person in society was a bit of a shock."
When he returned, Dr Nour was equally surprised to find that similar challenges limited access to care for people experiencing homelessness in Australia.
"The solution that I came up with to alleviate the vast majority of the challenges was to create a mobile medical service with more than just basic equipment that went to people, essentially taking the practice to them," he says.
One cornerstone to his approach has been partnering with food outreach services such as COCOS, St Matts Manly, Mission Australia and Maronites on Mission.
"There are multiple challenges which lead to one becoming homeless, but the common denominator is food, and usually a lack of finances," he says.
"That's why we joined the food service, and why we go to crisis accommodation – because everyone needs food.
"And very likely, it's very well known which food services are around, when they're around and their locations.
"Someone just coming for a simple meal may not know that there's a medical service there, but will come and see our van and one of the volunteers will approach them."
Often, it can take several weeks to build trust with potential patients, so Dr Nour and his team make their clinics as regular as possible.
"Usually, in our induction, we say that the goal isn't to get [people] in the van," he tells TMR.
"The goal is just to have a chat with them, see how they're going and build some rapport.
"After that, you can offer them the medical service if they need it."
Even people who turn down the medical service initially will often return a few weeks later, after that rapport has been established.
"A lot of the time you get someone and you say 'Hey, man, when was the last time you saw a doctor?' and they say 'Oh, you know, I don't see doctors, I haven't seen one in 10 years'," Dr Nour says.
"'But would you like to come see us, free of charge? You don't need Medicare'."
"'No, no, I'm all right'."
"And they'll be all right for a month or so, then they'll come in and say 'Actually, I've got this wound on my right leg that I've had for the last three years, is there anything I should do about it?'."
Clinically speaking, Dr Nour says, most of the conditions with which patients present are commonly seen in general practice, which is why the service is GP led.
"Firstly, being exposed to the elements increases your risk of chronic conditions, certainly in non-communicable diseases," he says.
"But we generally see conditions that may be present in society or community as a whole that just go untreated or unnoticed for a long amount of time."
These include chest pain that may have developed into coronary disease because of conditions such as high blood pressure, high cholesterol or thyroid issues that have gone untreated.
According to Dr Nour, the GPs who volunteer with Street Side Medics are invaluable, especially in creating treatment plans, chronic care plans, mental health care plans and referrals to tertiary services.
Additionally, many of the patients who present at the clinic are in need of the holistic, continuous care that GPs specialise in.
"The people that keep me up at night [aren't the rough sleepers, they] are the ones that are in unstable housing, or couch surfing, or sleeping in a car, because no one really is seeing them," Dr Nour tells TMR.
"They're the ones that are, in my opinion, very vulnerable because their issues can go unnoticed."
With a new van going live soon, Dr Nour is looking for more volunteers, with a commitment level of just a few hours every month.
Currently, Street Side Medics run clinics in Manly and Brookvale on Monday nights, Woolloomooloo on Tuesday nights and Parramatta on Sunday nights.
"I think it's a privilege, to be honest, being able to use my knowledge or skill set to give back to a community who have been disenfranchised from the rest of society and who feel potentially isolated – to be able to have the opportunity to talk to them, interact with them and treat them," Dr Nour says.
"It's usually the highlight of my day."
Register to volunteer or donate to Street Side Medics here.