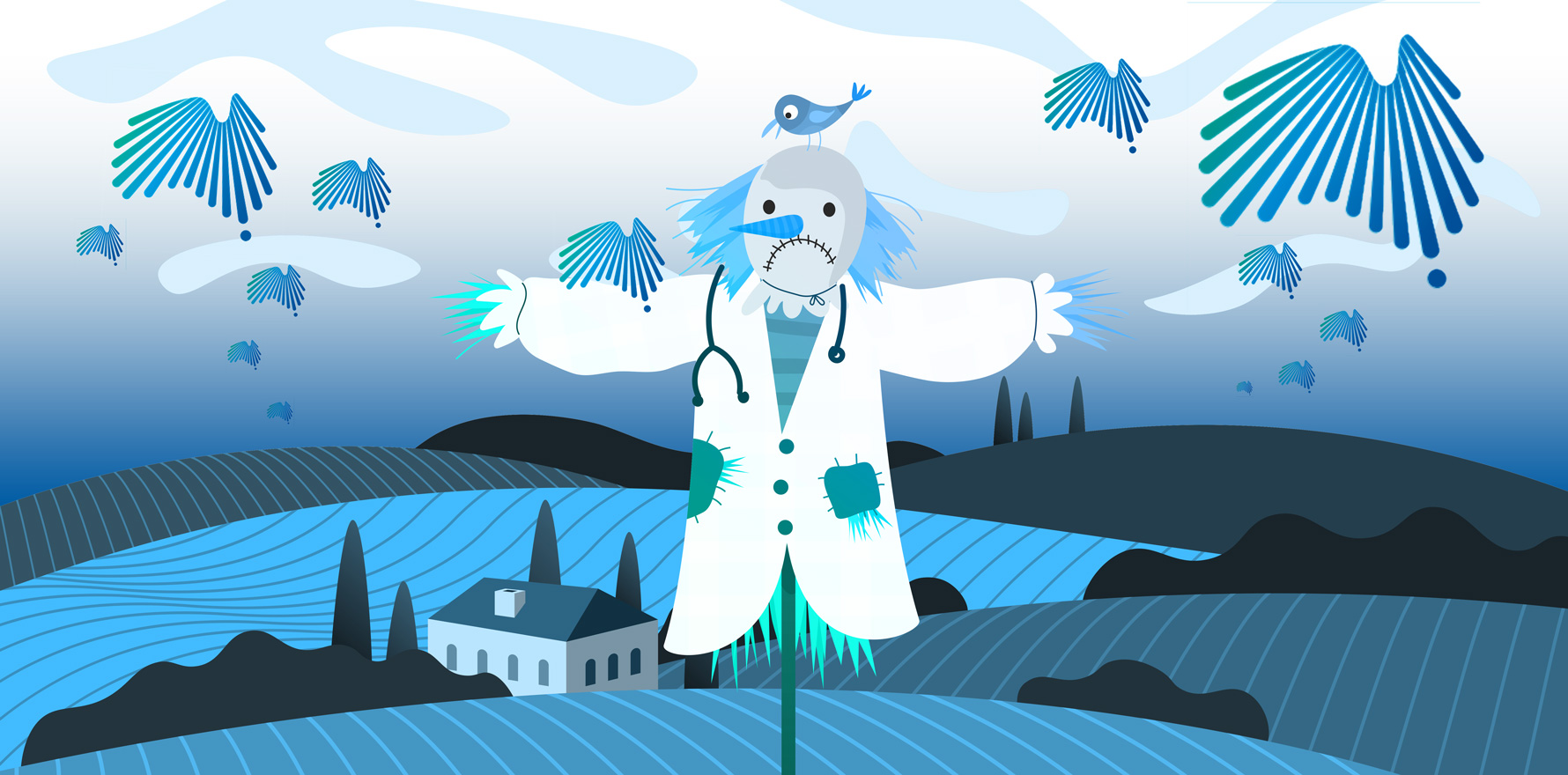 AHPRA's 'protect the public' mantra puts all the burden on the doctor, none on the complainant.
---
Victoria's "Code Brown", which allows healthcare workers' leave to be cancelled as staff numbers reel with the impact of covid, will take an obvious toll on the public hospital workforce.
But less obvious is another sinister stressor that lurks around the edges and impacts doctors and other health care workers, often when least expected: a complaint from a patient they have tried to help amid the chaos.
We'd all like to presume that extraordinary times call for compassionate measures, but when it comes to the regulators, this never enters the equation. Take the process whereby GPs using telehealth to see their patients during the pandemic have earned compliance letters.
Of course there are those who do the wrong thing. But our regulatory bodies have never been able to discern who these people are without applying a broad-brushed approach to risk management.
At most they rely on bell curves to find "outliers" when it comes to the frequency of use of an MBS item number. It's never explained how using a particular item number more than the average makes a doctor unprofessional or even unsafe.
Even more concerning is that still, after 12 years of having a national regulator, AHPRA, we still have one single door entry for all complaints against any practitioner registered with this body. Many anecdotal examples have arisen since this time of doctors being investigated for what turns out to be a vexatious complaint, or, more maliciously, a complaint from a rival colleague in a small town, or an aggrieved ex-partner. Complaints are still able to be made in an anonymous fashion with no recourse if they're found to be vexatious or defamatory. Petty, ill founded and vexatious complaints tie up the front door process, while true concerns are left to wait for more complainants to come forward.
There has been no talk of how AHPRA and other regulatory bodies will deal with what could be a huge rise in complaints against health professionals trying to work in the most inappropriate and dangerous systems we have seen in years.
This is on top of vexatious complaints by aggrieved parties exasperated and distressed by the quality of care they have seen their loved ones receive or miss out on. Medicolegal defence organisations vary in their level of expertise and proactivity, but they must surely be awash in complaints against their members, many extremely capable doctors who are incapable of working in a safe or ideal manner.
That doesn't even include doctors who are mere scapegoats for events, policies and bureaucratic failures over which they have no control.
Consider the GP who is not given notice about changes to the frequency of administering covid vaccinations but is expected to implement the procedures post haste with no extra staff or funding. Or the resident doctor left alone on a busy ward while their registrar furloughs, keen and dedicated but unaware of basic procedures and policies. Or the nurse moved from a general surgical ward to an ICU ward, with out of date skills who just happens to be caught up in a failed resuscitation.
The moral distress is enough, without a complaint received weeks or months down the track, with little or no recollection of the event to add context.
I am in no way advocating that patients should receive anything less than the best available standard of care from all of us. But the gap between what patients expect and what we can deliver has widened, through no fault of ours. And right now, our ability to recall facts, rely on comprehensive notes or even find time to defend complaints has shrunk dramatically.
Complaints cost nothing
It is still way too easy to complain about a doctor to an organisation that allows anonymity, no triaging and no recourse.
After working solidly across the pandemic for two years I can see a number of factors that could contribute to failures to be able to defend complaints from patients and relatives, and may even contribute to the rise in total numbers of complaints.
Overall, there have been many more presentations to doctors and other healthcare professionals since the pandemic began. Because of the sheer quantity of presentations, it makes sense the number of complaints will rise proportionally.
Doctors and other health professionals know how to mitigate risk by taking breaks, pacing their work, having leave, engaging in continuing professional development and maximising work/life balance. Very few doctors have been able to follow some or even all of these measures, despite knowing this is how to remain sharp and on task.
Doctors and nurses are working more hours than deemed acceptable by enterprise bargaining agreements, and in cases such as general practice, covering the patient load of more than one or two other doctors as many become infected or isolate.
Our workforce is becoming more transitory and many hospitals are relying on locum and contract staff who often don't have access to electronic medical records and may find it difficult to obtain records if needed at a later stage. Often there is little or no orientation, and less of a chance to gain a sense of mastery over essential policies and procedures on the ward.
While telehealth has afforded many advantages, delays in diagnosis and missed diagnoses have become evident two years into this pandemic. Very soon, the convenience of being able to organise a prescription for an antihypertensive medication over the phone will be replaced by the anger of a missed diagnosis of uncontrolled hypertension and consequent sequelae. And continual disruption to elective surgery is leading to poorer patient outcomes — something any family member might choose to blame on the doctor treating the patient and not on why the delay happened in the first place. This is often not done in malice but from a place of ill-directed grief and sadness of losing a loved one.
Long shifts in PPE and restrictions on numbers of people in parts of the ward interrupt workflow, and seeing patients over a screen rather than via a traditional ward round can lead to delays in documenting, and encourage very basic entries in patient files. These entries may be of little help when trying to defend a doctor's action months down the track, even if the doctor proceeded without fault.
In my case, I have been relying on telehealth to perform psychiatric examinations on patients with severe and complex mental illness, whom I have met in a locum capacity and have no rapport with. Often they don't have a smart phone, are paranoid and insightless. I am unable to perform a mental state examination on them in this way, yet must decide whether they should be detained on an involuntary treatment order or require a change of medication.
Finally, patients are meant to be supported by loved ones on their journey through the health system. Loved ones who can ask questions, advocate, fill in gaps and support the patient. When loved ones are shut out from the process, whether it be an obstetric delivery, a surgical procedure or a medical condition that becomes complicated, understandably the confusion can lead to anger about the outcome. There is an inherent desire to know the truth, especially if having to deal with grief and loss. Increasingly, the only way many family members and loved ones will be able to find out this information will be via a complaints process.
I have worked in the doctor mental health space for many years and have been a staunch advocate for changes to the way the complaints process is handled against doctors and other health professionals.
I have always said that patient safety should never come at the expense of doctor safety. Given how little changed in this space before the pandemic, it seems unreasonable to expect that urgent changes will appear before the wave of complaints hit our email inboxes.
Pointing the finger at why doctors and nurses were forced to work in unsafe environments won't happen in time either.
My case
I spent a lot of 2021 writing and recording events around me, capturing the emotion of being a health care worker in a global pandemic. In some ways it was my contribution when I was not working regionally in locum roles fulling gaps.
I wrote "Love in Times of Covid" in July 2021, a personal account of loneliness that I felt as did others, working away from home and often in full PPE. It was about the importance of human connection, and how some went to lengths to find what is one of the most important parts of human existence. It contained some deidentified anecdotes.
But "Anonymous" took offence and reported me to AHPRA for breaching doctor-patient confidentiality.
I was informed in late October 2021, with exactly the same email I would receive if I was a cosmetic surgeon who had maimed a patient.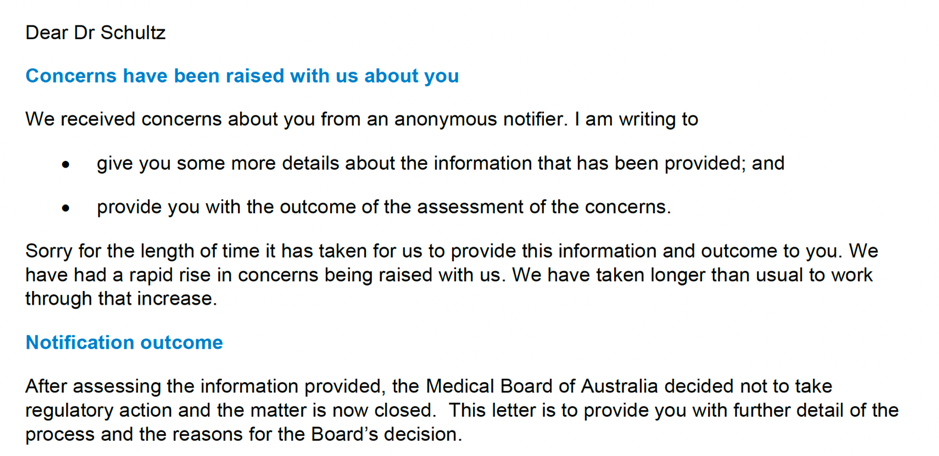 Emerging from my stunned state, I spoke to my case manager and was told the board had dismissed the matter for having no substance. They agreed that I had not breached doctor-patient confidentiality, because, well, I hadn't. After all my years of advocacy I still received the same result – no recourse, and no way to find out who "Anonymous" was.
The case manager confirmed there was no further action required, and that this was a courtesy call to inform me there was a complaint but the board was not interested. "If AHPRA wasn't interested, why did I have to know?" I asked. The answer was of course that it was the procedure they follow for every notification.
She apologised for the process taking so long to "resolve" as complaints numbers were "sky-high" at the time mine was being discussed. One of the cases to come to light in the media that week was the one regarding Dr Daniel Lanzer.
I did the usual self flagellation that most doctors do, thought about quitting writing, became obsessed with who Anonymous was, read my article over and over and in the end decided to do as advised by AHPRA. Nothing. Except to share my story to help other doctors know they are not alone if the fall victim to a vexatious complaint.
Sadly, we still have so much further to go in the pursuit of protecting patients without hurting doctors.
Dr Helen Schultz is a consultant psychiatrist specialising in doctor mental health
A version of this piece originally appeared at medium.com