28 January 2021
Suicides didn't rise last year, even during lockdown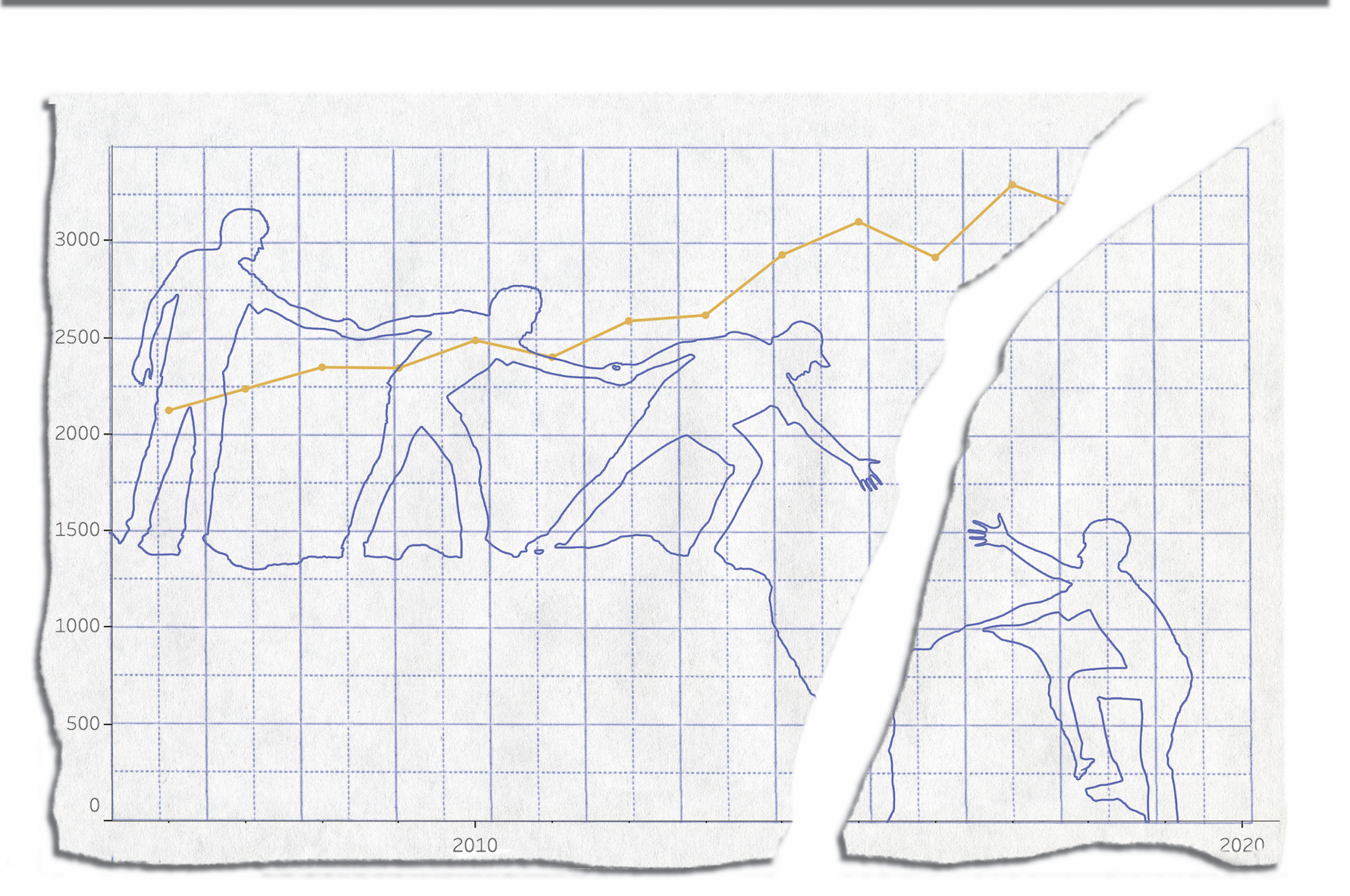 The feared increase has not yet materialised – at least in high-income countries – undermining one argument against restrictions.
---
The pandemic hasn't driven up suicide rates, even amid Victoria's worst lockdown, according to preliminary domestic and international data.
Fears about suicides were commonly leveraged against calls for stricter measures to combat the spread of COVID-19. Mid 2020, the University of Sydney's Brain and Mind Centre predicted a 25-50% increase in suicides over the next five years – equivalent to between 750 and 1500 deaths per year.
But new data from the Victorian Coroners Court shows that, counterintuitively, suicide rates actually dipped slightly last year, from 718 in 2019 to 698.
One reason for the 3% drop may have been that despite the "massive demand" for psychological help, people were also able to access it at a higher rate, says state coroner Judge John Cain.
"There was a heightened awareness of the risk that people would be experiencing mental health or highly increased mental health issues in a very difficult year," he adds. "That then enabled government – both state and federal – to provide additional resources."
Early Queensland figures suggest suicides remained relatively unchanged in the seven months after health authorities declared a public health emergency. The paper, published in The Lancet Psychiatry, showed that between 2015 and 2019, an average of 15 people were believed to have taken their own lives each month in the state, but from February to September, this was closer to 14.
"These findings are not consistent with predictions of increases in deaths by suicide during the COVID-19 pandemic," the authors wrote.
Similarly, NSW data from January to November found that only 807 people took their lives, compared to 853 in the same period in 2019.
National data won't be available until later this year when the Australian Bureau of Statistics releases its findings.
Professor Jane Pirkis, director of the Centre for Mental Health at the University of Melbourne, penned a November editorial in the BMJ explaining that suicides in high-income countries appear to have stayed relatively unchanged, or even fallen in places such as Japan and Norway.
The University of Manchester's analysis of their real-time suicide monitoring system of around nine million people in England found no evidence of a rise following lockdown.
Likewise, preliminary data from the British Columbia Coroners Service actually showed a 7% decrease in suicides between January and August of 2020, compared to the year before.
"The picture is much less clear in low-income countries, where the safety nets available in better resourced settings may be lacking," Professor Pirkis wrote. "News reports of police data from Nepal suggest a rise in suicides, whereas an analysis of data from Peru suggests the opposite."
Changes in suicides rates were also likely to be dynamic, she cautioned.
"The 20% decrease in Japan early in the pandemic seemed to reverse in August, when a 7.7% rise was reported."
If previous epidemics are anything to go by, suicides may drop in the short term, either due to a "honeymoon period" or because the community and social groups pull together, said Professor Pirkis.
Dr Stuart Leske, suicide researcher at Griffith University, tells TMR that discussions around mental health may have helped to reduce the stigma of seeking help, while telehealth may have provided more opportunities to seek care.
"We know there is increased financial and psychological support (extra sessions to see psychologists) from the government," says Dr Leske.
"People have been proactive and introduced many 'interventions' that may partially or even fully offset any increased numbers of suicides we might have seen."
Moreover, public health responses can always ramp up in response to any temporary spikes in suicides, he says. "It isn't inevitable that we will see an increase."
Nevertheless, Dr Pirkis noted that national data may conceal some trends among groups faring worse. She pointed to a "concerning signal" that suicides among under-18s may have increased in the first stage of the UK's lockdown.
So far, there is no obvious trend for something similar in Victoria, according to Judge Cain.
Professor Jayashri Kulkarni, head of the Monash Alfred Psychiatry Research Centre, cautions against taking suicide modelling as gospel, since historically suicide prediction tools haven't borne much fruit.
Models can rely too heavily on "suicidality", a term used to capture ideation, plans and attempts, she says. In fact, the end result of suicide is more multifaceted and complex than modelling something more biological, like the spread of a virus.
This is because things often improve between that snapshot measure of suicidality and actively completing suicide, says Professor Kulkarni. And those improvements may take the form of support or interventions by friends, family or health professionals.
"It's not cause and effect necessarily, and there are many different acts along that trajectory where people can intervene," she says.
"Having said that, we have seen a rise in mental ill health."
So far, an analysis of MBS data has shown that more people used phone and online mental health services during the heights of the pandemic. Lifeline saw a 16% increase in September this year compared to last year and calls to Kids Helpline rose by 14%.
"During the pandemic (March to November 2020) there has been a 43% increase in calls to the Beyond Blue Support Service compared to the same time in 2019," Dr Grant Blashki, lead clinical adviser to beyondblue, tells TMR.
Similarly, Australians used Medicare-subsidised mental health services 15% more this September compared to last, and took PBS-funded mental health-related prescriptions 6% more, the AIHW analysis found.
Professor Kulkarni also notes that previous financial crises – such as the Great Depression – coincided with increased suicides.
Promising early figures shouldn't be seen as a reason to bring out the party hats, though.
Professor Ian Hickie, co-director of the Brain and Mind Centre, stresses that the Institute's modelling did not predict an increase in suicides until "late 2020 at the earliest". It forecasted rises in 2021, with ongoing effects into 2022 and 2023.
"We have already seen rises in community ratings of psychological distress (as predicted) and presentations to ED (as predicted) in Vic, SA and ACT)– particularly among young people," he says.
Most importantly, the Brain and Mind Centre modelling was undertaken before the government extended JobKeeper until at least March 2021, he says – and this is a vital and underrecognised factor component of mental wellbeing.
"The biggest drivers of the health impacts are economic, educational, and lost opportunities over the longer term," he tells TMR.
"I think we should be extremely careful when talking about potentially ending [schemes like JobSeeker and JobKeeper] relative to what the actual employment situation is, what people's job prospects actually are, and also the extent to which key industries have or have not been able to recommence activities, particularly hospitality, tourism and education."
Besides financial help, Australia urgently needs a national mental health plan, he says.
"We've already had most of 2020 pass without a significant mental health response, and the danger is that the government's talking about having 2021 pass – two years into COVID – before actually formulating a national response.
"I don't think it is acceptable."
Professor Kulkarni notes that "one of the odd things about the pandemic is that we've never spoken this much about mental health in any other time".
"That's been great, because it has meant that it's given people courage to put their hand up and say, 'Look, I'm really struggling with depression or anxiety, or, for the case of people and second-wave lockdown in Melbourne, PTSD'."
As a result, we were more equipped to cope and given more opportunities to intervene in the spectrum between feeling depressed and completing suicide.
"If there is something positive we've learned from the pandemic, it is that mental health issues have received a lot more attention and resources from both policy and government."