7 April 2022
Starting solids: establishing healthy eating habits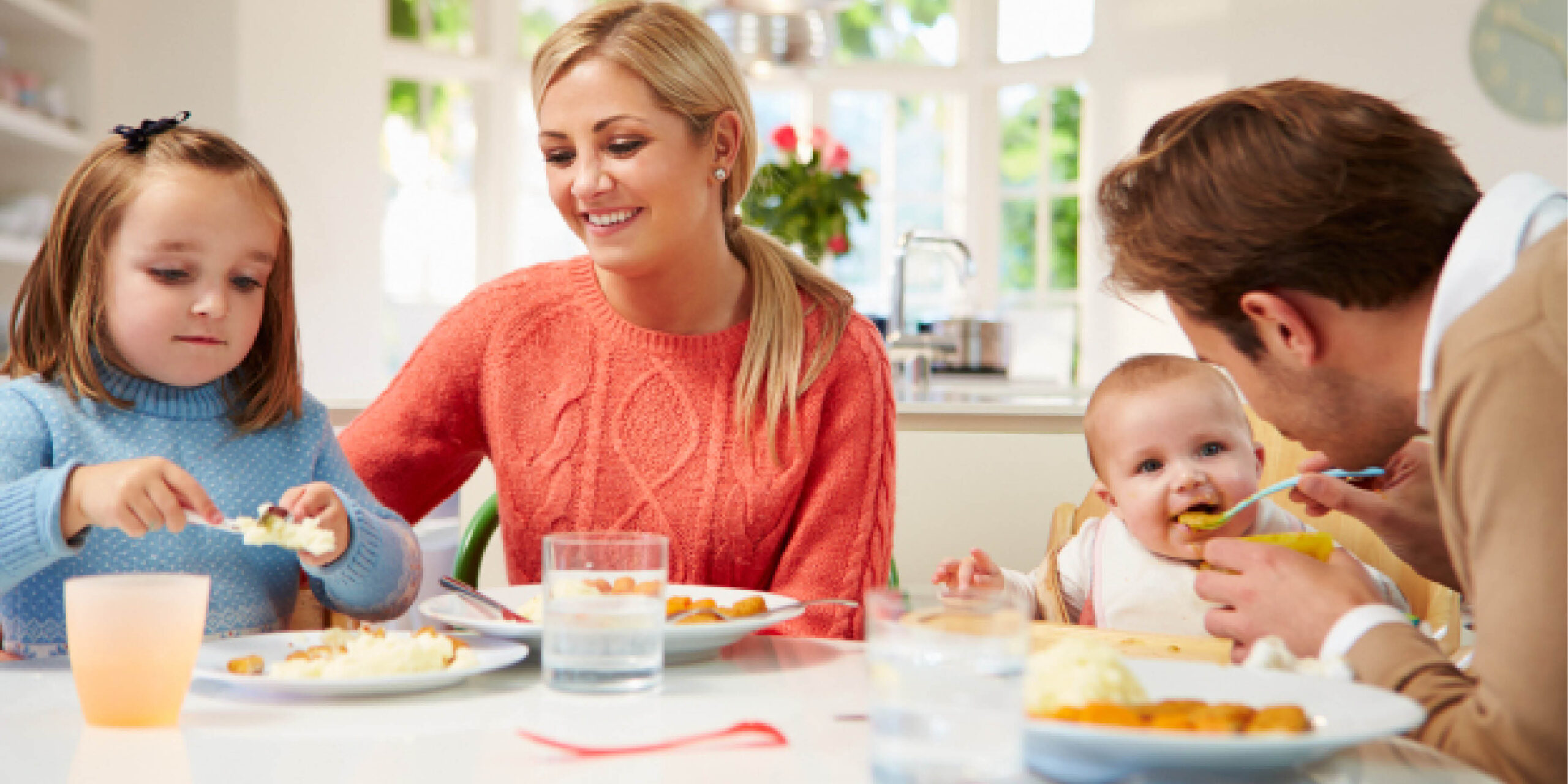 The first 1,000 days of life is a critical window for preventing nutrient deficiencies and establishing lifelong healthy eating habits.
---
It's a challenge to set up good eating habits right at the start, as these statistics show:
One in four Australian children and adolescents aged 2-17 years are overweight or obese.1
More than 30% of infants2 and up to 18% of toddlers2,3 have inadequate dietary iron intakes.
Introducing solids: Iron-rich foods and texture are key
Australian Infant Feeding Guidelines recommend introducing iron-rich foods such as meat from 6 months of age to replenish iron stores, important for growth and development.4
The delayed introduction of solid foods has been associated with a reduced iron intake in toddlers where high intakes of milk can displace nutrient-rich foods from the diet.5,6
When introducing solids, rapid progression from smooth purees to more lumpy meals is encouraged so that baby learns to enjoy a variety of nutrient-rich foods and textures.
As hand control improves, soft finger foods can be introduced to promote self-feeding skills and increased independence.
Modifying food texture encourages baby to chew which is important for oral motor development and exposes baby to a wide variety of foods, important for preventing overweight and obesity.7
Iron-rich food sources
Although iron-fortified cereals are a popular source of iron, consumption of adequate amounts of meat from around six months of age helps to prevent the reduction in iron stores.8
Current consumption of meat in Australian infants and toddlers is below amounts recommended to meet iron and zinc requirements.9-11
Amounts of red meat recommended in the Australian Dietary Guidelines are outlined below.7,12
Age

Recommended serving size

Number of servings (per week

)

>6-12 months

30g

4 (equiv. 120g cooked weight)

1-3 years

65g

3.5 (equiv. 228g cooked weight)
Transition to family foods and age-appropriate textures
When it comes to establishing healthy eating habits, insights suggest lack of cooking confidence is a common barrier for parents and carers. Busy parents need practical tips on how to adapt the family meal to achieve age-appropriate textures.
MLA's One meal for the family and baby resource is one of our most popular resources. The practical resource explains how to adapt the family meal to achieve textures for different developmental stages.
The resource is applicable to baby-led weaning approaches which involves starting solids with soft, bite-sized, finger foods. This self-feeding approach aims to promote positive eating behaviours and better appetite control by exposing the baby to a variety of nutritious foods and enabling the baby to decide what, how much, and how quickly to eat.
Example of age-appropriate texture adaptation of the family meal: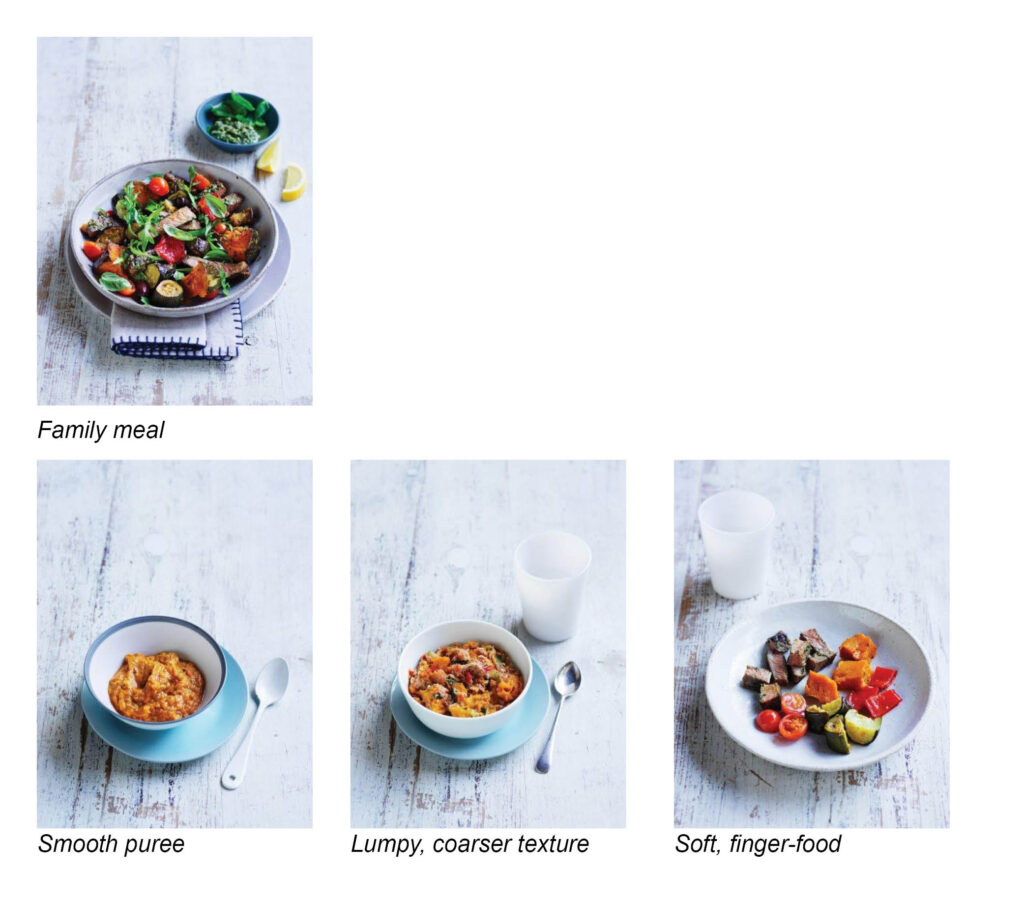 Practical patient-friendly nutrition resources
Meat & Livestock Australia's nutrition resources provide practical tips for planning and serving healthy, balanced meals for all the family. These patient-friendly resources include portion guidance for meeting iron, protein and carbohydrate needs for different dietary requirements and life stages. Click here to view and order copies of the One meal for the family and baby resource.
Who is MLA?
Meat & Livestock Australia (MLA) is an industry owned Rural Research and Development Corporation that delivers marketing, research and development services to Australia's red meat and livestock industry. Our activities in nutrition research and communications aim to support the consumption of Australian red meat in healthy, balanced meals. For more information, visit MLA Healthy Meals.
---
References:
AIHW (2020) Australia's children. Cat. no. CWS 69. Canberra: AIHW. Australia's children 2020Edition)(AIHW)
Atkins et al. (2016) Br J Nutr. 115(2):285-93.
Zhou et al. (2012) Med J Aust. 196:696-700.
NHMRC (2013) Council. Infant Feeding Guidelines: Summary. Canberra (ACT): NHMRC. Infant feeding guidelines (eatforhealth.gov.au)
Borgna-Pignatti C and Marsella M. (2008) Pediatr Ann. 37(5):329-37.
Oti-Boateng et al. (1998) J Paediatr Child Health 34(3):250-3.
NHMRC (2013) Australian Dietary Guidelines. Canberra (ACT): NHMRC. https://www.nhmrc.gov.au/adg
Szymlek-Gay et al. (2009) Am J Clin Nutr. 90(6):1541-51.
ABS (2014) Australian Health Survey: Nutrition First Results – Foods and Nutrients, 2011-12, 'Table 10: Proportion of Nutrients from food groups', data cube: Excel spreadsheet, cat. no. 4364.0.55.007.
Byrne et al. (2014) Aust NZ J Public Health 38(4):326-31.
Mauch et al. (2015) Br J Nutr. 113(11):1761-72.
NHMRC (2011) A modelling system to inform the revision of the Australian Guide to Healthy Eating. Canberra (ACT): Commonwealth of Australia. n55a_dietary_guidelines_food_modelling_111216.pdf (eatforhealth.gov.au)