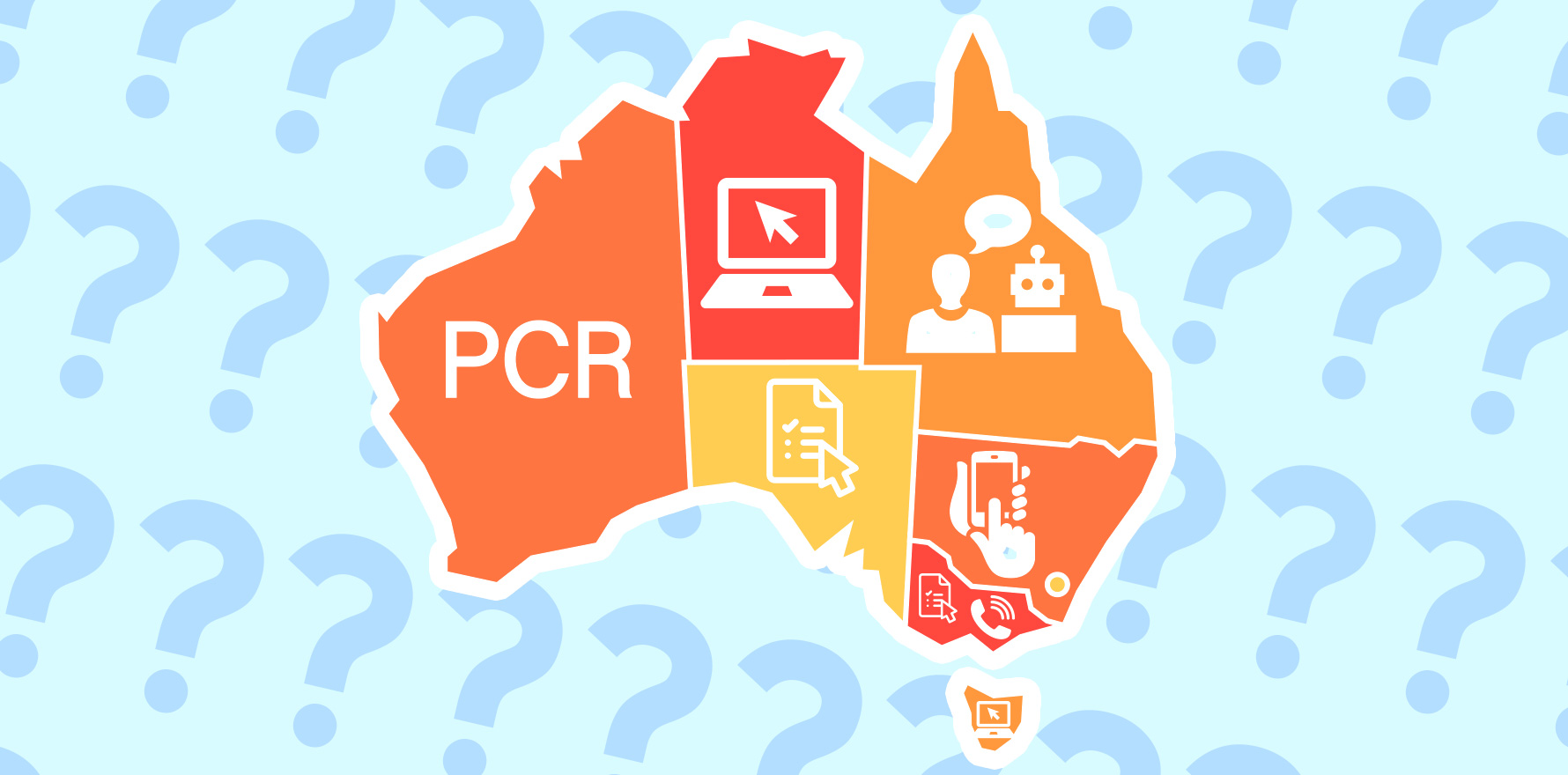 GPs have once again been left up covid creek without a paddle. Here's what you can do in each of the states right now.
---
If your rapid antigen test is positive, contact your GP, Prime Minister Scott Morrison said at a press conference last week.
This followed a detailed briefing to GPs of how they should handle the ensuing flood of calls, what they should tell patients and how they would be reimbursed for this extra work. The Department of Health also assured GPs that the $25 rebate for managing a covid patient could be claimed without the need for a confirmatory PCR test.
… Jokes!
The Prime Minister's announcement, like so many others during this pandemic, came out of the blue and was met with confusion and dismay.
And even though people in the big outbreak states have been told to avoid the PCR queues and to rely on RATs, the MBS has not yet caught up. The DoH told The Medical Republic yesterday that "the $25 MBS COVID-19 Management Support Service item is currently linked to a laboratory-confirmed diagnosis of COVID-19 infection", though this was "under active review".
RACGP President Dr Karen Price said that, immediately following Mr Morrison's announcement, she began hearing from practices fielding up to 1000 calls per hour.
"In my own practice nurses were answering the phones to help reception staff and all phone lines were jammed for other patients trying to get through," Dr Price told TMR.
"Never before has general practice taken so much of the burden of healthcare.
"We're dealing with record high cases in Australia, with more covid positive people needing care every day."
At the outset of the pandemic in Australia, people with suspected #COVID19 were told "go to your GP". No PPE
Vaccine? "Call your GP"-before vaccines were delivered
Got COVID? GP home care (?!)
Now positive #RAT? Register result with your GP. There is no "register" #shambles #GP https://t.co/zZr3EatomI

— Prof Kerryn Phelps AM (@drkerrynphelps) January 5, 2022
The college president said many GPs were frustrated by "out-of-the-blue announcements" which came in the middle of the working day.
"Rest assured, I am consulting urgently with government to address all of the issues, because I know there is simply not enough funding for general practice to do everything we're being asked to do," she said.
Until everything becomes a little clearer, here's a state-by-state guide of what hotlines and resources are available to covid-positive patients in the community.
National
When asked what resources were available for GPs managing covid patients in the community, a spokesperson for the Department of Health said that the government has been working closely with the RACGP, state and territory governments and primary health networks.
"The Government announced a number of measures in October 2021 as part of the $180 million Living with covid package for primary care," the spokesperson said.
"This included funding the RACGP to update its Home-Care Guidelines for Patients with COVID-19 which provides information for GPs providing care for covid patients."
The RACGP, however, told TMR that with the increase in case numbers, not all patients will require the high levels of care outlined in the resource.
The RACGP has also released a guide for covid positive patients which includes instructions on testing blood oxygen levels and heart rate, links to mental health resources, a symptom diary and an action plan.
In terms of treatments, the monoclonal antibody sotrovimab is available for people with certain risk factors but must be given within five days of symptoms beginning and can only be delivered intravenously.
At the moment, sotrovimab is not recommended for delivery in community care settings given the need for monitoring during and after infusion.
The other monoclonal antibody on the market, casirivimab/imdevimab (REGN-COV2, Roche) can only be used for severely immunocompromised or unvaccinated people who have not yet gotten sick.
Antiviral medicine remdesivir is only available to covid patients who need supplemental oxygen or a high level of support to breathe.
Queensland
Queensland residents who test positive for covid on a RAT must self-report their result to Queensland Health.
PCR tests are only recommended for people who cannot access a RAT but have symptoms, are a close contact or need a negative test to exit home quarantine.
The sunshine state also has the "Covid-19 Care Pathways" initiative, an AI tool designed to help triage positive cases.
The clinical model uses an AI assistant named Billie to assess risk factors for positive cases.
"Billie is designed to help clinical teams gather information to enable them to triage cases by assessing risk factors or prompting calls to ask further questions about medical history, symptoms, and care needs," a Queensland Health spokesperson said.
People who are considered to have a higher risk of developing serious illness are then contacted and directed to more advanced care.
The spokesperson urged anyone contacted by Billie to respond appropriately.
New South Wales
People who receive a positive RAT result in NSW must register themselves as a positive case through the Service NSW app or website from today, or (from next Wednesday) face a $1000 fine.
People who either can't access a RAT or who are part of a specified high-risk group are advised to get a PCR test.
NSW Health said that GPs looking to escalate a patient for additional support can call the NSW Health Covid-19 Care at Home Support Line on 1800 960 933.
Patients can also contact the hotline directly for clinical support and non-urgent health questions.
South Australia
For people living in South Australia, positive results on RATs are not considered confirmed cases and must be followed up with a PCR test.
Everyone who tests with a RAT, whether positive or negative, is asked to report their result to SA Health via an online form.
Apart from people confirming a positive RAT, PCR tests are also advised for people who are symptomatic, a close contact or have been directed to get one by SA Health.
To self-initiate care or get health advice, positive cases are advised to ring the Covid Response Care Team on 1800 272 872.
People who test positive via RAT only can also call the care team for care advice.
If concerned, GPs can escalate patients by contacting Health.CO VID-19GPLiaison@sa.gov.au via email.
Victoria
Victorians who test positive on a RAT can self-report their result in one of two ways: via phone on 1800 675 398 or via an online form.
PCR tests are only recommended for people who can't access a RAT but are either symptomatic or a household contact.
Victoria Health also has a state-based initiative for triaging care, "Covid Positive Pathways".
Like Queensland's model it uses an automated survey to triage patients by collecting information on vaccination status, current GP practice and general health.
People are then assigned to one of four escalating risk pathways; it is expected that the vast majority of Victorians fall into the lowest two categories.
This group, who represent the "self-care" and "low-risk care" pathways, are advised to contact their GP directly for management if needed.
People in the "medium-risk care" pathway get contacted directly by their local health service or GP.
Meanwhile, the "high-risk care" patients are transferred to hospital by their local health service; this group does not need to contact their GP.
Covid-positive Victorians can also contact an on-call nurse on 1300 606 024.
Tasmania
People who test positive in Australia's southernmost state can register their result with Tasmania Health online.
As in most other states, the current advice for Tasmanians is to do a RAT in the first instance and only seek out a PCR test if none are available.
Close contacts or symptomatic people can call Tasmania's public health hotline on 1800 671 738 to obtain a RAT.
Covid positive patients can opt-in to be included in Tasmania Health's "covid@home" program, which is managed by the Department of Health.
Unlike Victoria's system, covid@home does not appear to involve GPs directly in management, although some may be consulted "to ensure the most suitable environment and support is provided".
Under the program, people get a thermometer, a pulse oximeter and a smart phone device with a pre-installed application for people to upload their readings into.
Northern Territory
Northern Territory residents who test positive via RAT are required to both register their result online and take a follow-up PCR test to confirm.
Unlike most other states, close contacts, frontline health workers, travellers and symptomatic people are still eligible to get a PCR swab in the first instance, regardless of RAT availability.
People who test positive at home or who cannot isolate safely at home are advised to phone the territory's covid hotline on 1800 490 484.
NT Health recommends that patients who have "any concerns about [their] health" contact their GP or national virtual health service Health Direct on 1800 022 222.
Western Australia
Western Australia's ban on RATs has been lifted as of this week, but pharmacies are expected to remain low on stock for some time.
There is currently no way to report a positive result from a RAT – WA Health doesn't recognise the home tests as legitimate yet – and PCR tests remain available to all by default.
Australian Capital Territory
At time of writing, the territory does not have a system to record positive RATs.
When available, it will be accessible on the ACT Health website.
PCR tests appear to be available to all, but a positive RAT is considered to be a confirmed case.
There is no need for follow-up PCR testing unless someone is more than 20 weeks pregnant, is an Aboriginal or Torres Strait Islander aged 55 and over, is not fully vaccinated or is significantly immunocompromised.
The ACT's community covid management program, "Covid-19 Care@Home", takes a slightly different approach to other states in that it uses a digital symptom checker – rather than a survey – to flag patients who are at risk. The digital support team for this symptom diary (should a patient require assistance logging into the app) can be contacted on 5124 5000.
Some people will be sent a pulse oximeter as part of their management.
If patients who are either unvaccinated or have an impaired immune system test positive – and are therefore potentially suitable for treatment with sotrovimab – GPs can contact the Care@Home team directly on 5124 3085.
ACT Health also advised that GPs wanting to escalate care for a positive patient should contact Care@Home on 5124 3085 during office hours, or the Single Point of Contact for Covid at the Canberra Hospital after hours.