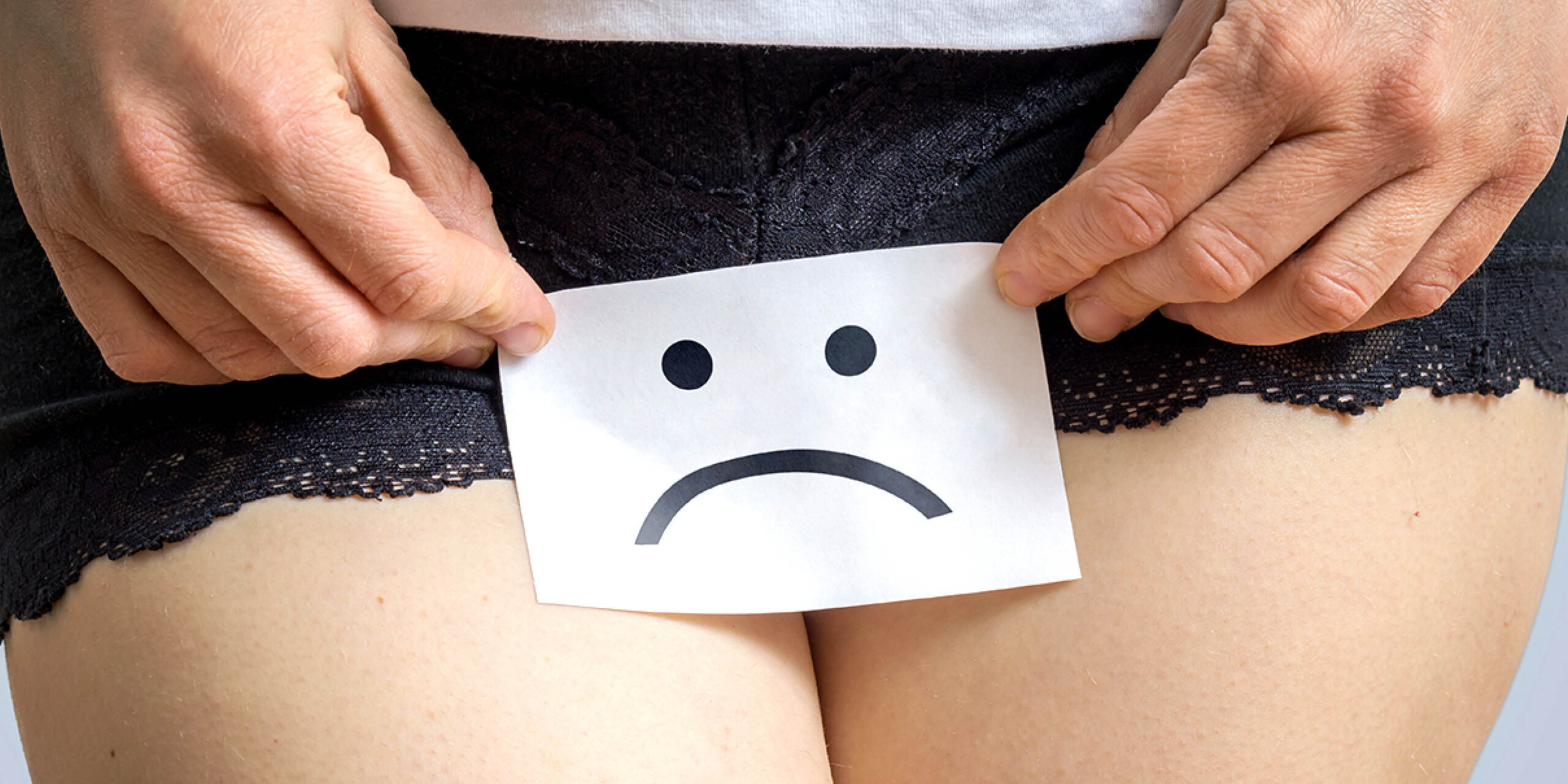 When it comes to seeking help for vaginal dryness and painful sex many women are reluctant to talk to their doctor.1a,2a
Using a vaginal moisturiser – such as Aci-Jel Restore – is a soothing solution to vaginal dryness helping to moisturise and lubricate delicate tissues.
Painful sex and the dry vagina
Experiencing sexual pleasure and satisfaction is an important quality of life component – affecting physical and mental wellbeing as well as personal relationships3a – and the impact vaginal dryness plays is often underestimated.4a
While the lack of interest in sex is the single most common sexual difficulty reported by women (and men),3b around 1 in 4 women have trouble with vaginal dryness and 1 in 5 report pain during intercourse2b – and for many the two can be linked:
45% of women reporting painful sex also report having an uncomfortably dry vagina [age adjusted odds ratio 7.9; 95% CI 6.17–10.12]5
Vaginal moisture
Vaginal fluid is a mixture of fluids derived from different glands and epithelial sources – the vagina containing no glands itself.6b,7b When sexually 'at rest' the anterior vaginal wall often rests on the posterior wall and the natural vaginal 'moisture' helps lubricate the surfaces preventing adhesion and protecting them from any frictional movement.7a
This 'base' level of vaginal moisture provides insufficient lubrication to allow painless coital movements – additional mechanisms being required to enhance lubrication.7c During sexual arousal blood flow is enhanced, venous drainage constricted and blood vessel transudate combines with cervical mucus to provide the increased level of lubrication required.8
Women commonly report vaginal dryness as irritation, chafing, itching, burning or discomfort outside of sexual activities and pain during intercourse.9a Vaginal dryness and the pain experienced during sex can, in turn, lead to low libido and reduced sexual satisfaction.9a
It's not just the menopause that can cause vaginal dryness
Vaginal dryness is a common problem that can affect women of all ages – but is most often seen as a function of age and declining oestrogen levels.1b,10a,10b,10c
Before menopause
About 17% of women aged 18-50 years experience problems with vaginal dryness during sex.1c

There are many reasons why women can experience vaginal dryness before going through menopause both physical or psychological, including:
Not being sufficiently aroused during sex – which can be linked to a variety of factors including insufficient foreplay or psychological factors1c,6c
Having low or fluctuating levels of oestrogen – this can include breastfeeding mothers, women who have had a hysterectomy or other gynaecological surgery, those receiving certain medical therapies such as radiation or chemotherapy or who are on anti-oestrogen medications6c,10c
As a side effect of some medications – such as combined oral contraceptives, antihistamines, decongestants and some anti-depressants10b
Having an underlying medical condition that predisposes them to vaginal dryness – such as an immune disorder (e.g. diabetes, inflammatory bowel disease or multiple sclerosis), chronic heart failure or stress6c,10b
Certain chemical products – for example using feminine hygiene products may also contribute to vaginal dryness.1d
Perimenopause and after
There are many physiologic changes that take place during the onset of menopause with the decrease in vaginal blood flow due to decreased oestrogen levels being one of the major ones. The skin supporting the vulva and vagina becomes thinner and less elastic and more easily damaged – and vaginal dryness and painful sex can become an increasing problem for many women:1e
Vaginal dryness incidences and prevalence increases with progression through the menopause transition period and with lower oestrogen levels9b

About 50% of postmenopausal women experience vaginal dryness1e

The reporting of vaginal dryness precedes and can co-occur with the reporting of pain during intercourse9b

About 25% of women aged 50-59 years experience vaginal dryness issues during sex with 16% experiencing pain1f
Vaginal dryness is common but treatable10e
Many women may feel too embarrassed to talk about vaginal dryness – even to their health care provider – or think that it is normal and nothing can be done about it10f:
Less than 50% of women talk to their doctor about their vaginal dryness symptoms9c
Less than 4% of women actively manage vaginal dryness with proven therapies such as vaginal oestrogen tablets, creams or rings.9c
Despite these barriers to treatment-seeking general practitioners can proactively encourage patients to discuss their symptoms and provide education on vaginal dryness and the range of treatments available.3c,4b
Moisturisers and lubricants
Vaginal moisturisers – such as Aci-Jel Restore – are long acting treatments designed to mimic the vagina's natural secretions, helping restore moisture and providing a soothing solution to vaginal dryness.
They can be an ideal option to provide symptom relief while the causes of vaginal dryness are being assessed.
Aci-Jel Restore used regularly helps keep tissues hydrated and does not have to be reapplied just before sexual intercourse – although Aci-Jel Restore can be used as a lubricant during intimacy and is suitable for use with latex condoms.
There are also a wide variety of personal lubricants that can be used to provide short-term relief from vaginal dryness and related pain during sex4c – but it is important to use a product that is physiologically most similar to natural vaginal secretions and optimally balanced for both osmolarity and pH.4d,10d
Why Aci-Jel Restore for vaginal dryness?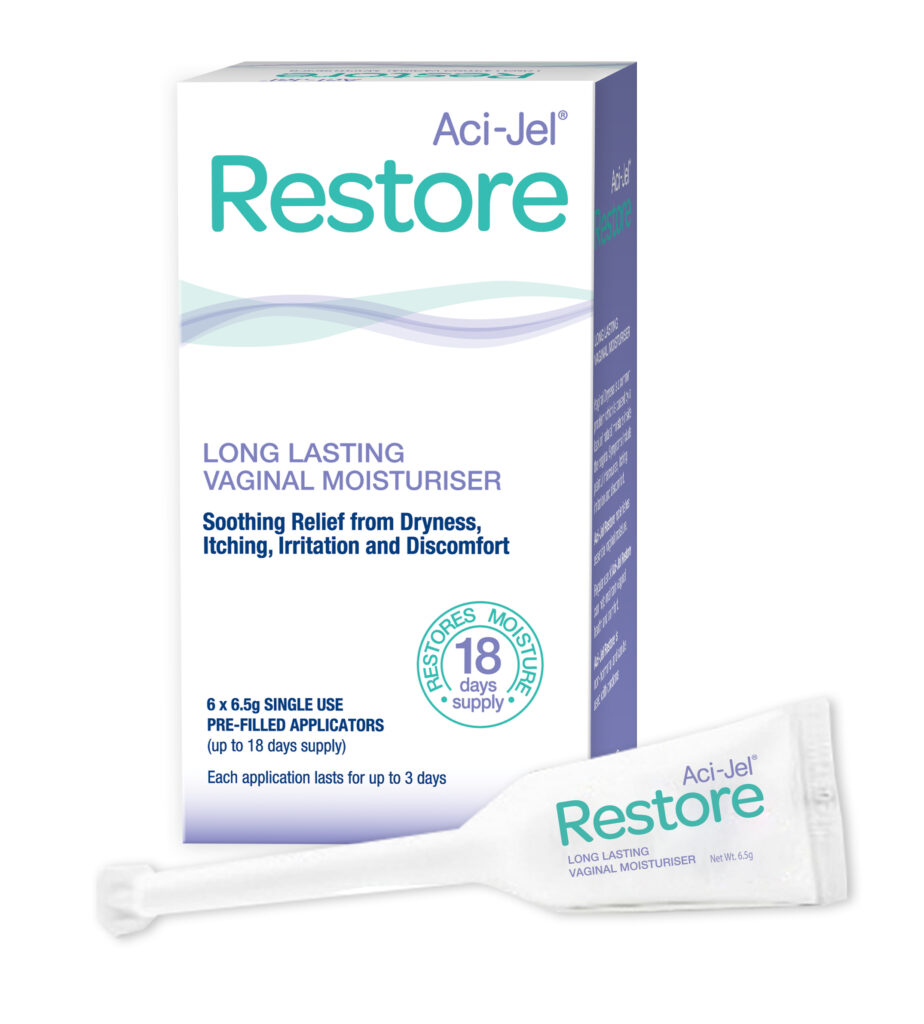 Long lasting Aci-Jel Restore is a water-based gel that is clinically proven to provide up to 3 days relief from symptoms of vaginal dryness, itching, irritation and discomfort.11b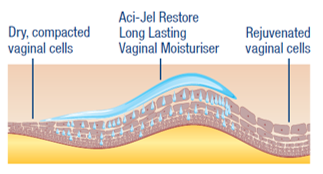 Aci-Jel Restore coats the entire vaginal passage
The bio-adhesive polymer polycarbophil attaches to the mucin on the vaginal mucosal lining creating a moist, hydrating film11a
Blood flow is stimulated helping to promote natural secretions until the mucosal cells are shed naturally after 2-3 days — leaving a healthier, more supple vaginal lining.
Aci-Jel Restore
Over-the-counter long lasting vaginal moisturiser
Clinically proven to provide relief from symptoms of vaginal dryness, atrophy, itching, irritation and discomfort11-13
Hormone-free – ideal for women who do not want or are not suited to use a topical oestrogen replacement AND can be used in conjunction with systemic hormone replacement therapy
Paraben-free – contains purified water and polycarbophil (a bio-adhesive polymer), glycerol, mineral oil, hydrogenated palm oil glycerides*, carbopol 974P, sorbic acid.
* Palm oil is sourced from sustainable sources, certified by RSPO
This information is intended for use by health professionals only.
For further information contact Care Pharmaceuticals: FREECALL Australia 1800 788 870 or visit http://hcp.carepharma.com.au/ for access to product information and education for you and your patients.
---
References:
1. Women's Health Concern Fact Sheet. Vaginal dryness [online]. n.d. Available at: https://www.womens-health-concern.org/help-and-advice/factsheets/vaginal-dryness/ (accessed October 2021).
2. Richters J, et al. Sex in Australia: sexual difficulties in a representative sample of adults. Aust N Z J Public Health. 2003;27(2):164-70.
3. Ramanathan V, Redelman M. Sexual dysfunctions and sex therapy – The role of a general practitioner. AJGP. 2020;49(7):412-5.
4. Edwards D, Panay N. Treating vulvovaginal atrophy/genitourinary syndrome of menopause: how important is vaginal lubricant and moisturizer composition? Climacteric. 2016;19(2):151-61.
5. Mitchell KR, et al. Painful sex (dyspareunia) in women: prevalence and associated factors in a British population probability survey. BJOG. 2017;124(11):1689-97.
6. Wilhite M. Chapter 59 – Vaginal Dryness. In: Integrative Medicine (Fourth Edition), Editor Rakel D. Elsevier, 2018, Pages 592-599.e2, ISBN 9780323358682, https://doi.org/10.1016/B978-0-323-35868-2.00059-1.
7. Levin R J. The ins and outs of vaginal lubrication. Sex Relatsh Ther. 2003;18(4),509-13.
8. Boston University Medical School. Female Genital Anatomy [online] n.d. Available from: [https://www.bumc.bu.edu/sexualmedicine/physicianinformation/female-genital-anatomy/] (accessed October 2021).
9. Waetjen LE, et al. Factors associated with developing vaginal dryness symptoms in women transitioning through menopause: a longitudinal study. Menopause. 2018;25(10):1094-104.
10. Newson L. Top tips: vaginal dryness and GSM. Guidelines in Practice UK [online]. 2 March 2017. Available from: https://www.guidelinesinpractice.co.uk/womens-health/top-tips-vaginal-dryness-and-gsm/352902.article (accessed October 2021).
11. Bachmann GA, et al. Vaginal dryness in menopausal women. Clinical Practice Sexuality. 1991;7(9):1-8.
12. Loprinzi CL, et al. Phase III randomized double-blind study to evaluate the efficacy of a polycarbophil-based vaginal moisturizer in women with breast cancer. J Clin Oncol. 1997;15(3):969-73.
13. Bygdeman M, Swahn ML. Replens versus dienoestrol cream in the symptomatic treatment of vaginal atrophy in postmenopausal women. Maturitas. 1996;23(3):259-63.