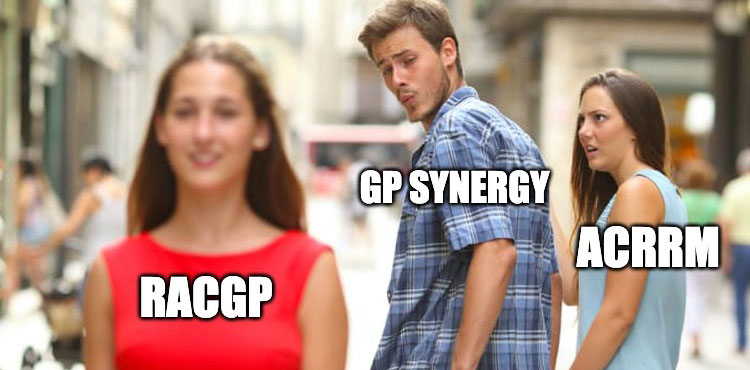 GP Synergy has surprised some stakeholders by announcing a deal with just one of the colleges.
---
Much to the surprise of ACRRM, the RACGP is set to become GP Synergy's only member in the lead-up to college-led training in 2023.
The other 24 corporate members of the RTO will simply "cease to be members" according to GP Synergy chair Dr Ian Kamerman.
In a statement to members, the Australian College of Rural and Remote Medicine said it was "surprised and disappointed" to learn of the planned strategic partnership.
At this stage, it does not appear that any other RTOs have a similar deal in place.
RTOs in other states have previously expressed concern over the way handover has been conducted thus far, with WA training organisation WAGPET releasing an open letter in May.
"The transition to college-led training will need to be thoroughly researched, carefully planned, and well-executed in a timely manner to minimise the risk of adding to that pressure and destabilising general practice further," it said.
TMR has sought a response to the latest deal from WAGPET but has not heard back.
The Australian General Practice Training program will be handed back to colleges in 2023, at which point it is expected that the nine state-based RTOs will be abolished.
Since a merger in 2009, GP Synergy has covered off training for all of NSW and the ACT.
The deal with the RACGP is expected to be finalised at a general meeting on 22 December.
"We've got a high-quality training model for training towards general practice with the RACGP and with ACRRM, and we've decided that the best way we can transition smoothly to college-led training is to move to a single-member model," Dr Kamerman told TMR.
"We are working in a strategic partnership with the RACGP to accomplish that, but that doesn't mean that we're not supporting our ACRRM registrars."
Despite ACRRM no longer being a member of GP Synergy, the RTO will continue to hold the contract for training AGPT ACRRM registrars until the end of 2022.
Other soon-to-be former members of GP Synergy include the GP registrars' and GP supervisors' bodies, as well as a number of public health networks, universities and Aboriginal Community-Controlled Health Services.
"We have relationships with all those bodies outside of the fact that they are members," Dr Kamerman said.
He did not see why those relationships should change "one iota" after those organisations ceased to become members.
Should all go smoothly, according to Dr Kamerman, current registrars will not notice much of a change – placements, supervisors, education teams and practice managers will all be the same up until the end of 2022.
"It's highly likely that because we now have a much closer working relationship with the RACGP into the future, our staff will be much more easily transitioned into their college or – if they so choose – into ACRRM," the GP Synergy Chair said.
The decision to partner with the RACGP was made on Monday, and ACRRM was made aware on Tuesday afternoon.
"ACRRM is anxious to ensure the professional and personal wellbeing of our GP Synergy registrars, supervisors and training practices are appropriately prioritised and safeguarded as part of any potential changes to the governance or delivery of AGPT training in NSW," it said.
Dr Kamerman said that there was no intention to come across as anything other than "open, honest and transparent".
"The minister has announced that RTOs will cease to exist in at the end of the 2022 training year," he said.
"We don't have any control over there, but what we do have control of is keeping our team together as they transition to profession-led training."