23 September 2021
Practices prepare for a deluge of doses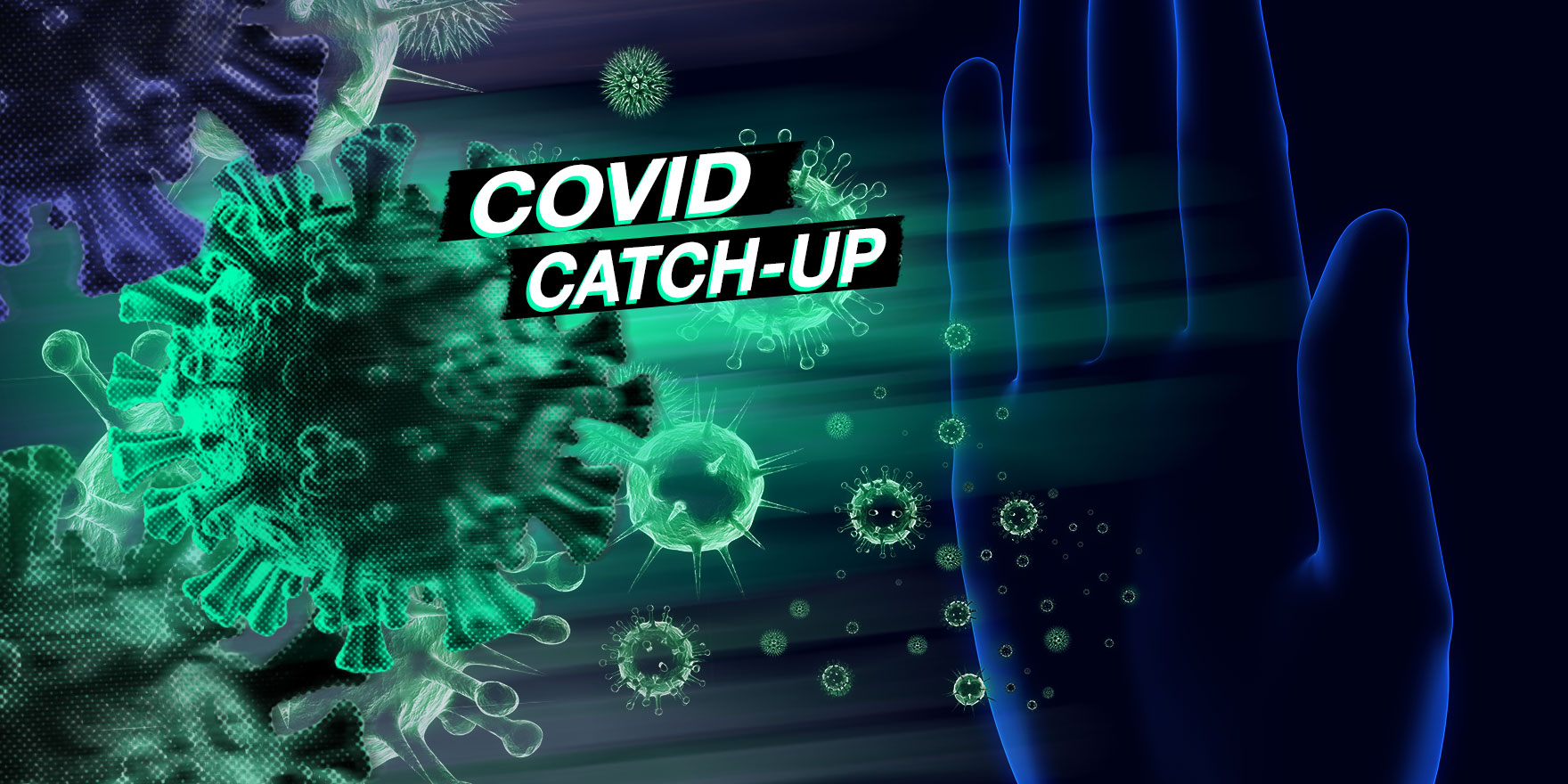 Welcome to The Medical Republic's Covid Catch-Up.
It's the day's covid-19 news in one convenient post. Bianca Nogrady is taking a well-earned fortnight off, so for now please email penny@medicalrepublic.com.au with any tips, comments or feedback.
23 September
---
Practices offering covid vaccinations (pracs that vax?) can expect plenty more supply in coming weeks, with more than nine million Pfizer doses to land before the end of next month.
At the Department of Health's weekly briefing and Q&A today, First Assistant Secretary, Covid-19 Primary Care Response Dr Lucas de Toca said GPs should contact the Vaccines Operations Centre if they had excess vaccine – especially the less-in-demand AstraZeneca – well before expiry to arrange redistribution, or their PHN to arrange transfer to another local practice. There was no need to order the minimum 300 doses per week if practices weren't using their allocation – practices wouldn't be taken off the program if they skipped a week.
Asked about threatening letters sent to GPs from a PO Box in Queensland, Deputy CMO Professor Michael Kidd said any GPs who received such a letter should immediately refer it to police.
People who have been infected with covid should still get the full course of vaccines, after the acute infection has passed but within six months of the infection, according to current ATAGI advice – though this was being reviewed in light of recent high case numbers, Dr de Toca said.
"Blitzes" were under way in areas with signficant Indigenous populations to lift vaccination rates, he said. The DoH today published data on Indigenous vaccination rates in LGAs of interest across Australia.
And Dr de Toca said there were no planned changes to the covid vaccine Practice Incentive Payment, which is paid to practices whenever a patient has received both doses at the same practice – even though patients may seek a second jab elsewhere.
The simplified Vaccine Clinic Finder is up and running at the DoH website.
In the battle of the mRNA vaccines, Moderna slightly edges out Pfizer in offering higher, longer-lasting protection, according to studies published by the CDC in its Morbidity and Mortality Weekly Report – but given how good they both are, there's really nothing in it, experts say.
A case-control study found that a full course of Moderna offered 96.3% protection and Pfizer 88.8% (effectively against infection: all subjects were patients admitted to hospital; cases were admitted for covid symptoms and controls were covid-negative). In another study vaccine effectiveness against covid hospitalisation for Moderna and Pfizer was 93% and 88%, respectively, driven by a dropoff in Pfizer protection after four months but none with Moderna. And Moderna also produced higher antibody levels than Pfizer.
"Differences in [vaccine effectiveness] might be due to higher mRNA content in the Moderna vaccine, differences in timing between doses (three weeks for Pfizer-BioNTech versus four weeks for Moderna), or possible differences between groups that received each vaccine that were not accounted for in the analysis," the CDC report said.
But as Dr John Moore, a virologist at Weill Cornell Medicine, told The New York Times, scientists were initially hoping for 50-60% efficacy. "Truly, how much does this difference matter in the real world? It's not appropriate for people who took Pfizer to be freaking out that they got an inferior vaccine."
There's more to the pandemic's toll than excess deaths. A large analysis published in the Annals of Internal Medicine using a "microsimulation model" (another time, maybe) found that in the US between March 20 20 March 2021 there were 740,247 excess deaths, but also 9.08 million years of life lost (YLLs) or 6.62 million quality-adjusted life years (QALYs) taken by covid from those aged between 25 and 64. The greatest toll was on Black and Hispanic communities.
Measuring the mortality burden in this way "provides important insights", the researchers write. "The adult population aged 25 to 64 years bears a larger share of the total burden of excess covid-19 mortality than the population aged 65 years or older, despite the latter incurring a significantly larger total number of deaths."
A trial in British high schools has found little difference between isolating close contacts and giving them daily tests, in terms of eventual infections and days of absence.
The open-label, cluster-randomised, controlled trial published in The Lancet involved 201 schools that either followed usual policy of isolating contacts for 10 days or seven days of rapid antigen testing while remaining at school, and counted covid infections and days of absence.
The researchers, who were prepared to see increased case numbers with the intervention, in fact found "a slight to modest reduction in incidence", and a non-inferior rate of days of absence. "Daily contact testing is a safe alternative to home isolation in school-based contacts and should be considered an alternative to routine isolation of close contacts following school-based exposures," they concluded.
Here's the latest on the covid vaccine rollout: as of 21 September, 48.53% of Australians aged 16 years and over are fully vaccinated, 26.57% have had one dose, and 24.9% are unvaccinated.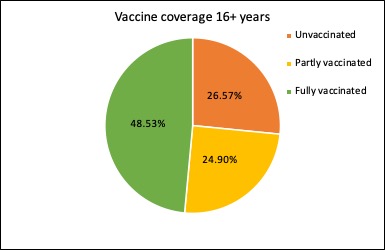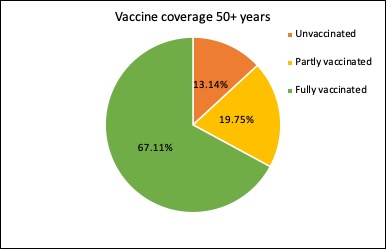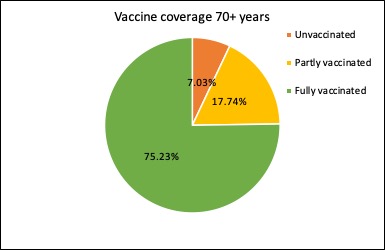 And here's how it looks like per five-year age groups (and what's particularly amazing is that since this time last week, one-dose vaccine coverage in the 12-15-year-olds has rocketed up from 4.8% to 19.1%).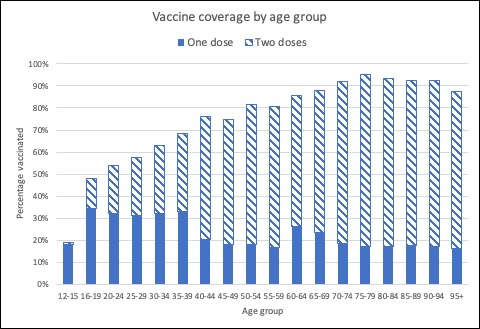 Here are the latest covid infection numbers from around Australia to 9pm Wednesday:
National – 90,372 with 1186 deaths
ACT – 782 (17)
NSW – 54,919 (1035)
NT – 208 (2)
QLD – 2019 (1)
SA – 899 (1)
TAS – 235 (0)
VIC – 30,216 (628)
WA – 1094 (0)