25 January 2021
Pivoting in a pandemic: improving outcomes with clinical decision support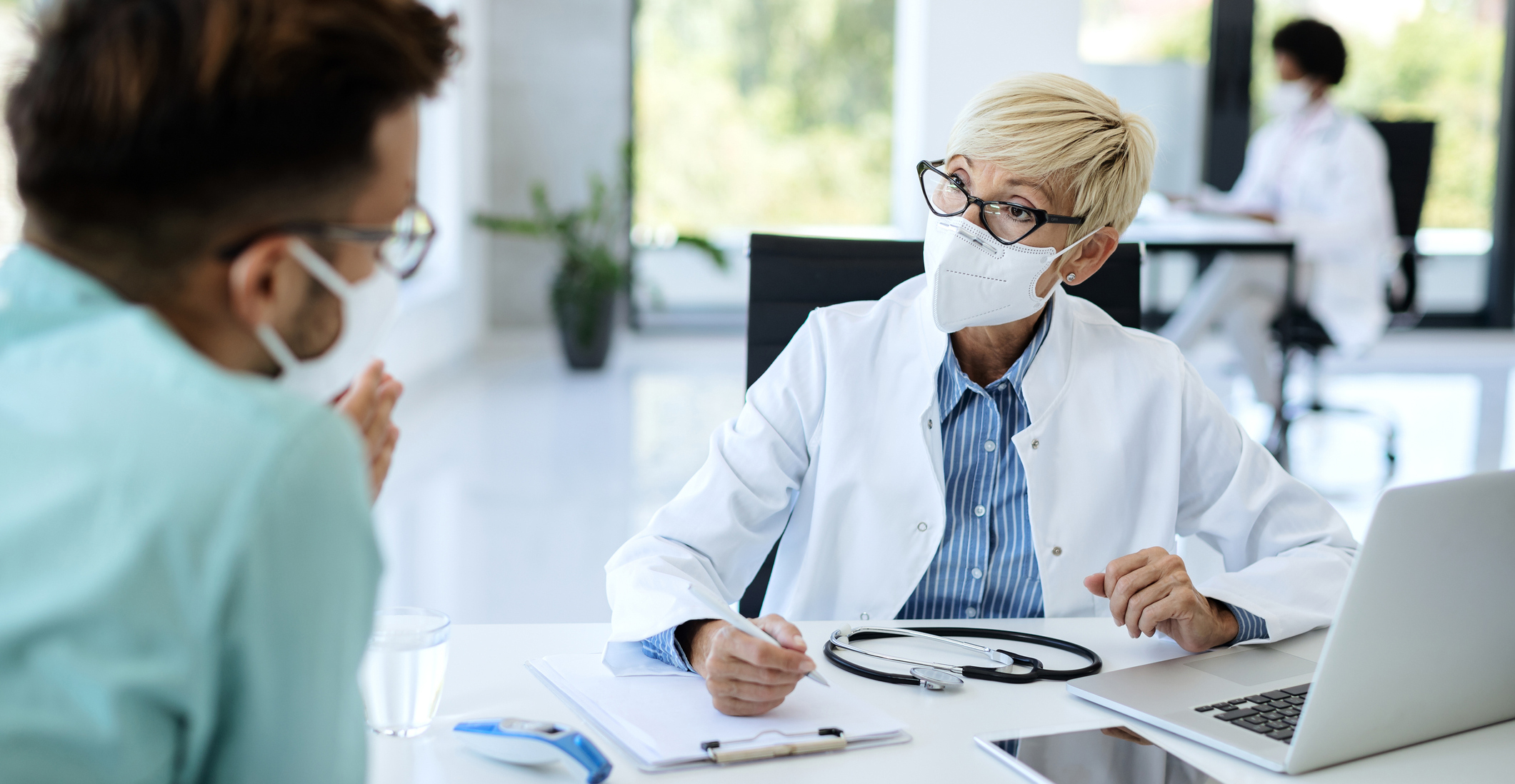 The COVID-19 health crisis has brought the concept of 'supporting better health outcomes' directly to the forefront of everyone's minds.
Managing high patient volumes is placing increasing pressure on doctors to do more with less, up their productivity, all while minimising risk. Meanwhile GP burnout continues to rise.
Wolters Kluwer recently held a successful webinar on improving patient outcomes with clinical decision support to discuss these issues in more detail. Contributing to the webinar was:
Dr Karin Jodlowski-Tan, the National Director of GP Education and Wellbeing at the Healius Institute and Rural Clinical Lead at the Royal Australian College of General Practice;
Dr Joe Kosterich, Medical Practitioner, speaker, author and health industry consultant;
Dr Simon Kos, Medical Advisor at Next Practice; and
Hong Nguyen, Regional Manager (ANZ, Taiwan, Hong Kong and Macau) of Wolters Kluwer.
COVID-19 has placed even more pressure on GPs to be more efficient
According to Wolters Kluwer Health's recent 2020 Clinical Support Survey: How Australian GPs are improving patient outcomes with clinical decision support, efficiency and productivity remain top of mind for clinicians in the region. The survey, which had over 500 respondents spanning GPs and specialists across Australia, revealed some fascinating insights into the role of clinical decision making now and beyond the pandemic. In fact, 75% of doctors agreed their clinical decision support tool UpToDate helped them with productivity, a vital aspect of practice pre and post pandemic.
Dr Jodlowski-Tan said since COVID hit Australia in March there has been a lot of uncertainty, and uncertainty is the biggest generator of worry and anxiety.
"People feel constantly pressured to have up to date information, because they've been asked all the time by their patients and by their colleagues. There's time pressure from all sides, and it's not just work – there's family pressure, there's people who've had lockdowns or perhaps homeschooling. There's demands on your time from schools, from home and from family, and work," she said.
"This constant change from Medicare, government, and the workplace is just enormous. We've never encountered anything like this before. There's just enormous pressures and I think that's been recognised by everyone. So my experience is it's just affecting everybody – everyone's so busy, and so stressed."
Dr Kosterich said these are unprecedented times, and there's also been exponential growth in medical knowledge and half of what is learnt in med school is going to be out of date by the time you get into practice, and the problem is you won't know which half.
"There's no shortage of new information. In fact, there's information overload, and that's not always helpful, it can make matters worse. What you really need is knowledge and useful information. But there's still only 24 hours in the day, and the concept of work life/balance GPs talk about to their patients also needs to be applied closer to home," he explained.
"But this doesn't change the expectations. What it means is like all industries, we need to be able to be more productive and more efficient. If you've got better access to information and better tools, there's nothing that says you can't achieve a better outcome in limited amounts of time. It's not necessarily always the case that time equals better outcomes. Good knowledge, and the ability to impart knowledge certainly can produce better outcomes which is in the interest of patients, but it's also good for the doctor."
Hong Nguyen agreed, adding that the amount of medical knowledge now available is exponential. "In the year 2020, it's estimated the amount of medical information will have doubled every 73 days. I would argue for an average clinician to read, absorb and share all of this information and synthesise it from an evidence-base at the point of care without a clinical decision support solution is impossible," he said.
"There's a huge increase in COVID-19 content. And it's really hard to work out what's actually based on real world evidence. So typically, we would see 20 to 30 updates to UpToDate topics per month, but we've seen it on a weekly basis, it's a lot faster, this year. Our COVID-19 content has been viewed since January over 15 million times.
"Clinicians are facing a lot of uncertainty, add to this the need to stay current and relevant, and it's very hard to do without the right tool set."
The importance of sharing health information with patients
The Wolters Kluwer survey found 88% of GPs and 77% of specialists agreed or strongly agreed UpToDate helped share information with patients, and this is vital to patient care.
Dr Jodlowski-Tan stressed it's a struggle amidst all the work to try and keep up to date with information, and she finds when she's with patients she often has to look up information with them in the room because she needs to be sure it is the most reliable information, and not last week's information.
"As GPs, we do need to be well informed so we can guide our patients who are confused by all the information out there. And you know, what is reliable? It's really hard to know. And what we deem as reliable is usually things that have been peer reviewed. It's also about good knowledge and also how to apply it. You need an information source which actually gives you some advice and guidance on how to apply all the knowledge you have."
Dr Kos mentioned the 'Dr. Google effect', and how patients are increasingly turning to online sources, with varying degrees of accuracy. "So when they turn up to a GP what they're looking for is the most up to date information contextualised for them in a way they can understand. And the best way to do this is not always verbally in a consultation, it needs to be reinforced with information handed to patients," he said.
"We have created a platform that allows us to take evidence the doctor can then prescribe to the patient. The Patient App is something which provides continuity of care between the appointment and home. Patients will have a repository of all the medications prescribed, specific instructions, articles shared with them, and the doctors will get 'read receipts' when the patients have actually read them and absorbed the information.
"We find there's a shift going on from the older model of medicine where you tell the patient what's going on, to now more of this consultative, collaborative style of educating the patient, increasing their health literacy, and then empowering them. This is particularly important as we step into this era of chronic disease and avoidable lifestyle risk factors – it's all about the behaviour the patient exhibits when they're out of the clinic, and to do this they need to have the right sort of information in a form they use so they can scan through at their leisure."
Dr Kosterich agreed, adding the concept of medicine is changing, as are patterns of chronic disease. "In the olden days, you either got better or you died. Today, we have conditions people are going to live with for decades. And it's not all up to the doctor. If you're managing a condition such as type-2 diabetes, the person needs to consider their diet, their exercise, they need to be monitoring their blood sugar, they need to be taking the medications, but they need to be doing that on a daily basis," he explained.
"The individual with a chronic illness is living with the illness and needs to manage it themselves in a variety of ways. And if they don't have the knowledge, if they don't understand the reasons for doing it, if it's not something they can grasp and understand, then they're highly unlikely to do it.
"Also, regarding the doubling of information every 73 days, a lot of information is not going to be relevant. So it's not just about finding out what the latest and greatest is because the latest might not be the greatest. It's really about having someone who does this sort of stuff for a living to go through and filter it out. So really that capacity to have a bit of a buffer between this overwhelming amount of information, some of which may be relevant and some of which may be entirely irrelevant. It could be disproved by next week."
Hong further highlighted there's a lot of information out there, and one of the things UpToDate does is have something called a graded recommendation. UpToDate recommendations are classified based on the quality of evidence, providing the clinician a balance between benefits, risks, burden, and cost
"We have different grades based on the efficacy of the actual study itself, so good studies will be given a higher grade to actually help filter that vast amount of information," he added.
Clinical decision support is critical to minimising risk
The survey found 90% of practitioners agreed or strongly agreed, including 94% of GPs, clinical decision support is crucial in minimising risk.
Dr Kos said he was amazed as he trained as a medical student in evidence based practice, at the amount of memory-based practice that actually occurs at the clinical coalface, adding we need to pivot into a type of workflow and acceptance that we are looking up some of this information on the spot.
"Now, the pace and the rate of change and the times that we live in is such that it's not practical to have all those evidentiary sources at your fingertips. So you need to identify what your source of evidence is, and then it needs to be practically and simply searchable. And the final thing is, you need to use it. When you're with the patient, you need to actually use some of these clinical decision support tools, this is the only way you're going to minimise the clinical risk."
Dr Kosterich highlighted how at any patient volume, risk can never be eliminated because medicine is inherently an unsafe pursuit.
"It is inherently unsafe, people generally come to a doctor because there is already a problem. So all the interventions we use, every single one even the humble paracetamol, carries some risk. As soon as we do anything to the human body, there is some risk involved. So it needs to be managed, but it cannot be eliminated," he explained.
"In medicolegal cases, there generally is a theme regarding good or acceptable practice at the time. Lawyers talk about the term an 'ordinarily skilled' general practitioner in Australia, which basically says it compares what you're doing to what your peers are doing and what the evidence is at the time.
"And you cannot judge somebody's practice in 2009 by what they might do today, if the evidence has changed. But in terms of defence, you need to demonstrate what you've done is consistent with clinical guidelines. So you've looked at what the evidence is and then you've applied it appropriately in the clinical setting. And if you can demonstrate this, it doesn't mean that you can't be sued, because people have a legal right to make complaints about you. But what it does mean is your chances of being successfully defended are far greater."
According to Hong, everything a reliable platform like UpToDate does is about helping clinicians make better decisions and improving health outcomes.
"When I think about minimising risk, one of those things is around decreasing diagnostic errors. Research recently found one in seven clinical encounters had some form of diagnostic error, and 80% of those diagnostic errors were actually preventable," he explained.
"So one of the benefits of UpToDate for clinicians is you can actually earn and redeem CPD points. We found 55% of Australian doctors said UpToDate reinforced the clinical decision, and 25% of Australian doctors actually said it changed their clinical decision. So if I look at the last 12 months for UpToDate in Australia, it was used 8.5 million times. So if I extrapolate, really what we've been able to do is reinforce 4.6 million care decisions and from a clinician perspective."
"We've actually been able to help change and treat the patient based on evidence over 2.1 million times. So I think from this perspective, this is how we minimise risk by supporting clinicians."
Clinical decision support and supporting better patient care
A majority (97%) of medical practitioners surveyed agreed or strongly agreed UpToDate is integral to supporting better patient care, up by 3% from the 2018 survey. Within this, 100% GPs agreed and 95% of specialists agreed.
Dr Jodlowski-Tan said clinicians have their patient's trust, so they need to ensure they provide the same high quality care to everyone at a consistent level.
"So we're humans and we have good days, and we have bad days, and we need something to prompt us to deliver high quality care at all times. It means being up to date with the information. If we don't come from the higher moral ground of delivering the best care, then there is always the fear of being visited by the medical board or HCCC.
"But what I want to remind you of is it's about this partnership with patients and having a tool to enable the patient to come along with you on the journey with the best available information. Now, we are empowering the patient as part of this so they have their own portfolio on their condition and what they need to do about it, and really support that care, because they can keep you on track as well."
Dr Kos said GPs are now seeing patient care being supported by a wide digital ecosystem and digitally enabled clinics that offer a superior patient experience will be a hallmark of GP clinics into the future.
"Like everyone, we were totally blindsided in March when there was an aversion to turning up face-to-face to clinics, and a rapid introduction of telehealth. We were lucky enough to write a lot of our own software in house. So our developers figured out the telehealth process, and that's not just getting a video calling app like we're doing today. The telehealth workflow starts with electronic booking of patients, workflow and waiting rooms in triage, and managing documents securely.
"How do you get medical certificates, scripts, referrals? And then finally, how to do payments. So it was an enormous undertaking, and we realised this industry is highly manual, so we didn't have the adaptability to face a challenge like COVID.
"But in times of challenge, innovation emerges. And this is really exciting because now it's not just our clinics offering telehealth as routine. We've had a decade's worth of progress during this COVID period, let's not slip back. What's next? How do we adapt our workflows? How do we adapt how we see patients? How do we make better use of higher order digital capabilities, so we're able to deliver care differently, and more effectively?
"There's huge opportunities to increase productivity through efficiency. And I'd like to see this change going forward. So in the future, it's not: what surprise is going to walk through my door, but I know what's coming through my door, I've got a bit of a strategy, I've thought this through, now let's conduct a more effective consultation."
Dr Kosterich added the reason there's not been much advancement in telehealth prior to COVID is government policy. He said it's always been a requirement under the Medicare system for the patient to be in the room with the doctor for any charge to be raised, and it's Medicare who pays the bills.
"Look at health as an industry, I think compared to other industries it has been pretty much in the dark ages when it comes to technology. And I know there's now the My Health Record and it has its uses, but you know, it's still the equivalent of an MS DOS system.
"So the fact telehealth can now be done is a credit to the government – ultimately their hand was forced by COVID, but necessity is the mother of invention. I've also found it has its limitations, there are certain things you can do on the phone, and there are certain things you can do via video, and there's quite a bit that still actually does require the person to be in the room with you. Even sometimes watching somebody walk from the waiting room to the consultation room can provide an enormous amount of information.
"If it's a routine script, there's a number of things that can be done remotely. But it's going to need to find its role and its niche. It's not a panacea, it's an adjunct, and it gives us capacity. And hopefully in the next few years, we will get better systems, and where we might arrive in five to seven years time is there'll be a suite of different products, and people will find what sorts of technology suit their practice and their demographics. What we can do remotely is going to support what we do face-to-face, but ultimately, it's never never going to replace face-to-face."
Hong said recent data shows it takes the clinician roughly 60 seconds to find the answer they're looking for by focussing on the user experience and using AI and machine learning to surface the right information.
"But we can always be better, we can always be faster, we can always be more contextual. The second thing is around patient engagement, because if a patient is empowered, they produce a better health outcome. So it's not just about patient printouts or interactive video content, but it's around how to improve the health literacy and enable shared decision-making for the patient and the clinician," he added.
"The third area is how to ensure all of the providers, the care team, are treating the patient in the same way and managing them in the same way. If we get that alignment, if we get that harmonisation of care, then the patient becomes the centre of care."
Supporting the new 'on the go' practitioner
When asked whether using a clinical decision support tool like UpToDate provides flexible access to information anywhere and anytime, 91% of practitioners agreed or strongly agreed, including 90% of GPs and 95% of specialists.
Dr Jodlowski-Tan said rural GPs have used telehealth for quite a number of years out of necessity, and it's now come to the urban setting, which is fantastic because it's enabling patients with special needs to be catered for.
"I see a lot of people with depression, they don't want to go out and see someone because they want to avoid crowds. So having the telehealth technology and video conferencing enables me to actually support them closely, even though they may not be able to come in all the time.
"And it's not only the younger generation, it's almost universal that technology has been embraced. And to not use this technology wisely, I just can't understand why you wouldn't want to. Another advantage is accessibility to minority groups, you have people with different language backgrounds, cultural backgrounds, and technology enables us to share information with them, and we can quickly look up terminologies we might have to translate for them if they don't understand the language we're using. So the way we practice medicine today may not be the way we need to practice in the future. And I really look forward to all the innovations in the very near future."
Dr Kos said he thinks we've got a way to go, and compared to other industries, healthcare is back with government and legal.
"We need impetus to change, we need our patients or our customers demanding that change. And it's happening as our society becomes more digitally native and consumerism rears its head, and those providers who are able to meet those expectations for a society addicted to convenience, will start to provide a differentiated service.
"We have a cloud-based operating system, we have a cloud-based electronic medical record system, the patient application is cloud-based, and this was a conscientious choice we made because we believe cloud is the future, and it's also more secure and flexible. It was all put to the test when COVID came along, because across our network we had some older practitioners and a few immunocompromised practitioners – we had one who was pregnant. And those sorts of people shouldn't be at the coalface in a pandemic. So they wanted to work from home and the technological choices we made from a philosophical viewpoint were actually put to the practical test.
"What does it mean for the future of the medical clinic? You can't do everything via telehealth. But the UK had a really interesting example, when you make health care accessible and convenient, it unlocked a segment of society that otherwise wasn't bothering to turn up face-to-face to clinics, they were just looking it up on Dr Google. So that's exciting.
"Look, the future is cloud. It'll take us a while to get there, but all sorts of new things are possible. We need to be very considered about what we do, because innovation also has risk. And when we introduce risk into the clinical workflow, there's potentially adverse patient outcomes. So I think it's important to look at what's happening to see what's working. And I'm not just talking about here in Australia, there are some incredible examples coming in from abroad. I think we need technical innovation, and we need to embed it in our workflow. And this is the opportunity to create the healthcare system of the future we want and deserve today."
Finally, Hong said we're in a strange year with COVID-19, but it's actually changed the way we view things.
"I think if we can look at it from a positive perspective, it's actually changing the way we are delivering health care now and how we'll deliver healthcare in the future. So I think that's a great outcome," he concluded.
Listen to the entire webinar here.
Access the full report here.
Find out more about UpToDate.