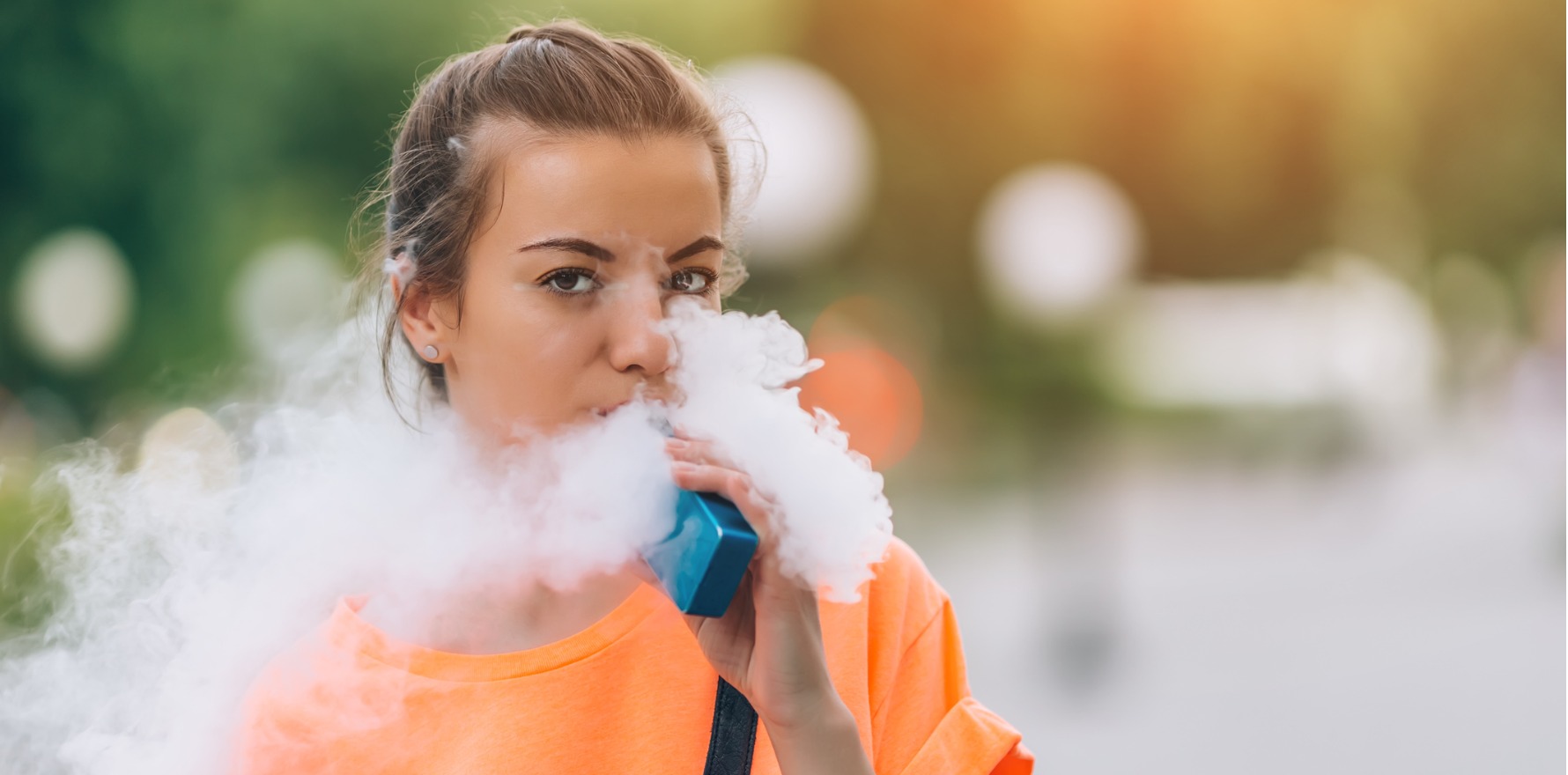 The Cancer Council has lashed out at e-cigarette lawbreakers as a new report reveals the harm caused by vaping.
---
The Cancer Council has called on all governments to commit to tougher regulations that will better protect young people from e-cigarettes.
It follows the release of a study from the Australian National University (ANU) that showed e-cigarettes, also known as vapes, risked introducing a new generation to smoking and the health harms that come with it.
Chair of the Cancer Council's national Public Health Committee, Anita Dessaix, said the results sent an urgent message to governments about the need to take action to reverse an unfolding public health crisis.
"There has never been a comprehensive, independent systematic analysis on e-cigarettes from a global centre of epidemiology like this report," Ms Dessaix said.
"It reflects, in a scientific context, what we are seeing in Australian schools and streets and have been concerned about for years.
"The report reconfirms previous analysis that e-cigarette use triples the risk of smoking uptake in never-smokers and non-smokers. It also shows e-cigarettes cause multiple direct health harms including acute lung injury, poisoning, burns, seizures and increased nicotine addiction."
Ms Dessaix said the report had looked at more than 6500 studies on all the health effects of e-cigarettes, critically appraising the literature and ranking the strength of evidence for the findings on each health impact.
"What makes it so important for federal, state and territory governments is that it shows the harms of e-cigarettes far outweigh any potential benefits and our youngest and most vulnerable are at greatest risk," she said.
"The drivers of this crisis are entrepreneurs selling e-cigarettes online, at service stations, tobacconists and specialty retailers, all of it in plain view under the noses of our health and law enforcement authorities.
"Governments have laws at their disposal to reverse this crisis, but they need to enforce them. It's now been five months since the Australian Government streamlined prescription rules to enable individuals who might benefit from e-cigarettes to access them while protecting young people.
"The crisis we are seeing among young people will only get worse until governments impose heavy penalties on the e-cigarette sellers blatantly operating in breach of Australian poison laws."
The 346-page report provided a systematic overview of the contemporary evidence on the health effects of nicotine and non-nicotine e-cigarette use, excluding where possible, the use of tetrahydrocannabinol (THC) and other illicit substances.
The review was commissioned by the Australian Department of Health and conducted by the National Centre for Epidemiology and Population Health at ANU.
Lead author, Professor Emily Banks, said they found use of nicotine e-cigarettes increased the risk of a range of adverse health outcomes, particularly in youth, including taking up smoking, addiction, poisoning, seizures, trauma and burns and lung injury.
"The evidence shows e-cigarettes carry significant harms. Nicotine is a key ingredient and one of the most addictive substances known. Vaping is causing addiction in a new generation of users," she said.
"Young non-smokers who vape are around three times as likely to take up smoking than non-vapers. Nicotine use in children and adolescents can lead to lifelong addiction issues as well as difficulties in concentration and learning. Vaping is also illegal if it isn't on prescription."
The report found early warning signs of adverse effects of e-cigarettes on cardiovascular health markers, including blood pressure and heart rate, and lung functioning.
"The evidence is there for some of the risks but for most major health outcomes, like cancer, cardiovascular disease and mental illness, we don't know what the impacts of e-cigarettes are. Their safety for these outcomes hasn't been established," Professor Banks said.
"There are myths targeting young people; the false ideas that vapes wouldn't be widely available if they were dangerous and 'it's just water vapour'. Vapes deliver hundreds of chemicals – some of them known to be toxic and many others with unknown effects."
The report found more than half of current e-cigarette use in Australia is by people who also smoke, 31.5% by past smokers and 15.5% by people who have never smoked.
"The report found limited evidence that nicotine e-cigarettes were effective to help people quit smoking in the clinical setting," Professor Banks said. "Most people who quit smoking successfully do so unaided."
Professor Banks said the report supported national and international efforts to avoid e-cigarette use in the general population, particularly in non-smokers and youth.
"Our young people have been through a lot and they deserve the best future possible," Professor Banks said. "The evidence is in that avoiding e-cigarettes should be part of that."