6 August 2021
On the frontline of early life care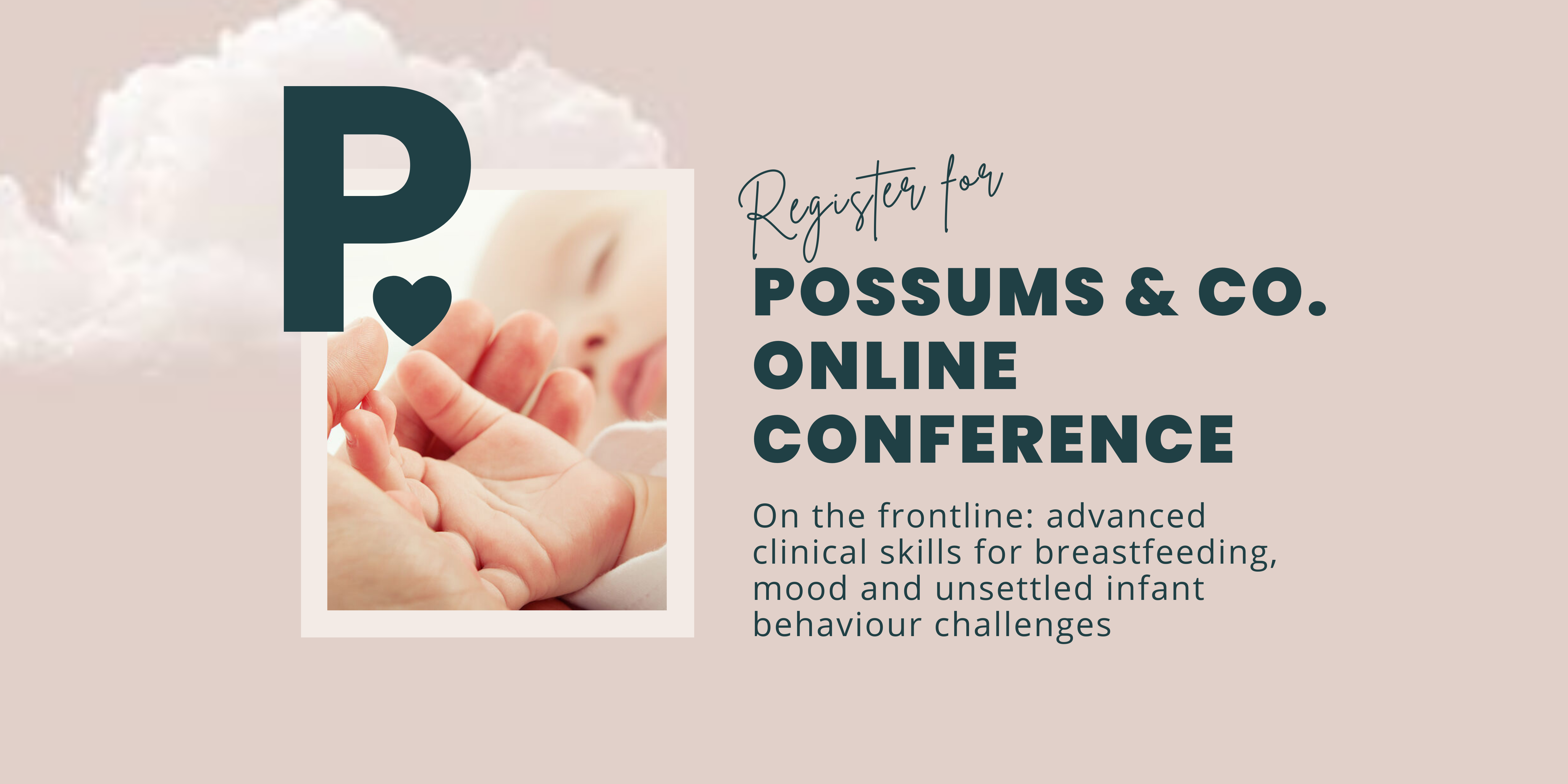 Take a deep dive into some of the latest research about the care of new families, at the Possums 2021 online conference on 9 September.
You will learn from international experts and upskill in the latest evidence-based programs for breastfeeding, parent mood and unsettled infant behaviour challenges.  We know you're tired of zoom, but this live online conference is as lively as we can make it, with plenty of opportunities for audience participation, interaction, and questions!
Register before 18 August 2021 at the early bird rate.
CPD activity: RACGP, ACRRM, ACM and IBLCE
Learn what's new in evidence-based clinical support of mothers and babies! Presentations will be particularly relevant for GPs and other health professionals working with mothers and babies who are facing challenges during the pandemic.
Hear research updates:
Reframing Temperament, Professor Stuart Shanker, Distinguished Research Professor Emeritus of Philosophy and Psychology and the CEO of the MEHRIT Centre, Ltd. Peterborough, Ontario, Canada
Professor Stuart Shanker is one of the world's leading authorities on helping parents and health professionals support the development of emotional self-regulation in children, as well as an internationally celebrated speaker, thinker and writer.
Changing baby sleep conversations in the UK: the role of DISC and Basis, Professor Helen Ball, Director, Durham Infancy and Sleep Centre (DISC), and Baby Sleep Information Source (Basis) Durham University, Durham, United Kingdom
Renowned Professor in Human Biology and Biological Anthropology, Helen Ball, established the Parent-Infant Sleep Lab at Durham University in 2000 and pioneers the study of infant sleep and the parent-infant sleep relationship from a biopsychosocial perspective.
Preliminary case series shows that a brief gestalt intervention changes ultrasound measures of tongue movement during breastfeeding, comparable to ultrasound changes measured post-frenotomy Associate Professor (Adj) Pamela Douglas, GP-Lactation Consultant, Researcher, Medical Director of Possums, Brisbane, Queensland
Dr Pamela Douglas is a GP and Medical Director of Possums & Co. www.possumsonline.com, a charity that educates health professionals in the evidence-based Neuroprotective Developmental Care (NDC) or Possums programs. Pam is an Associate Professor Adjunct with the School of Nursing and Midwifery, Griffith University, and senior lecturer with the Primary Care Clinical Unit, The University of Queensland. She is author of The discontented little baby book: all you need to know about feeds, sleep and crying.
Safe Infant Sleep in Focus: What can we do with what we know now? Professor Jeanine Young AM, Professor of Nursing & Deputy Head of School – Research; School of Nursing, Midwifery and Paramedicine, University of the Sunshine Coast, Queensland; Member, Red Nose National Scientific Advisory Group
Professor Jeanine Young AM, is a member of the Queensland Paediatric Quality Council and a ministerial appointment to the Queensland Child Death Review Board which reviews infant and child deaths in order to inform future prevention initiatives. She works closely with Red Nose to ensure Safe Sleep recommendations are evidence-based and practical for parents to implement.
What does the latest research tell us about Insufficient Glandular Tissue (or mammary hypoplasia) and breastfeeding? Renee Kam, IBCLC, physiotherapist, NDC practitioner, PhD candidate, Melbourne, Victoria
As well as holding a Bachelor of Physiotherapy, Renee Kam is an author and researcher and is currently undertaking a PhD through La Trobe University investigating breast hypoplasia.
Hear unique perspectives
Fact and fiction: assessing and writing reports on parenting in women with a perinatal mental illness Professor Anne Buist, Psychiatrist, Researcher, Novelist, Chair of Women's Mental Health, University of Melbourne, Victoria
Professor Anne Buist has thirty years clinical and research experience in perinatal psychiatry, including perinatal medicolegal work for Protective Services, Children's, Family and Criminal courts. Professor Buist is also the author of many novels, including a trilogy featuring tart noir heroine, psychiatrist Natalie King, and most recently, a crime thriller focussing around a postnatal depression support group in a small rural town. .
Think critically
Is it normal for babies to cry and fuss a lot in the first months of life: a review of the evidence, and

Why is basic health professional knowledge about tongue shape during suckling part of a holistic NDC approach to family well-being and infant development? Associate Professor (Adj) Pamela Douglas, GP-Lactation Consultant, Researcher, Medical Director of Possums, Brisbane, Queensland
Learn about new programs
Tuning into Toddlers Workshop, Associate Professor Sophie Havighurst, University of Melbourne, Victoria
Professor Sophie Havighurst is a child clinical psychologist who has led the development, research and dissemination of the Tuning into Kids (TIK) suite of parenting programs both in Australia and in many countries around the world. We are thrilled that Professor Havighurst will be conducting the workshop "Tuning into Toddlers" at our online conference.
---
---
Last year's Conference received overwhelmingly positive feedback – it delivered on learning, expertise, and value for money. We are pleased to provide the feedback: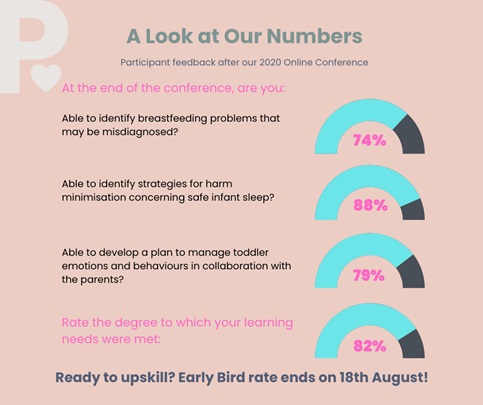 ---
---
Register before 18 August at the discounted Early bird rate and save $50!
Registration: $280 / Students: $180