23 May 2020
No snapback for GPs; RACGP's decade-defining month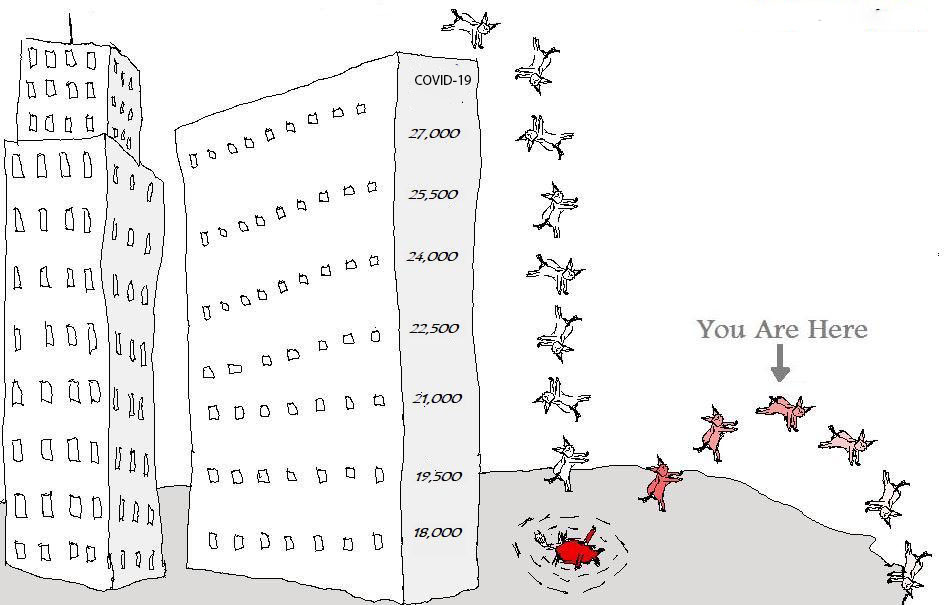 If you're wondering how your fellow GPs are faring during COVID-19, and where you might sit in a spectrum that seems to stretch from imminent bankruptcy to increased business year on year, you probably aren't alone.
While several surveys that are statistically significant suggest that more than 50% of practices are undergoing severe financial stress, neither MBS data, nor data emerging from several practice financial aggregator systems are suggesting so far that such stress exists.
There are several factors – flu vaccine timing, increased PIP payments, and some early JobKeeper and other government grants – which are blurring the picture here, but it seems unlikely that April's MBS data will continue to show that there has been little impact on the sector. That data should be available this week and will likely start to confirm just how hard GPs are being hit.
In the last week The Medical Republic dived deeper into the question of how hard GPs have been impacted through a new survey that attempted to get to the underlying reasons revenue was dropping. Most of the results which we will be reporting in detail on Thursday night at our next COVID-19 survival seminar with David Dahm will feel fairly obvious to readers.
Until we have the MBS data, and we decipher it properly, this survey data serves to confirm a lot of what people have so far been speculating about the patterns underlying reductions in GP revenue. Key trends related to the changes include:
Telehealth consults are failing significantly to replace the income from face to face consults
Telehealth consults have eased back from the peak of  isolation restrictions of nearly 90% of business back to an average of 62%, but still dominant overall consult numbers per practice
A key ongoing trend and one which we need to understand better moving forward is overall consults, telehealth or otherwise, remains significantly subdued. More than 70% of practices are reporting less overall consults, telehealth or otherwise. This is confirmed by data from pathology which suggests key chronic care testing is way down. Diabetes test requests are down by nearly 75% over March and April.
The reasons telehealth is falling well short of replacing face to face revenue are numerous and reasonably obvious as well:
Telehealth is still restricted in terms of gap fees on certain patient classes
Telehealth items aren't as lucrative as face to face items in general
Significant parts of the patient population for particular practices can't access or use telehealth
Some practices still can't do telehealth
We need more data to understand better the trajectory this is all heading for a spectrum of GP practices. To this end you can help by taking our current survey HERE.  Detailed results from the survey will be published and discussed this Thursday at our Webinar HERE. If you don't wish to attend the Webinar, register with your email and we will email you the results anyway.
That there so many aspects contributing to decline in business for GPs isn't a good sign. The situation isn't simple, and it is varying from practice to practice, with different factors contributing to decline in practices with different demographics, different technology and practice structure set ups, and different ownership structures. So far however, most of the data is pointing to the recovery of general practice being slow and steady. In Scomo-speak, GPs aren't likely to be on a V type recovery curve, or "snap-back". It's going to be much more like a reverse tick and that has lots of implications for practice management in the coming months.
A key question yet to be answered with any clarity is, will general practice ever go back to what it was pre COVID-19? If the answer is no, and it feels like that might be the answer, then those who are running practices need to be doing a lot of strategy and planning work now in order to track with the opportunities and threats that a post COVID-19 world looks like. Again, you might get some ideas on this from this weeks Webinar on COVID-19 survival HERE.
Following is a brief case for why general practice is not likely to ever return to how it was pre COVID-19:
It looks and feels like telehealth is here to stay in some form or another. The government still has a right to push the reset button in September but it doesn't seem likely it will. It doesn't seem likely either that they will allow the current messy set up to continue unabated. There will be some review and some news rules and regulations. There may even be staging of telehealth, as there should have been prior to COVID-19. But there will be telehealth and that alone means general practice will never be the same again.
Quite apart from telehealth as a technology, the advances made behind the scenes in digital health technology in Australia as a result of COVID-19 are significant and transformational. See this story here for a small window into of some of the things going on behind the scenes. While most GPs are worrying about day to day survival, in order to help them and their patients governments of both persuasions have been busy breaking all their own rules in order to get things working faster and significantly more efficiently. Technology behind the scenes has changed forever, especially technology around patient management systems, and cloud applications that talk to them like HotDoc and HealthEngine. Other projects like electronic prescribing have been expedited with such zeal, and competence (that's not a word we often associate with government and digital health to give you some sense of the change afoot), that you can expect post COVID-19 a very fast and differently evolving ecosystem for how you talk to and serve your patients through these systems.
Telehealth, and now some other fast emerging technologies, are opening up GPs to competition from tech companies and larger well funded corporates. Witness the tactics of groups such as MediNet, for how some existing tech groups are mobilising to take advantage of the new telehealth rules and  the move of National Home Doctor Service to expand out of after hours to all hours with its existing resource of doctors, as just another example of how bigger externally funded groups are going to harvest revenue from smaller to medium practices.
Patients are an ornery and stubborn bunch who have put up with health not digitally transforming like their other important day-to-day services such as banking and travel. Now they've had a taste of technology enabled health, mainly through telehealth, but also through other things like electronic prescribing, it's going to be much harder for the government and doctors to say no to their wants and needs moving forward, as they have, quite sensibly most times, in the past. Patients are a different animal with different experiences of their GP post COVID-19. This will need to be taken into account in any practice wanting to thrive in a post COVID-19 world.
GPs and specialists themselves have been given a shock to their system that isn't likely to leave them any time soon. Once banks fawned over doctors giving them lots of special treatment because they felt their business model – getting paid by government under very strict and society-assured idioms – was unstoppable, and not easily disrupted. All that thinking is changing for a lot of doctors, and their service providers.
None of this is to say that general practice won't ever recover to  operating norms and conditions which are equal to or better than prior to COVID-19. To the contrary, there has probably never been a time in the history of general practice where a smart practice owner, and or GP, couldn't significantly improve their lot by staying close to all the transformational things going on around them and adapting how they are structured and how they service their patients.
The opportunities here may even outweigh the threats in the long term. And it's not like general practice was doing well before COVID-19. Although general practice has always been positioned as the hub of a future health system that has to manage our coming chronic health tsunami, it never felt like the government or patients were ever really getting that point. GPs have always somehow been relegated to a poor second in healthcare system priorities to hospitals.
Some things now seem reasonably certain. COVID-19 isn't going away quickly for general practice, and the short term requires some sharp and tough management decisions which acknowledge this growing reality. Even more important, as  general practice starts to finally emerge out of the crisis, any sensible practice owner or GP, will have read all the tea leaves he or she can find to understand how they should and could be adapting to what will be a very different ecosystem to what they knew just three months ago.
Contribute to our GP Financial Strain Reasons Survey HERE
Register for the results of our latest GP Financial Strain Reasons Survey and the COVID-19 Survival Webinar Series HERE
 The next month might be the most defining for the RACGP in a decade
 With COVID-19 and financial survival occupying the minds of many GPs for the past few months, the normal hoo-ha which surrounds the RACGP election for president has been subdued to a whisper. But the upcoming election for president and how the RACGP replaces its long time and controversial past CEO, will likely determine the course of the RACGP and its engagement with its membership for the next decade.
Outside of COVID-19, and despite significant past apathy and distrust by members, as revealed by several surveys prior to the election of the last president, Dr Harry Nespolon (including one conducted by Dr Nespolon himself), there possibly has never been a time in the history of the College where member engagement was more important.
Dr Nespolon came to the job with some large and what some thought as unrealistic, aspirations. One was to wrestle some control back over the long term agenda of the College back from what appeared to him and many others to be an executive that had lost themselves in empire building and had lost lost touch with the real purpose of the College's existence, and of course, with its members.
Dr Nespolon, who is an accomplished business person in his own right, was outspoken, at times brash, but at all times in control of what he was attempting, which primarily was re-engagement of members in the day to day running of the College. He went about his work with an attitude that he had little to lose. He quietly went about pointing out several holes in the strategic and business logic of the executive, and what were in his opinion, some very significant and basic mistakes being made by them. Some behind the scenes thought that he'd be clipped by a very savvy executive who managed to bedazzle and confuse prior presidents and chairs. But this hasn't seemed to have occurred.
Now Dr Nespolon is moving on, and as a result of COVID-19, the timing for the College, and all its members could hardly be worse. There is still no new CEO, and we are about to swap out a president who appeared in many respects to be trying to guide the college to a new era of member engagement and executive accountability to members.
Some recognition of the seriousness of the potential disconnect came in a call from various members of the current board, and others, to extend Dr Nespolon's term for one year, mainly as a result of the issues surrounding communication and member engagement during COVID-19, but you suspect because of the timing of him leaving and the new CEO starting. With a completely new president on board at the same time as a new CEO the changes of continuity of purpose for the College, brought to it by its current president, would likely diminish significantly.
Even though that call was made by the chair of the College it wasn't a move likely to survive a required  vote of 75% of an extraordinary EGM.  This week we found out that  the board didn't even support the idea going to an EGM vote. The College hasn't got a great track record on extraordinary EGMs anyway.
Now we are faced with something else extraordinary. An election for a new president, during the worst financial crisis for GPs probably ever, without a new CEO for any continuity, with a past president who quite clearly had not finished the job, all in one month from now.
That the College finds itself in such a bad situation might be a reflection of an executive that is still at least in part dysfunctional, although they could not have predicted the mayhem that is COVID-19, so that may not be fair.
The situation is what it is.
We have one declared candidate, enigmatic and energetic co-founder of the progressive social media site for GPs, GPDU, Dr Karen Price, and the expectation of about three new nominees in the next week or so.
The College has said this week that they hope to hold the election electronically before the end of June. Hopefully they do wait at least to the very end to give this process as much time as possible. Even then, that is not much time.
Dr Price might be a good president for the times. She is a suffer no fools sort (which Dr Nespolon has been), a progressive thinker, from Victoria which is College power base along with NSW and Qld (which will help), and likely brings with her an influential and progressive support base. She will need that. She is also privy to some of the silly goings on by the executive over the years, so has a pretty good idea of how fun it gets once on the inside of the board tent.
But there is still going to be a sizeable disconnect here. If Dr Nespolon has been influential in anyway in what has occurred in the last year and half at the College, in particular the moving on the most senior executive of the College, and has been similarly influential in setting an agenda for what the College needs in a new CEO, then if Dr Price were to get the job, she comes in cold. As far as I can glean, Dr Price and Dr Nespolon aren't pen pals. They aren't swapping notes, so there isn't going to be any planned continuity in this respect.
Which would mean what for Dr Price if she got the job? And the functionality of the College for the next couple of years?
Perhaps a better question is what does this situation mean for the role of the President in the current and ongoing set up of the RACGP constitution? This situation makes the president's role look and feel like it is mainly for show – "there, we have a GP at the head of the organisation, so things will be OK everyone". The fact that this GP is only there for two years, comes in often with no management, business or company director experience, and usually no continuity with the last president, means that there is virtually no chance of this GP having any meaningful impact, talented or not. The existing executive obviously already realises this as they were part of a reign where this dynamic was clearly in play. And any new CEO won't take long to catch on. So what will change from the past if in the end nothing but the past CEO has been changed?
Without fundamental changes to the RACGP's constitution, it is entirely feasible that the College will return to empire building, where the executive delivers the basics – governance, training and education – but then uses increasing revenues from what are obviously over cooked membership fees and education charges to do whatever else they like.
The evidence is very clear from the last 10 years that the last executive squandered millions of dollars (10s of millions even?) of member fees on projects which were not on  mission or purpose for the College and often in conflict to members needs and wants. They could get away with this because revenues were increasing substantively year on year and the executive took that as their measure of success and defended their performance with that measure. But that isn't a measure the College should have ever been using in isolation. The substantive project failures and wasted money that the last executive oversaw would never have been tolerated in a properly run public or private company. All of it points to the College needing to better organise in terms of its constitution, mission and purpose. And if things are to be fixed, the relationship between the executive and the non executive needs to be changed.
The capacity for any meaningful input by a new president into this new process seem fairly slim. This situation is made significantly worse by the discontinuity being caused in the election of a new president during COVID-19 at the same time the College is working on the appointment of a new CEO, who presumably the College would like to take them in a different direction to the past.