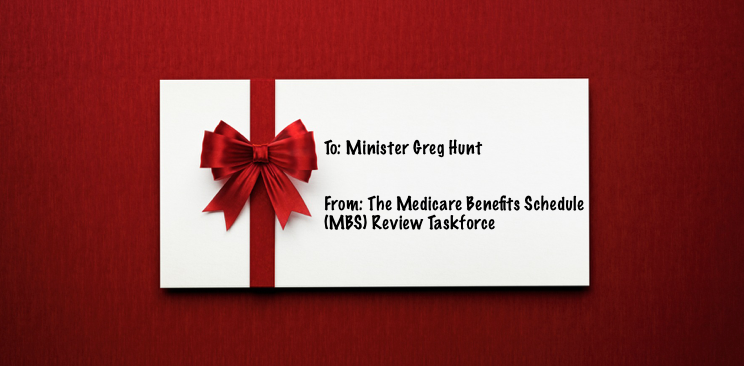 The Medicare Benefits Schedule Review Taskforce has published its final recommendations, with incentives for GPs to move to a voluntary patient enrolment model and to see patients in residential aged care facilities.
The Taskforce finished its review at the end of June, but today published its final report, which included individual reports that have been provided to the government or were previously unpublished.
The recommendations in the report are not final but have been sent to Health Minister Greg Hunt and the government for consideration.
The MBS Review Taskforce report on Primary Care has made 23 recommendations in total, 16 of which were endorsed from the report generated by the General Practice and Primary Care Clinical Committee in 2018.
It seems a major focus of the Taskforce is to encourage voluntary patient enrolment by introducing flexible access for enrolled patients to their GP.
If the Taskforce's recommendations are adopted, enrolled patients would have access to both face-to-face consults and telehealth at their designated practice, in addition to some after-hours and emergency services.
But it is unclear how GPs would fulfil the seemingly greater obligations of providing out-of-hours care to patients enrolled at their practice under this scheme – though the report does recommend that the scheduled fee for home visits be increased for enrolled patients.
This recommendation proposes increasing support for home visits for patients who are enrolled within a practice and amending items 24, 37 and 47 to increase the scheduled fee for a home visit.
When it comes to residential aged care attendances, the Taskforce has recommended a stable fee for each consultation completed at any one facility.
This would be an improvement from the current system, where after an initial flagfall rebate, each additional patient seen at the same residential aged care facility in the same visit attracts a smaller Medicare rebate.
The stable fee proposed by the Taskforce would encourage more doctors to see multiple patients in one visit, rather than staggering patient attendances over multiple days to attract a higher rebate.
Another point of interest in the report on primary care was the call to introduce a six-minute minimum consultation time on items 23, 5020 and 5023.
Currently these level B attendances only have to last less than 20 minutes, but there is no minimum time specification.
And on the subject of time, the other interesting recommendation from the Taskforce is to introduce a new level E consultation item for consults by a GP that last for 60 minutes or more.
Under existing arrangements, GPs sometimes have to attend to an emergency for one of their patients, leaving them to have to delay or cancel other appointments.
And while these long consults might be rare, it would allow GPs to be remunerated when they have a patient emergency unfolding.