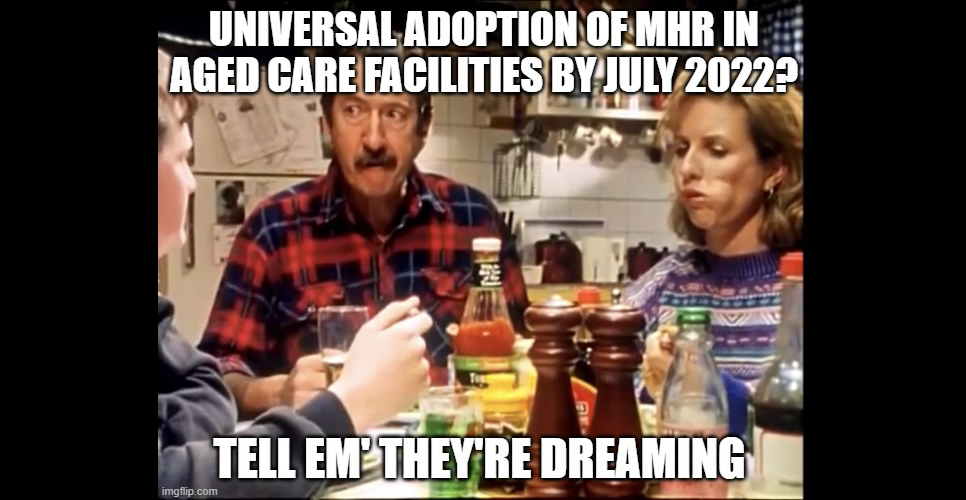 Sluggish adoption of the MyHealth Record could be a spanner in the works for Royal Commission targets.
---
With an exceptionally low uptake of My Health Record among residential aged care facilities so far, the aged care industry is unlikely to meet the ambitious target set out in recommendation 68 of the Royal Commission into Aged Care Quality and Safety's final report, leaders from Aged Care Industry IT Council have said.
According to an article by Pulse IT, George Margelis, chair of the Aged Care Industry IT Council (ACIITC), and Anne Livingstone, its executive lead, said that while they support the recommendation and government funding to make it happen, it would be a challenge to meet the target in that timeframe given the starting point and low uptake so far.
Just 3 per cent of aged care providers were actively using My Health Record, and only 10 per cent of aged care providers were even registered, according to figures reported by the Australian Digital Health Agency.
The final report from the Royal Commission recommended that aged care providers be required to use My Health Record by July 2022 – and more than $45 million had been allocated in the new budget to help residential aged care adopt My Health Record and implement a national electronic medication chart.
However, in its response to the report, the federal government appeared to have bought some time, citing a target date of June 2023.
That appeared to be a safer bet.
Dr Margelis stopped short of refuting his reported comments on the ambitious timeline. "We are aware that the government's response does not commit to the royal commission's timeline, and identifies that work needs to be done to ensure proper governance of the project," he told Wild Health.
"I am excited that there is now a cross-sector commitment for the digitisation of aged care," Dr Margelis said, adding that he was "keen to work with all stakeholders to ensure a successful implementation, and confident that we have the capability to deliver it".
Pulse IT quoted Ms Livingstone as saying there was "a long way to go to meet the requirements of recommendation 68", citing a need for more integration between My Aged Care and My Health Record.
Marwa Osman, Australian Digital Health Agency (ADHA) provider adoption lead, also told a webinar audience that universal adoption of My Health Record by the middle of next year was "optimistic", Pulse IT reported.
When contacted for comment, the ADHA referred TMR to this article, which cites lack of connectivity in residential aged care facilities as the key factor contributing to the dismal uptake in registration.
Back in 2012, the National E-Health Transition Authority provided funding to link aged care software to My Health Record – but lack of interoperability and scant use of the system in aged care remained an issue nearly a decade later.
Late last year, ACIITC published their Care-IT report, which shed light on the gap between aged care and widespread use of My Health Record. In fact, the report found that 73% of the109 aged care organisations who responded did not know whether their consumers actually used the portal.
"This is a system that is not well understood," the report stated. "The lack of integration between My Health Record and My Aged Care further reduces the likelihood of interaction."
Organisations that provided feedback in the report described government portals as cumbersome, difficult to navigate and hard to get support for – with many saying improvements to ease of use, integration and more streamlined access would provide value in their interaction with government portals.
The Care-IT report found that 47% of survey participants had no system in place with automated interfaces to government portals, and more than 40% were still manually uploading data to the My Aged Care portal.
Dr Margelis said widespread use of My Health Record was achievable, but only if there was industry-wide collaboration and active support for software vendors and aged care providers to manage the technical challenges.
He said the ACIITC was keen to facilitate an active co-design process between aged care providers, consumers, technology vendors, government and academia – with the ultimate goal of using My Health Record to improve aged care delivery.
"We are at a crucial point where we can significantly influence the development of both My Health Record and My Aged Care to provide a digital capability to expand and improve the delivery of aged care and make Australia a world leader in digitally enabled aged care," he said.