9 September 2021
NSW to ease restrictions for vaxxed at 70% coverage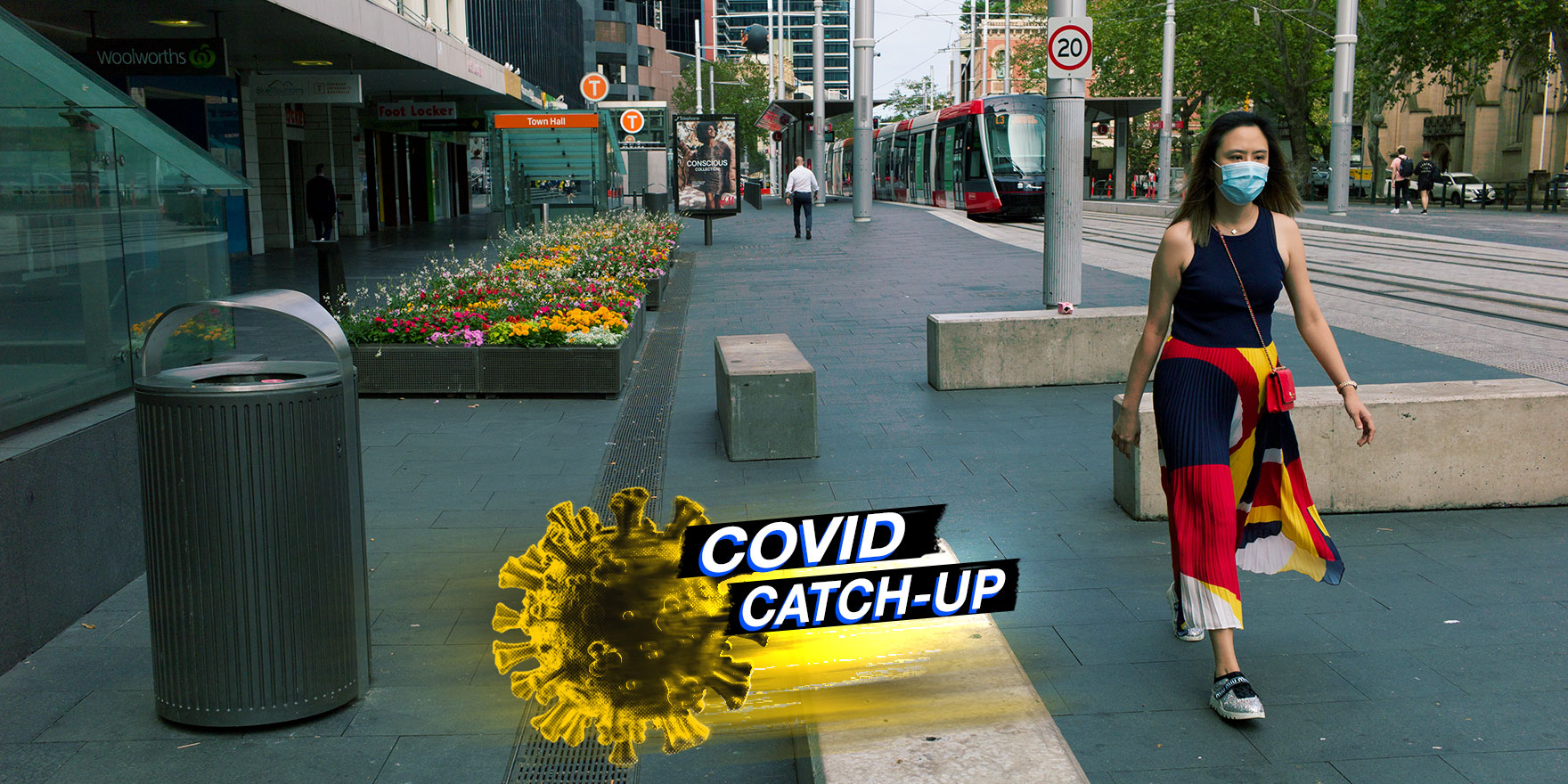 And telehealth is set to continue despite concerns about lack of hotspot extension news.
---
Welcome to The Medical Republic's COVID Catch-Up.
It's the day's covid-19 news in one convenient post. Email bianca@biancanogrady.com with any tips, comments or feedback.
---
9 September
---
Once NSW hits a target of 70% of its adult citizens fully vaccinated against covid, those vaccinated individuals will be able to visit other vaccinated people at home or go to public venues including restaurants, retail outlets, gyms and sporting events, under the new 'Roadmap to Freedom' outlined today by the NSW Premier.
The Premier also announced that certain regional areas with no covid cases will come out of lockdown as early as this Saturday.
With nearly 43% of adult NSW residents now fully vaccinated, the prediction is that the first stage of this opening up will come into effect around the second week of October, but may not apply to areas with high infection numbers, such as the current LGAs of concern.
Further easing of restrictions for fully vaccinated individuals will come into effect once 80% of adults are fully vaccinated, but those details are not yet released.
The declaration had more than a passing resemblance to UK Prime Minister Boris Johnson's announcement of 'Freedom Day' for England, coming as covid infection rates hit record levels.
Premier Gladys Berejiklian skated quickly past the daily tally of 1405 new infections – the fifth highest in the pandemic so far – and five deaths, including a woman in her forties, to briefly outline the freedoms to be enjoyed by at least some residents of NSW once the 70% full-vaccinated goal is reached.
These include outdoor gatherings of up to 20 fully-vaccinated people; the reopening of hairdressers, indoor swimming facilities and places of worship; weddings and funerals of up to 50 people, and trips to regional NSW.
Masks will still be compulsory for all indoor public venues and public transport, but only hospitality staff will be required to wear masks outdoors.
From this Saturday, regional centres such as Albury, Wagga Wagga, Tamworth, Coffs Harbour, Port Macquarie, Lismore, Byron Bay and Griffith, which have had few or no cases of covid in the past two weeks will come out of lockdown. However Deputy Premier John Barilaro warned that even a single active case of covid in these areas would trigger temporary restrictions.
Here's how the vaccine rollout is looking in NSW: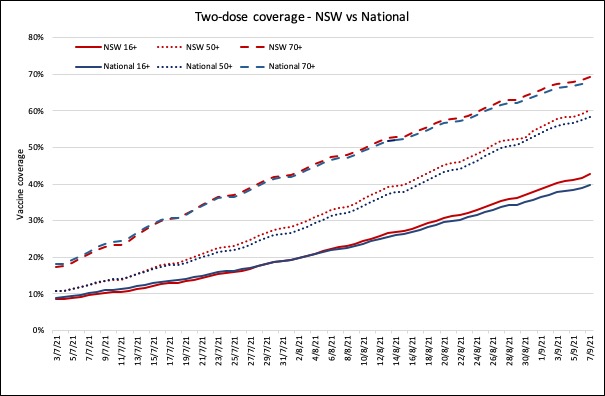 And here's the test positivity rate – the number of positive results per 10,000 covid tests – mapped against the number of tests that have been done in NSW since the start of this outbreak: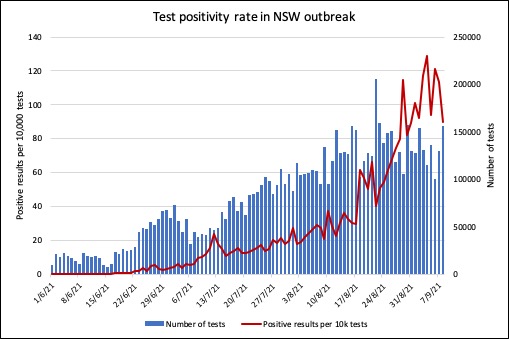 TMR's Francine Crimmins reports: GPs have been concerned over the future of longer phone telehealth consults being axed next week following the revelation that NSW's 'hotspot' status is set to expire on Friday (10 September).
With the Commonwealth yet to renew the hotspot status of NSW, GPs have been worried their patients would no longer be able to access MBS items 92746 and 92747, which were introduced in July to support longer telephone consults for patients in covid affected areas. Similarly, the hotspot status of Victoria is set to expire later this month (23 September).
But after contacting the Department of Health, TMR can confirm there is no need to fret. The DoH said GPs and other medical practitioners could still provide a telephone service lasting at least 20 minutes to patients in quarantine, isolation or those under state or territory restrictions – which includes any region under lockdown.
And despite the runaround to clarify the future of telehealth for GPs, TMR would put our money on the government renewing that hotspot status before the timer runs out anyway.
The mRNA covid vaccines do not appear to be associated with spontaneous abortion, according to a study which found women who experienced spontaneous abortion were no more likely to be vaccinated than those whose pregnancies did not abort.
The study published in JAMA looked at the vaccination status of more than 13,000 women who experienced spontaneous abortion and more than 92,000 ongoing pregnancies. This revealed that 8.6% of women who experienced a spontaneous abortion had received a covid vaccine in the 28 days prior to the event. Among those whose pregnancies continued, 8% had received a covid vaccine in the 30 days prior.
Guillain-Barre Syndrome is now listed as a possible but rare side effect of the AstraZeneca vaccine, according to an update from the Therapeutic Goods Administration.
While stressing that there is not a 'clear link' between the vaccine and Guillain-Barre Syndrome, the TGA notes it has received 110 reports of the syndrome following vaccination with the AstraZeneca vaccine, and has added a warning statement to the product information as a precautionary measure.
Symptoms of the syndrome – an auto-immune condition which affects the peripheral nervous system – include bilateral weakness and paralysis in the hands or feet which may progress to the chest and face over days or weeks.
Got a question about covid? Ask us here:
As of 7 September, 39.7% of Australians aged 16 and over have had two doses of vaccine, and 24.87% have had their first dose.
Here's the vaccine coverage for 16+, 50+ and 70+ years: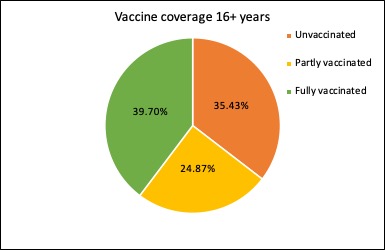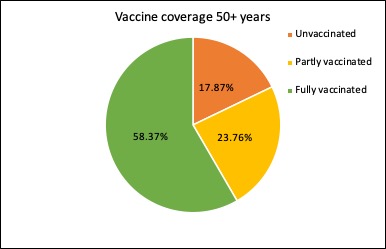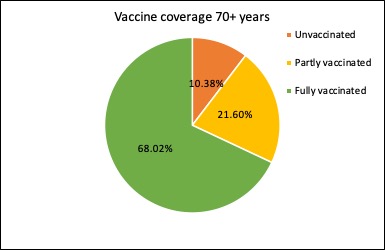 And here's what it looks down in five-year age group categories: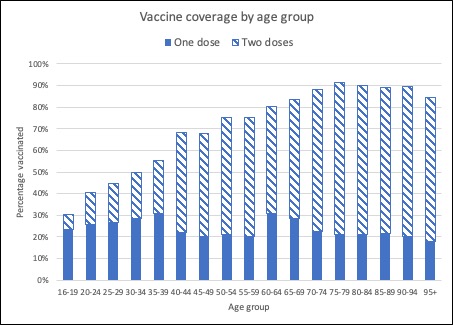 Here are the latest covid infection numbers from around Australia to 9pm Wednesday:
National – 66,318 with 1060 deaths
ACT – 548 (20)
NSW – 37,724 (1457)
NT – 203 (0)
QLD – 1991 (0)
SA – 889 (1)
TAS – 235 (0)
VIC – 23,641 (212)
WA – 1087 (0)