4 November 2021
Vaccination boosts protection for the previously infected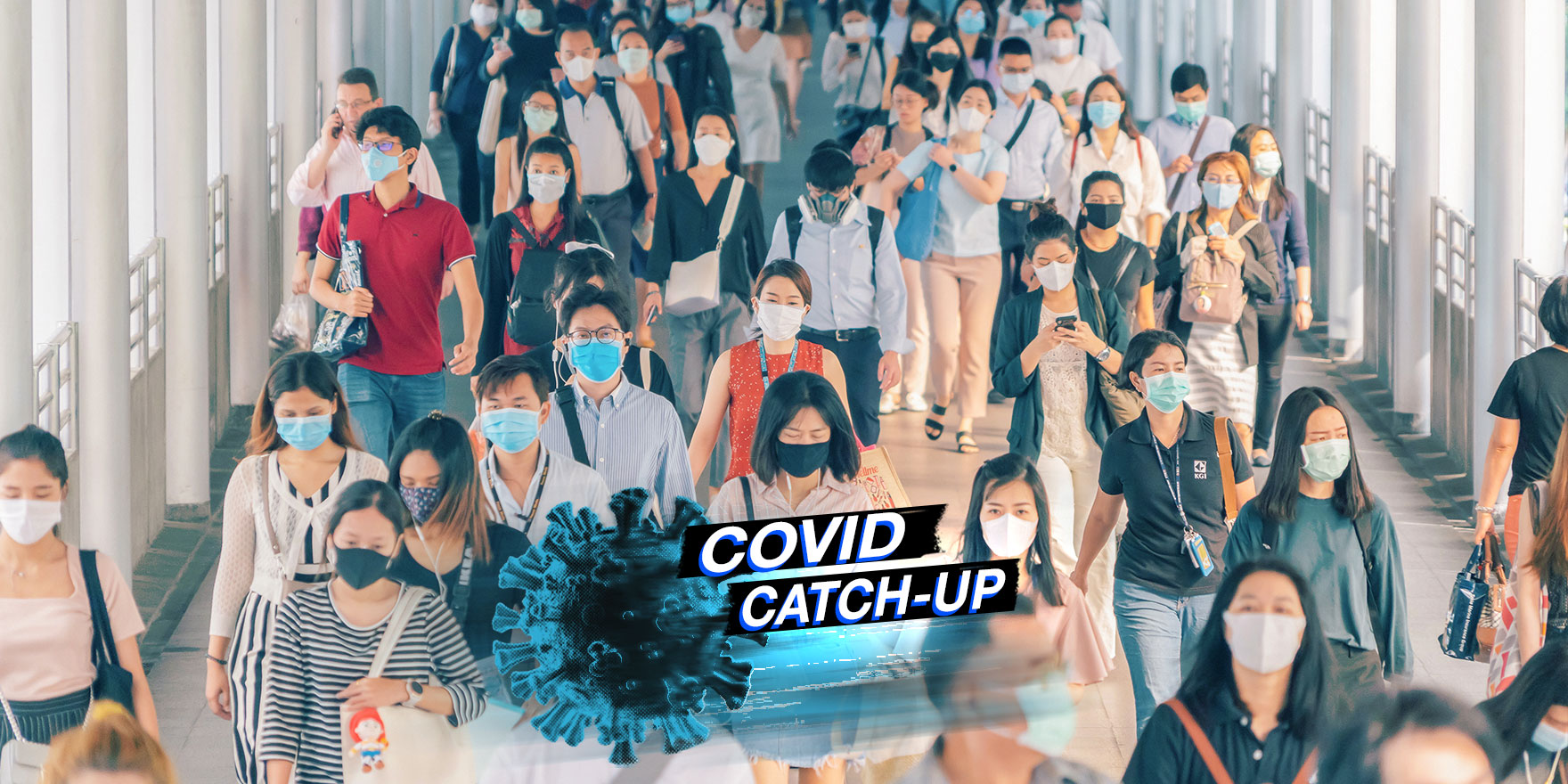 Welcome to The Medical Republic's Covid Catch-Up.
It's the latest covid-19 news in one convenient post. Email bianca@biancanogrady.com with tips, comments or suggestions.
---
4 November
---
People who have previously been infected with covid but also get vaccinated have a lower risk of breakthrough infection that vaccinated people without previous infection, a study has found.
An observational cohort study published in JAMA compared the incidence of breakthrough covid infections among more than 157,000 people with previous confirmed SARS-CoV-2 infection who had since been vaccinated with Pfizer or Moderna, and around 460,000 matched individuals without previous infection but who had been vaccinated.
Previously infected people vaccinated with Pfizer had an 82% lower rate of breakthrough and those vaccinated with Moderna had a 65% lower rate compared to people vaccinated with the same vaccine but without a history of covid.
Researchers also saw a lower rate of reinfection among people who received their vaccination more than six months after their first infection as opposed to less than six months after infection.
The pandemic resulted in a five times greater loss of years of life during 2020 than was lost during the seasonal influenza epidemic of 2015, researchers say.
An analysis published in the BMJ compared excess years of life lost – a metric calculated from the actual number of deaths in different populations but giving greater weight to deaths that occur in younger age groups – in 31 countries during 2020.
This suggested more than 28 million excess years of life were lost during the pandemic's first year, but with greater losses among men than women.
The greatest excess years of life lost occurred in Russia, Bulgaria, Lithuania, the United States and Poland, while New Zealand and Taiwan actually showed a reduction in excess years of life lost.
While overall, the amount of excess years of life lost increased with age, in some countries including New Zealand, South Korea and Taiwan, this figure was lower than expected among the elderly.
"Our findings of a comparable or lower than expected YLL [years of life lost] in Taiwan, New Zealand, Denmark, Iceland, Norway, and South Korea underscore the importance of successful viral suppression and elimination policies, including targeted and population based public health policy interventions," the authors wrote.
The Mu variant of SARS-CoV-2 shows some level of resistance to neutralisation by the Pfizer vaccine, research suggests.
A research letter published in the New England Journal of Medicine describes a study in which serum samples from 13 people infected early in the pandemic and 14 people vaccinated with the Pfizer vaccine were tested against the Mu variant.
The variant was labelled a "variant of interest" (but not "variant of concern" like Delta) in August, after emerging in Colombia in January this year and increasing in frequency until it outnumbered all other SARS-CoV-2 variants in the country by May.
The study found that the Mu variant was much more resistant to being neutralised by antibodies to the original virus, and also more resistant to neutralisation by vaccine-derived antibodies than was the original virus.
"Because breakthrough infections are a major threat of newly emerging SARS-CoV-2 variants, we suggest that further characterisation and monitoring of this variant of interest is warranted," the authors wrote.
The US Centers for Disease Control has endorsed vaccination of 5-11-year-olds with the Pfizer vaccine, after the US Food and Drug Administration approved the vaccine in this age group last week.
There's some more detail available on the recommendation for a third booster vaccine dose among severely immunocompromised individuals.
The Australian Technical Advisory Group on Immunisation has made some slight changes to its advice on boosters in this group. They now recommend a third booster dose of vaccine for people on 10mg/week or more of methotrexate, 1mg/kg/day or more of azathioprine, or 0.5mg/kg/day or more of 6-mercaptopurine.
However people with functional or anatomical asplenia do not need a third booster dose.
New covid infections are on the rise again in Europe, with a 6% increase in the past week compared to the previous week.
The latest WHO update shows a small 3% increase in new infections globally, with around three million new cases reported, but most of this increase is in the European region.
Deaths have increased by 8% in the past week, mostly due to a significant increase in deaths in South-East Asia. Nearly five million humans have now succumbed to covid since the pandemic began.
Less than 1% of Australians aged 70 years and older are now unvaccinated, according to the latest on the covid vaccine rollout.
Just over 91% of this age group are fully vaccinated, as are nearly 87% of those aged over 50 years, and 78.5% of those aged 16 and older. And the 12-15-year age group is rapidly catching up, with just over 47% now fully vaccinated: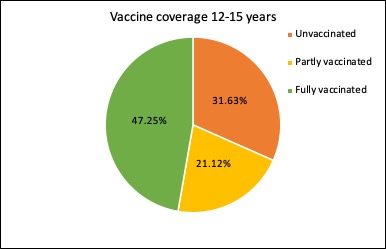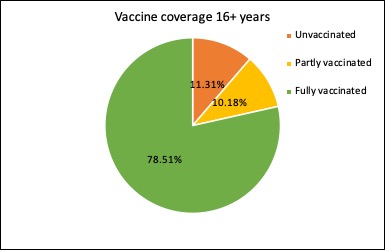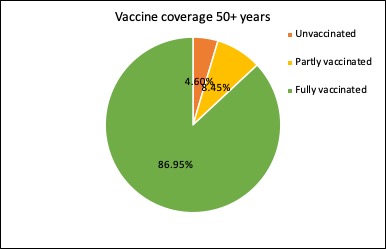 While infection rates around Australia are going down, an average of 14 Australians have died every day from covid over the past month. Here's what the deaths versus infections look like over the pandemic so far: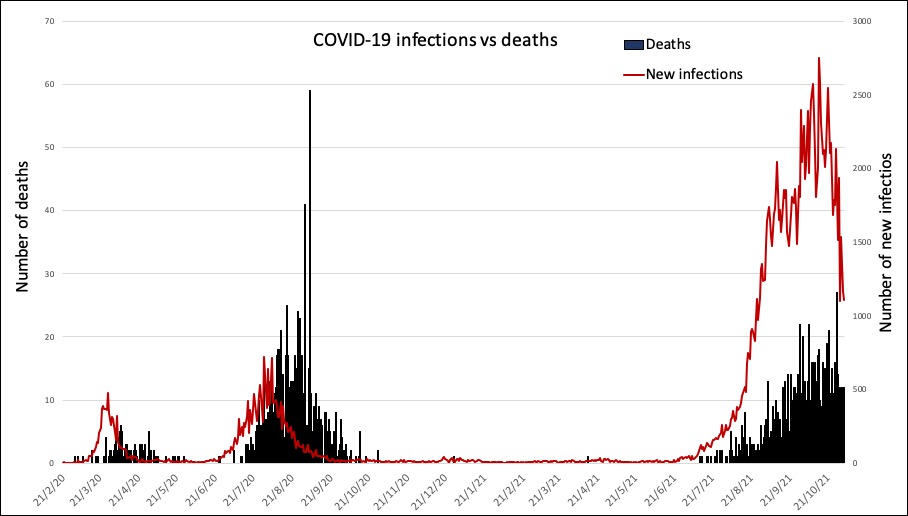 Here are the latest covid-19 infection numbers from around Australia to 9pm Wednesday:
National – 174,275 with 1768 deaths
ACT – 1803 (15)
NSW – 75,765 (187)
NT – 225 (0)
QLD – 2089 (0)
SA – 918 (0)
TAS – 237 (0)
VIC – 92,126 (909)
WA – 1112 (0)