28 October 2021
Vaccines for 5-11-year-olds one step closer with FDA nod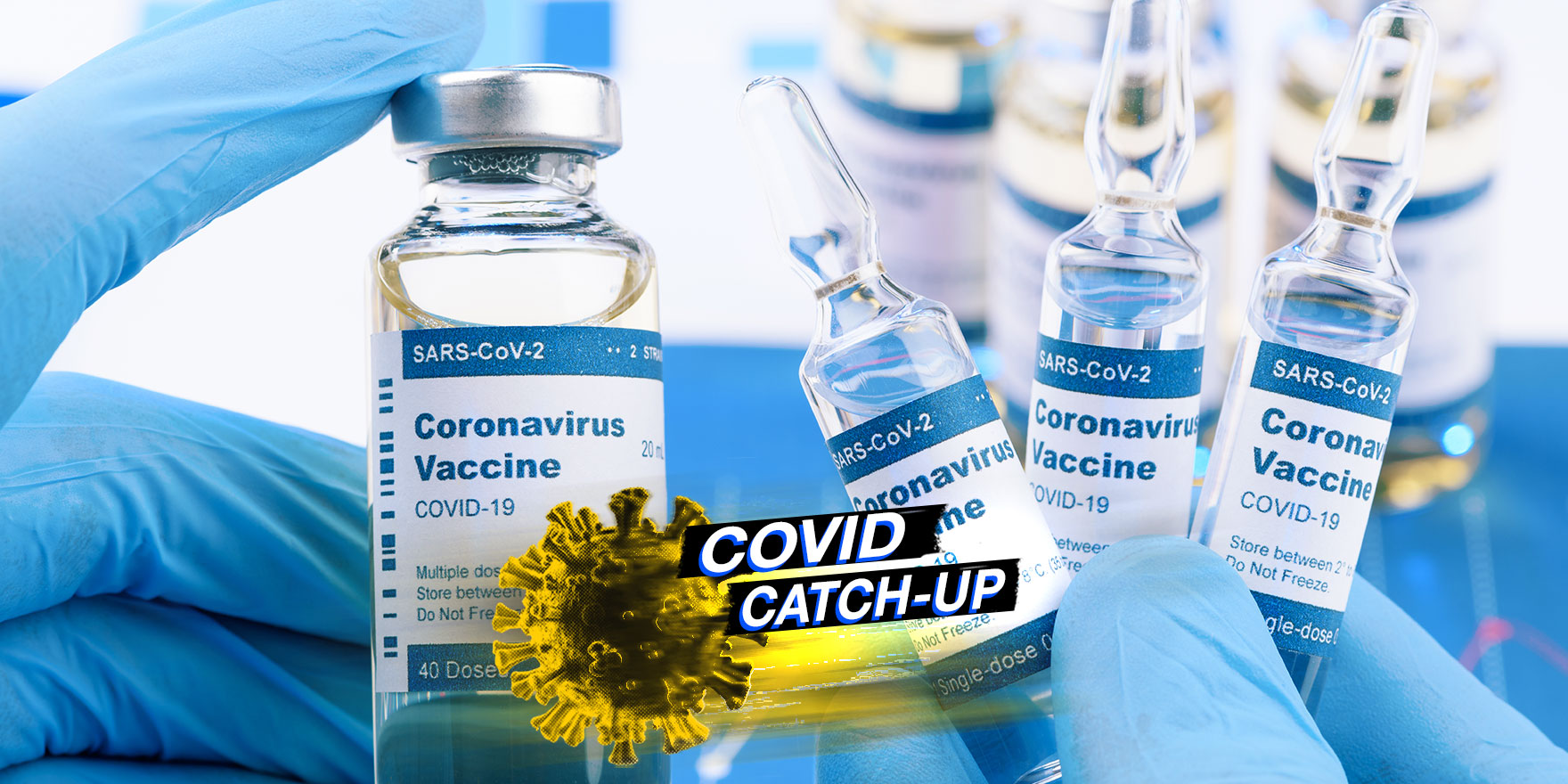 Welcome to The Medical Republic's Covid Catch-Up.
It's the latest covid-19 news in one convenient post. Email bianca@biancanogrady.com with tips, comments or suggestions.
---
28 October
---
Covid vaccines for 5-11-year-olds are one step closer after the expert panel that advises the US Food and Drug Administration recommended the Pfizer vaccine be approved for use in this age group.
And according to a report in Nine newspapers, vaccines for 5-11-year-olds could be approved in Australia as early as November.
TGA head John Skerritt told the Sydney Morning Herald that it had received a partial application from Pfizer and was awaiting the rest of the data. However once the full application was received, Professor Skerritt said the approval process would take a matter of weeks.
Meanwhile, Moderna has press-released results from its phase 2/3 trial in children aged 6-11 years, suggesting the vaccine is safe and generates the desired immune response. The vaccine is given as a 50 microgram dose 28 days apart.
It's covid vaccine boosters for everyone, but those at highest risk of severe disease or exposure should go to the front of the queue, says Australia's vaccine advisory group.
Following the TGA granting provisional approval to Pfizer boosters, the Australian Technical Advisory Group on Immunisation has also issued its own advice on covid vaccine boosters.
It recommends that individuals aged 50 years and over, those with underlying medical conditions, those living in care facilities, and Aboriginal and Torres Strait Islander adults should get priority for a third single dose of Pfizer, regardless of which vaccine they received initially.
ATAGI has also prioritised people at greater occupational risk of exposure, stressing that while these people are likely to be younger and at lower risk of severe disease, a booster shot may reduce the likelihood of them transmitting the disease to others.
People at high risk of allergic reactions to the Moderna vaccine may experience more allergic symptoms after vaccination, but these do not appear to stop them completing the full vaccine course, a study has found.
A paper published in JAMA Network Open described the findings of a cohort study among nearly 53,000 healthcare staff who received at least one dose of the Moderna vaccine, 0.9% of whom said they had a history of high-risk allergy, which the study defined as a history of severe allergic reaction to an injection medication, vaccine or other allergen.
The study found that those who did have a history of allergy had around a 2.4-fold higher risk of allergic reactions and more than five times higher risk of severe allergic reaction to the vaccine compared to those without a history of allergy. The most common symptoms were mild rash or itching, but those with a history of allergy had a three-fold higher risk of hives and a four-fold higher risk of angioedema.
The allergic reactions were much more common after the first dose of vaccine than the second dose.
However all those involved in the study – even those who experienced severe allergic reactions – were able to complete two doses of the vaccine with consultation with an allergist and shared decision making.
"For the rare individuals with a history of severe allergic reactions to PEG [polyethylene glycol], consultation with an allergist or immunologist is recommended because the mRNA vaccine may not be an absolute contraindication for such individuals," the authors wrote.
The SSRI fluvoxamine appears to reduce the risk of hospitalisation among adults with symptomatic covid who are at risk of severe disease.
According to a paper published in the Lancet Global Health, a placebo-controlled, randomised study in just under 1500 individuals with covid found a 32% lower risk of hospital or ER admission compared to placebo, and a 32% lower rate of death, at 28 days after treatment.
While the mechanism of effect is not yet known, the authors suggested it could relate to fluvoxamine's anti-inflammatory and anti-platelet activity.
The global covid rollercoaster loops and dips on, with the World Health Organization reporting a slight increase in the numbers of new infections and deaths in the last week compared to the previous week.
There was just a 4% increase in new infections globally in the last week, largely driven by Europe which has experienced an 18% increase in the last week. The region now accounts for more than half of all new cases globally.
Just under 99% of Australians aged 70 year or older have now had at least one dose of covid vaccine, and nearly 89% have had two doses of vaccine.
The latest figures on the covid vaccine rollout in Australia show nearly three-quarters of those aged 16 years and over are now fully vaccinated, and just 12.6% remain completely unvaccinated. And the 12-15-year age group is racing to catch up: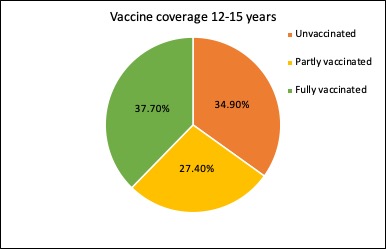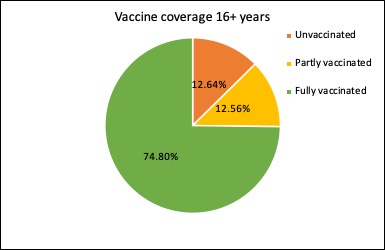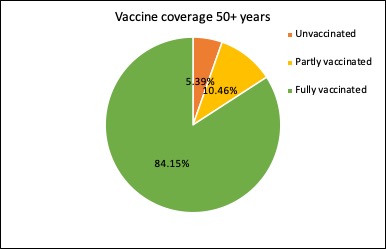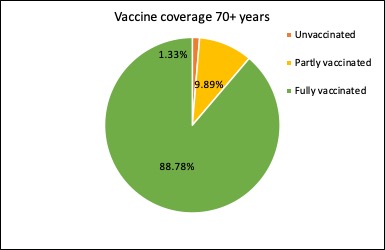 Here are the latest covid-19 infection numbers from around Australia to 9pm Wednesday:
National – 163,769 with 1669 deaths
ACT – 1741 (10)
NSW – 74,352 (295)
NT – 225 (0)
QLD – 2086 (1)
SA – 918 (0)
TAS – 237 (0)
VIC – 83,098 (1447)
WA – 1112 (0)