26 August 2021
Unvaccinated are 29 times more likely to be hospitalised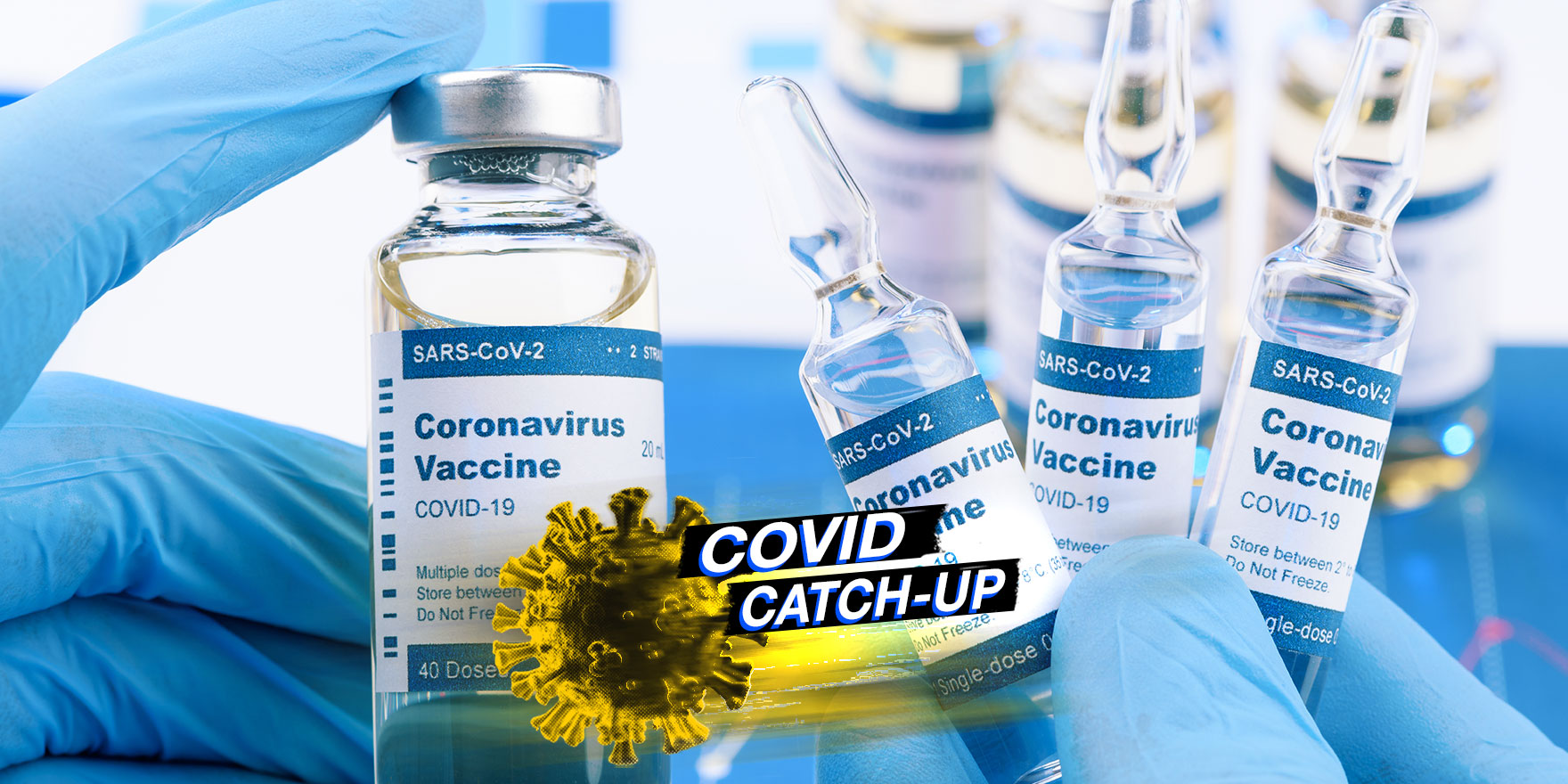 Welcome to The Medical Republic's COVID Catch-Up.
It's the day's covid-19 news in one convenient post. Email bianca@biancanogrady.com with any tips, comments or feedback.
---
26 August
---
Unvaccinated individuals are five times more likely to get infected with covid but 29 times more likely to be hospitalised with it than vaccinated individuals, according to a study published in Morbidity and Mortality Weekly Report.
Analysis of more than 43,000 SARS-CoV-2 infections in Los Angeles in individuals aged 16 and older – diagnosed between May-July 2021 – showed one quarter of infections were in fully vaccinated people, 3.3% (not an error) were in partly vaccinated, and 71.4% were in unvaccinated people.
However only 3.2% of fully vaccinated people infected with SARS-CoV-2 ended up in hospital, only 0.5% required intensive care and 0.2% required ventilation. In comparison, 7.6% of unvaccinated people were hospitalised, 1.5% required intensive care, and 0.5% required ventilation.
Vaccinated people who were admitted to hospital or intensive care were significantly older than unvaccinated people – a median age of 64 years in vaccinated compared to 49 years in unvaccinated. The study also found that the vaccinated people who died from covid had an even higher median age – 74 years – and one-quarter were immunocompromised due to pre-existing conditions such as cancer or HIV infection.
"These data indicate that authorized vaccines protect against SARS-CoV-2 infection and severe covid-19, even with increased community transmission of the newly predominant Delta variant," the authors wrote.
Recent covid could significantly increase the risk of post-operative venous thromboembolism, research suggests.
A study published in Anaesthesia looked at outcomes in more than 128,013 surgical patients – 3.5% of whom had covid either before or around the time of surgery – from 115 countries.
Researchers found that the rate of venous thromboembolism was 0.5% among patients without current or past covid, but 2.2% among those with current covid and 1.6% among those who had had covid within the past month.
After adjusting for potential confounders, the rate of venous thromboembolism was 90% higher in those with recent covid and 50% higher in those with current covid. Mortality rates from venous thromboembolism were also substantially higher among those with covid compared to those without.
"Despite this study's limitations, recent and peri-operative SARS-CoV-2 infection may be an independent risk-factor for postoperative VTE, and increased awareness and surveillance should be considered," the authors wrote.
Data from more than 884,000 people vaccinated with the Pfizer/BioNTech vaccine shows the vaccine is associated with an additional 2.7 cases of myocarditis for every 100,000 people vaccinated, but this was dwarfed by the myocarditis rates in unvaccinated people who got covid.
A paper published in the New England Journal of Medicine presents the results of an analysis from Israel's vaccination campaign, which included looking at outcomes in 240,000 matched unvaccinated individuals who contracted covid.
The study found a three-fold higher rate of myocarditis among the vaccinated, but among the unvaccinated who got covid the risk was 18-fold higher.
There was also a 2.4-fold higher risk of lymphadenopathy among the vaccinated compared to the unvaccinated, a 40% higher risk of appendicitis and 43% higher risk of herpes zoster infection.
However among those who were unvaccinated and got covid, there was a substantial increase in the risk of arrhythmia, acute kidney injury, pulmonary embolism, deep-vein thrombosis, myocardial infarction, pericarditis and intracranial haemorrhage.
"We sought to place the increased risk of adverse events caused by the BNT162b2 vaccine in context by contrasting this risk with that of the same adverse events after documented infection with SARS-CoV-2," the authors wrote. "We thought that this was necessary because vaccination and its potential risks do not occur in a void but rather in the context of an ongoing pandemic."
Patients who have risk factors for severe covid but are not yet on oxygen can be treated with the monoclonal antibody therapy sotrovimab, if they are within five days of symptom onset, according to new guidelines.
The latest update from the National Covid-19 Clinical Evidence Taskforce includes the conditional recommendation that sotrovimab be considered in patients with comorbidities such as diabetes, obesity, chronic kidney disease, congestive heart failure, COPD, asthma or are over the age of 55 years.
The recommendation is based on findings from the recent COMET-ICE trial, which found a decreased risk of hospitalisation if the treatment is given early in the disease.
A SARS-CoV-2 variant that emerged in New York in early 2021 and has since spread right across the United States shows resistance to two monoclonal antibody treatments and appears less susceptible to neutralisation by vaccine-derived or past immunity.
The Iota variant has not been named a variant of concern by WHO, but a study published in Nature reports that the variant B.1.526 bears the E484K mutation, which is key to avoiding neutralisation by antibodies to SARS-CoV-2.
The study retrospectively genotyped 1602 SARS-CoV-2 samples taken from covid patients between November 2020 and May 2021 from across the US, and found 77% those with the E484K mutation fit within the lineage that has since been labelled the Iota variant.
The study also found that patients with this variant were more likely to be admitted to hospital or present to the emergency department than patients with the original SARS-CoV-2 virus.
The good news – sort of – is that the variant has since been overtaken by the more transmissible Delta variant, but "these observations are a stark reminder that if SARS-CoV-2 is allowed to continue its spread, increasingly worrisome variants are to be expected in the future," the authors wrote.
The Pfizer/BioNTech covid vaccine has finally been fully approved by the US Food and Drug Administration, after operating under emergency use authorisation status since 11 December 2020.
It's a significant milestone, even though the FDA stressed that the approval process for the initial emergency use authorisation was extremely rigorous.
"While millions of people have already safely received covid-19 vaccines, we recognize that for some, the FDA approval of a vaccine may now instill additional confidence to get vaccinated," Acting FDA Commissioner Dr Janet Woodcock said in a statement.
Q: Are people with past history of transverse myelitis at any risk in having the Pfizer vaccine?
A: There is no currently evidence of an association between the Pfizer vaccine or the AstraZeneca vaccine and new-onset transverse myelitis.
There were early reports of two cases of transverse myelitis in people who had received the AstraZeneca vaccine, but one of these turned out to have undiscovered multiple sclerosis and the other case was determined to be unconnected to the vaccine.
MS Australia says large scale studies of covid vaccines show no link with the risk of demyelination. Both MS Australia and the MS International Federation advise that people with multiple sclerosis should get vaccinated as soon as they can because the risks of covid-19 infection for people with MS "far outweigh any conceivable risks from the vaccine".
(Thanks for the question, and keep them coming! The form for submitting questions is at the bottom of this post).
Cases might be soaring in Australia, but globally the two-month increase in new infections has finally plateaued, according to the latest World Health Organisation update which reported 4.5 million new cases in the last week.
However cases numbers in the United States have increased 15% in the last week compared to the previous week, and in the United Kingdom they have increased by 11%.
The global tally of covid infections now stands at 211 million, with just over 4.4 million deaths since the start of the pandemic.
West Australia has recorded 20 new cases, all of which are crew members from the container ship MV Ken Hou, which is berthed at Fremantle. While infected, the crew aren't currently unwell and so are being cared for onboard the vessel. Two uninfected crew members have been transferred to hotel quarantine.
Here's the latest on the covid vaccine rollout around Australia.
Nationally, 31.56% of those aged over 16 years are fully vaccinated, and 22.81% have had one dose of vaccine, leaving 45.63% still unvaccinated: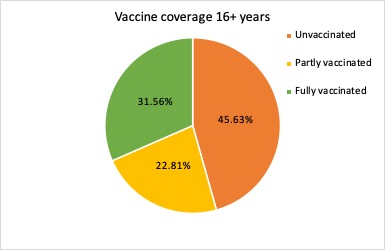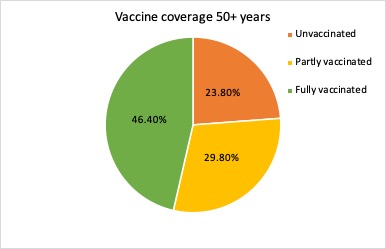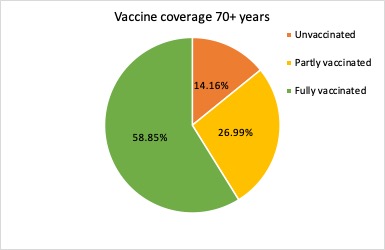 Here's how it looks broken down by five-year age groups: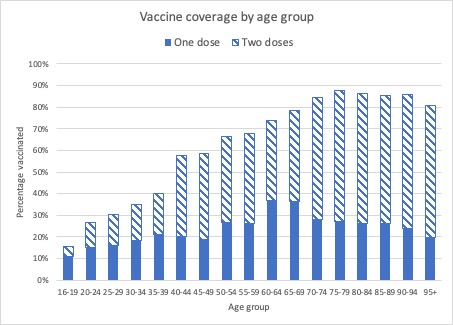 And the pace of vaccination is accelerating in NSW, which began this outbreak slightly lower than national vaccination coverage for at least one dose, but has now overtaken them: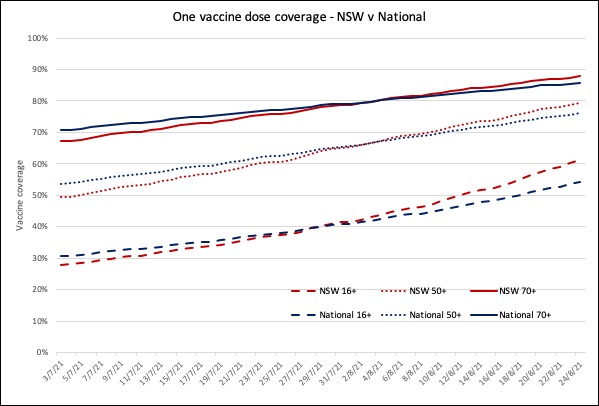 Here are the latest covid infection numbers from around Australia to 9pm Wednesday:
National – 46,728 with 986 deaths
ACT – 300 (9)
NSW – 20,455 (910)
NT – 200 (0)
QLD – 1970 (0)
SA – 870 (0)
TAS – 235 (0)
VIC – 21,614 (41)
WA – 1084 (20)