22 July 2021
Two more vaccine-linked TTS deaths in under 50s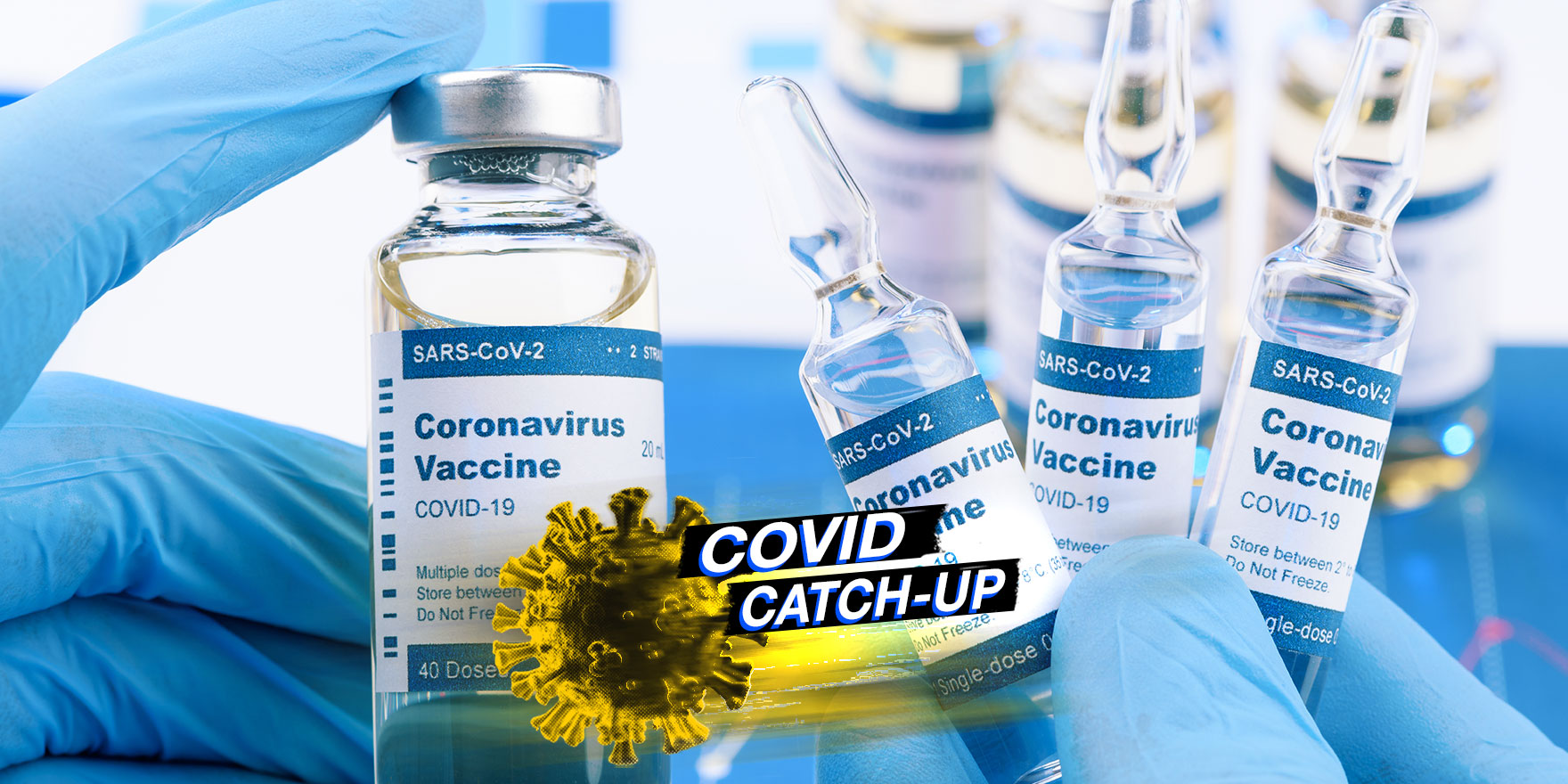 Welcome to The Medical Republic's COVID Catch-Up.
It's the day's covid-19 news in one convenient post. Email bianca@biancanogrady.com with any tips, comments or feedback.
---
22 July
---
Vaccine-linked thrombosis with thrombocytopenia has claimed two more lives this week: a 44-year-old man and 48-year-old woman, who developed the rare complication after receiving their first doses of the AstraZeneca vaccine.
There are now five deaths and 87 cases reported from around 6.1 million vaccine doses, according to the latest TGA update.
A single dose of either the Pfizer or AstraZeneca vaccine offers significantly less protection against symptomatic covid caused by the Delta variant than it does against the Alpha – the UK – variant, a study has found.
A paper published in the New England Journal of Medicine compared the rates of symptomatic infection in just over 19,000 people in the UK diagnosed with covid – 14,837 with the Alpha variant and 4272 with the Delta variant – and who had been vaccinated with either vaccine, with infection rates in unvaccinated individuals.
A single dose of either vaccine offered 48.7% protection against symptomatic infection with the Alpha variant but only 30.7% protection against the Delta variant. Two doses of either vaccine achieved 87.5% protection against the Alpha variant, and 79.6% protection against the Delta variant.
There were smaller differences between the two vaccines in terms of protection against the variants. A single dose of the AstraZeneca vaccine offered 48.7% protection against Alpha and 30% protection against Delta, while a single dose of the Pfizer vaccine offered 47.5% protection against Alpha and 35.6% protection against Delta.
"Our finding of reduced effectiveness after the first dose would support efforts to maximize vaccine uptake with two doses among vulnerable groups in the context of circulation of the Delta variant," the authors wrote.
Mandatory mask-wearing may have been key to Victoria getting on top of its second wave of covid infections in July 2020, a study suggests.
In a paper published in PLOS ONE, researchers looked at how the introduction of mandatory mask-wearing in Victoria on 20th July 2020 affected infection rates, compared to other measures.
Stay-at-home orders, including restrictions on retail and hospitality were first introduced in Victoria on 1 July, then extended geographically on the 4 and 8 of July. The introduction of these measures slowed the growth in infection rates but did not reverse it.
Compulsory mask-wearing came into force on 22 July, then the 5km movement limit came into force on 2 August and the state moved to close childcare, schools and all non-essential retail on 5 August.
Allowing for a delay between the start of the mask-wearing mandate and its effects on infection rates, as well as the effects of reduced movement and testing rates, researchers calculated that mask-wearing was associated with a 22%–33% decline in reproduction number of the virus.
"Thus, the data was an excellent fit to an exponential increase in the Stage 3 period followed by an exponential decrease after masks became mandatory," they wrote." This model also predicts that usage of mask made the critical difference between the epidemic growing and contracting."
However they noted that it wasn't clear what effect masks would have had without the other stringent public health interventions in place.
Metropolitan Adelaide, and the regional NSW council of Orange, Blayney and Cabonne have all been added to the Commonwealth hotspot list.
For GPs, this means greater access to PPE packages from the national stockpile, the implementation of single-site workforce supplements for aged care facilities, support for asymptomatic covid testing at GP clinics, and access to MBS item numbers for telehealth consultations.
A new covid vaccine has entered the game. Sanofi Pasteur's Vidprevtyn covid vaccine has started the process of review by the European Medicines Agency.
The single-dose vaccine, which contains a recombinant version of the SARS-CoV-2 spike protein as well as an immune response-boosting adjuvant, is currently in phase 3 clinical trials in the US, India and Honduras.
Phase 2 trial results showed high rates of seroconversion and neutralising antibodies, although the company has not yet reported data on infection rates.
Only around half of unvaccinated US teenagers intend to get the covid vaccine, even though the Pfizer vaccine is now approved in the US for those aged 12 years and older.
A survey of 1,022 parents of adolescents and 985 adolescents, reported in Morbidity and Mortality Weekly Report, found only 55.5% of parents of unvaccinated adolescents said they definitely or probably would have their child vaccinated. Only 51.7% of unvaccinated adolescents intended to get vaccinated.
Among those who weren't intending to get their adolescent children vaccinated, they said they would be more likely to do so if they had more information about the safety and efficacy of the vaccine in adolescents, or if vaccination was a school requirement.
The global rollercoaster of covid infection numbers continues its wild ride: in the last week, infection rates have been 12% up on the previous week, and the steady decline in deaths has plateaued.
The WHO reports that 3.4 million new cases were reported in the last week, bringing the global tally to more than 190 million since the start of the pandemic, with more than four million deaths.
It's a long way off from the estimated 500 million infections and 50 million deaths that occurred during the 1918 influenza pandemic. But there's a note of weariness in this week's update from WHO, which comments that surges are happening around all six major regions, "despite efforts to extend vaccination coverage."
As to why cases are rising in what looks like the start of a third global wave of infections, WHO suggests four factors are driving it: the more transmissible variants, relaxations in public health measures – such as the UK's 'Freedom Day' folly [my comment, not WHO's] – increases in social mixing, and inequitable vaccine distribution.
How is the vaccine rollout going in Australia? This chart shows one- and two-dose coverage across age groups, as of 21 July. Overall, 14.98% of Australians have received two doses of a covid vaccine, and 21.63% have received one dose of the vaccine.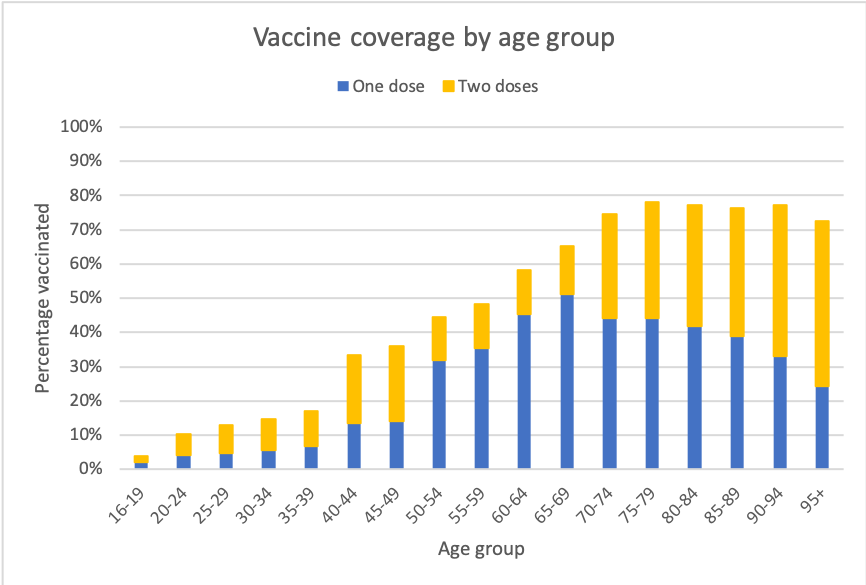 Here are the latest covid-19 infection numbers from around Australia to 9pm Wednesday:
National – 32,269 with 915 deaths
ACT – 124 (0)
NSW – 7233 (112)
NT – 191 (0)
QLD – 1761 (0)
SA – 841 (3)
TAS – 234 (0)
VIC – 20,837 (23)
WA – 1048 (2)