19 July 2021
'Freedom Day' for England but infection rates soar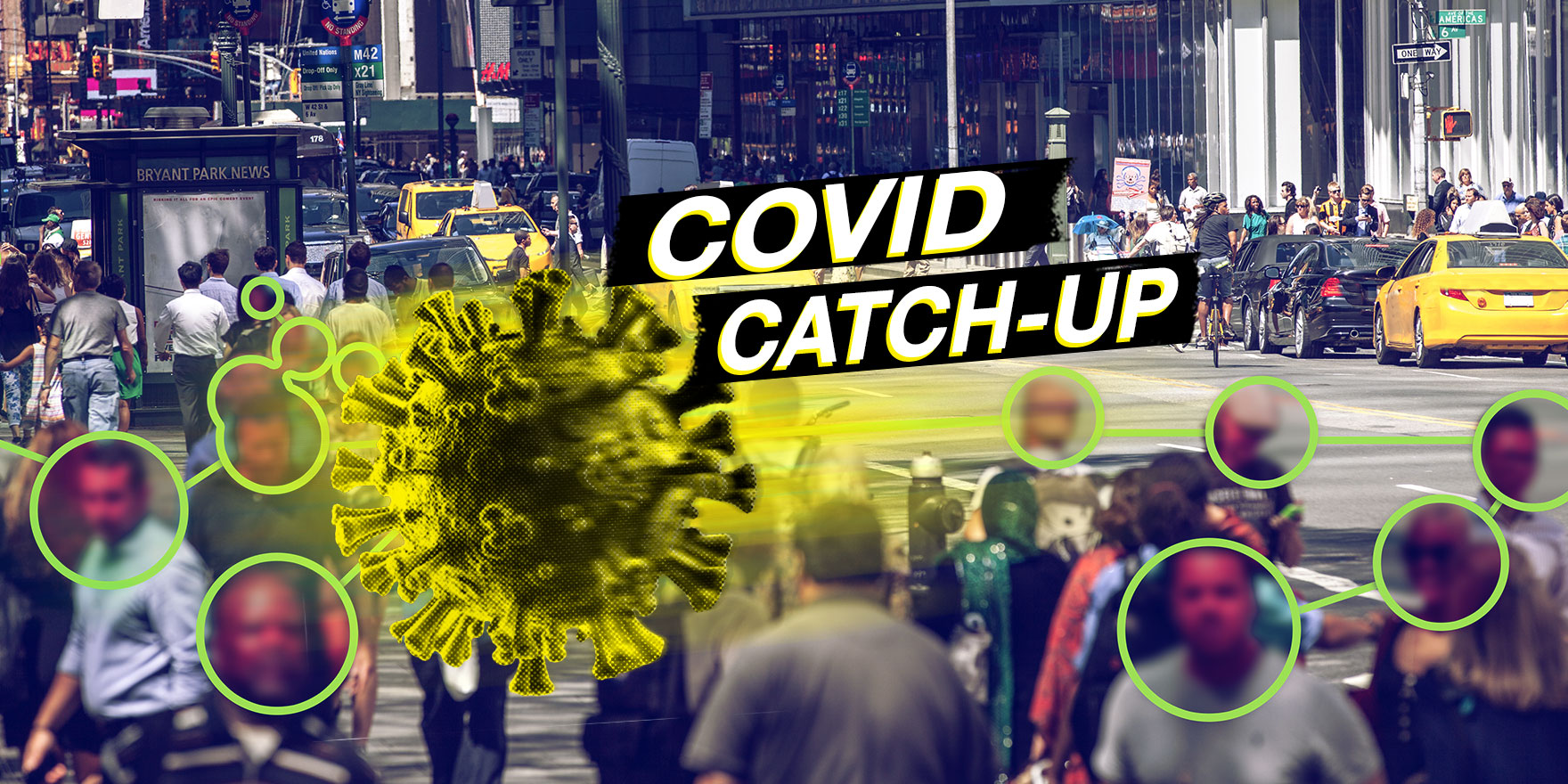 Welcome to The Medical Republic's COVID Catch-Up.
It's the day's covid-19 news in one convenient post. Email bianca@biancanogrady.com with any tips, comments or feedback.
---
19 July
---
Today is 'Freedom Day' for England, when all the restrictions and regulations put in place to control the spread of covid-19 are lifted: all businesses will be allowed to operate as normal, social-distancing and mask-wearing are no longer required in public places.
However the UK is now recording well over 50,000 new cases of covid per day, and the UK health secretary Sajid Javid is in isolation after testing positive to covid on Saturday.
'Freedom Day' probably sounded like a good idea to Prime Minister Boris Johnson back in March this year, when he set 21 June as the date for the country to move to step 4 of its covid roadmap – later commuted to July 19 due to rising numbers – and lift all restrictions.
But even on 12 July, when Johnson announced that the Freedom Day plan would go ahead, the UK recorded more than 31,000 new infections.
The UK government is banking on high vaccination rates – just over 53% of the UK population are fully vaccinated – to prevent major outbreaks, and argue that the UK can 'learn to live with covid-19' without the economic and social restrictions that have been in place since late March 2020.
"We think now is the right moment to proceed," Johnson said on 12 July. However Scotland, Northern Ireland and Wales disagree, and are setting their own pace for lifting restrictions.
All of the UK's four independent public health bodies have also condemned the decision, and leading cancer charities have begged the government to reconsider, according to a report in the Observer.
Clinicians are already under pressure from rising infection rates, which is placing the NHS under strain amid a surge in emergency admissions.
Analysis of around 4000 cases of covid diagnosed in NSW to October 2020 (so we're talking plain vanilla covid, not the more exciting variants) suggests the risk of severe disease in those aged 60-79 is three times higher than in those aged 30-39, and in those aged over 80 years it's around ten times higher.
The study, published in BMC Infectious Disease, also found men had a 40% higher hazard of very severe disease and ICU admission than women.
Researchers also found an effect of socioeconomic status, with the most socioeconomically advantage group having a 46% lower risk of severe disease compared to the most disadvantaged.
Diabetes was associated with a 93% greater hazard for severe disease compared to no diabetes, COPD or bronchitis were associated with an 81% increased hazard, and those with immunosuppressive conditions had a 66% greater hazard for severe disease.
The study also found a linear relationship between the number of comorbid conditions and the risk of severe or very severe covid.
Long covid can also affect children, although the incidence is low compared to adults, new research suggests.
A study published in JAMA followed 109 children aged 9-13, who were seropositive for SARS-CoV-2, for six months and compared their symptoms to those seen in 1246 seronegative children.
Among those with covid, 4% reported at least one symptom lasting beyond 12 weeks after testing – particularly tiredness, difficulty concentrating and increased need for sleep – compared to 2% of the seronegative group.
Pregnant women vaccinated with the Pfizer covid vaccine showed a 78% lower incidence of covid infection compared to those not vaccinated, according to a study published in JAMA.
A cohort study involving 7530 vaccinated and 7530 matched unvaccinated pregnant women in Israel, using data from a pregnancy registry, found significantly lower risk of infection among the vaccinated women at 28 days or more after vaccination. There were no reports of severe vaccine-related adverse events.
The authors noted that the absolute risk reduction among this group was relatively small because pregnant women had previously been advised to take extra precautions to avoid infection, so the overall number of cases was small.
A glossary of vaccination-related terms in 31 language is now available to help community leaders, clinicians and others to communicate about vaccines with culturally and linguistically diverse communities across Australia.
Developed by UNSW Associate Professor Holly Seale in partnership with NSW Health, the glossary is translated into languages including Arabic, Hindi, Korean, Thai and Vietnamese.
GPs in covid-affected regions of Victoria can also now request PPE packages from the National Medical Stockpile via their local Primary Health Network, as the Commonwealth declares large parts of the state a covid hotspot.
The hotspot now includes Greater Melbourne, Moorabool Shire, City of Greater Geelong, Surf Coast Shire, Borough of Queenscliff, Bass Coast Shire LGA, including Phillip Island, and Mildura.
One in five Americans believe the government is using covid vaccines to microchip the population.
This is not The Onion, but the finding of a YouGov survey of 1500 randomly selected United States residents. Even nearly one in ten of those who have been vaccinated think they're now walking around with government-issue microchips from their vaccination.
The survey also found that 40% of US citizens believe the threat of covid has been exaggerated for political reasons, and 18% say they do not plan to get vaccinated against covid: 29% of those who identify as Republican voters and 4% of Democrat voters.
Here's a chart of where one- and two-dose vaccinations are at in Australia, as of 18 July: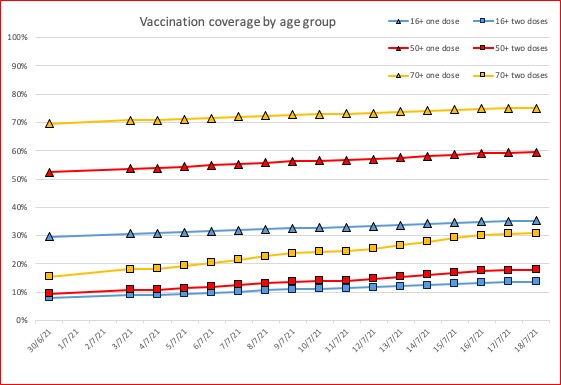 Here are the latest covid-19 infection numbers from around Australia to 9pm Sunday:
National – 31,898 with 914 deaths
ACT – 124 (0)
NSW – 6942 (109)
NT – 191 (0)
QLD – 1754 (0)
SA – 831 (0)
TAS – 234 (0)
VIC – 20,785 (18)
WA – 1037 (0)