16 September 2021
To boost, or not to boost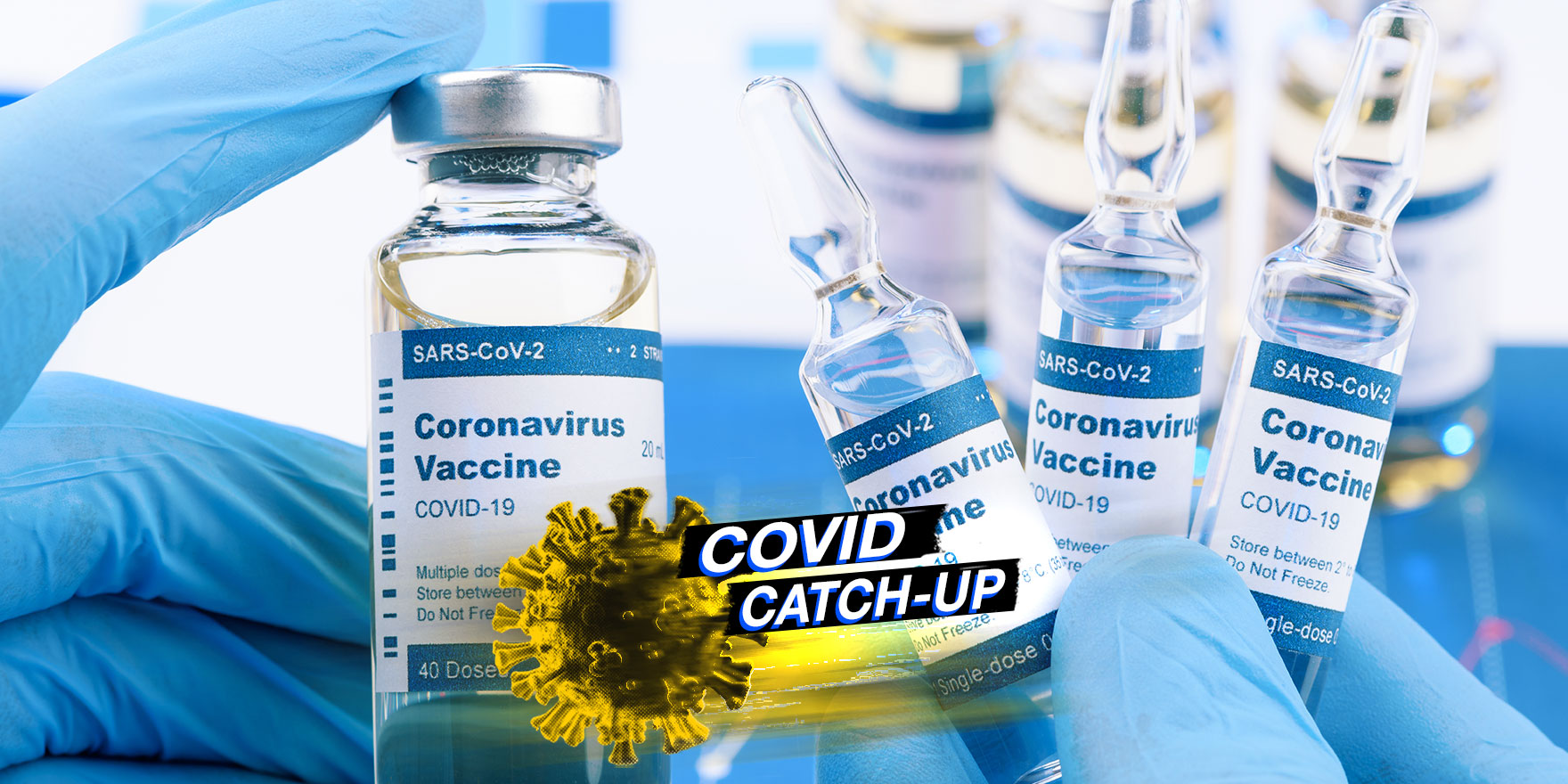 Welcome to The Medical Republic's Covid Catch-Up.
It's the day's covid-19 news in one convenient post. Email bianca@biancanogrady.com with any tips, comments or feedback.
---
16 September
---
There's a lot of buzz about boosters this week with studies suggesting they do lower the risk of infection and increase neutralising antibody levels. But one group of experts argues there is not enough evidence to advocate for their widespread use.
A study published in the New England Journal of Medicine looked at rates of confirmed and severe covid among more than 1.1m Israelis who had received two doses of the Pfizer vaccine, some of whom also received a third booster dose of vaccine. This revealed that those who received the booster dose had a 11-fold lower rate of infection compared to those who hadn't received a booster dose, and a 19-fold lower rate of severe illness.
A second study, published in Nature Medicine, presented the results of an interim analysis of the effect of different booster doses of the Moderna vaccine on antibody levels in 59 individuals who had already received two doses of the vaccine.
Researchers found that while neutralising antibodies had waned or were even undetectable, they significantly increased after administration of the booster and even exceeded the levels seen against some variants after the first two doses of vaccine.
However a viewpoint article in the Lancet has argued that there is not yet strong evidence of a need for booster doses in the general population, given the current vaccine regiment's efficacy in preventing severe disease and death from covid.
"Even if humoral immunity appears to wane, reductions in neutralising antibody titre do not necessarily predict reductions in vaccine efficacy over time, and reductions in vaccine efficacy against mild disease do not necessarily predict reductions in the (typically higher) efficacy against severe disease," the authors wrote.
They also pointed out that the WHO has called for a moratorium on booster vaccination campaigns until more nations have been able to roll out their primary vaccination campaigns.
"Even if some gain can ultimately be obtained from boosting, it will not outweigh the benefits of providing initial protection to the unvaccinated," they wrote.
More than 40% of Australian healthcare workers are reluctant to work during the pandemic, with many citing concerns about the availability of PPE, the risk of exposure and fears of their family members as reason for their hesitance.
An online survey of 580 healthcare workers – just over one-quarter of whom worked in general practice – found 42% were less willing to work during the pandemic than they had been before covid struck.
The study, published in Disaster Medicine and Public Health Preparedness, found access to PPE was the dominant reason, and also correlated with concerns about their risk of exposure to covid.
Australian adolescents aged 12-15 years are lining up in droves for the vaccine after they became eligible on Monday, with nearly 60,000 having already received at least one dose of vaccine.
The federal Health Department has published a guide to vaccination for adolescents and their parents, which answers questions on how the vaccine works, possible reactions, and consent.
Q: Should an otherwise healthy 36-year-old male, who takes 6MP and mesasalazine for IBD be vaccinated against covid? No FMH of great consequence but evidence of FACTOR V Leiden heterozygous in one parent. No other factors such as weight or BP evident.
A: The short answer is 'yes'. There are no contraindications for covid vaccination among people with IBD, and there is also evidence that people with this condition – particularly those who are older, with multiple comorbidities or on systemic corticosteroids – could be at increased risk of severe disease.
Factor V Leiden is also not a contraindication for vaccination with either the Pfizer or AstraZeneca vaccines, according to this joint statement from the Australian Technical Advisory Group on Immunisation and the Thrombosis and Haemostasis society of Australia and New Zealand.
The rare thrombosis with thrombocytopenia syndrome (TTS) that has been linked to the AstraZeneca vaccine has a different mechanism compared to most other causes of thrombosis and/or thrombocytopenia, including Factor V Leiden. So far, there are no known markers for increased risk of TTS.
A glimmer of good news on the global covid front, with the weekly tally of new infections declining substantially for the first time in more than two months.
The latest WHO update shows there were around four million new cases reported in the past week – down from 4.4 million the previous week – and just over 62,000 deaths. New infections decreased in all the major WHO regions, although there were some local increases such as in the UK, which reported a 5% increase in new cases over the past week.
What's the latest on the vaccine rollout? Nationally, 43.24% of Australians aged over 16 years have now had two doses of covid vaccine, 25.24% have had one dose and 31.52% are still unvaccinated.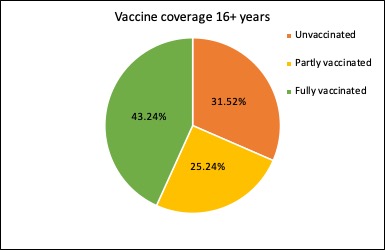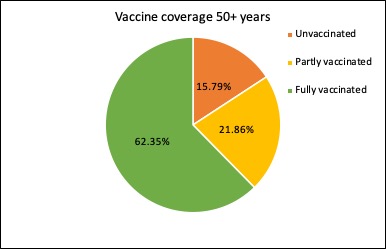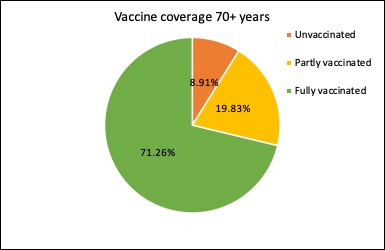 With the Pfizer vaccine now being rolled out in those aged 12-15, they are now included in the five-year age-group breakdown of vaccines: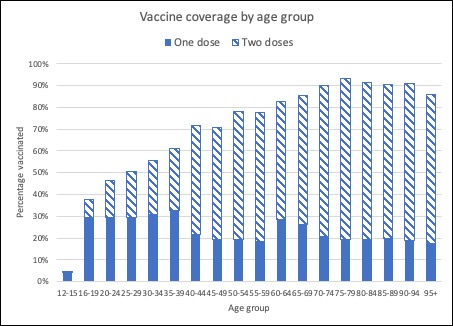 Here are the latest covid infection numbers from around Australia to 9pm Wednesday:
National – 78,545 with 1116 deaths
ACT – 665 (13)
NSW – 47,007 (1225)
NT – 204 (1)
QLD – 2010 (1)
SA – 896 (0)
TAS – 235 (0)
VIC – 26,439 (410)
WA – 1089 (0)