12 January 2022
Report your RAT or face a fine, says Perrottet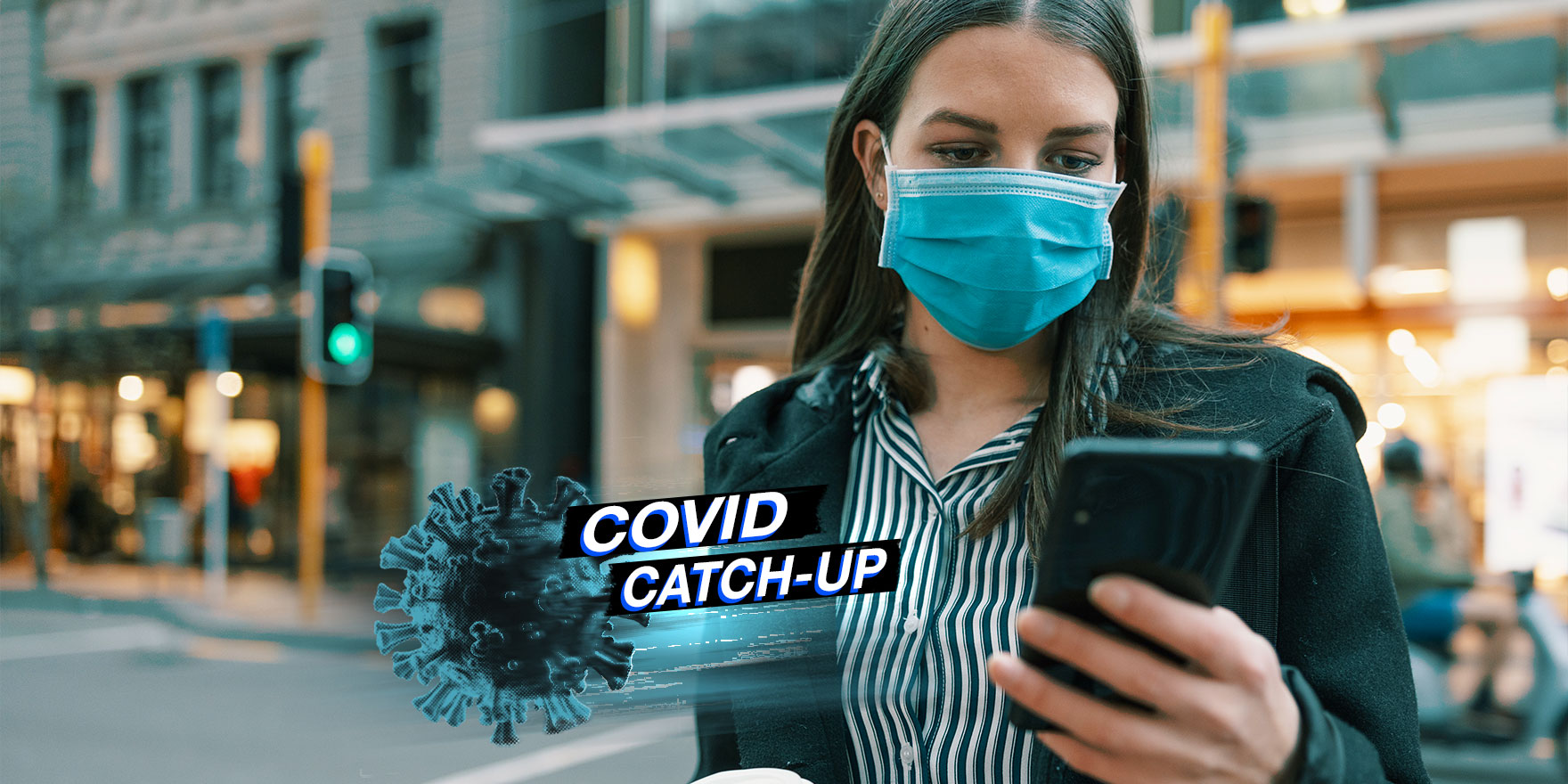 Welcome (back) to The Medical Republic's Covid Catch-Up.
It's the latest covid-19 news in one convenient post. Email bianca@biancanogrady.com with tips, comments or suggestions.
---
12 January
---
New South Wales residents aged 16 or over who have had a positive rapid antigen test result since 1 January 2022 are now required by law to register their positive result or risk a $1000 fine.
Following states such as Victoria and Tasmania, NSW launched its own mandatory reporting regulation for positive RAT results this morning, which requires residents to report their result through the Service NSW website or via the app.
Speaking at a press conference this morning, Premier Dominic Perrottet said there would be a $1000 fine for anyone failing to register a positive result, which will come into effect from 19 January, although he did not elaborate on how this would be tracked or enforced.
Meanwhile, close contacts who have themselves been diagnosed with covid in the previous 28 days and completed their require isolation period in that time don't need to isolate again as a close contact, according to new public health orders for NSW issued today.
Just over 3% of children and adolescents who test positive to SARS-CoV-2 in emergency departments experience severe covid outcomes, and those with chronic illness, a history of pneumonia or delayed presentation are at higher risk, research suggests.
An international prospective cohort study published in JAMA Network Open examined outcomes in around 3200 children and adolescents who tested positive for covid in an emergency department between March 2020 and July 2021.
Overall, nearly 22% were hospitalised, 3.3% had severe outcomes and 0.12% died. Those with a pre-existing chronic illness had a 2.3-times greater risk of severe outcomes, while those who had experienced a previous bout of pneumonia were three times more likely to have severe disease.
Patients who presented four to seven days after the onset of covid symptoms were more than twice as likely to develop severe disease as those who presented three or fewer days after symptom onset.
The study also reported 50 cases of multisystem inflammation syndrome, 16 of which were severe, and which most commonly affected children aged five to 10 years.
Given the study was conducted before Omicron emerged, it's not clear whether the apparent reduced severity of the new variant will also reduce the risk of severe outcomes in children.
Children aged 5-11 can now be vaccinated with the Pfizer vaccine, and already more than 35,000 children around the country have received their first dose.
The two doses of vaccine are recommended to be given eight weeks apart, but in special circumstances this can be reduced to three weeks between doses.
According to advice from the Australian Technical Advisory Group on Immunisation, children are less likely than teenagers or adults to experience vaccine side effects, but the most common ones are sore arm, headache and fatigue.
There is not yet data on the frequency of myocarditis or pericarditis in this age group, but ATAGI advised that no safety signal has emerged from the more than five million children who have been vaccinated in countries such as the United States.
Because the vaccine dose given to 5-11-year-olds is smaller than that given for older children and adults, children who turn 12 before their second dose should be given the vaccine for those aged 12 and older for their second dose.
Two doses of the Pfizer vaccine are 91% effective at preventing multisystem inflammatory syndrome in children aged 12-18 years, and 100% effective at preventing severe MIS-C, research suggests.
A study published in Morbidity and Mortality Weekly Report involving 102 cases of Delta-linked MIS-C and 181 controls found just 5% of those with the condition were vaccinated, compared to 36% of controls, and all the severe cases were unvaccinated.
Are you or your patients confused about what to do if you test positive for covid? The federal health department has released updated guidance on what to do after a positive result, which includes guidance for close contacts, advice on isolating, managing symptoms, caring for children with covid, and for women who are breastfeeding.
There is also updated guidance available on testing and isolation protocols for close and other contacts, which covers what to do if you are a close contact either with symptoms, without symptoms or a casual contact.
Omicron is making its presence felt around the world, with global covid infections increasing by 55% this week compared to the previous week, according to the latest WHO update.
More than 15 million new infections were reported in the past week, but weekly numbers of deaths have remained fairly static at around 43,000.
The biggest surge has been reported in South-East Asia, where infections have quadrupled, and India has reported a five-fold increase in new infections. New infections in the United States have increased 73%, in France has experienced a 46% increase, and the UK a 10% increase.
Twenty-one people died from covid in NSW yesterday, making it the state's deadliest day of the pandemic so far.
However the Omicron surge, which has dwarfed previous outbreaks in scale, does not appear to be leading to an equivalent proportion of deaths: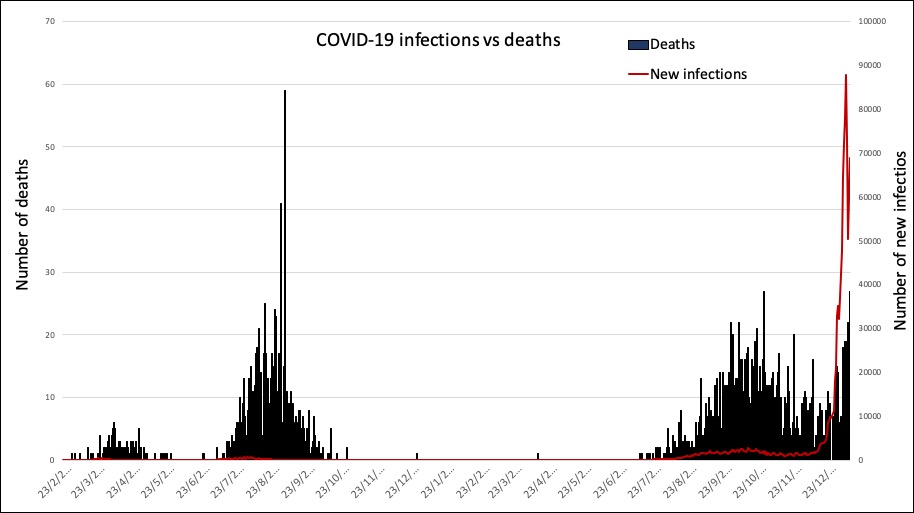 Australia has now recorded just over one million covid infections since the first case was reported on 25 January 2020, and half of those infections have occurred in New South Wales.
Here are the latest covid infection numbers from around Australia to 9pm Tuesday:
National – 1,042,293 with 2416 deaths
ACT – 15,306 (2058)
NSW – 501,389 (25,658)
NT – 3014 (389)
QLD – 104,659 (16,367)
SA – 47,190 (2877)
TAS – 8250 (352)
VIC – 361,231 (21,107)
WA – 1254 (15)