23 February 2021
Let's not talk about money, right? Welcome to Money & Medicine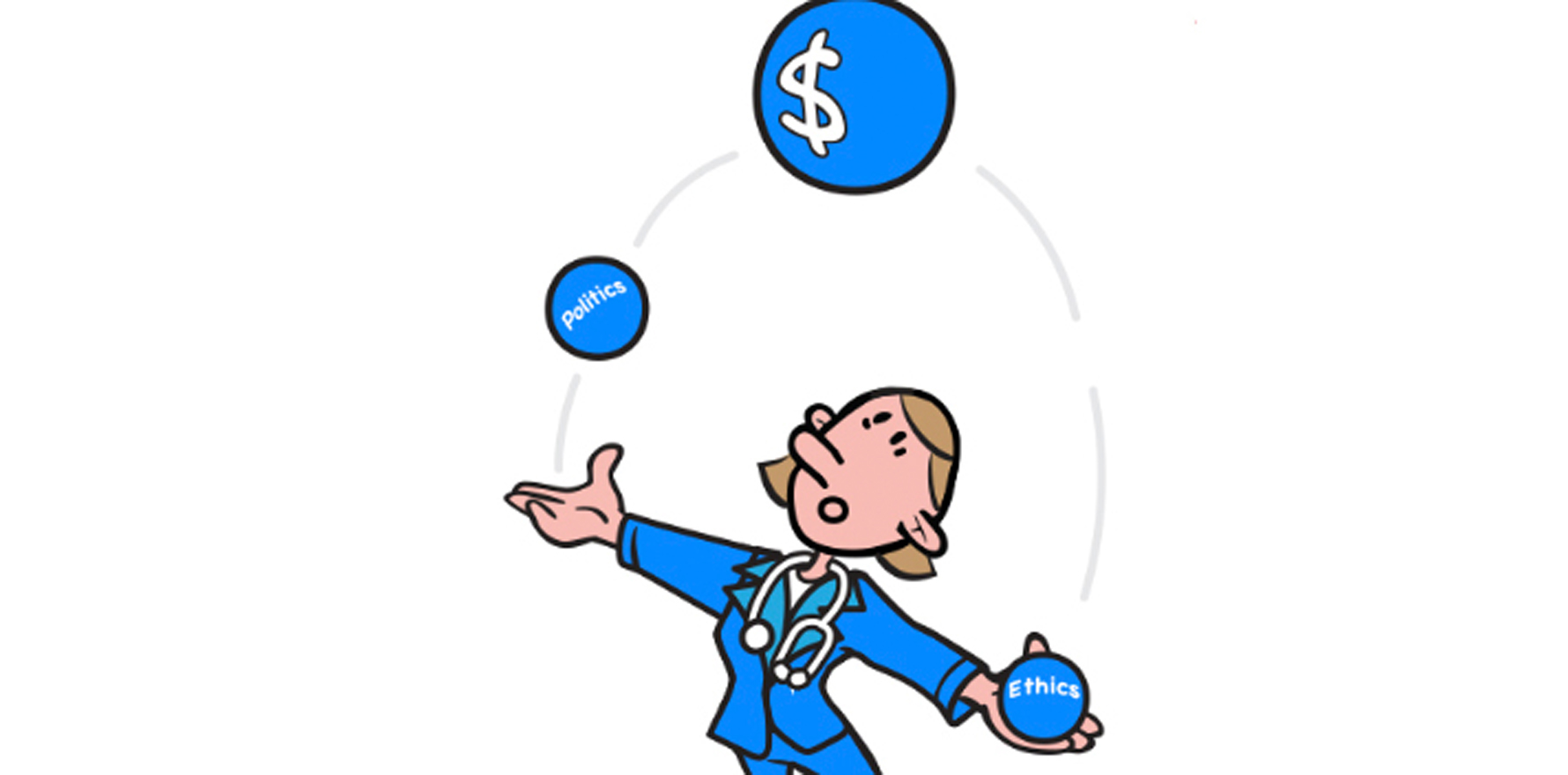 Welcome to TMR's new fortnightly take on the important issue of making money and being a GP.
It's a fact that most GPs were driven to the profession out of a sense of community service, and the ideals of the profession, not out of sense of how much money they might make.
Most GPs you talk to, even senior ones in the RACGP and ACRRM who are meant to be advocating every day in Canberra for better GP pay from the government, feel awkward when put in the position of discussing the financial realities of being a GP.
This is often given as a reason for GPs being constantly leaned on by government. On the one hand they are told they are the "cornerstone" of our healthcare system, particularly with the need to manage the change in emphasis from acute care to chronic care, but on the other they aren't recognised this way by the government and other bodies, either in how much they are remunerated, and perhaps even more importantly, how they are positioned by the bureaucrats in a rapidly transforming healthcare ecosystem.
Money & Medicine (M&M), is hopefully going to be a thoughtful place where we can discuss the many issues of the evolving role of GPs in society and in our healthcare system, and making enough to enjoy your career as a GP, even if that career as a GP is part time.
The column is for practice owners, for GP employees, and for GP corporates. It's for all GPs and anyone managing a GP. It's about all the ideas that can help you or your company navigate being a GP or practice owner or both, while being suitably rewarded, in the non- spiritual sense of course.
Money can be interesting. Particularly when it synchronises smoothly with doing an important and good job for the community at large.
Interesting fact:
The largest and most commercially successful trade publication for doctors in the world, prior to the advent of the internet, Google, Facebook and Co , was a US publication called Medical Economics. It still exists today, but in a vastly reduced and mostly online format. It's still a good read. But in its heyday, it was the grand master of the US medical publishing industry outperforming all the clinical journals for some reason in readership and profitability.
Possibly less interesting note:
I was once a part of the global publishing group which published Medical Economics (back then it was what is today Thomson Reuters) and many years ago I was sent to the US headquarters of this publishing behemoth to see if the publication could be transplanted to Australia.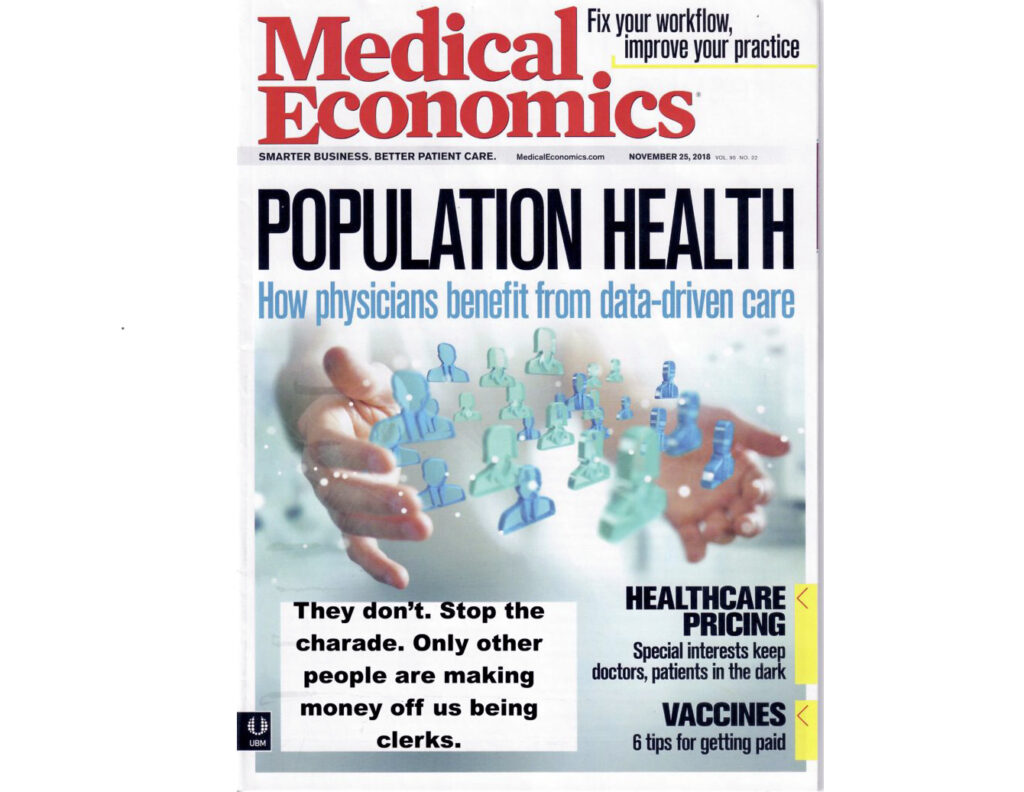 The local branch of Thomson wanted in on the medical publishing market but it couldn't see a way there through clinical content which was dominated by the medical newspaper Australian Doctor, a now defunct clinical journal titled Current Therapeutics, and another overseas licensed title, Modern Medicine (which you might now enjoy as locally published Medicine Today).
I left Thomson within months of that trip, ironically to join the global medical and scientific publishing empire Reed Elsevier (often described as "the evil empire of medical and scientific publishing"), and the publisher of Australian Doctor, so the idea of launching a title against the then market leading medical publication in Australia had to be dropped.
But my boss, who accompanied me on that trip, and left Thomson when I did (it got sold to Reed Elsevier), started up a local title in Australia within a few months called Money in Practice. Hmmmm, wonder where he got that idea?
It was a reasonably successful publication. My old boss knew a lot about money, and was good at business. But he didn't know a ton about doctors, and what was driving them. Not withstanding, the publication was successful for many years before it too fell foul of the internet.
So, many years after my visit to the head office of Medical Economics in New Jersey, where some very kind and helpful folk (they were very gracious hosts) tutored me in all that can affect the economics of being a doctor – which as things turns out is quite lot – this column is born.
The people at Medical Economics did understand doctors – many of them were doctors, as some of our staff are – but they weren't afraid to talk about money and everything that affects the money. The list of all those things affecting the money is surprisingly long and might include a few things that you might not normally associate with money and medicine.
Following are some of the topics you can expect us to look at over the coming months.
Many are borrowed from that grand US publication. Some are localised. Others I am borrowing from some experts who know a lot more about money and medicine than I do as they have spent their lives advising doctors on the topic.
Those experts, who you will recognise as we progress through the column, somewhat interestingly, aren't personally focussed on making money either, but on helping the profession.
Below is just our starting list of ideas.
We'd love you to contribute ideas and stories, either on these topics, or on some topics of your own, as you might see fit.
Please get as involved as you like.
We'd love to demystify, just a little, the idea that you shouldn't necessarily be well rewarded monetarily for what you do.
The Starting List:
Out of interest, how much is your practice worth in 2021? (next issue)
Covid-19 and money in medicine (see this issue)
Handshakes versus contracts: your happy medium
Compliance is not a dirty word
What your profit margin says about your practice
Show me the money – why cashflow is king and how you manage it
What happens if STP comes to town
Top 5 ways to end up with the worst practice manager
Do you pass the 70 Questions test on compliance
Practice Management or nepotism
Preparing for the payroll tax paradigm
Millennials and gen z practices vs the boomers: who wins
5 cultures in medical practices which work and 5 which don't
Maslow's hierarchy for millennial doctors
Part time doctors and having a life
Emerging virtual practice models you will be competing with
Forming a virtual co-op to fend off the competition
Why Size matters now
Corporate life vs the other lifes
Governance first, rest follows
Cloud vs Server tech
What to do with MD and Best Practice when your finance cycle is up this year
Indemnity for dummies
T word not the C word
Your website can get you audited
Essentials of Marketing a GP practice
Everything you need to know about referral letters
What ROI in being an AMA or RACGP member
Xero vs the world