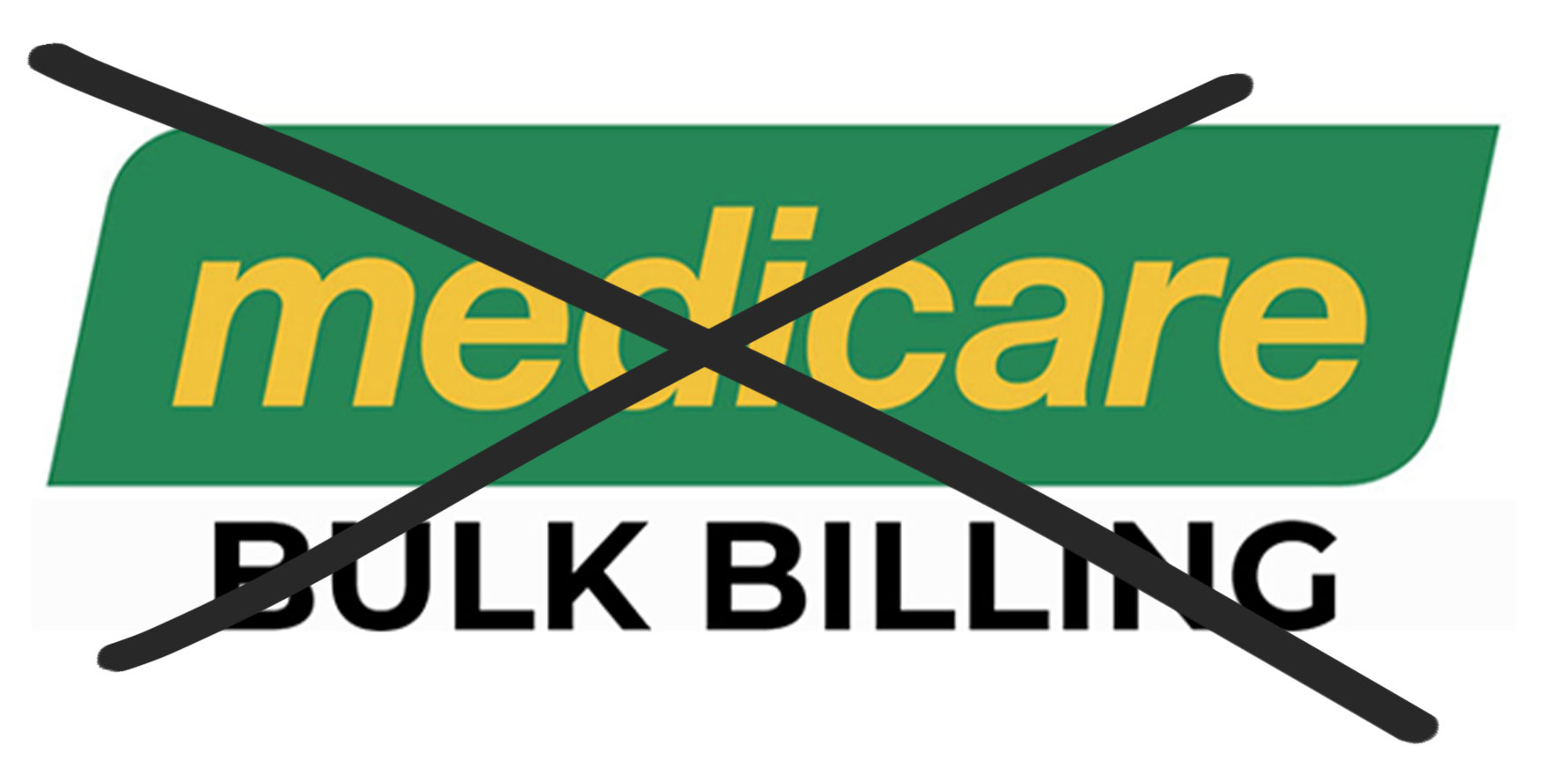 The federal government is very proud of bulk-billing rates, citing the high percentage of services bulk-billed at every opportunity.
It's strange, then, that the same government has allowed rebates to fall so far behind actual practice costs that 100% bulk-billing is increasingly regarded in general practice as unsustainable.
Some GP clinics are now making the difficult decision to charge gap fees this year for the first time, to keep up with rising costs and covid-related financial pressures amid stagnating rates of compensation from the MBS.
"The chatter [around giving up on bulk-billing as a business model] has been at its highest that I have known in decades," says David Dahm, an accountant who has worked with hundreds of GP clinics over the years. "A lot of soul searching is going on. Many have had enough."
Practice managers have told TMR the fee hike could discourage some vulnerable patients from seeking care, but the alternative was to run at a loss or shut down the business entirely.
Family First Medical Centre in Urraween in Queensland started charging a gap fee in July after ten years of bulk-billing every patient that walked through the door.
The practice, which is based in the lower socio-economic suburb of Hervey Bay north of Brisbane, has five GPs, three of whom are international non-vocationally registered (non-VR).
The practice is generally booked out three weeks in advance but, despite being very busy, it is now unviable to run the business as bulk-billing only, says practice manager Carrie Norval.
The five-year Medicare freeze made it increasingly difficult for smaller practices to survive by bulk-billing alone. Now, the rebate for telehealth consultations for non-VR GPs has been cut from $31 to $21 from 1 July, she says.
"This is beyond a joke – it's like they are deliberately trying to bankrupt us," says Ms Norval. "This is an insult to our skill sets. What other profession would accept a 30% pay cut?
"You almost feel like sometimes you're going to work and it's a charity. You're working to service the community or you're working to keep the staff in a job, but then as owners you walk out and there's no paycheck for you. And that gets extremely difficult and emotionally debilitating."
The practice came to the decision to give up on all-bulk-billing because the alternative was cutting corners or closing down (pensioners and children are still bulk-billed). Yet the move had still been met with a "huge backlash".
"It's not an easy decision," Ms Norval says. "We are in a very low socio-economic community. It stresses out patients. We've had a lot of patients getting really frustrated."
Ms Norval says she knows of other GP clinics that were also abandoning bulk-billing.
"Practices being forced into a mixed-billing mould is popping up more and more regularly on a lot of the practice manager chat groups," she says.
One practice managers' social media group has posts from six different GP clinics reporting that they have switched from bulk-billing to mixed billing since January 2021. Another three clinics have reported that they are thinking about switching.
Some GP clinics could probably sustain bulk-billing by maintaining high volumes of shorter appointments, but some smaller bulk-billing GP clinics were "hanging on by a thread", says Ms Norval.
Angie Walker, a practice manager at a GP clinic in Ipswich in southeast Queensland, made the decision to give up on 100% bulk-billing in April this year.
The practice has one GP – her husband, Dr Adam Walker – as well as two nurses and one receptionist.
When they founded Warwick Road Medical in 2019, their intention was to always be 100% bulk-billed because it was "part of the values we grew up with", the Walkers say.
"With bulk-billing there are no barriers, no limitations," says Mrs Walker, who is also a board member at the Australian Society of General Practice. "You don't need to worry about whether you can take your four kids to the doctor, as well as pay for the scripts, as well as take a day off work."
Dr Walker grew up in Ipswich and remembered there always being a bulk-billing service available in the area. These days there are fewer, he says. The GP clinic nearby has also stopped bulk-billing recently.
Ipswich is a lower socio-economic area with a higher chronic health burden, and universal access to healthcare is quite important for the community, says Dr Walker.
However, the reduction in government funding – specifically the changes to aged care attendance items, the ECG rebate cuts and the reclassification of Ipswich such that it no longer receives additional payments for being in a disadvantaged area, on top of the financial stress of covid – meant that Warwick Road Medical could not survive on bulk-billing alone, he says.
Medicare rebates have increased by just 0.9% this year.
When telehealth item numbers became available last year, the government initially forced GP clinics to bulk-bill every appointment. This was in line with Warwick Road Medical's general philosophy, so they did not object to this like some of the mixed billing clinics did.
However, it quickly became apparent that the administrative workload associated with telehealth was "enormous", says Mrs Walker.
Usually, a patient would walk out of the GP clinic with their referrals and scripts in hand. But with telehealth, reception staff were having to follow up on paperwork for each appointment.
This month, the Medicare item numbers for longer phone consultations have been cut, just in time for the Sydney delta outbreak. Video items are unchanged, and this is supported by some as encouraging higher-quality telehealth consultations, but many GPs are angry that video remains out of reach for certain patient populations.
The costs of personal protective equipment (PPE) such as masks and gloves, which need to be replaced regularly, have also shot up with pandemic demand.
"It feels like death by a thousand cuts," says Dr Walker.
Warwick Road Medical has tried to recruit more GPs, which would help boost income and make the 100% bulk-billing model easier to sustain.
However, like many practices in the outskirts of cities, they have not had much luck. Many GPs don't want to work in bulk-billing practices because they perceive it being too high pressure, says Dr Walker.
Being "one of the last bulk-billing clinics in town" also carries a stigma of attracting the patients who are looking for a quick script rather than a long-term relationship with their GP, says Dr Walker.
The practice will now charge all new patients, except children and those over 65, a fee of $32 for a standard consultation.
Laura Robinson, a practice manager at a GP clinic in Werribee in southwest Melbourne, says her clinic made the switch from bulk-billing to mixed billing with $20 gap fees in March this year, "two months before our third birthday".
"If we wanted to stay bulk-billing, we would have had to shorten our consult times and we didn't want to do that," she says, citing the rapid rise in PPE costs as one reason.
The practice has 12 GPs (and 17 staff total), so it has been going through a box of masks every day, says Ms Robinson.
"Last year, you could buy a box of gloves for $8.50. Now, it's $28, or $32," she says. "You could buy 100 bedsheets for $48 and now it's $115 for the same bedsheets."
Superannuation has increased from 9.5% to 10% from 1 July and award rates have also risen – "And obviously, rent goes up 3% every year."
Telehealth appointments have led to more reception time being spent on administration, but also costs such as stamps for mailing out referrals, efax expenses and a "shocker" phone bill.
"When I got the phone bill for the first month after we moved to telehealth, I nearly fell off my chair," says Ms Robinson.
The clinic also needs to purchase expensive medical supplies for wound care such as suture packs and xylocaine injections.
"When we bulk-bill, we are out of pocket before we do any kind of procedure," says Ms Robinson. "You just run the clinic at a loss unless you have mass volume and you are doing really quick consults."
The Medical Republic asked the federal Department of Health and the RACGP how many GP clinics have switched from 100% bulk-billing to mixed billing over the years, but this data was not available.
The proportion of GP services that were bulk-billed between July 2020 and March 2021 was 88.7%, an increase of three percentage points from the same period the year before.
The most recent available breakdown of the bulk-billing rates across Australia shows that the proportions have not meaningfully shifted between 2012 and 2019 in most electorates.
GPs have questioned whether these bulk-billing statistics are a fair way to represent what is going on in general practice.
A recent Facebook post by Health Minister Greg Hunt reporting that almost nine in every ten GP services were bulk-billed received streams of comments from GPs arguing that the statistic was misleading.
Royal Australian College of General Practitioners president Dr Karen Price says the proportion of patients who were bulk-billed was closer to two-thirds.
Dr Liesel Whyte, a GP at Haan Health Medical Centre in the Gold Coast, was one of the GPs who commented on Mr Hunt's Facebook post. "Bulk-billing rebates are killing quality care in general practice," she wrote.
"I've never been vocal about this before," she told The Medical Republic. "I'm fed up. They know we are altruistic, and they [the government] are using it to screw us over.
"The only way to make a decent income if a GP bulk-bills is to see six patients an hour. There is no way that quality care can be provided in this way.
"I do try to privately bill but some patients just can't pay. And also, they can't be sorted out in 10 minutes. I can't rush them in and out the door. I have to spend that time with them. Otherwise, I'm not making any difference. I don't want to compromise care."
"Unfortunately, government funding has not kept pace with the cost of GPs providing world-class care to patients," says Dr Price, the president of the RACGP.
"So, it is no surprise that some practices will opt for a mixed billing model to ensure future sustainability."