27 April 2021
Is 2021 the year when patients control the journey?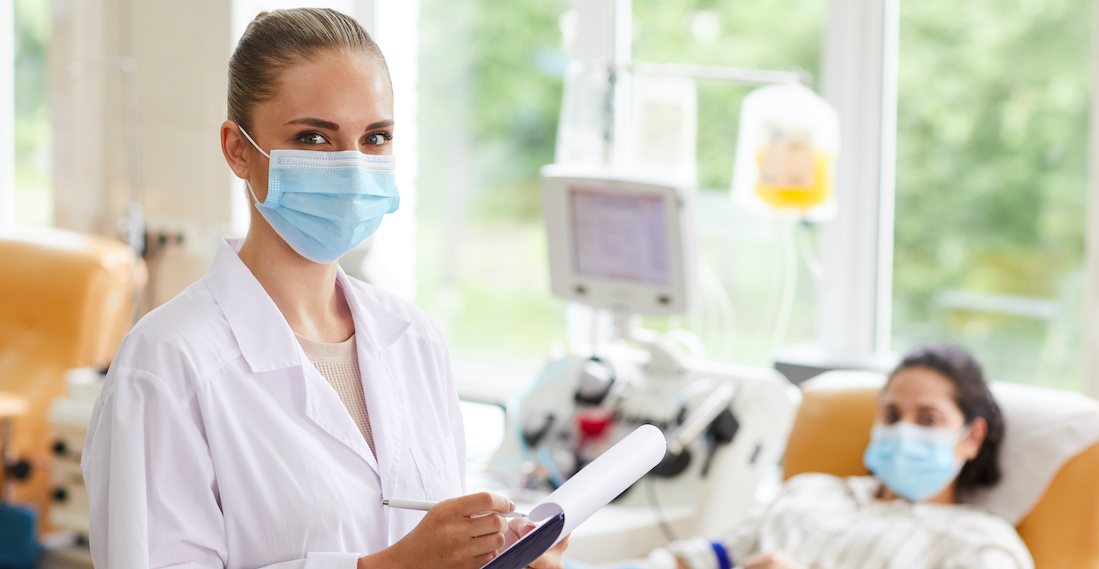 Patients need to be at the centre of the healthcare process if we're to optimise health outcomes, experts say.
The current pandemic has 'flipped the script' of traditional healthcare models and doctors are listening more now than ever to the needs of the patient.
By using the right clinical technology ecosystems, healthcare professionals can connect and build better patient care, creating a better experience for all involved.
Wolters Kluwer recently held a webinar discussing why 2021 is about putting the patient at the centre of their own care.
The expert panel featured four prominent leaders within the healthcare industry, who discussed how they're navigating clinical outcomes during these uncertain times.
Featured guests of the webinar included:
Dr Marcus Tan, CEO, Co-Founder and Medical Director of HealthEngine
Dr Jaspreet Saini, Principal GP and Director of Rosedale Medical Practice
Hong Nguyen, senior health technologist for the Clinical Effectiveness division of Wolters Kluwer
Dr Amandeep Hansra, a practicing GP in Sydney and co-founder of Caligo Health
What does 'patient-centric care' mean in 2021?
2020 turned the traditional patient-centric model 'on its head', Dr Amandeep Hansra says GPs have always had patients visiting them, but this role reversed last year.
"What I found interesting in 2020 and 2021 with COVID is that we've actually had to turn that model on its head and say we can't get patients out of their home environment," she says. "We need to keep them there, especially if they're vulnerable because of COVID impacts or they've been locked down. How do we bring healthcare into the home? How do we bring healthcare to the individual?"
Dr Hansra says doctors have been forced to think really deeply about how they make the whole system more patient-friendly.
"We really have had to start thinking deeply about what the future models of care are going to look like. For me, it's about building trust, it's about bringing health care to the patient and making sure they're at the center of it, and they understand all of the information they need to make the right decisions."
Challenges facing clinicians when creating patient-centred care models
Dr Jaspreet Saini notes the challenge most clinicians have with patient-centered medical care is it sometimes "neglects" the idea that clinicians will also need to have their say and input their authority, wisdom, experience and expertise into the dialogue between patient and physician.
"What we need to do is give our healthcare teams permission to use their expertise in clinical care, but understand the patient is the expert in her or his journey," he says. "Let's say I meet a 50 year old female patient tomorrow, my dialogue with her is usually centered around the fact there's about 50 years of life experience there.
"I may have learned a few things going through my medical training, but how do we use your expertise in your life story, my expertise, and my medical acumen to work together to achieve health outcomes that matter for you?"
Dr Marcus Tan notes another challenge of patient-centred care is having visibility of the patient's needs all the time, and not just when they are in an appointment setting.
"How do we make sure they're able to manage their health when they're not sitting right in front of us and wanting to talk to us, which is sometimes too late," Dr Tan says. "That's the challenge, where I think a lot of the healthcare system right now is very reactive. It only occurs when patients get sick, they actually have to come and see us.
"How do we design a system that allows them to recognise the need to to seek care sooner, or be able to be more proactive with their care, which can actually be challenging. Certainly during times like COVID, access and all these other things, and getting good information, is a big challenge we need to solve."
The shift from 'reactive' to 'proactive' care
Proactive care is all about putting the patient in control, which is what we need given the dynamic and fast-changing nature of healthcare, Dr Tan says.
"Ultimately, they're making their decisions alongside the healthcare team, who they're advising in terms of what the best treatment pathways are. When I think about 2021, it's challenging because you have clinicians and healthcare teams trying to provide the best possible care.
"But then you have patients who have individual preferences, and who have their own view on what quality of life actually means for them. When you try to merge those two together, it becomes a challenging proposition. If I think about patient-centered care today, versus what it looked like 10 to 20 years ago, it's very different," he explains.
Dr Saini says patients need to understand being empowered is a good thing in the 21st century.
"Using resources, such as Google, can be an effective way for them to get the information they need, as long as it's tempered with an expectation that sometimes, the information they might get from there might lead to a misdiagnosis or delays in care, or unnecessary stress and anxiety, which in some respects for patients can actually stop them from accessing care.
"Empowering patients in the 21st century, and with COVID, necessarily includes the idea we can walk with our patients as partners to help them better understand how to effectively access information from a variety of different sources," Dr Saini explains.
Patients are now looking to healthcare providers to give the same "consumerised" experience given by the tech giants like Amazon, Google and Apple.
Dr Tan says, "Unsurprisingly, healthcare providers are having conversations about how consumerisation is bad. As a consumer channel ourselves at HealthEngine, we know patients want the personalisation we're talking about, but more specifically, they want control and they also want choice.
"As providers, we need to be able to design our services to recognise consumers may want certain things, but we don't necessarily give them what they want at the expense of them getting what they need. This is a very difficult balance to strike sometimes."
Key tips on unlocking patient-centred care in 2021
As the CEO and Co-Founder and Medical Director of HealthEngine, Dr Tan says they generally start their product design to map out who the users are of this particular service.
He says, "Identifying [the personas] and then looking at mapping their journey through the health system, as in when they see you and when they're not seeing you, and being able to identify those points where ordinarily, we may not get visibility. How do we actually start to get some visibility and engagement with those people?"
Post-pandemic, Dr Hansra wants to continue to offer choice when it comes to what type of appointments patients want.
"Patients get choice in every part of their life in terms of how they access services, whether it's retail, banking, etc. Health has always been very deliberately one way. For me, it's really making sure choices are available, to work out what you want to offer them, and if you need to involve the patient in the design of systems or design of services?"
Dr Saini explained a real-life example of this in Oregon, where doctors looked at the principles of this model, called a patient-centered medical home. They wanted to see from a consumer perspective, what patient-centric care actually means.
"What they ultimately arrived at was the patient saying: do you recognise that we are the most important members of our care team, and are ultimately responsible for our own health? What I'm really excited by, particularly this year and with the pandemic, is that people want to be involved in shaping their health outcomes."
Using technology to strengthen models of patient centred care
Hong Nguyen explains there are three perspectives in which technology can be used to empower patients.
Firstly, it is through the patients themselves. "How do you enable the patient to take more control of their care and actually empower them? What type of tools are available to them?
"The second is around the clinician, and how to actually surface the right information at the right time to enable doctors to actually make the right decisions at the right time with all of the relevant information.
"The third is for doctors around harmonisation. How do you ensure the GP, the doctor in emergency, the specialist that's on call, or the nurse in the ward, and the pharmacists, are all making an aligned decision based on the treatment for that patient. If we can get all of those things right, then we have a harmonised solution putting the patient at the centre of their care."
While technology is often heralded as the best solution, it doesn't always have to be, according to Dr Tan.
"We know that patients aren't always going to necessarily need or want technology, there are a whole bunch of human factors we need to take into account before technology becomes useful.
"Part of our problem with technology, or just the fact that we want to do something well, doesn't mean it lines up with our workflows, or with the amount of time we can dedicate to it.
"Technology is just one part of it. But I think we need to look more broadly around how it's reinforced within our healthcare system so providers and patients can engage with these things without being financially impacted, or being harmed in the workflow sense."
Leveraging data and interoperability top optimise patient outcomes
Leveraging digital tools and data effectively is a problem which needs solving within the healthcare sector, Dr Hansra says.
"If we think about where all of the data sits at the moment; I think about my general practice with a server based PMS, the information I'm putting into my system in the clinic, that's the only place it sits, unless I put it up into the My Health Record or give it to the patient".
"That's where I'm holding a lot of rich information about my patient, but yet they interact with the system in the hospital setting, pharmacy, radiology and pathology. There are lots of touch points across the whole health system, yet our systems don't talk to each other. We have talked about interoperability for a long time, but I think there's been a real push to move this forward, particularly around what's happening with COVID and the vaccine," she says.
"There's a lot of work that's gone into how to create a national record of every single person who has had the vaccination, even if they are not residents who have access to Medicare, can we put them up onto the Australian Immunisation Register? How do we link that with their ability to travel, and how do we create something that crosses International borders?"
Dr Saini is curious about how the industry will standardise their systems so there is an ability for communication between various parties.
"There's all sorts of other things that come up, like around privacy and confidentiality and security. We're edging closer, I feel like every challenge we faced with COVID pushes our digital health infrastructure and our progress much further than it would have if we weren't faced with a pandemic.
"I'm excited about this, but I do feel like we've got such a long way to go that it feels a little bit overwhelming. I'm anxiously watching this space, because I think we're going to do something great in the next five to 10 years."
Data transparency and the future of patient care
Doctors have the extraordinary opportunity to put the power back in the hands of patients, and the key to this could be through data transparency.
Dr Saini says, "When you look at something like data, for instance, one of the key things going forward in the next five to 10 years is going to be data transparency. We're going to be really asking the question of how much of our patients' healthcare data I would have access to right now? How much should patients' be accessing? What, if any, of the insights we're generating on a day to day basis should be available to our patients? That's a journey we're taking as a practice."
Currently, Dr Saini and his practice receive rich data in collaboration with their primary health network from a project called The Lumos Project.
"It's being led, I believe, by the Ministry of Health at the moment where general practice data is being married with hospital data. As a result, we get a really rich sense of where our patients are in their healthcare journey. I get a report on a 6-monthly basis around how many of my patients or our practice's patients have arrived in the hospital with preventable hospital admissions.
The question then becomes: what do I do with this data? I think that's when we as a team become mobilised. By looking at those insights we are starting to come up with some creative ideas around how we can actually prevent our patients from ending up unwell in the first place.
"I think there is such a diverse amount of opportunity available to us right now, there's so much that we could be doing. We could have days and days of conversations because there's just so much we can achieve through data at the moment.
"The key thing really is that we are creating a world in which we don't have to be everything to everyone anymore, but we do have our patients partnering with us on that journey. Where we can work together, it's much more fun going forward together than it is trying to do it all alone."
The future is about being 'brave'
When asked about the one thing all healthcare professionals should start doing tomorrow, Dr Saini said "be brave".
"Be prepared to make decisions that are very different to what the rest of the healthcare system is doing. Be prepared to experiment, be prepared to try new things, and new models of care. There are a lot of really exciting things that can be done in healthcare.
"But this does require us to experiment a little bit more, and will require us to interact and liaise with each other and develop networks and develop friendships not only within our own practices and healthcare settings, but across the entire healthcare ecosystem."
Tune into the webinar here.
About Wolters Kluwer
Wolters Kluwer (WKL) is a global leader in professional information, software solutions, and services for the clinicians, nurses, accountants, lawyers, and tax, finance, audit, risk, compliance, and regulatory sectors. We help our customers make critical decisions every day by providing expert solutions that combine deep domain knowledge with advanced technology and services.
Wolters Kluwer reported 2019 annual revenues of €4.6 billion. The group serves customers in over 180 countries, maintains operations in over 40 countries, and employs approximately 19,000 people worldwide. The company is headquartered in Alphen aan den Rijn, the Netherlands.
Wolters Kluwer provides trusted clinical technology and evidence-based solutions that engage clinicians, patients, researchers and students in effective decision-making and outcomes across healthcare. We support clinical effectiveness, learning and research, clinical surveillance and compliance, as well as data solutions.
For more information about our solutions, visit https://www.wolterskluwer.com/en/health and follow us on LinkedIn and Twitter @WKHealth.
For more information, visit www.wolterskluwer.com, follow us on Twitter, Facebook, LinkedIn, and YouTube.