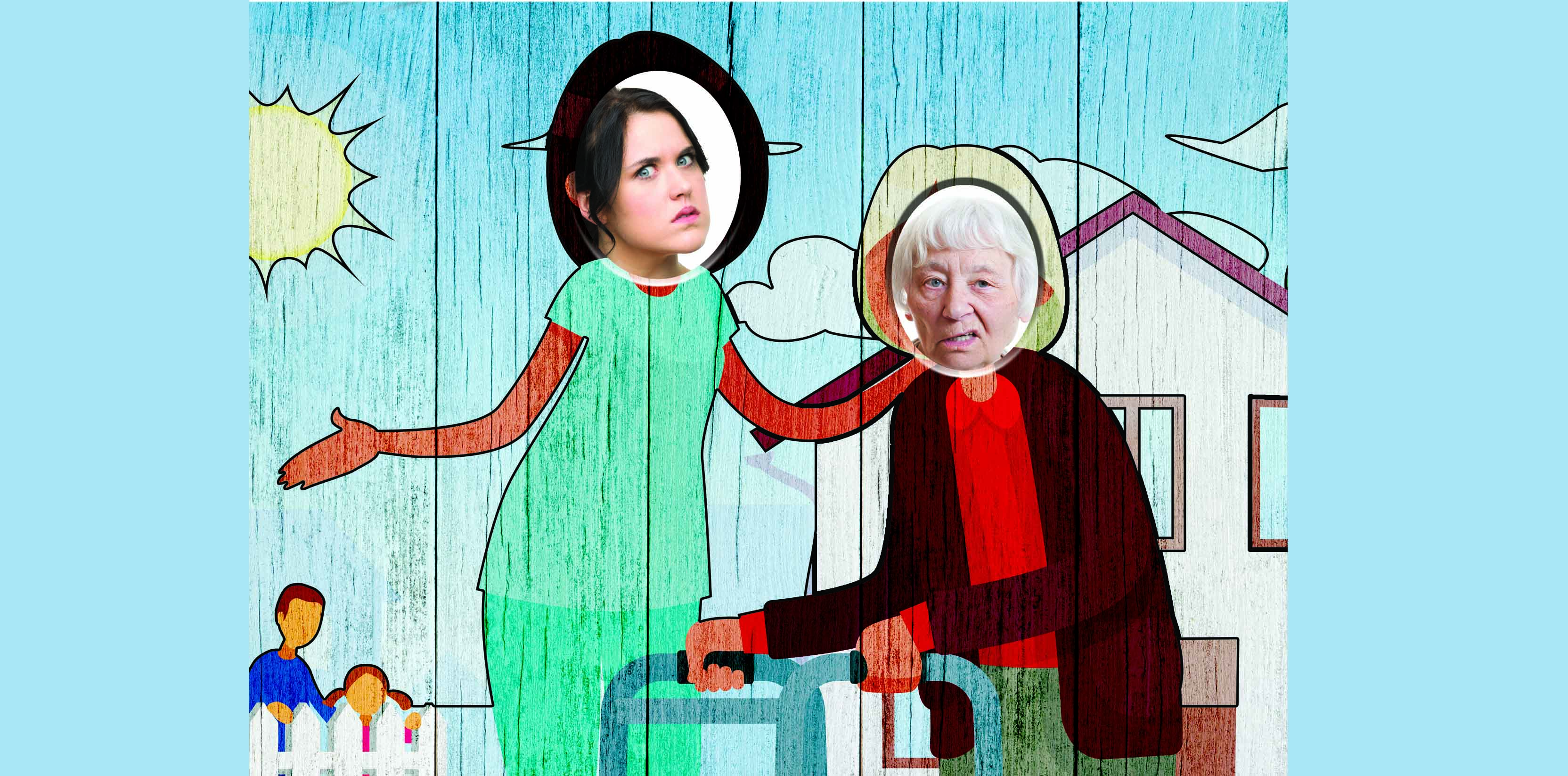 "What would you like to be called?" delegates were asked. "A consumer, a patient or a resident?"
The question was posed at a recent conference on aged care, as the speaker sought to understand the preferences of her audience. As the room contemplated the inquiry, an elderly woman raised her hand. But her answer differed from the multiple-choice options available.
"I want to be called by my name dear," she said. It was a response which, in all probability, garnered a hum of approval.
As banal as the interaction may appear, the speaker's question, and unscripted answer, perhaps illustrates where Consumer Directed Care (CDC) is breaking down in Australia.
What aged care agencies might believe is CDC is at odds with the vision of elderly Australians at the centre of the system.
The conference anecdote was recalled by Ian Henschke, chief advocate of National Seniors Australia.
"The idea of talking about Consumer Directed Care is, in a sense, a way of avoiding the personal by saying you are focusing on the personal," he said by way of explanation. "CDC in its current form is a theoretical connection with people. The real connection people want is to sit down with someone and talk to them about their needs and the services they require."
Certainly the Royal Commission was not overly impressed with the delivery of CDC.
On the contrary, authors of its interim report late last year were scathing – as they were about much of the government's provision of aged care services – suggesting the control held by the consumer was nothing but an illusion, and not a very convincing one at that.
"The notion that most care is 'consumer directed' is just not true," the report witheringly concluded. "Despite appearances, despite rhetoric, there is little choice with aged care. It is a myth that aged care is an effective consumer-driven market."
This wasn't so much a "could do better" opinion as a verdict of the rip-it-up-and-start-again variety.
Last month marked the third anniversary of Increasing Choice Reforms, the sweeping structural overhaul which, through CDC, assumed to hand control, and offer choice to, those seeking care.
But as laudable as it sounds – and few doubt its positive intentions – the 36 months since early 2017 have been defined by uncertainty and confusion.
In addition to the well-documented scale of the National Prioritisation Queue – 112,000 were waiting for their approved home care package as of September 2019 – the pre-assessment hoop-jumping and often torturous navigation process through the My Aged Care website has also fuelled anger and frustration. Such emotions were well understood and forcefully articulated by the Royal Commission.
Yet even after receiving a home care package, often 18 months following approval, the hand-wringing doesn't let up.
Once armed with funds – be it $8,800 for a level one package rising to $51,500 for a level four – consumers step into an entirely new maze: that of finding a provider.
Under the CDC framework, and one of its founding principles no less, is that power rests with the customer. Theoretically, that has enabled package-holders to shape their own care to suit specific needs. Yet with power, comes responsibility. And with responsibility often comes worry. It is, perhaps, one of the unintended, though arguably predictable, consequences of CDC.
Lyn Phillipson, associate professor and research fellow at Wollongong University's School of Health and Society, said the concept of choice is, naturally, attractive in principle, but deeply flawed under the current structure.
"It places all the responsibility on elderly people as consumers to be making the right choice about what care they need. And it fails to appreciate the position of crisis and transition the elderly person may be in," she told The Medical Republic.
"Even if they were in a position to do their own research, there is just not enough information because we don't have any public transparency in reporting price, quality or staff. There is not enough support to make an informed choice."
Health officials, however, point to efforts to aid the decision-making process.
Since mid-2019, My Aged Care has required providers to standardise the pricing of common services and costs. This, they argue, has improved transparency. In addition, the portal enables consumers to compare costs of up to three providers in any one search.
"These changes better support consumers to know the cost of services upfront … and enable them to make more informed choices over their home care package, including who is best placed to deliver the care and support they need," a spokesperson said.
Yet critics are unconvinced.
While hourly rates can be compared, there is little to guide consumers on the quality or style of care.
Furthermore, elderly consumers entering the clunky, labyrinthine My Aged Care portal – assuming they are aware of its existence – often do not know what they are looking for, or, indeed, what they are looking at once they find the relevant web pages.
This latter concern has prompted widespread calls for far greater, and more localised hand holding through the often lengthy and stressful process.
Research released at the end of January by the Consumer Policy Research Centre (CPRC) and the University of South Australia, appeared to substantiate the concerns, with 60% of 500 home care recipients unable to navigate the system alone.
"What we have here is a system that has not been built for the people trying to access it," CPRC chief executive Lauren Solomon said. "For those older people without adequate family or healthcare support, it's unclear whether they would even be aware of the available home care package support, let alone be able to access the system."
The study came as no surprise to advocacy group COTA Australia, which labelled the findings as "further proof" of the system's failings.
Chief executive Ian Yates referred to the "aged care lottery" where elderly Australians are "forced to choose a provider without the right information and where chance determines the quality of the services they receive".
"This is simply not good enough," he stated. "People need access to simple, useful comparable information about providers so they can make the best decisions about their care, especially when it comes to fees, charges and quality of service. Importantly, this study also proves that price is not always the most important consideration for consumers."
While other studies have shown overall satisfaction with the quality of care, with workers knowledgeable, professional and respectful, they too have come with a caveat. One report from National Seniors Australia cited complaints about a lack of continuity, care visits at inconvenient times, poor cleaning services and inadequate communication from providers.
According to David Panter, chief executive of South Australia-based provider ECH, one of the challenges is ensuring home package holders and their families understand their care, and the purpose behind it.
He explained that providers are required to adopt a restorative care, or reablement philosophy, designed to keep people in their own home for as long as possible.
That means ECH provides services such as "domestic assistance", rather than a straight forward cleaning service, Mr Panter said.
But such an approach is rarely understood.
"We have specialists who work with people around the house, encouraging them to do the things they can do," he explained. "It's about making sure people retain the functions of everyday living, of maintaining muscle mass to be active. It's why we don't do shopping on behalf of the older person but take them to the supermarket so they get out, have social interactions.
"If people sit there they will waste away and it undermines their ability to carry on doing things."
But people misunderstand the service and question why they are paying $60 an hour when they could get a cleaner for $30.
"We get complaints, for example, that the dusting on top of the cupboards isn't done every week. We make sure homes are clean and tidy, but we don't describe it as a cleaning service. It's far more than that, but there is a failure to understand the restorative care model."
Further complicating the message is that providers often waive co-payments in order for services and prices on the My Aged Care website to appear more attractive. The risk, Mr Panter says, is that people are driven primarily by cost.
"There is a real challenge, and it's where more education is needed. How do you judge value for money rather than the cost?
"If you spend $30 you get more hours than if you spend $60 for domestic assistance. But in terms of what adds value, which is the better? And that is the more difficult judgment for people to make."Mr Panter revealed ECH was planning to promote its restorative care approach in its marketing, claiming results far outstrip the national average.
Australia-wide, 45% of people with home care packages eventually entered residential care, he said. "But we are tracking at 15%. Once we get confidence in those figures we'll use it in our advertising."
One of the more bewildering aspects of providers' pricing structures is the administration charges, presented to consumers as care management or package management fees.
Consider these figures. Anecdotally, provider fees have reached 45% of the value of the package. That means more than $23,000 of a $51,500 level-four package is spent on paperwork, rather than directly on care.
The range of fees is broad, however.
ECH, a not-for-profit, charges 16% for a level-four package, with Mr Panter adamant a detailed care management plan is essential for providing care and support in an effective way.
The Department of Health acknowledged the disquiet about high administration costs, and referred to a requirement for fees to be set out in a "standardised" way on the My Aged Care website. But while the government also insisted such fees are kept "reasonable", they remain at the discretion of the provider.
"At this stage the government is not setting price controls or caps on administration costs, but this remains an option should it be required," the spokesperson told The Medical Republic.
 Rather than capping fees, the government is relying on price transparency and market forces to "put downward pressure on high costs" and "drive unreasonable costs out of the system".
"Consumers are able to change providers who charge prices they do not consider reasonable," the spokesperson added.
During her own research into caring for people with dementia, Professor Phillipson, from Wollongong University, said it became clear that providers were mindful of competition, with a sales-led approach taking hold at many organisations.
It's not hard to understand why.
At the start of 2017, there were 527 providers of home care. By June, it had soared to 745. As of September 30 last year, there were 926.
In such an environment, with commercial operators piling in to compete with not-for-profits, winning business, if providing care for the vulnerable can be described as such,has become vital for providers.
That doesn't sit well with care managers, Professor Phillipson said, who cited anecdotal evidence of provider restructuring and a "reallocation of resources" towards sales staff.
"If you are the first provider in the door you are very likely to be chosen by the consumer," she said. "Providers are deploying the full range of advertising to be that first provider."
But while CDC champions consumer choice, and trumpets the ability to choose, and change providers, a different picture emerges in the real world.
In the months following the 2017 reforms, Mr Panter, from ECH, estimated that only one in 10 consumers were "shopping around". In the three years since, the dial has moved only marginally.
"Still only about 20% shop in an active way," he said. "And once people select a provider there is very little evidence to say they change. I think we may have lost 1% of clients to another provider over the past 12 months, and that's because they moved interstate to be closer to their family."
The reluctance to change, Professor Phillipson argued, was partly driven by a familiarity that develops with carers, particularly given the personal nature of the services.
"Theoretically you can change providers and that is certainly the competitive ideology of the government. But it doesn't work that way in practice," she said.
"There is the administrative burden and emotional costs of changing providers. It's not like changing washing powders. Even if you find another provider who is a little cheaper, are you really going to go through the pain of changing to a provider who you don't know is any better?"
Additionally, after waiting more than 12 months for funding, package holders are "pretty desperate" and "thankful for whatever care they can get".
"I am also not seeing much price competition," she added. "There are not enough packages out there to spark a big price war. Markets work well when there is unlimited supply. With home care packages it's not a needs assessment. It's what the treasury thinks the government can afford."
Other deterrents to switching include provider exit fees, although figures indicate they are gradually falling. According to government data, the average exit fee in September 2019 was $222, down from $279 in 2017.
In addition to the care management fees, Professor Phillipson, said it appeared some providers were inflating hourly rates and taking a healthy cut for themselves. That, sometimes more than administration charges, can be a game of smoke and mirrors.
"Organisations will say you are paying this amount for care, but it's actually a loaded salary rate. They are charging $50 or $55 but actually paying the worker $28. I don't want to say all agencies are like that, some are trying to be upfront, but there is something going on that is not quite so transparent."
Mr Henschke, from National Seniors Australia, added: "Most people have actually been quite happy with their home care. It's not like they are getting poor service. What they're unhappy with is the limited amount of hours they are getting compared to the money they are paying.
"We also need to ensure money is not draining away in excessive administrative fees."
A more robust stance was taken by Michael Argent, managing director of Better Living and Let's Get Care, which respectively offer fully managed and self-managed models of care. He suggested administration charges of some competitors bordered on the "criminal".
"Prices have certainly come down, but to me it was almost criminal. And I still don't understand why organisations can justify charges of 30-35%," he said.
Mr Argent's two brands charge a self-described "low" 23% and 13% respectively, the latter reflecting the more hands-off approach of Let's Get Care which, as the term self-managed suggests, places greater responsibility and onus on the package holder.
"We set out a care plan, assess what their needs and goals are, but they need to find their own carers, schedule services and approve invoices for payment," Mr Argent explained.
"We understand that self-management is not for everyone, and we have people who start self-managing and get to a point where they need to switch to the fully managed-model.
"Conversely, there is a perception that elderly people are not switched on and can't organise their own care. But a lot can. We spend a lot of time educating people how home care packages work and explaining what options they have.
"I'm at a loss as to why the market is not more educated about the ability to self-manage and why it has not been taken up by more people."
The benefit of the self-managed model, Mr Argent argued, was the flexibility it offers package holders in choosing who delivers their services. Often, providers offering the fully-managed model of care will encourage consumers to use their own network, a practice which critics believe flies in the face of Consumer Directed Care and the choice it is supposed to offer.
But Mr Panter, from ECH, said clients were not duty bound to use his own staff, and were entitled to select providers of their choosing. However, that could involve an additional charge.
"If someone wants a particular cleaner or gardener for example we need to build a relationships with them and set up a contract," Mr Panter said. "Within our T&Cs we keep an option to charge a 5% transaction fee for setting that up."
He added it was important that provider's on-the-ground workforce acted as intelligence-gatherers and knew how to respond if they detected changes in someone's condition.
It is a view shared by Mark McBriarty, executive director at Adelaide-based My Care Solutions, who expressed concern about the "reliance of third providers to deliver front-line services".
"They are not required to adhere to the same standards that an approved provider would be," he said. "On any given day 30 to 40% of those services are being delivered by smaller organisations who don't have as much rigour around training and assessment of quality.
"It is also critical to have the same carers through the door to ensure continuity. Yet some providers who outsource could be sending 15 different people through someone's home. I believe that's insulting. Continuity means that if there is a minor change in someone's condition we can pick it up a lot quicker than if there was a series of new faces through the door."
Others also argue that ensuring familiar faces greet clients at their door is the bedrock of the self-managed sector.
One network that has grown from the self-managed model is Mable whose founder, Peter Scutt, had struggled to source consistent and compatible care staff for his father.
While not a provider in its own right, holders of a home care package can pick and choose from Mable's network of 5,600 so-called Independent Support Workers across Australia.
Mable spokeswoman Emma Howe claimed the model could save Australians on a level-four package up to $10,000 a year.
"If you go to a large provider they will typically take 35% in fees and they will also provide the services, so there is no separation," she told The Medical Republic.
"Self-managed fees are between 13% and 15% so if you start with a $50,000 package you will have close to $44,000 versus $32,000 with a provider who manages and provides all your services.
"People who use our platform control who provides their support, what services they receive and when."
Mable makes its money by adding 5% to the hourly rate negotiated by the package holder and withholding 10% from the service providers. All workers on its books, from gardeners to allied health professionals, must undergo police checks, provide references and produce any relevant licences, Ms Howe said.
"We have just hit a milestone of two million hours of support and we are continuing to grow," she added. "It's about connecting people directly with the support they need and want."
The likelihood from such a model is the building of trust and familiarity between carer and client, and the development of a first-name term relationship.
The elderly woman at the aged care conference would be mightily pleased.