4 October 2018
The hidden cost of changing the RACGP journal name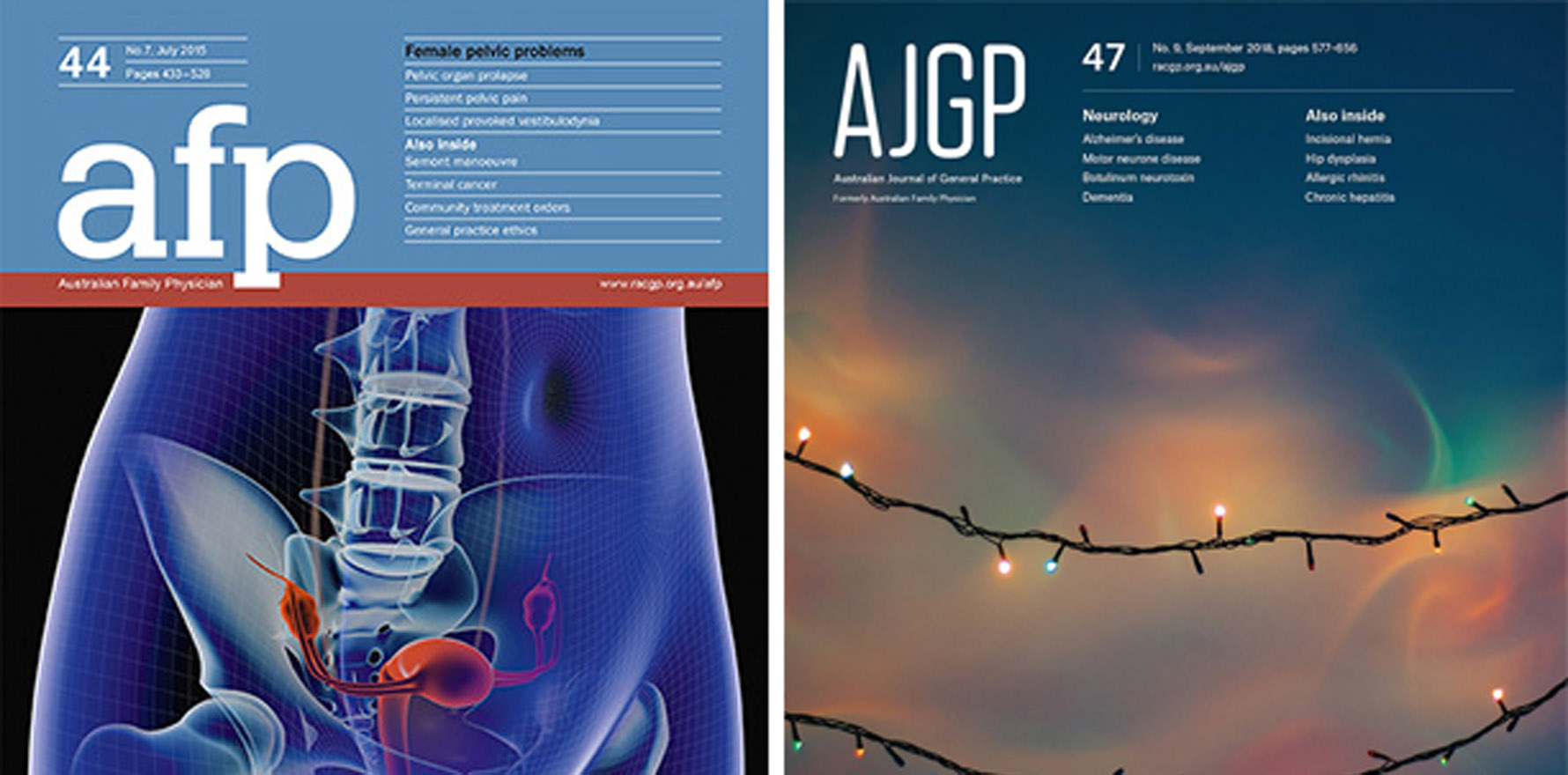 As a publisher of many years, I had conflicted feelings when the RACGP first announced it was going to change the name of its GP journal from Australian Family Physician (AFP) to the Australian Journal of General Practice (AJGP).
On the one hand, the new name seemed appropriate. It could potentially position the journal more pre-eminently in the minds of Australian GPs as well as doctors around the world, given the journal is MEDLINE listed, SCIE indexed, and has 2000 overseas subscriptions.
"Physician" is a title used much more in the US than in Australia and it clashes, to some extent, with those doctors registered as physicians with the Royal Australian College of Physicians. General practitioner is Australia's recognised specialist term and is the one used in all the RACGP branding over the last few years.
Adding "journal" to the title could also add an air of credibility. It might give the publication some brand sheen in the style of the Medical Journal of Australia, and, at the least, it would lift it up a notch against its long-standing and high-quality peer-reviewed independent local competitor, Medicine Today.
So it was easy to see why the College was thinking this way.
But on the other hand, such a move was also clearly playing with fire. AFP had been the name of the publication since 1971. In that time, it had built a serious brand following. It had also built strong readership amid a high quality and competitive stable of local medical publications.
Last year, AFP managed to achieve a syndicated readership score just 0.3% behind the weekly newspaper brand, Australian Doctor. The bosses of Australian Doctor  apparently had several emergency meetings in the last few weeks to discuss their strategy if AFP managed to pip them for the number 1 readership position in the medical media.
Such a change, even if by a few points, could result in hundreds of thousands of dollars of advertising swinging out of one publication and into another.
Australian Doctor has maintained the top position for the best part of 30 years, and it is something that has become a cornerstone of its branding. It was once chased hard by Medical Observer, which turned itself into a weekly publication with the specific intent of increasing its readership and nabbing the top spot.
That AFP was in spitting distance of Australian Doctor should have given the powers that be at the RACGP pause for thought, and maybe that happened. Maybe the College thought renaming the publication would be the boost needed to propel AFP into first place.
But that would be ignoring the trends of the last three years. AFP was growing and Australian Doctor was declining. If AFP hadn't changed a thing, it probably would have overtaken Australian Doctor last week. That would have been one of the most significant events in medical media and marketing in the last 35 years.
But money wasn't the only thing at stake. It is well known that in membership organisations, even today, the most visible and effective value and engagement proposition is the member publication. Members love getting their own publication. They value it highest in most surveys of member value, probably because the product is so tangible.
Which brings us to this year's readership result.
AJGP plummeted from 71.4% to its lowest result ever at 55.6%.
That is a relative drop of just under 22%. It is the largest single drop in the history of the syndicated medical media research, which has been going for about 35 years.
What should have rung some alarm bells for the College was the experience of Modern Medicine, which in 1999 changed its title to Medicine Today. That resulted in a nearly 10% drop over the following two research periods,  a blow which its publisher says took more than 10 years to recover from.
At a readership results meeting of the Medical Publishers Association (MPA), held a week ago at Ampco headquarters in Sydney, the long-term sales director of the newly named AJGP paled when he opened his research pack and remained largely speechless throughout a usually jovial meeting.
Some drop must have been contemplated by RACGP executives, but not one of that magnitude.
One RACGP insider told The Medical Republic the RACGP was not a commercial organisation and it used other measures of success.
But in reality, the College over the past 10 years has been an extremely commercial operation. It has built itself from a very poor financial position to an extremely good one. It has about $32 million in cash reserves – up from $20 million just a year ago.
This isn't a bad thing. But the College didn't do it without watching the pennies and not caring about commercial outcomes.
An example would be the $2 CPD fee it introduced last year. In one swoop this decision significantly reduced the number of smaller CPD module entries the College had to process, saving considerable time and money. It also boosted the coffers by more than $200,000.
Witness also the machinations of the College's commercial arm, Oxygen, and the recent deal with Canada's Hello Health to take major sponsorship at the upcoming GP18 conference. By backing a foreign software vendor with no previous  stake in Australian medicine, the deal risks alienating the local clinical software sector. Money and pragmatism seemed to be at the heart of this decision.
All of which suggests the RACGP's executives got the call on the name change wrong.
How?
If the readership gamble had worked the dollars would have followed in spades.
As a previous publisher of Australian Doctor who faced off significant and well-planned challenges from the no-longer weekly competitor, Medical Observer, management calculated that if our title was pipped by just 0.1% for top spot, about $2 million in marketing spend would have shifted from one publication to the other.
So the College lost the opportunity to make more money. But worse, AJGP now faces losing a big chunk of income from marketers who might not like the idea of the publication slipping 15 percentage points in one year.
Technically, a media buyer could say to the RACGP that since it's lost 22% of its readers, it should shave 22% off the rate card. If that happened, which I don't think it will, then the College stands to lose about $360,000 a year.
That's before some buyers say, given the gap in readership, Medicine Today with 68% and AJGP with 55.6%, they might just stick with the higher one.
Luckily for the College, media buyers are mostly more savvy than that. Giant drop or not, the College is a powerful force in Australian medicine. However, no-one can entirely ignore the fact that a quarter of the RACGP's members  aren't recognising the new name.
Playing devil's advocate, if you compare the gap between what AJGP could lose in revenue now compared with what it might have made had it not changed its name and achieved the No 1 readership spot, over a few years you are talking millions of dollars of lost opportunity cost.
The commercial stakes in this decision were always very high.
But commercial stakes or not, the member engagement issues should be have been equally or even more worrying for the RACGP executives. If you have 22% of your former AFP readership who don't recognise you anymore, then a quarter of your members have lost the most important value touch point of their membership.
Normally, when you see a company change a long-standing brand name there is almost always a very important reason for that change. Usually it is forced by an acquisition, a merger, or a significant change in direction of the strategy of a company or one of its key products. And usually it is underpinned by much research and organisational re-positioning beforehand.
A potential issue for College members might be that this whole incident gets passed over without much discussion, at council level.
The sorts of worrying things I've heard include: "We aren't commercially driven", "We aren't worried about the money side of things", "It's a blip that will fix itself quickly", and, " We have other measures of engagement that indicate we have huge member engagement regardless".
But losing 22% of your major value touch point to members is a commercial and member engagement issue that needs to be aired and fixed as fast as possible.
How?
There are some hopeful signs.
For starters, the woeful execution of the name change leaves a lot of room for natural improvement. Changing the name in February, only a few months before the readership research began, was silly. It was too short a timed for people to get used to the new name and tick a survey box saying they recognised it.
But within the three-month period of the readership research, which is conducted over three waves, one each month, the readership of the AJGP grew from a low of only 48% to something over 60%, to end up at its average of 56%. This is a good trend and means the journal will probably start above 60% next year.
As one College insider pointed out, the new name has not even made it to one RACGP annual conference and that should make a difference.
And from what we can glean, there wasn't actually that much promotion of the change. That can be fixed as well.
All of this has led some to predict a rapid bounce back.
Maybe. The Medicine Today experience shows it can be a long slow journey.
An irony is that the AJGP, like AFP, is a great journal, as is Medicine Today. But 68% of GPs recognise Medicine Today. Only 55.6% recognise AJGP. That is even though the circulation of the AJGP is to all 35,000 college members and Medicine Today circulates to about 24,000 GPs.
A lot of marketing now needs to be done. And it will take time.
Authors note:
Jeremy Knibbs is the ex-publisher of Australian Doctor, Medical Observer, 6 minutes and a slew of other digital medical publications and journals, and is the founder of The Medical Republic. While Australian Doctor and The Medical Republic do compete in the same market as Medicine Today, AJGP and the MJA, reader research suggests the journals are read very differently to newspapers, so in many respects they don't compete head to head.