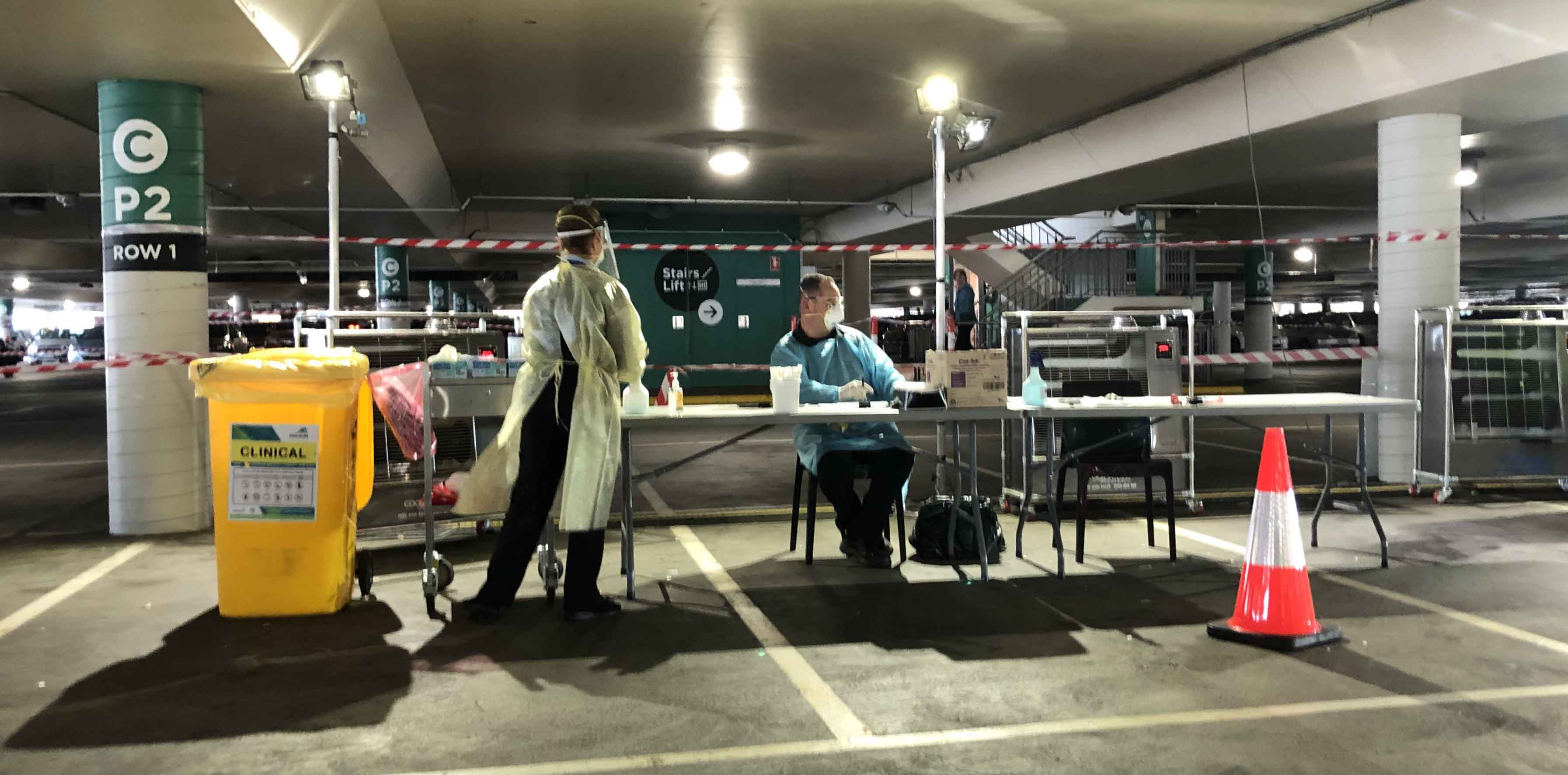 The Andrews government has moved to recommend that all Victorians living in greater Melbourne and the Mitchell Shire wear face masks in situations where they are leaving their home and physical distancing is not possible.
The new recommendation from Chief Health Officer Brett Sutton applies from Friday.
The government said the decision followed "new evidence from global medical experts and increased community transmission in Victoria".
Australia is one of the last countries to resist implementing a clear public mask policy.
Since mid-July, staff from multiple hospitals and aged care facilities across Victoria have tested positive to COVID-19, as cases of community transmission in the state continue to climb.
But the reintroduction of lockdowns in Victoria to stop the virus spreading has not shifted the federal government advice on masks, which are "currently not recommended, while the rate of community transmission of COVID-19 is low".
This is contrary to advice from the World Health Organisation that masks should be used in settings where physical distancing is not possible, such as on public transport.
Dr Vyom Sharma, Melbourne GP and independent contractor for the Victorian quarantine local health service, said he was concerned that there was no consistent mask policy, even in places of confirmed community transmission.
"In the last few days we're seeing a number of hospitals in Melbourne – seven at last count – with staff that have tested positive, and yet there was only recently a mask policy for staff and still no consistent policy for patients and visitors," he told The Medical Republic.
The Alfred Hospital in south Melbourne has had more than 200 staff placed in mandatory quarantine since the start of July, following multiple staff members testing positive to the virus.
"This 'wave', if that's what you want to call it, is more dangerous because we don't know where the cases are coming from," Dr Sharma said.
"This time, the driving force is community transmission, compared to March, where we were mainly dealing with overseas arrivals who were relatively easy to trace.
"I'm hoping to see some pretty significant changes in mask policy, and I think it's now a question of not if it will happen, but when."
Dr Sharma said with so many health workers quarantined in Victoria, the remaining healthcare staff were left anxious about the potential for staffing shortages.
"We are feeling reasonably nervous because we have seven hospital networks with staff in quarantine, and the hospital admissions are yet to even start," he said.
But Dr Sharma said that he and his colleagues also felt more confident this time around knowing that lockdowns were an effective method to combat community transmission.
"This time I think we are more psychologically prepared for what we have to do, and we aren't having to deal with the shock that we experienced in March and April," he said.
"We've been able to observe how things were done internationally – and we've already seen the worst in Italy and the US – and had time to prepare ourselves for what is required."
Dr Emily Walsh, GP in the Melbourne suburb of Prahran, agreed that her practice felt more prepared to respond to the second outbreak.
"During the first outbreak all of the procedures for how to manage this virus had to happen really quickly, and as a GP, I felt an enormous amount of pressure in trying to do risk management through phone consultations," she told The Medical Republic.  
From March, GPs across Australia not only had to quickly learn about the SARS-CoV-2 virus but were also having to implement new Medicare billing procedures, telehealth consults, and infection control measures in their everyday work.
And while most GPs in Australia have only experienced that first lockdown to date, Dr Walsh said Victorian GPs were now facing the resurgence of COVID-19 with open eyes.
"We've learnt a lot from the previous lockdown and the second experience is much better because we are trained, our staff are trained, and the patients are more aware of what's happening," Dr Walsh said.
"I feel like we are now completely prepared for what's happening here in Victoria, which is incredible, and our practice was even able to go back to telehealth consults earlier in the month, when we saw the community cases rising again."
Anecdotally Melbourne GPs have also reported that there has been a much higher uptake of telehealth consults in the current lockdown, compared to April.
"During the first lockdown it took a while for patients to understand how telehealth works but now, all the GPs at my practice are entirely booked out on a daily basis with telehealth consults, which means patients now understand they can access primary care in that way," Dr Walsh said.