9 March 2022
Flood GPs fear for missing patients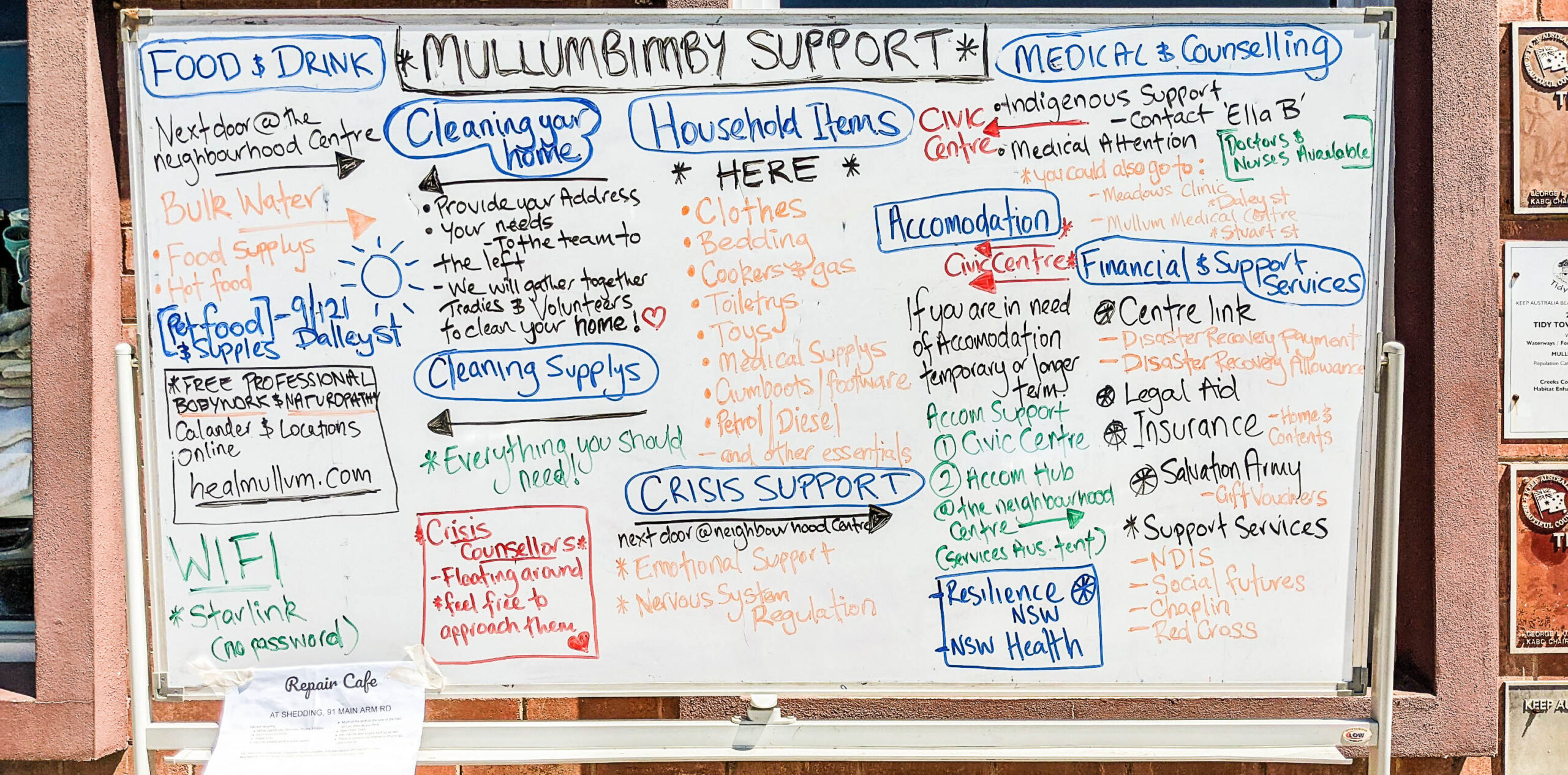 Practices are getting back on their feet, but say they are flying blind without records and no contact with their displaced patients.
---
Floods have torn through NSW's north, badly damaging homes, businesses, and clinics and wiping out phone and internet in the region.
Now in towns like Lismore, piles of ruined furniture, fallen walls and other muddy debris line the streets, steaming in the sun.
With clean-ups under way, some practices are facing a long road to full recovery, but some GP clinics with only minor flood damage have reopened their doors.
Others are unable to reopen due to admin staff and doctors still being cut off from the town by road.
Rural Doctors Association NSW executive officer Alicia Hargreaves has been speaking with clinicians in the region, who have told her "they feel that there's a lot of places that are just forgotten".
One thing Ms Hargreaves says she has heard repeatedly is pre-existing issues in the region have only been exacerbated by the natural disaster.
"In Lismore the doctors are repeatedly saying that there were lots of problems with the health system even before the flood," she tells The Medical Republic. "And now that this has exacerbated the workforce shortages. So that's coming through loud and clear to this office."
Cate Nesbitt, practice manager at Lismore's Prema House Medical Centre, which escaped relatively unscathed, says in the immediate aftermath of the floods, doctors in the community were treating patients for cuts and abrasions, potential viral infections because of the water and providing people with their prescriptions.
But now the most pressing health concern appears to be mental health issues, with patients in shock, distressed at the destruction, displacement and loss, and by horror stories circulating in the community.
Ms Nesbitt is also concerned about the wellbeing of staff at her practice.
"It is also distressing for the doctors," she says. "Not everyone has been able to get to their patients and do what they need to do, or they've been dealing with people in such extreme distress. It's more than even they've ever had to face before.
"You've got to care for the carer, so you have really got to care for the doctors, as much as care for the patients."
In a practice debrief over lunch, one of the receptionists asked what to do when a patient was at the front desk breaking down. "I said, just follow your instincts to do what you think is best. Bring them outside, take them to an empty consult room, just show them as much kindness as possible. And if you can't deal with it, come and get one of us to help you deal with it.
"We're flying blind at the moment, because we really don't know what we're going to have to deal with."
Elderly patients are another major concern for doctors in the area. One of the nursing homes in Lismore had to close during the floods, dispersing patients into nearby areas. Some doctors don't know where their patients have ended up, or whether they're getting their medications.
Many of the GPs' patients would need following up as a matter of course, "and now they just don't know where they are or what's happened to them", says Ms Nesbitt.
As well as residents being displaced, the practice has had no access to their patient records, and with power and internet down, no way to access the backups.
"We're so reliant on the internet that if it goes down, we can't function properly."
Practices which have remained dry but been cut off, like those in the plateau town of Alstonville, are now running low on supplies, Ms Hargreaves says.
"One of the practices that I spoke to in Alstonville were very low on betadine, dressings, oxygen tanks and tetanus injections, as well as food and water," she says.
"They gave a lot of their equipment and consumables to the evacuation centres, and now they've got people coming into their practice for regular treatment, so they are in urgent need."
Still, GPs are coming up with creative ways to continue practising. Ms Hargreaves says she knows of at least one doctor who moved into a colleague's rooms and did telehealth while cut off from his practice.
At the Ballina West Medical Centre, practice manager Christine Wilson says doctors have been using their personal mobile phones to send through scripts to patients and pharmacies while the clinic landline was down.
While floodwaters did come inside the building, she tells TMR, the clinic managed to salvage most of the equipment supplies.
"We've already cleaned it all out, thrown out whatever we had to – there's damage to the desks and our lino has to be redone," Ms Wilson says.
Equipment was damaged, but the clinic's computers – minus some cabling – miraculously survived.
The story is largely the same in the more inland town of Casino.
"So far, so good – we've got no floor coverings, but we're hoping to get those replaced relatively soon," Casino Medical Centre Practice Manager Debbie Taylor says. "But I'm not holding my breath, because there's going to be a shortage of everything in this area for quite some time.
"We're muddling our way through at the moment – at least we're open and we can offer a service to people."
What hasn't survived in the 30C heat is vaccines.
Prema House was able to keep its stock of vaccines safe for five days amid the power outages before they were compromised.
"We had a hot day," Ms Nesbitt says. "They were in the esky and they should have been fine. But they went above temperature, and so they were compromised.
"We had whole fridge-loads of vaccines: tetanus, boosters, all sorts of stuff. There were some private vaccines [stored for patients]. So we'll have to reimburse people for that cost. And there may be a delay in them getting them, especially if they're doing allergy therapies – and they're expensive.
"Who knows what impact that will have on someone's health if they can't get the regular shot when they need to have the shot?"
Many properties in Lismore will be condemned, she says, and this may include some practices.
"Where are they going to relocate? That means there's less medical support for the public."
For now, Ms Nesbitt says, Prema House has spare rooms that doctors or other allied health professionals can work out of if they have nowhere to go, or if they are from out of town and would like to help.
Photos of Lismore and Mullumbimby in northern NSW by Denise Prosser