15 January 2021
First Draft: RACGP rushing GPs to join vaccine program but where's the money?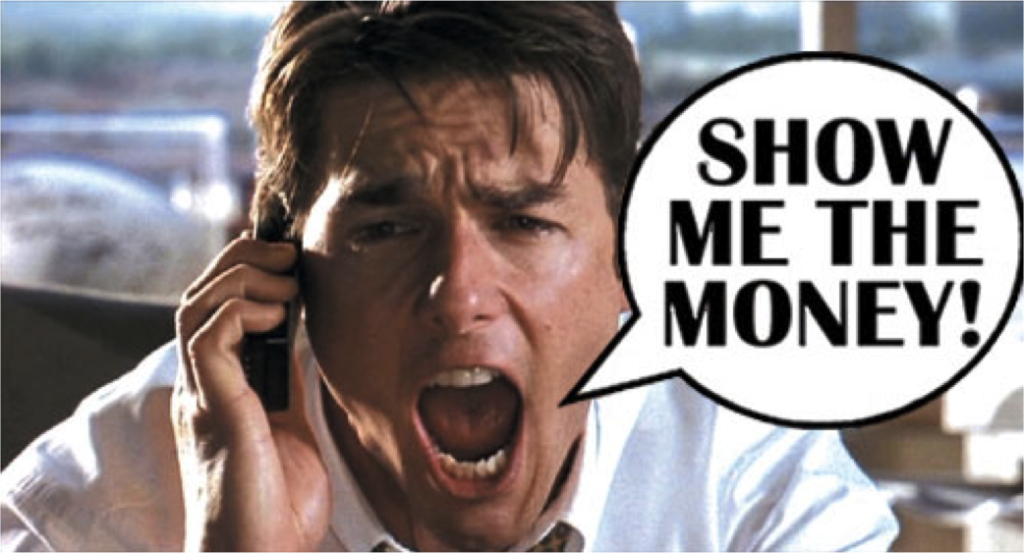 Is the RACGP's big rush to have GPs be the centrepiece of the government's expedited COVID 19 vaccine program potentially going to put practices under even more financial stress?
Perhaps keen to get on the front foot with members under a new presidential regime, the RACGP went out early last week with two news stories fronted by their new president, Dr Karen Price, saying that GPs would be "front and centre" of the upcoming vaccine roll-out.
There was initially very little information or detail, but quite a lot of assurance that the government saw general practice as pivotal.
In the first story from the college's PR unit, newsGP, Dr Price declared, "I'm really pleased to see there's so much co-operation from federal through to state, through to public health, and bureaucrats' goodwill towards general practice".
On the same day – January 6 – the Nine newspapers in Sydney and Melbourne led their front pages with GPs to be at forefront of vaccine rollout.
But there was no detail as to how GPs would be 'at the forefront', either in the RACGP's PR or in the consumer newspapers.
A follow up story a day later from newsGP reiterated the theme of GPs playing a leading role, with an update from the president to members.
But one more day on the Department of Health (DoH) released this COVID-19 Vaccine Roadmap and it became immediately clear that the idea that GPs would be "front and centre" of the vaccine program was, at least in part, misleading.
That day the RACGP hastily altered ("Updated") its second story so it now reflected that GPs were not in fact going to get a guernsey in the initial rollout. That rollout would be vaccinating nearly 700,000 high priority front line healthcare and quarantine workers, as well as aged care staff and residents.
Some comments made by Dr Price which were incongruous with the new DoH position disappeared and new ones were added that reflected on the new DoH information.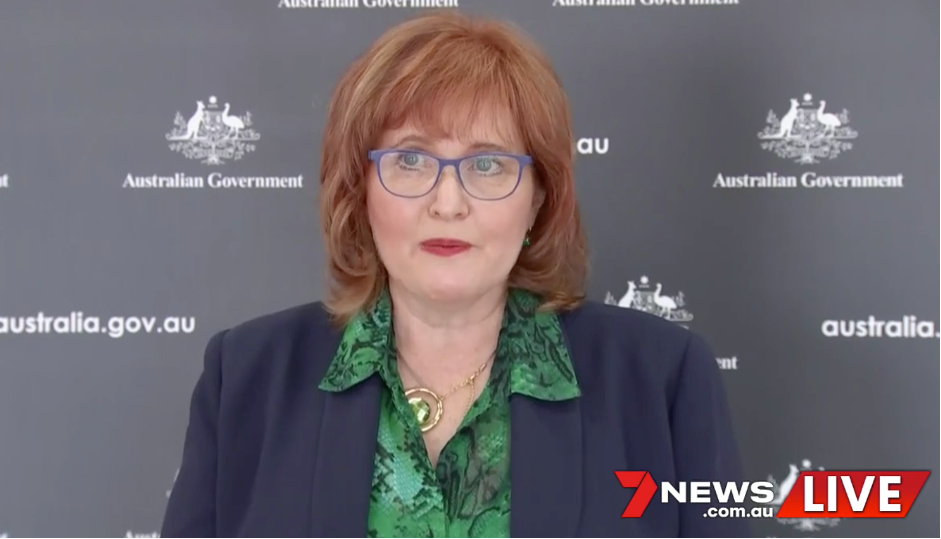 The updated newsGP story quotes Dr Price as saying that "there is an argument that doctors in hospitals working on COVID wards are a more significant priority".
The COVID-19 Vaccine Roadmap outlines that the first phase of the program (part 1a) would be delivery of the Pfizer vaccine, via special Pfizer hubs, which would be located at hospitals in major regional centres across the country. Only hospitals have the capability to store and manage the distribution this vaccine which requires -70C fridges.
Dr Price went on to say that:
"this is a "wartime effort" to get everyone vaccinated and GPs are very much up there, virtually near the top."
That although GPs weren't in the first phase they would be a major part of the second rollout (phase 1b which would involve up to 15m doses would likely start at the beginning of March, so GPs needed to start preparing.
On January 11, Dr Price's adjusted position on GPs seemed to be strongly supported by a nationally televised press conference in which Minister Hunt and Dr Price praised each other for a job well done in 2020, and in which Hunt said that GPs would be playing a big role in phase 1b.
Not withstanding, there are a lot of things that need to be sorted out before this can happen.
Slide 6 of the COVID vaccination Road Map only indicates that there will be about 1,000 distribution points for vaccines which would be made up of existing regional hospital hubs, GP respiratory clinics (of which there are 146) and aboriginal controlled community health centres
The map notably has a green dot in its legend which is tagged as 'General Practices (To Be Confirmed)' and another dot which is tagged as State Vaccination Clinic (also TBC). There are no no green or other dots on the map at at this stage.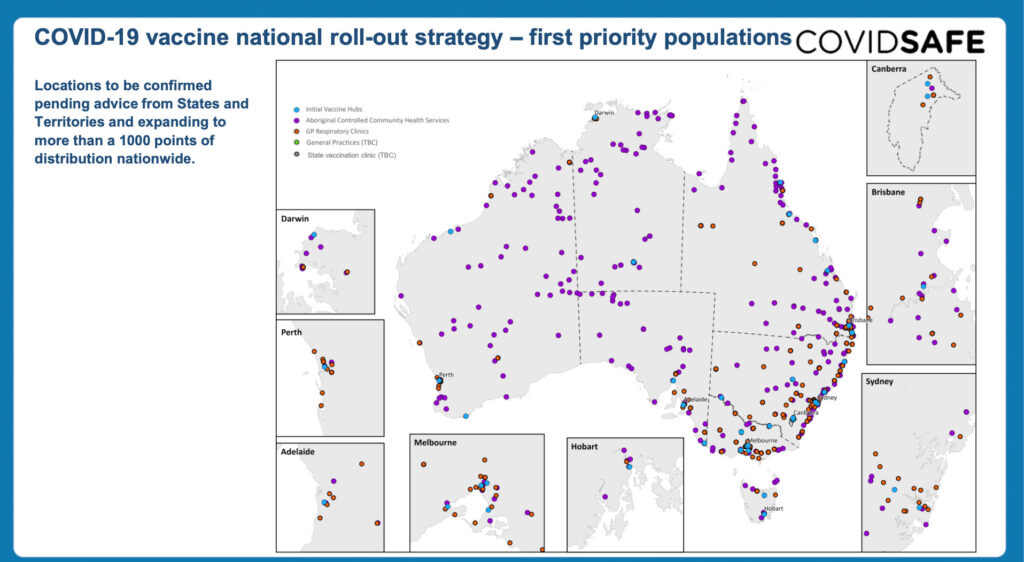 What remains unclear is just how many GP practices are likely to both apply and qualify to become the green dots on the COVID-19 Vaccination roadmap.
The logistics of getting everyone vaccinated quickly in a co-ordinated manner suggests that registering some 6,000 GP practices around the country and sending out stocks accordingly, while hospitals and state based clinics are parallel running might be very inefficient.
But RACGP Chair of the NSW and ACT GP Disaster Management Committee Associate Professor Penny Burns, talking to The Medical Republic yesterday, said that she thought that the COVID-19 vaccination will become a mainstream GP role over the year and that GP's central role in the flu vaccination program prepared most GPs well to undertake the task.
According to the roadmap, patients will be able to attend a hospital vaccine hub, a state based vaccine clinic, a GP respiratory clinic, or a 'to be determined' GP 'green dot' practice..
To realise the vision of Burns, governments are going to need to co-ordinate carefully between their state based clinics, and registered GP clinics. If most GP practices end up involved, it's unclear how the DoH will know how many doses to be distributing to each GP clinic, given the multiple choices patients will have to be vaccinated.
No GP practice is slated to be delivering the Pfizer vaccine so none will need to worry about gearing up for storing vaccine at -70 degrees C.
Those who want to deliver the Astra vaccine however, will face immediate costs in education and training, IT compliance for the vaccine register, sorting out indemnity, getting all their staff vaccinated, and, in the end, all the re-organisation needed for their staff and practice space.
Professor Burns told TMR her practice was organising along the lines they already had for the previous flu season. She suggested that the training and registration would likely be like the UK, where most GPs had to complete a short online course prior to starting. But none of this is clear yet.
Perhaps the biggest potential roadblock to GP participation however is funding.
If there is no dedicated MBS item number, or at least a clearance to book each vaccination as at least a Schedule B consult, the economics for a GP practice of getting set up to run COVID-19 vaccination aren't likely to add to up.
Dr Price told newsGP that there were only "whispers" so far of the government establishing a separate item number but that she expected GPs to start coming on line in phase 1b in early March so they needed to start their logistics set up and planning.
But what planning can a practice manager or owner do if they don't know how much their GPs are going to get paid per patient to manage the process and what their likely competition for patients might end up being.
So far GPs are unclear if they will be paid separately to do COVID vaccinations, have no training, no education materials for patients and no screening and informed consent forms or procedures. There's a lot to do in a few weeks.
Leaving aside these issues, there's a lot of other issues not resolved which might contribute to the worry of a practice manager .
So far the DoH is indicating that the vaccination programs are ultimately going to be co-ordinated by the states. In this case the opportunity for red tape and confusion looms given states tend to be so hospital centric. Many GPs will recall how they ended up being treated in sorting out COVID testing.
If you are an existing respiratory clinic you might switch over reasonably easily to doing vaccinations, but that's 146 clinics only across the country, or less than 3% of all GP practices.
Presumably many of these are now scaled down given most of the big COVID outbreaks are settled for now. Without a very quick and clear indication of the likely costs and funding its feasible that many of these clinics won't choose to migrate to doing vaccinations.
A range of views are emerging about just how hard it is going to be for GP clinics to get registered , set up and start administering vaccines.
Dr Price told TMR yesterday that "this isn't a flu vaccination, it's not just a jab in the arm. Education is needed, a consent process is needed between the MDO and manufacturer, there is data entry, set up for the vaccine register, two doses to register, recall, physical set up for social distances and on and on."
Dr Price was making an argument for the government needing to consider carefully how they are going to fund the GP sector to get the job done.
But is the government going to find more funding for upfront infrastructure grants for GPs and an additional, and presumably expensive new MBS item number?
Ideally, such a vast vaccination program would strive for scalable and high through-put via purpose built set ups which are all tightly co-ordinated to avoid waste and meet ambitious targets. Already in the US and the UK massive 24 hour drive through centres are being established.
Interestingly a lot of GP clinics outside of major CBDs are reporting revenues up on this time last year, which is apparently something to do with various related social and COVID induced behaviours of patients.
If you are doing good business now, and it isn't yet clear you aren't going to disturb that dynamic by taking on all the new work to gear up for COVID vaccinations, will GP practice managers want to rush to get set up for the program in the manner the RACGP is spruiking?
Last but not least, Health Minister Greg Hunt is a big fan of chemists. He's been quoted already in the context of the vaccine roll out as saying that chemists played a major role in the 17m flu vaccinations achieved last year.
It's difficult to see how flu vaccinations can be conflated with the COVID vaccination program. The two things seem worlds apart in terms of risk and logistics so far. But if the Health Minister is already doing it, then you'd have to expect big pharmacy chains to be getting involved as soon as they are allowed in vaccinations.
If and when that kicks in the economics for any practice that has made the decision to set up for vaccination are likely to get that much tougher.
If GPs are going to be the main weapon in the federal government's armoury to get us all vaccinated this year, a lot of things are going to need to fall in place very quickly, some of which – like more funding for a specific MBS item number – aren't trivial decisions for an increasingly stretched federal government.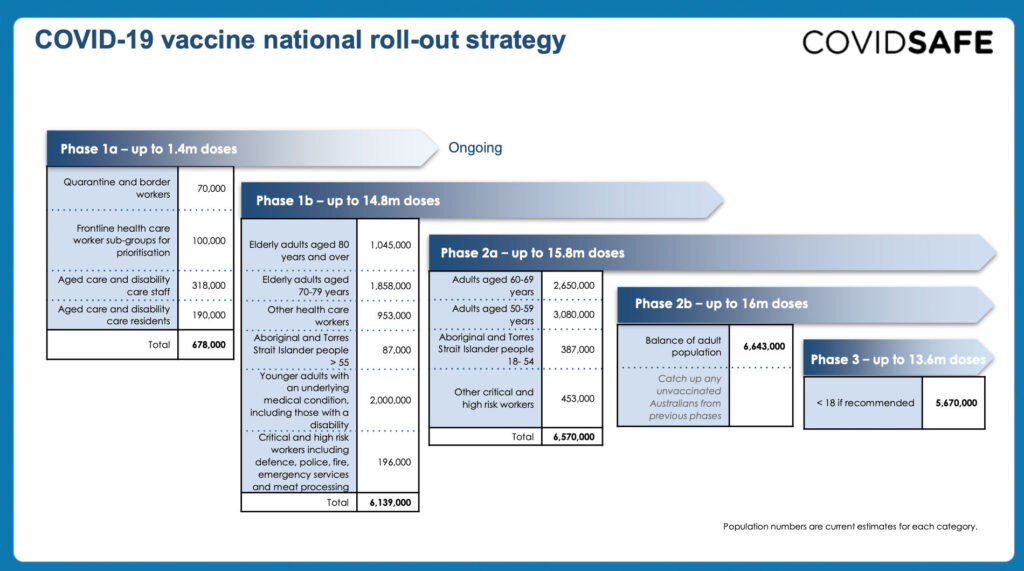 It doesn't feel economically sensible, either on the governments side, or the side of a GP practice owner to be rushing at this stage given we aren't in the dire position of the UK, Europe and the US.
Will the government really double down on its expenses by paying GPs extra to give a vaccine when they might be able to get most of it done through scalable high throughput state based hospital hubs and related purpose set up centres?
They are already paying GPs a lot more for telehealth.
If GPs aren't going to paid properly for the set up and disturbance to normal business cycle, you'd have to think most practice managers will end up reluctant to participate, civic duty or not.
This is especially the case where you have politicians running around telling the public that everything will be absolutely free when that can't always be the case at a GP practice. Notably, at least one state Health Minister doesn't seem to know how GPs are remunerated these days.
Things are moving fast in Canberra so we aren't likely to be held in suspense too much longer. A lot currently stands in the way of the the RACGP vision and view that GPs are going to be centre piece of our vaccine program.
It's a big week coming up.
Correction Note: the original version of this article quote 15m patients as being part of phase 1b. That was meant to read 15m doses.