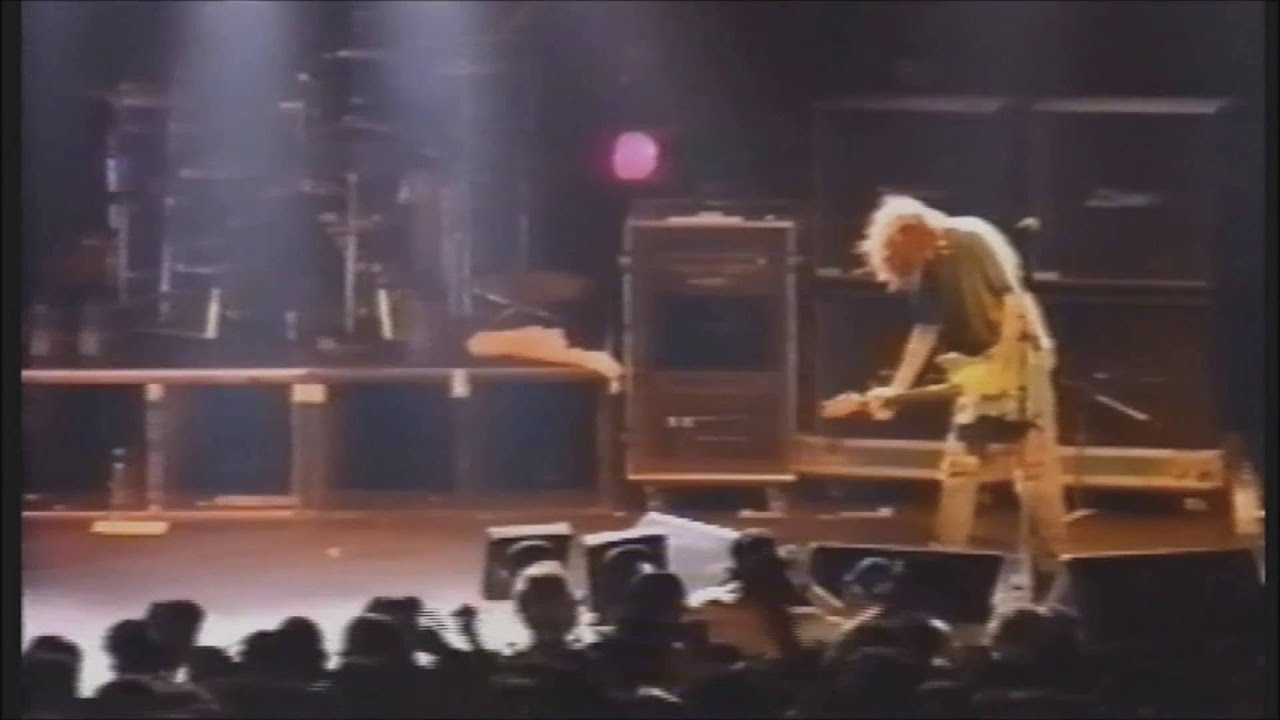 Ed's note: This piece about decoding the MBS so as to help GPs make money while staying out of trouble was originally published on Tuesday.
Since then (it's always the way) we've heard back from the RACGP with answers to our questions, namely: does the college continue to endorse (through the awarding of CPD points) the ProMBS workshops, and why doesn't it do the job itself of clarifying the MBS to members?
While there may be more to be said, and we will come back to this topic, their response is an important addition, so we're running it in full here while the original piece is unchanged below.
From president Dr Karen Price on the MBS:
Our recent member census has affirmed what we know, that MBS issues are one of the biggest concerns for GPs.
The RACGP isn't currently authorised to interpret the MBS, which is why we cannot provide guidelines to our members. We continue to advocate strongly with the Department of Health for general practice specific information and education regarding the MBS.
And from the RACGP:
MBS interpretation is a legal issue which medical defence organisations (MDO) are appropriate for. Medicare is ultimately legal legislation for a contract to access a government funded health insurance scheme. We continue to negotiate this legislation federally and continue to work with our MDO colleagues and the department of health to minimise misinterpretation of the law.
We have also hosted webinars on the topic with presenters from the department of health.
And on CPD quality control:
The RACGP does not "endorse educational material". Our accreditation process evaluates an the educational validity of an activity against the CPD Educational Standards.
Quality Assurance Assessments (QAA) are routinely conducted for quality assurance of CPD activities, and in the event a complaint is received. This may be either a paper-based review of the activity or a face-to-face review. In general terms, the QAA will review the documentation (slides, program outline, evaluations etc) and may also include RACGP representatives attending the activity. The QAA considers the educational structure of the activity and that the content is evidence-based and relevant to general practice.
In March 2018 a face-to-face QAA was conducted for ProMBS Benefits Workshop, conducted by AOGP following a complaint that raised concerns about the approach to MBS billing presented during the course. The RACGP Program Co-ordinator and a senior GP attended. The role of the Program Coordinator was to review the educational components and the GP to assesses content from a GPs perspective. The content is always considered routinely as part of the QAA process. It passed the audit, with minor amendments to processes recommended.
In 2020, the RACGP introduced revised CPD Education Standards for the conduct of CPD activities by CPD Education Providers. In addition, a new accreditation process was introduced whereby all CPD Accredited Activities (former Category 1) are reviewed by a Program Coordinator before approval as a RACGP CPD Accredited activity. The QAA process described above remains in place as a further quality control.
The process in 2018 was to conduct routine QAAs on both Category 1 and Category 2 activities, and in response to a complaint. CPD Education Providers were required to adhere to guidelines for the conduct of CPD activities, and the RACGP offered training to the Providers Education Activity Representative.
The original piece starts here:
On a windy, chilly Melbourne afternoon in June 2017, one of the breakout rooms at the Royal Automobile Club of Victoria was packed with GPs.
Like the Nirvana show at the very first Big Day Out in Sydney, most patrons had abandoned the concurrent sessions for the main gig. It was stuffy, dimly lit and, by the time proceedings started, overcrowded. There was a buzz in the room about the session. One of the other presenters had even left their largely empty session, curious to see to what was going on.
The session was about how to "optimise" your Medicare billing. It was the main marketing hook for the inaugural Business for Doctors (BFD) summit, an organisation that had started life as a Facebook group started by a then GP registrar, Dr April Armstrong, and the presenter of the "Nirvana" session.
BFD had been started on the pretext that "most doctors" were having their personal business incomes "whittled away by accounting and investment advisory fees" and paid "substantially more taxes than required", but by sharing peer knowledge over the BFD Facebook network, they could tap into much of that knowledge for free, and "optimise their relationships with their professional advisors".
A few people in that session reported uneasiness at some of the slides in presentation. One, though not labelled in that manner, was described by the presenter enthusiastically as her "pack and stack" method of combination billing. Other elements of the presentation were described by one participant as "pretty edgy" in terms of where the PSR might sit.
For the avoidance of any doubt, there is nominally nothing wrong with describing a technique to optimise your medicare billings as "pack and stack", and the view that the presentation seemed to be on the edge to some attendees probably just shows how confused some doctors can get on where the line is on how they should interpret their MBS billing.
In fact, it raises a very important question for all GPs in how they bill the MBS. Who is the arbiter of where the line is or not, and how is it made perfectly clear to GPs where those lines exist?
As far as we can tell, Dr Armstrong is not a formally qualified educator or a financial advisor and she has no qualifications as a specialist in educating doctors about the MBS. When she started BFD she was a registrar.
But her workshops do attract RACGP and ACRRM CPD points, so they have in effect been endorsed by the two educational colleges for GPs.
Dr Armstong has simply studied the MBS herself, likely taken a few tips from other institutions which have attempted "optimisation interpretation" on behalf of the doctors that work for them, and mashed it together in her own interpretation of what you can and can't do.
Dr Armstrong isn't the only organisation attempting to interpret things for GPs in what is a pretty tricky game given how aggressive we are seeing the PSR get in the past few years and how confused some doctors become on receiving a nudge letter.
Many of the corporates put their own interpretations together and educate their doctors en masse, and other small outfits have a go every now and then, some of which clearly have an understanding of the MBS and its interpretation that isn't so good.
Other than the CPD endorsement, which some GPs might take as offering some form of cover, the BFD workshops, and the many others like them around the country are largely "buyer beware".
The premise for groups trying to make money out of demystifying the MBS isn't such a bad one.
Although all the information to manage the MBS is mostly publicly available, it is a very complex regime, there are no guidelines or standards available and agreed upon by the major medical colleges and peak bodies and the MBS is constantly changing (eg, the new telehealth items and the 12 month rule).
Having someone do the hard work of reading all the material, interpreting it for you, and offering you some shortcuts when you are already stressed and busy trying to make ends meet does make some sense.
The problem is, what if your presenters aren't interpreting things properly?
It will not be a defence in a PSR hearing that you attended a workshop that was approved for RACGP or ACRRM points.
A recent SA Supreme court case between Dr Armstrong and a doctor who claimed she was defaming him by claiming he was stealing all her course IP, has made this pretty clear – although this wasn't the point of the court case. The judgement in the case from March last year is HERE and it's an interesting (very long) read. In a nutshell, the judge found the plaintiff, Dr Rajan Anand, was defamed and Dr Armstrong had to pay damages of $50,000 – but neither party came out of it well.
Both the doctors' courses were RACGP and ACRRM endorsed for CPD points. When Australian Doctor asked the RACGP if they were happy with their assessment of the courses, given the outcomes of the court case (more on that below), the RACGP said their processes were good and they were happy.
Without some agreed upon standards by the major educational and compliance groups, which somehow is synchronised with the MBS and the Department of Health (DoH), which they regularly deal with – they spent months negotiating with the DoH on the latest round of nudge letters – then the system allows just about anyone, doctors and non doctors (sometimes advisory firms will try to fill the vacuum here) to put on a course.
None are formally qualified in any formal way to teach anyone, and only ever endorsed by the educational colleges loosely via CPD points approval. There is no co-ordination between the providers to co-ordinate and make content consistent – in fact, there is often fierce and ugly competition, as the SA court case has revealed.
BFD didn't ever make much if any money from its Facebook group. That was a community creation play to feed its revenue model of workshops. Once again, there is nothing wrong with doing this.
BFD has made most of its money from running seminars, workshops and conferences for GPs, most of which have as a continuing central theme "optimising" a GP's interaction with the MBS.
GPs don't like paying for education as a rule. Most medical education they get is either very inexpensive or free. But they pay a lot to go to BFD conference (the next one will cost you nearly $1000 for a day) , which goes some way to explaining how much need there is for a better understanding of MBS claiming and the increasing fear they are experiencing in PSR compliance activities.
The buzz from the first BFD conference spread and by 2019, the business of "educating" doctors on quick fixes, guides and "cheat sheets" for getting more out of the MBS was big.
So big that other groups started springing up around BFD (although it's probably relevant there were many before as well).
Fast forward to 31 March last year, and some of the ugly underbelly of these businesses was exposed for all to see in the judgement of the SA Supreme Court case for defamation brought by Dr Rajan Anand, an Adelaide, against Dr Armstrong for defamation.
The story of this case has been excellently reported recently by Australian Doctor and we can recommend it as a good read.
It's a rollicking yarn and a bit of a Greek tragedy.
Although Dr Anand technically won the case and was awarded $50,000 in damages, both he and Dr Armstrong lost big time in the court of public opinion. The judge was scathing of both the defendant and the plaintiff.
If you have the time it's one of those rare judgements – all 60,000 words of it – which is worth reading raw for even more of the gory detail. HERE it is again.
The Australian Doctor story is focussed mostly on the silliness of two doctors taking each other to court when both had reasons to run a mile from the sort of publicity such a court case would almost inevitably bring to their businesses and their understanding of how business and the law actually works. And why the RACGP endorsed both their educational programs, and continues to do so (Dr Anand is no longer involved with the ProMBS program, which he developed with the company Adelaide to Outback GP), despite the court findings.
We have asked the RACGP about these endorsements and will update this story when we receive a response.
But the case has significant lessons for the profession in how it attempts to sort out the multiple issues of MBS compliance and "PSR anxiety". The latter is rapidly rising among all GPs, as they struggle to interpret what the government means so they properly stay on the right side of PSR.
The judge in this case did her homework unusually well and stated that Dr Anand seemed to have very little expertise to be running workshops on the MBS.
She cited several instances where Dr Anand had provided materials he did not understand properly and probably should not have been teaching. She stated that it was clear he was "not an expert" on the MBS.
One example was Dr Anand's understanding of the 80/20 rule.
In 2018 shortly before he ran his own course he posted on the BFD Facebook page:
"Just a thought, why do we have to worry about audit? 60 or 70 services or 80 – as long as you can justify your consult and you are doing it rightly – why should one worry?"
The judge noted that the post, made just a month before he put on his first workshop, demonstrated virtually no understanding of the 80/20 rule, or just how much trouble a GP might get into for breaching it.
The judge didn't point out that the post being allowed on the BFD website when it was so ill-informed might be a good demonstration of the downside of social media and peer-to-peer medical education.
Sometimes things are posted which are wrong, and they aren't moderated for some reason, in which case other site members can end up using it as some form of advice. Nearly all these sites will post a disclaimer saying that aren't licensed to provide any financial or other advice and users must be cautious when reading posts and using them. But as things go with most social media sites (it took one person 17 hours to read all the Ts and Cs on Facebook) no one reads the fine print.
The judge made no assessment of the quality of Dr Armstrong's expertise and BFD, which wasn't relevant in the defamation case.
Notably, the judge found that Dr Armstrong presented no evidence to prove her original social media claim that Dr Anand had stolen her IP, which might be the biggest irony of the case.
If that had been established, it might not have reflected well on the quality of BFD's material.
Are the BFD workshops presenting worthwhile expertise and IP then?
No one knows because there is no semblance of a compliance regime for monitoring the activity of educating doctors on using the MBS.
Dr Anand claimed he couldn't continue to present his workshops because Dr Armstrong's defamation had damaged his reputation so much it became impossible to get enough people to go to his workshops and the business was no longer viable.
But the judge found that the most likely reason Dr Anand had ceased providing the workshops was that he had been working for Primary Healthcare (now Healius Medical Centres), supposedly fulltime, and was under investigation by that group for both potentially using their MBS education material without permission, and conducting workshops when he was contracted to them fulltime.
Notably, when the case first hit the papers, Primary Healthcare dropped that part of its investigation that was claiming he was using their material. Why would Primary Healthcare do this? Perhaps they didn't want the material in the spotlight of the DoH or the PSR.
The only other assessment of BFD material has been made by the RACGP and ACRRM in the form of their CPD endorsement.
Both colleges also continue to endorse ProMBS courses, according to its website.
Can GPs stake their livelihoods billing the MBS according to advice given by any of these third parties?
Accreditation comes with the risk of audit, as the judge noted.
But what standards are they being held to? Where is the governance regime for educators?
Why can any corporate, or any non professional educator set up camp, imply they are experts, put on workshops which are effectively endorsed by the colleges for CPD, use marketing hooks to get GPs to attending their workshops – some examples of which follow – with no robust governance over activities that can land a GP in PSR or tax trouble?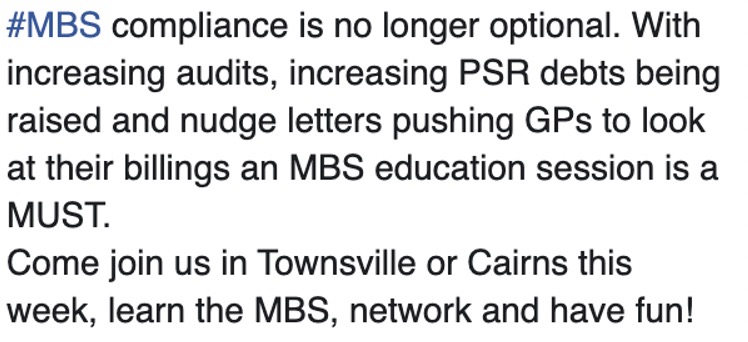 None of this says that some of these educators and workshops aren't providing good advice.
But at the end of the day they are all providing GPs with a form of financial advice.
They are interpreting how you can bill the MBS which in way which can make a meaningful difference to the income of a GP.
In the case of BFD, it's largely in the mission statement that heads their Facebook listing.

The smart word in this statement is "accessing".
Anyone can help you "access" the right professional financial advice.
But there are pretty strict laws about how much advice you can give in a financial context in Australia.
This is not to say that any groups providing advice to doctors about how they manipulate their MBS billing would fall into ASIC's very strong Australian Financial Services advice regime.
It almost certainly wouldn't.
But it's certainly adjacent to some of the most strict regulatory and governance oversight we have in the country.
So why is the profession remaining so laissez faire about the whole thing?
The following is an opening excerpt of what you would need for ASIC to grant you an Australian Financial Services licence give financial advice in this country:
An AFS licence authorises you and your representatives to provide financial services to clients.
You provide financial services if you:
provide financial product advice to clients for example, giving a recommendation to clients or the general public about which financial product they should purchase.
deal in a financial product for example, buying or selling shares on behalf of a client or issuing interests in a managed investment scheme.
make a market for a financial product for example, where you regularly quote prices at which people can buy or sell financial products.
And so on … if you want the rest of the definition you can find it HERE.
It's hard to see that you could shoehorn what a group offering "MBS optimisation advice" into ASIC's definition of requiring an AFS licence.
But there is adjacency in what they do, which is give regular advice to doctors on how to optimise their processes, using a fixed methodology (a product?) in order to extract more income from the MBS.
Remember "pack and stack".
It is described today by BFD as "Combination Billing – a revolutionary method of spending more time with patients and providing comprehensive care and maximising patient rebates for services".
This sounds just a little like a product. Certainly, Dr Armstrong thought enough of her revolutionary method that she decided to defame Dr Anand in order to protect it.
Is it unique IP that is describing a form of financial product?
No one is making any meaningful judgement on behalf of GPs in this respect.
It's all still floating in the wind for GPs to take or leave.
And with it they are clearly taking or leaving some risk to themselves.
There is no overseeing body to give them some sort of governance cover on this vital and stressful part of their lives.
"PSR anxiety" is a real and growing issue for the profession.
The latest round of nudge letters on the telehealth 12 month rule, sent to around 1000 GPs last month, demonstrates just how easy it is to fall foul of Department of Health fine print, and interpretations.
Most of the doctors caught out who spoke to TMR had no sense at all of the eventual DoH interpretation of the rule. Some have to now pay back a lot of money, on what seems like a crazy interpretation (but that's another story).
So long as this dynamic exists in the market, operators have a legitimate mandate to have a go at interpreting this stuff for GPs. That market is lots of confused and increasingly scared doctors, many struggling to make ends meet.
But none of these operators would provide any form of defence if you have taken their 'product' advice, interpreted it, and fallen foul of the DoH or the PSR in some way.
That would especially be the case now, based on much of the material in the judgement of the SA defamation case of Anand Vs Armstrong, in which the court dissected to some degree both operators and found them both in some way wanting.
So why won't the colleges band together with one or two other relevant bodies, and the MBS, and put together a series guidelines or standards, which they can update each year, and when any major MBS changes take place (such as telehealth items), which GPs can rely on in making their judgements around MBS billing procedures?
The answer isn't clear.
We've asked the RACGP why they won't and we'll give you that answer when we get it.
Some insight might be gleaned from an article by the now defunct Medical Observer Magazine which quoted the colleges then president as saying that it was not the responsibility of the college to interpret the MBS.
That article was published 10 years ago.
Way before the college shifted its thinking to becoming advocacy body one the primary objectives of which is to ensure that GPs are paid properly.
Surely if this is a primary objective of the college now, then one way of making certain that a GP's pay is optimised is to take on the process of developing effective education and standards around MBS billing.
It would be a lot of work, but given how much "PSR anxiety" is starting to impact on their members (not a lot of members are directly affected but the fear factor in the PSR tactics is high and widespread), surely it would be a service that members would value a lot.
And if there is an agreed set of standards by the colleges and several other bodies, made in some sort of co-operation with the DoH, surely that might help the DoH, and eventually remove the need for a fear-based PSR regime to exist.
One theory is that below the waterline the RACGP is comfortable with the system as it currently exists.
While on the one hand the college will occasionally rail against the PSR and the DoH's notorious program of nudge letters, on the other it significantly endorses the PSR process by providing senior members of its leadership to sit on the three person PSR peer review panels which provide de facto advice to the body on the profession's view of a doctor's behaviour.
It's hard to see how those two activities aren't compromised by each other in some way.
A similar problem to the one doctors and the education providers are encountering with the PSR was encountered by the accounting profession many years ago, except instead of the having the PSR as the sheriff of proper practice, accountants' clients were facing off to the ATO.
In the end all the competing accounting groups formed a body that developed universal standards for accounting, which all accountants could rely on, and which, in large part the government and the ATO would defer to when cases were on the edge.
It isn't a perfect system, but it's a system of compliance that protects accountants and their clients to a much greater degree than what existed previously, and it saves an enormous amount of time and stress for a whole lot of groups trying to interpret tax accounting laws.
Surely the GP profession should be thinking more carefully about some sort of regime that emulates the objectives of what the accountants have done.
At the end of the day, interpreting what the DoH is trying to get at in the MBS, and optimising it is perhaps one of the most important parts of running a GP business.
This is why businesses like ProMBS, BFDs and many others exist and sometimes thrive.
At the end of the day, as well as practice management, it's a form of financial advice.
If you spend the time to read the Anand vs Armstrong case, one of the big lessons it is sending the profession is that this part of the profession is far from professional.
And it's GPs who are at the business end of the problem.
The next BFD workshop is in Bunbury, WA, on 3 June apparently, if you're interested.
(Note: Since publishing this story this morning (May 5) all advertising and marketing for the Bunbury event seems to have been removed from both the BFD website and Facebook site. The material was there yesterday (May 4). No explanation has been provided for its removal).