20 October 2020
'Dr Feel Good' cheers up COVID patients with dance moves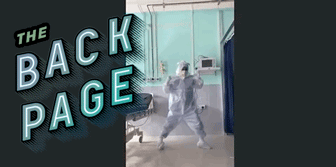 An ENT surgeon in a long-sleeved plastic gown, a face shield, mask and feet coverings bopping to the hit song Ghungroo in a hospital ward in northern India – just to cheer up the COVID patients – is the best thing on the internet right now.
"We try our best to keep the patients happy and motivated," said Dr Arup Senapati, the ENT surgeon at the Silchar Medical College in Assam who was featured in the dance clip on Twitter.
"In these grim times, if my dance can bring two minutes of joy into their lives, then that is an achievement."
Hope this brightens your day ? https://t.co/5ysEOxcfrC

— Sophie Scott (@sophiescott2) October 19, 2020
The clip was shared on Sunday night by a colleague, Dr Syed Faizan Ahmad, and has received over 100,000 likes.
The dance moves in the Twitter video replicate those of actor Hrithik Roshan in the 2019 Hindi action-thriller film 'War'.
Roshan responded to the COVID video by writing, "Tell Dr Arup I'm gonna learn his steps and dance as good as him someday in Assam. Terrific spirit."
If you see something stupid, say something stupid… Send viral dance clips to felicity@medicalrepublic.com.au.