13 September 2021
Don't leave us, oh you're back already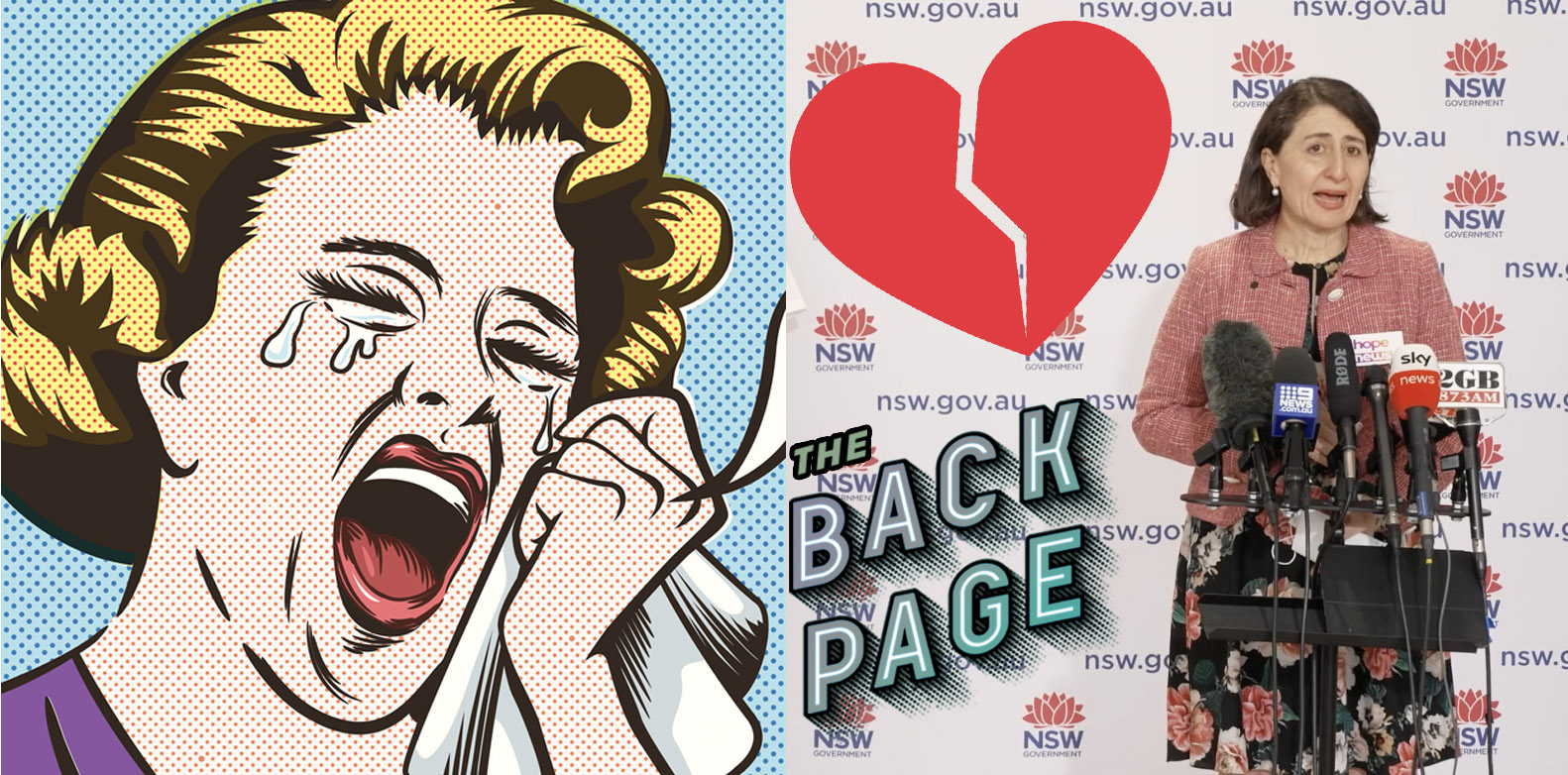 There's a particular kind of heartbreak and emptiness when your favourite TV show gets cancelled.
Then a confused elation when they bring it back.
NSW is feeling that today, which was supposed to be the first day in almost forever without an episode of Premier Gladys Berejiklian's long-running hit show 11am presser – until she decided to do an 11am presser.
On Friday Berejiklian shocked reporters when she announced she would be only making guest appearances from now on.
The Premier said she would still be accountable "24/7", and would make appearances when necessary, but that everyone had to start accepting that we would be living with covid for years.
"I can assure the people of this state, and they can judge me on my record, whenever I need to speak directly to the public, I absolutely will," she said.
"But we also have to make sure that as a government, we normalise the way we do things every day."
The 79-episode show has been a tough gig for the cast, with hecklers (members of the press) interrupting loudly and often when the lines got too repetitive, self-serving or did not fully address the concerns of the community.
11am Presser has been axed — I stopped watching in season 3, I feel for all of the production staff, it was a good show in the early days, but became very samey.

— Dan Ilic ? (@danilic) September 10, 2021
"You will still see me frequently," the Premier reassured the press. "I had some of you complaining that every day was too frequent."
Commentators quickly penned opeds questioning the government's decision to avoid scrutiny in the middle of a crisis, which has seen rising deaths, unemployment, financial ruin for many businesses and unprecedented restrictions on freedoms.
"No one expects that she or Chant should be there personally every day – it must be extremely stressful," wrote Anne Davies in Guardian Australia.
"But someone from the government should be there to answer questions and allow scrutiny of NSW's grand experiment."
Alexandra Smith in Nine papers alluded to the spectre of ICAC, from which the pandemic has been a very effective distraction.
The decision to stop daily pressers came as covid case numbers were at their highest since the start of the pandemic and apparently yet to peak.
It also coincided with the NSW government's announcement of its controversial strategy to reverse lockdowns once the state reached a 70% vaccination rate (instead of the more cautious 80% rate).
Fans of the 11am presser (and of democracy) have expressed their outrage and devastation at the cancellation. Yes, this is worse than Firefly.
I call on the NSW Government to REVERSE the decision to CANCEL daily #COVIDnsw press conferences. The crisis is NOT over. Not even close. Twists and turns are likely. A critical time point is NOW. The roadmap may need major tweaking depending on the outbreak stats. #Covidnsw https://t.co/Sz1PDYYsnu

— MJA Editor in Chief (@MJA_Editor) September 10, 2021
I think @GladysB should reverse the decision to cancel daily press conferences. Yes, it will have to happen some day, but not when NSW is entering the most difficult time in this pandemic. We need to ask questions. And no, emailing them to govt departments is not good enough.

— Lenore Taylor (@lenoretaylor) September 10, 2021
Many housebound citizens of NSW have been glued to the presser each day.
As the only live show in town, the Q&A event had somewhat of a monopoly on public attention.
The show's main appeal was its daily unveiling of scary, exclusive daily covid case and death numbers.
Twelve weeks into a hard lockdown, the predictable pressers were sometimes the only thing holding back the Groundhog Day vibes. "How on earth is the public meant to mark the passage of time now?" one NSW local asked.
"Watching Victoria won't be the same. And don't even get us started on having to resort to watching Canberra's daily briefing."

They should just light the covid numbers up on the bridge every day like it's NYE

— James Colley (@JamColley) September 10, 2021
Others have been avoiding the doom-and-gloom pressers.
"I had to stop watching them because Gladys' rictus grin and terminal chirpiness while announcing skyrocketing case numbers and more deaths was such a jarring contrast it broke me brain," said one New South Welshwoman.
The Back Page has been busy watching the Paralympics and RuPaul's Drag Race Season 6 instead but our WFH colleagues have been reporting the numbers via Slack using the relevant emojis.

You've got to give them a standing ovation just for pure stamina and for running the same depressing show every day for 79 days.
Now the relentless march to 11am will be more of a daily guessing game worthy of a "WhatTimeIsTheVicPresser"-style Twitter account.
Throw roses onto that stage … and now get back on it! Send democracy cookies to felicity@medicalrepublic.com.au