8 April 2022
Doctors in the House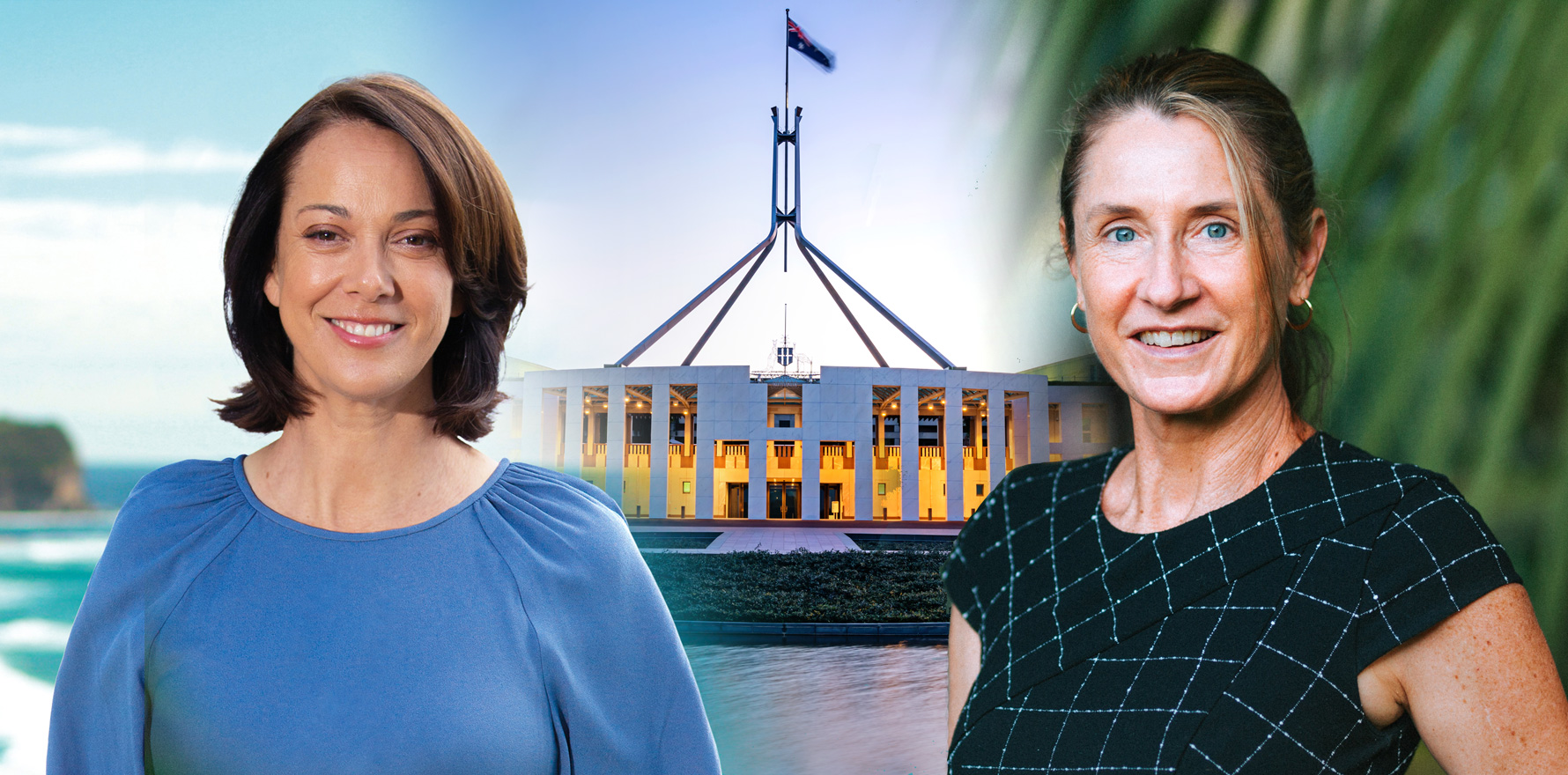 TMR meets two medical professionals running for a seat in Canberra.
---
Two doctors with GP experience are running as independent candidates in the May federal election. Though from different backgrounds, both have a firm belief in the power of advocacy.
Dr Angela Egan, independent candidate for Herbert, Queensland
Dr Angela Egan (pictured above right), a Townsville cardiothoracic surgical assistant, saw her career evolving in the military.
After medical school, she worked on Palm Island, a remote indigenous community just 65km off the coast of Townsville, as a medical student and RMO before deploying in the Solomon Islands where she worked both as a medic and a nurse.
"I was contracted to the army, but I got badly injured," she tells The Medical Republic. "So I left and actually started in general practice. But after six months, I thought, well, urban general practice is not for me. In fact, I was so distraught, I was going to quit medicine after all those years."
She found the contrast between her work in the military and civilian general practice unsettling.
"As an urban GP, I found it difficult to empathise with people coming in with ingrown toenails or who were really sad. I just felt I wasn't making a difference because a lot of the people coming to see me had it within their grasp, if you like, to change what they perceived to be a major crisis. When you've lived and seen other people, it's difficult.
"So I rang a friend of mine who was a med super on Palm Island, and went there on a rural placement as an RMO – and I loved it. When you think you're on a pathway – which in my case was defence – and then your life gets turned upside down, you think, what am I going to do, because I'm not an urban GP. I honestly thought I was treating the 'worried well' and that wasn't who I was. But I love indigenous health – it's challenging, it's what you do medicine for."
So why did she choose politics?
"Just sheer frustration," Dr Egan says. "When you work in remote communities, you see the lack of funding and you know when there's an election because some shiny new bus would turn up.
"The thing is, we advocate. We're great for patient advocacy, we're great for our community. But you can write all the letters you like, it just doesn't make a difference.
"A friend of mine said, why don't you try and make change from within and channel your frustrations – have you considered running as a politician? That's honestly how it happened. She planted the seed, and I said, Well, why not?"
Dr Egan says her goal is to try to draw more awareness to North Queensland.
"We're pretty much left out when it comes to funding; we're left out in policymaking; we're left out of everything.
"When it comes to policy, number one for me is establishing that federal commission against corruption. I feel that until we get that right, nothing else will flow. If a leader, a government, won't implement that, it should speak volumes to their character."
She also feels a need for government to be truly representative.
"If you look at the Constitution, the word 'party' is not in there; it's the House of Representatives. And that's what doctors are: we're very good at listening, we're very good at advocating for people, for community, and that's what politicians should do.
"I look at the candidates here in North Queensland, and not one of them represents me. They're all male. They're all from a political party whose agenda really is in the big cities. Their rhetoric is not for community.
"That's why I'm driven. I do follow a lot of the independents down south, obviously including the doctors, and there are women standing up.
"As doctors, we know that climate change is the biggest long-term threat we face, so that's why we're standing up: to provide a voice for climate and for women."
Dr Sophie Scamps, independent candidate for Mackellar, NSW
Dr Sophie Scamps worked in northern Sydney's Mona Vale Hospital then practised as a GP in Narrabeen before deciding to run for parliament in November 2021.
An Australian athletics record holder, she was a gold medallist in the 4 x 400m at the World Junior Championships in 1990, and qualified for the 1992 Olympics while studying medicine at Sydney University.
What drove her to run for Canberra?
"Basically, it's a sense of duty," she tells TMR. "As GPs, every day we work we're fighting to help our patients with their health, with their wellbeing, and we're advocating for them. And I had this growing sense of unease that we were just ignoring the biggest factor – climate change – that was going to impact the health of the entire community and all of Australia. I just felt compelled to step up, as a GP, to advocate on that.
"I was having a conversation with my 12-year-old son and his friends a few years ago about climate change. You just want to have a gentle conversation, you don't want to scare them, but I said, 'Look, it's going to be something that your kids are going to have to deal with', and one of those beautiful boys turned around to me and said, 'Yes, because you adults have failed us'.
"I had this sense that someone needs to be doing something but I'd been waiting for other people to act. Now I realised that I need to step up myself and do what I can."
Mackellar is a safe Liberal seat that covers Sydney's Northern Beaches.
"I'd say the overarching issue that concerns me is the genuine representation of this electorate because so many people just feel that they've been ignored and not listened to. We would have been one of the safest seats in the entire country –– for the last 70 years, we've been Liberals, in fact since the inception of this electorate.
"Climate change was my kick-starter to get involved in politics, but when you start opening up this can of worms, there are other things that are huge as well.
"Then right under that we've also got looking after the economy. We need a safe pair of hands on the economy and we have a huge proportion of small and medium-sized businesses in this electorate.
"Then there's integrity: people just cannot believe that there's a not a federal independent commission against corruption. I think it boggles most people."
Dr Scamps stresses that mental health is a major concern in her electorate.
"I know how stretched GPs are. When I spoke to a number of GPs throughout the pandemic, just to find out how they were coping and how things were going, youth mental health comes up repeatedly and there are calls for more access to mental health professionals. That's a huge issue because it is so time-consuming for GPs, and it's so complicated. It does take GPS away from their other work, from looking after chronic conditions for their other patients as well."
When it comes to attracting young doctors to general practice, Dr Scamps says the value attached to GPs when compared to non-GP specialists needs considering.
"Even when I was going through medical school, and as a junior doctor, I was thinking about what specialty I would do. It wasn't till I had some more life experience when I lived in England that I realised how vitally important it is to have a GP as your advocate and as someone who looks after the whole person.
"We do need to ask how we market general practice as being so vitally important," she says. "Maybe we need to get into the medical schools a lot earlier and advocate for our specialty. I don't have all the answers on that, but maybe it's about exposing more students to what general practice is all about and how wonderful it is."
Disclosure: This reporter has done minor work on the campaign of the independent candidate for North Sydney