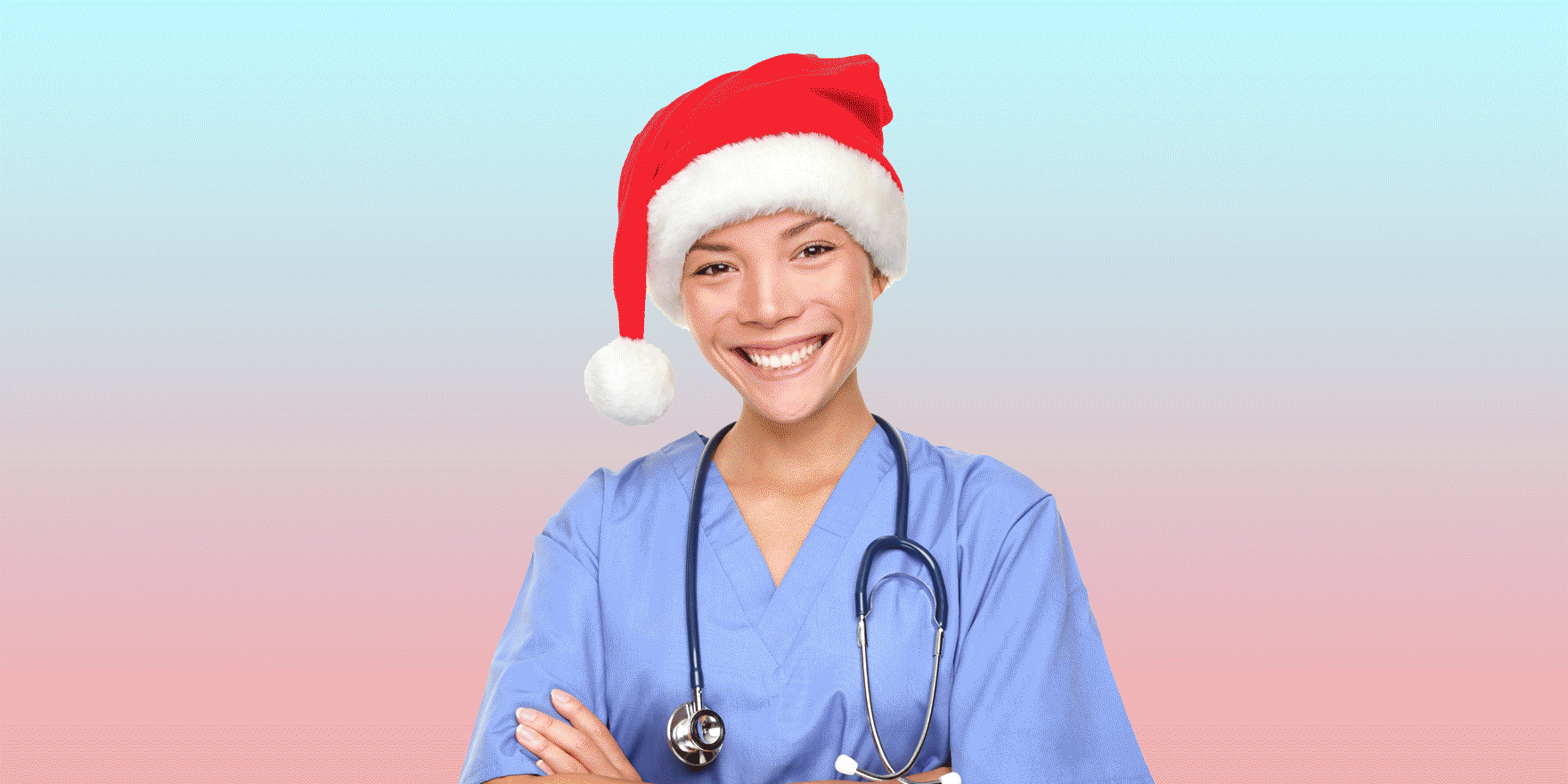 Instead of spending Christmas opening presents and relaxing with friends and family, you'll be working a 12-hour shift – happy holidays.
Rather than feeling defeated by your unfortunate work roster, you show up to the ward wearing your best festive attire.
But is it professional to be running down the hospital corridor leaving a trail of sparkly tinsel as you go? Or shouting resuscitation orders while dressed as Dr Jingle, the Christmas elf?
Abi Rimmer, the editor of BMJ Careers, recently asked a group of UK doctors whether dressing up over the silly season was a "ho, ho, ho" or a "no, no, no".
Perhaps unsurprisingly, determining whether festive clothing was appropriate varied according to the doctor's specialty, and area of the hospital they worked.
"Christmas jumpers make doctors look fun (for a change). We are one of the few staff in the hospital without a set uniform, so we should try to be creative in those rare moments offered," said Dr Shivali Fulchand, the BMJ editorial registrar and a national medical director's clinical fellow.
As a junior doctor on the Christmas night shift, Dr Fulchand purchased a new jumper that featured a big dinosaur shouting "Merry Christmas".
"I avoided buying any jumpers with bells that would jingle as I walked (or ran) down corridors or excessive glitter that might drop into a healing wound. It was a very considered buying process," she said.
At a time of year when feelings of isolation and loneliness can peak for both medical staff and patients, Dr Fulchand said it was good to try and create a positive environment.
"Wearing a funny jumper was my small contribution towards that. Most of the patients I met that night welcomed me warmly and complimented my choice. It also made my job cannulating and taking blood a lot easier, as they were often distracted by my jumper or the conversation about it. I wish I could wear Christmas jumpers every day."
The experience was very different for Dr Katherine Conroy, UK ear nose and throat surgeon, who recently spent Christmas at the other end of the hospital bed.
"I embraced Christmas time as a hospital doctor; Wham on the ward radio, tinsel dangling from the ceiling tiles, piles of chocolates everywhere, and smiles all round. I wore brussels sprout socks and snowflake earrings, and sometimes even a seasonal jumper," she said.
"But last year I spent Christmas in hospital in a different capacity: as a patient. … By 25 December I had been an inpatient for four weeks and, take it from me, nothing will unleash your inner Scrooge like being woken up on Christmas morning by the bleep of the observation machine.
"I feel ungrateful for not appreciating my medical team's efforts. They were missing out on Christmas too, and trying to make it easier for their patients. But save the Santa hats and elf ears for the staffroom this Christmas, for the sake of miserable humbugs like me."
Perhaps the compromise lies in wearing something festive to work but making sure it's removable.
Robert Hirst, a specialty trainee in acute care, said he found the emergency department often required doctors to be able to quickly ditch their Christmas jumpers for a scrub top.
"Wearing Christmas attire on the wards is fine, because you're trying to introduce a degree of mirth (or perhaps myrrth?) into what is otherwise a depressing situation. People appreciate the effort to brighten up their day," he said.
"But while it might be okay to bring your Christmas sparkle to the elderly care ward, in the emergency department you see people whose lives have been disrupted. People who, until very recently, were with their friends and families, living their normal lives. I don't think these people need to know it's Christmas.
"They want you to look after them and return them to their normal lives without too much incident. I wouldn't wear Christmas clothing in the emergency department. It's too variable, too volatile – and you'll get vomit and blood all down your nice Christmas jumper."
The article was met with responses from doctors on social media who echoed the need for a balance between being festive and professional.
Meanwhile, other doctors shared how they celebrate the season at their workplace.
Reasons to become a paediatric anaesthetist number 17362363827. There is actually a real life donkey in the hospital! ? pic.twitter.com/r1sccpnx6Z

— Lyndsey Forbes (@coollyndz) 8 December 2019
Fantastic @bmj_latest piece by @Abi_Rimmer on something that I have wrestled with as a doctor who has worked numerous Christmases; I remember running to a crash-call & realised it's probably best to take off my rudolph the ??reindeer jumper…????? https://t.co/ocqSCzwK4H

— James S Thambyrajah (@JThambyrajah) 2 December 2019
It's beginning to look a lot like Christmas on the colorectal ward… pic.twitter.com/kS50Uzln2K

— Jared Torkington (@TorkiJ) December 8, 2019