22 October 2019
'Cards stacked against doctors' who go before PSR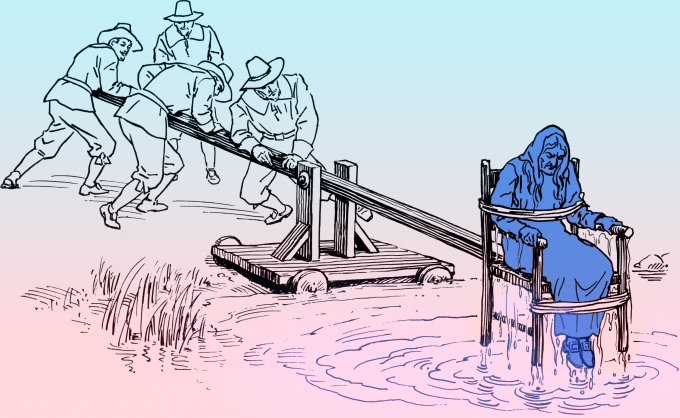 A jurisdiction in which effectively no-one is found not guilty should raise serious questions. But the PSR rules in this fashion year after year
---
The Professional Services Review annual report shows that, once again, not a single finding of "no inappropriate practice" was made in the 101 cases it completed in the last financial year.
Only twice did the PSR director decide not to pursue a case; of the other 99 requests from Medicare, 90 ended in a "negotiated agreement", a typical example being that the practitioner "agreed to repay $350,000, to be disqualified from providing MBS items X, Y, Z for 12 months, and will be reprimanded by the Director".
Eight cases came to "final determinations", with those doctors ordered to repay a total of $2.8 million, and one case was closed without a determination (no reason is given).
In total the agreements and determinations recouped $29.2m for Medicare. This compares with a historical average of $5m, and is up by nearly $10m and $20m respectively on the two previous financial years.
The proportion of cases in which the director chose not to take action has shrunk dramatically. In 2015-16 the PSR completed 49 cases, out of which then director Dr Bill Coote chose not to pursue 24; in 2016-17, in current director Professor Julie Quinlivan's first year, that number was 10.
But for years there has not been one finding of no inappropriate practice.
University of Sydney law professor Simon Rice said that, generally, a jurisdiction in which effectively no one was found not guilty "raises questions".
Professor Rice, former director of law reform and social justice at the ANU College of Law, said it was quite common for professional bodies to enforce their standards through the judgment of one's peers, but they could display biases in one way or another.
"There is a risk that a profession will close ranks and endorse practices that are to their own advantage, but that outsiders might consider problematic, and other times they can assert their exclusivity by punishing outliers in their profession.
"Speaking generally, procedures carried out internally by professions run the risk of procedural unfairness, and often the only mechanism is to go off to the court and ask for a judicial review. That's available in theory and often inaccessible in practice."
Dr Anchita Karmakar is one GP who has taken her PSR matter to the Federal Court, claiming she has been denied procedural fairness and natural justice. After the government failed again to have her application struck out in September, three days were set aside for her hearing in April, where she will be represented by a legal team led by high-profile barrister Julian Burnside QC.
Her solicitor David Gardner, without commenting on that case, said the PSR's strike rate was a matter of concern.
"It suggests that once you're identified, it is not possible to defend yourself," he told The Medical Republic.
"Procedural fairness and natural justice are words which may sound easy to understand, but they are impossibly hard to define. Lawyers train for many years to be able to grapple with and understand the complexities of what makes a fair and just system. However, the decision-makers in PSR cases – the committee – are generally not legally trained.
"I am not aware of any other body with such significant power whose members are not legally trained. Tribunals who discipline medical practitioners, for example, will have both legally trained and medically trained members who work together."
Mr Gardner said this was of more concern because so much was left to the discretion of the committee members, who were carrying out an inquisitorial process with significant consequences for the practitioner with little in the way of rules and guidelines.
Lawyers, if present, were not able to cross-examine witnesses. Instead that was done by the medical practitioners without the years of training it takes to acquire the skill, which was "grossly unfair".
There was also a high risk of bias on the committee, whether conscious or not.
"Practitioners are sent to the committee with a de facto finding of inappropriate practice by the director," Mr Gardner said. "This means that the committee members, subconsciously, are likely to be asking themselves what the person did wrong, rather than if they did something wrong.
"Subconscious bias of this type has been investigated in many other fields."
Dr Karmakar has also complained of the lack of clear published standards on billing, which would allow doctors to know if their practices were anomalous before getting into trouble.
Professor Rice, again speaking generally, said it was troubling when details of determinations were not published so as to provide standards to which doctors could then knowingly conform.
"That's the basis on which generally our legal system works: as a matter of fairness we are entitled to know what conduct is expected of us, based on prior decisions."
The PSR does publish monthly updates on agreements (which are anonymous) and committee final determinations (in which doctors are named).
The agreement summaries give sparse details such as "The practitioner billed items X, Y, Z in excess of 99 per cent of their peers"; "MBS requirements were not always complied with"; "the practitioner did not keep adequate records".
Mr Gardner said the lack of transparency was another significant problem for doctors.
"There are no reported reasons for the decisions of committees, except when a matter is appealed, which means there is no precedent," Mr Gardner said. "Precedent is one of the cornerstones of our legal system, which ensures that people are treated equally before the law. The lack of any precedent in these matters leaves open the distinct possibility of committees acting in entirely inconsistent ways."
These and other issues added up to a system in which "the cards are entirely stacked against the practitioner".
"I am not surprised that the strike rate is, essentially, 100%," Mr Gardner said. "I am also not surprised that PSR usually succeed on appeals to courts, because the law itself is set up in such a way that much of the unfairness is codified into the law. The only way to change many of the unfair aspects of the scheme is through the parliament."