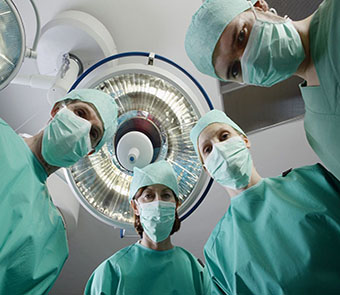 The issue of overdiagnosis can be counterintuitive because we've all been brought up thinking early detection is best
---
Major health groups are calling for a national action plan to address overdiagnosis, signalling a mainstream recognition of the issue.
The colleges of GPs, physicians and radiologists, as well as the Consumers Health Forum and the Australian Commission on Safety and Quality in Health Care issued a statement last week saying there was an "urgent need" for healthcare professionals, the public and policymakers to understand the consequences of overdiagnosis and over treatment.
"There is need in Australia to identify the causes of too much medicine, the extent of the problem, and to develop responses to address it," the statement, developed over the last 12 months, said.
"Alongside the undisputed ability of healthcare to extend human life and ameliorate suffering, there is growing evidence and concern about the problem of too much medicine."
They pointed to expanding disease definitions and lowering diagnostic thresholds as drivers of the problem, requiring "meaningful reform" to address.
Two approaches would be needed to combat this, Dr Ray Moynihan, senior research fellow at Bond University, told The Medical Republic. 
First is the adoption of a recently published guideline for when it is and isn't appropriate to expand diagnostic definitions, and second is the more fundamental issue of removing members with conflicts of interest from decision-making panels.
But it's not just widening disease definitions that is the problem, according to researchers, who blame increasingly sophisticated technology that detects abnormalities that may never go on to cause harm.
"Overdiagnosis and the related overuse of medical tests and treatments not only causes harm, but also divert resources from addressing underdiagnosis and undertreatment," the health groups' statement said.
Nevertheless, the groups sought to reassure the public that the quest to tackle overdiagnosis and treatment wouldn't be at the expense of good medicine.
"We are committed to evaluation, to ensure that attempts to address too much medicine are both safe and fair for healthcare consumers and their families, and in turn help to optimise the Australian health system's safety, efficiency and equity of access."
The statement coincides with a series of articles on overdiagnosis published in the BMJ, which highlight the problem among conditions including pulmonary embolism, hypertension, osteoporosis, chronic kidney disease, depression and attention deficit hyperactivity disorder.
Dr Moynihan and colleagues analysed the literature to identify possible solutions in one of these papers. It was surprising how commonly researchers called for awareness raising campaigns to translate "such a complex and counterintuitive" problem.
"It's counterintuitive because we've all been brought up thinking early detection is best, but as we now see, early detection is a double-edged sword," he said.