11 June 2021
An inconvenient truth: chronic pain and opioid dependence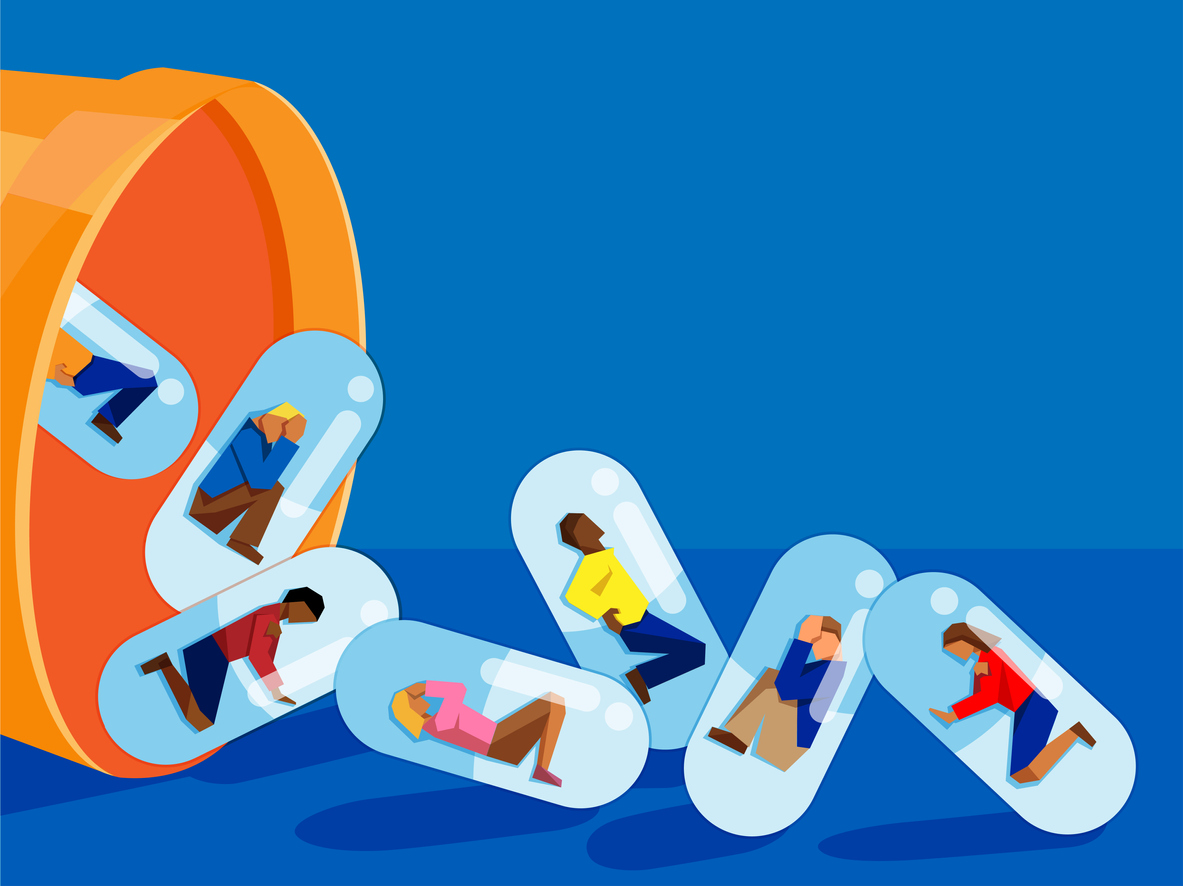 Balancing a patient's pain needs with the risk of developing dependence to opioid painkillers is challenging and controversial, especially considering the changes to the prescribing of opioid pain medications. How do we navigate this clinical conundrum?
Register HERE for a free live masterclass webinar looking at the psychosocial and behavioural challenges associated with opioid dependence featuring professor Jeffrey Samet, Professor David Castle, Dr Keri Alexander and Ms Colleen Label, next Tuesday at 7pm.
In a recent webinar hosted by Inside Practice, a panel of national and international addiction specialists and researchers came together to explore opioid dependence in chronic pain. Chaired by A/Prof Mark Daglish (Faculty of Medicine, The University of Queensland), the panel of speakers included Professor Peggy Compton (University of Pennsylvania, Philadelphia, PA), Professor Milton Cohen (St Vincent's Clinical School, UNSW Sydney), Dr Craig Lilienthal (GP and Medico-legal Advisor, NSW) and Dr Ferghal Armstrong (lead GP at Black Fish Medical Clinic, VIC).
Together, they explored the problem of opioid dependence to pain medications from the US and Australian perspectives, dependence risk mitigation strategies for opioid therapy in chronic non-cancer pain (CNCP), the GP experience, and the role of medicated-assisted treatment(MAT)for opioid dependence.
Setting the scene for the webinar, Professor Compton provided insights into the opioid epidemic in the US and reflected on historical factors leading to the current US opioid crisis.A rising number of clinicians concerned that they were under treating pain, transformed the way pain was perceived in the healthcare setting. This resulted in the easing of restrictions on opioid use for pain management.
Opioid use was further supported by studies, although small and biased, reporting low abuse potential and liability. With increased efforts in drug development for chronic pain and a decline in the number of multidisciplinary pain clinics, managing pain shifted from a holistic approach to one that focused exclusively on pain medication.
While the CDC guidelines were modified to help curb opioid prescriptions, these efforts have not reduced overdose rates of non-prescribed opioids (including heroin and fentanyl) and have likely resulted in under treated pain.
"At some point, as a clinician, you would need to consider the use of opioid therapy for CNCP, whether it is for a new or an inherited patient"
Shifting from the US experience, Professor Cohen provided the Australian perspective of opioid use disorders, more specifically for CNCP.
CNCP is a complex phenotype that reflects a patient's life and the world surrounding them. He explained how opioid therapy for CNCPs hould only occur after a comprehensive bio-psychosocial assessment, and failure of non-drug and non-opioid therapies.
Whilst trialing opioid therapy, regular reviews and assessment of treatment on quality of life is key.
An aide memoir, such as the "five A's": Analgesia, Activity, Affect, Adverse effects, and Aberrant behaviour(s) provides a useful tool for reviewing patients with CNCP who are prescribed opioids.
Balancing the benefits (e.g.,enhanced function and positive effect on social roles) and risks (e.g.,impaired control and negative effect on social roles) underscores responsible opioid prescribing.
"Know what you are doing, know the drug and most importantly, know your patient" says Professor Cohen.
Transitioning from strategies for opioid therapy in CNCP to real-world practice, Dr. Lilienthal shared his personal journey as a GP navigating the new regulatory restrictions on opioid prescribing(i.e.reduced number of repeat prescriptions and introduction of smaller pack size), the need for regular patient review, as well as medical colleagues who continued to support the prescribing of opioids.
As a first step, he audited his patients who had been prescribed opioids for extended periods and re-evaluated their pain needs.
Often, for those patients with pain who are returned to primary care for ongoing pain management, GPs are not made aware of the genesis of the patient's pain and the rationale of the resulting treatment decisions that had been undertaken by the specialist or surgeon.
Dr Lilienthal took up the challenge of categorising pain in his own patients based on the NSW Ministry of Health's legal definition of a drug dependent person. Where appropriate, he then applied for a special authority to prescribe opioids. Overtime, patients who could cease opioid use were identified.
Dr Lilienthal explained that if a patient resisted the recommendation to stop opioid pain medications, he took the approach of sharing the new prescribing regulations, explaining his personal and professional obligations, and made further prescribing conditional upon a referral to addiction specialists or programs to reduce opioid use.
Delving further into the practical use of opioid therapy for CNCP, Dr Armstrong discussed the role of long-acting injectable (LAI)buprenorphine for those diagnosed with opioid dependence.
As a mu-opioid partial agonist that mitigates the action of full opioid agonists, buprenorphine minimises the risks associated with prescription opioid use disorder.
However, optimal dosing is critical to ensure both therapeutic levels of buprenorphine and sufficient receptor occupancy to block withdrawal, craving and positive reinforcing effects of illicit opioids.
"Long-acting buprenorphine improves compliance and therefore improves the patient experience" said Dr Armstrong.
"We're trying to reduce risk"
In the two patient case studies that Dr Armstrong presented, LAI buprenorphine demonstrated long-term sustained control of buprenorphine plasma levels, reducing episodes of withdrawal and opioid use.
With the availability of LAI buprenorphine, there is opportunity for a range of patient benefits including increased adherence and reduced frequency of reviews.
If you would like to learn more about opioid dependence, there is an upcoming Inside Practice webinar delivered by a leading international and national faculty of experts.
Chaired by Professor Jeffrey H Samet and joined by Ms Colleen Labelle, Professor David Castle and Dr Keri Alexander, the masterclass will explore the real-world psychosocial and behavioural challenges associated with opioid dependence. To register for this free live masterclass, please click here.